November, 29, 2013
11/29/13
8:30
AM ET
AP Photo/The Indianapolis Star/Greg GriffoAshley Force Hood helped pave the way for her younger sisters, Brittany and Courtney, who continue to race today.
Happy birthday, Ashley Force Hood! The first woman to win an NHRA Funny Car race turns 31 today. The daughter of 16-time NHRA Funny Car champion John Force, Force Hood began her racing career in 2004 as a Top Alcohol Dragster and won three of the season's final five races. In 2007 she moved to the Top Fuel Funny Car division and made history when she raced her father in competition, the first father-daughter to do so. On April 27, 2008, Force Hood again made history when she became the first woman to win a Funny Car race, defeating her father in the final at Atlanta. Force Hood has been on an indefinite hiatus from competition since announcing she was expecting her first child with husband Daniel Hood in 2011. She gave birth to her second child in May and has no immediate plans to return to racing but currently acts as the president of John Force Entertainment.
June, 13, 2013
6/13/13
8:34
AM ET
By
Lizzie Haldane
| ESPN.com
AP PhotoShirley Muldowney's career was chronicled in the 1983 film "Heart Like A Wheel."
On this date in 1976, Shirley Muldowney became the first woman to win an NHRA Professional event when rolled to the title at the Spring Nationals in Columbus, Ohio. She qualified No. 1 with a low elapsed time of 6.03 seconds and a top speed of 249.30 mph. Now 72, Muldowney went on to win three NHRA Winston Top Fuel championships and 18 NHRA national events in her career, blazing the drag-racing trail for women. In 2004, she was inducted into the International Motor Sports Hall of Fame.
January, 4, 2013
1/04/13
1:13
PM ET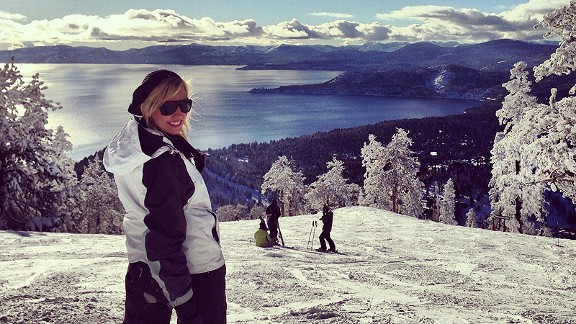 Courtesy of Courtney ForceCourtney Force enjoyed the view from the top of the Sierras whil vacationing in Tahoe.
Every year for Christmas my family heads eight hours north to enjoy the snow at Lake Tahoe. It has been a tradition for years because it is the one time we all can get together as a family and enjoy each other's company.
It's hard to make ourselves relax during the year with our hectic schedules, so Christmas is the perfect time to do it. However, getting there is a pretty stressful routine. My dad seems to see it as just a "normal" eight-hour road trip. But, let's not kid ourselves.
[+] Enlarge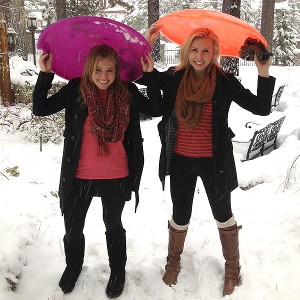 Courtesy of Courtney ForceBrittany and Courtney Force has a hard time finding hill steep enough to go sledding on.
We have to double wrap all of our presents to cover them up so they don't get ruined in the open-bed Ford Raptor we take as one of the cars on the trip. Keep in mind, there are six of us and a 1-year-old packed for a week in the mountains. Then, add all of our presents.
Dad has the job of loading the luggage and gifts into the cars. It usually takes a while because if anything is out of place or doesn't fit right, he takes everything out and tries again. We are the epitome of the Griswold Family Christmas! I love my family to death, but I think we try to make every trip as confusing and stressful as possible. That's how it's always been, but if nothing else, it's definitely entertaining.
My sister, Brittany, and I usually get stuck in my parents' car for the trip. Dad talks business and racing the whole time, but Brittany and I try getting everyone in the Christmas spirit by doing our best Elvis Presley imitations of "Blue Christmas." And we always stop at Erick Schat's Bakery for sandwiches and cookies.
It was definitely a white Christmas up in Tahoe. There was snow on every corner and on every rooftop. It was beautiful!
On Christmas Eve, we went to church and came back to have our takeout Chinese food and watch movies by the fire. On Christmas morning, we all made a pancake breakfast and started unwrapping presents under the tree before a traditional turkey dinner.
One day, Brittany and I decided to head outside in the snow and find a hill to sled down. Our backyard didn't have very many hills, but I tried to make the best out of the situation. I told my dad to be ready with the camera and although he warned me my sled wasn't going to go anywhere, I tried it anyway. I leaped onto the sled on my knees. The sled stuck into the snow and didn't move an inch down the small slope, so I, of course, went face. It's definitely the little things in life that make it the most fun and being out in the freezing cold snow, soaking wet and getting a laugh out of my family, was definitely worth it.
The next day I decided to find some real slopes and hit the mountain with my brother-in-law and co-crew chief on my Funny Car, Daniel Hood. We went boarding, and although I'm not the best, Daniel thought I was good enough to head straight for the top. My least favorite part about snowboarding is the chair lift, maybe I'm just afraid of being that high up. We headed for the highest spot on the mountain with fresh powder and got to see the most amazing view of the lake! We boarded down and made it back in one piece, being very careful since we start the 2013 season in only a month and testing starts back next week!
It was an amazing Christmas vacation with my family, but I'm definitely ready to take my snowboarding adrenaline rush to the race track and get back in my 8,000 HP Funny Car, alongside my dad! I still think the best present this Christmas was finishing off the 2012 season safely and having the time to enjoy the time off with my family and friends.
December, 11, 2012
12/11/12
2:48
PM ET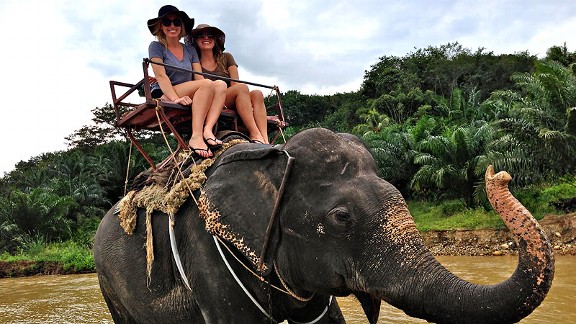 Courtesy of Courtney Force Courtney Force said the highlight of her Thailand vacation was trekking through the jungle atop this elephant.
A couple of weeks ago our race team closed out a great season in Pomona, Calif. We finished in fifth overall in Funny Car and I won rookie of the year while my team was awarded the Full Throttle Hard Working Crew Award. It was a great way to finish the 2012 NHRA season and mark the start of the offseason.
My sister Brittany and I decided to do something unique, so we booked a trip to Thailand! We have never been on a vacation that did not include the entire family, so my dad, of course, was having a hard time accepting the fact we were going without them. My dad is the type who still sees his kids as 5-year-olds running around. It's funny to think he will let me and my sisters drive race cars that go faster than 300 mph, but freaks out when we book a trip out of the country!
Our first stop on our trip in Thailand was Patong Beach. We hit the beaches and explored the town. We went bamboo rafting down a river, saw sea turtles and waterfalls, explored temples, walked through caves full of monkeys and went elephant trekking down a river and through a forest. This was probably one of my favorite days because we got to be so adventurous and see so many things that you wouldn't see anywhere else.
We took a boat to Phi Phi Island and stayed in a not-so-typical hotel. The lobby was outside and surrounded by trees and sand and located just a few steps from the water. This was a lot different than the hotels we stay at on the NHRA circuit. Our room had no front door, just a sandy path and a platform that went into our room. It was so cool to experience, even if we were only there for a night. We decided to hit the beach and took a boat out to different islands and coves to go snorkeling. The water was crystal clear and we saw so many different types of fish. We even saw a barracuda! We got to go to the very remote Maya Bay, where they filmed the movie, "The Beach," with Leonardo DiCaprio. We went swimming and got stung by jellyfish -- but it was worth it!
The food in Thailand is a lot like the Chinese food back home, but with a little more curry. It was amazing and my sister Ashley, who is obsessed with Chinese food, would have been in heaven. I'm not very adventurous when it comes to trying new food, but I thought since I was in Thailand, I should probably be a little more open-minded. There was nothing too extreme on their menus, but we did enjoy eating pineapple fried rice (right out of a pineapple) with a fried egg on top, chicken curry, local fruits and lots of egg rolls!
The beaches in Thailand have turquoise water and white sand. We're California girls who love going to Newport Beach, but the beaches in Thailand are so much different. Lush green forests, swinging monkeys, sharks and elephants surround the beach in Thailand and it has a tropical feel. It would be very humid and hot one minute and start pouring rain the next.
On our last stop in Thailand we headed back to the north side of Phuket. We relaxed on the beach, did a little souvenir shopping for our family and went into the town to have dinner on the sand. It was a great way to finish an adventurous yet relaxing trip before flying to China.
During our long layover in China we left the airport and attempted to buy some hot coffee and tea, but struggled with the language barrier before heading into the Forbidden City. We toured around China, ate authentic Chinese food, went to a tea shop and learned how to drink tea properly, then headed for the Great Wall of China.
It has always been a dream of mine to see the Great Wall of China so I was beyond excited when we got there. Although it was freezing cold, I didn't care. I got to walk the Great Wall with my sister and our friend while taking pictures and enjoying the scenery. The Great Wall was exquisite because of the beautiful old architecture and the Wall went for miles! When we finished we headed to the airport and back home to California!
This was a trip I will never forget and I'm so happy I got to enjoy it with my sister, Brittany. We got to do something adventurous and see places we've never seen before while learning about the culture, meeting new friends and trying to learn new languages.
November, 17, 2012
11/17/12
6:37
PM ET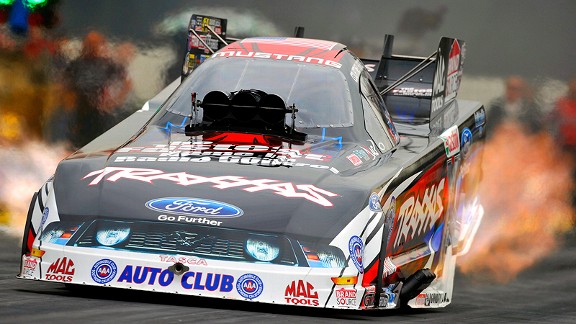 AP Photo/Jerry FossCourtney Force finished fifth in the standings in her rookie season of Funny Car.
I wrapped up my rookie season in Funny Car with the Auto Club Finals in Pomona, Cailf., last weekend. The race, which was on my home track, was full of excitement. I had fun promoting the race at the annual La Verne NHRA Fan Fest with my dad and sister and doing radio and TV interviews.
It was surreal coming back to the track where I debuted as a pro back in February. It felt like yesterday when I was pulling into the race track, feeling sick to my stomach, knowing this would be the first time the fans would see me drive an 8,000-horsepower car. I was just praying that I wouldn't screw up and hoped to get my car qualified, which we did.
We've come a long way as a team since the first race. We went out to Pomona and on our first qualifying pass we went straight to the top spot. Although it didn't hold, we went into eliminations on Sunday in the No. 4 qualifying spot. On race day our Traxxas Ford Mustang Funny Car went all the way to the final round to close out a great season.
Looking back, I can't believe the success we had. Our team qualified at every national event, qualified in the No. 1 spot on multiple occasions, made it into the Traxxas Nitro Shootout, picked up an event win in Seattle and clinched into the top 10 in points for the Countdown to the Championship. We finished the season ranked fifth in points.
When I pictured how my first season as a professional race car driver, I definitely surpassed my own expectations. It's weird to say that I'm no longer a rookie. But I am still new in the sport and look forward to challenging myself and working hard to do even better next season.
The day after the finals, we had to get cleaned up for the NHRA awards in Hollywood, Calif. It was an amazing night celebrating the champions in all four pro categories. My team won the Full Throttle Hard Working Crew Award in the Funny Car category.
The most nerve-racking part of the night was having to go up on stage to find out who would win the rookie of the year. Backstage, Alexis DeJoria and I were helping each other get ready. It's the one night a year we get to put on a dress and heels since we're out at the race track in fire suits all day. She was a tough competitor all season long but it was great having a female friend to chat and hang out with out on the road.
I was lucky enough to receive the award, which was such a huge honor, especially since my teammates have earned that award in the past. However, I definitely think the other rookies did an amazing job this season as well and all have a bright future in racing.
Having to go on stage and make an unprepared speech made me so nervous! It's funny to think that when I hop out of my race car after I make a pass down the race track I have absolutely no fear of the ESPN camera. I'm not sure if it's the Full Throttle they hand you for interviews that suddenly changes my personality from shy girl to an extrovert or the sheer thrill of going 300 mph. But I felt completely shy and nervous when I had to make an acceptance speech that night. I did my best to regroup and went on stage to talk about my lifelong dream of being a race car driver. I watched my sister make this speech when she had won it a few years back, and Mike Neff and Robert Hight before her. It was crazy to join this prestigious group of drivers and I hope my career will be half as good as theirs. I'm so proud to be a part of an amazing team at John Force Racing.
I'm living the life -- driving a race car, traveling across the country, working with my family. I want to thank my team for all of their hard work and motivating words especially my crew chief Ron Douglas and assistant crew chief Dan Hood. They coached me, staying positive and encouraging through the ups and downs and always giving me a consistent race car. Most importantly, I need to thank my dad for being the person that I always looked up to and wanted to be like as a kid. He encouraged me to stay true to myself, stay grounded and be anything that I wanted to be. He and my mom supported me through all of my life decisions. Of course, a big thanks to my sponsors who believed in a rookie driver before the start of the season and supporting my lifelong dream of racing. And congrats to the Funny Car champ Jack Beckman!
I owe this to all of you and am so excited for next season, because 2012 was just the beginning!
October, 30, 2012
10/30/12
5:39
PM ET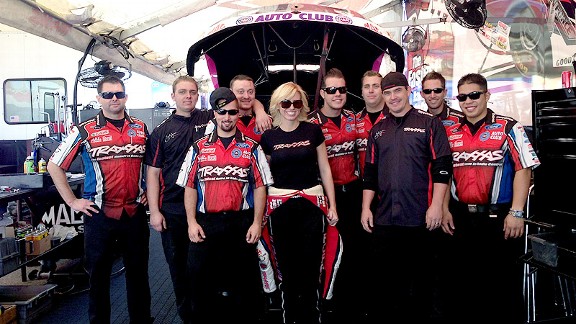 Courtesy of Courtney ForceCourtney Force hopes to help her team win the Full Throttle Hard Working Crew Award.
With a few days back home in California, I headed into the office and caught up on a few things before a day off. It felt great to be back home, but having a two-week gap between races was painful. I couldn't have been more ready to get back out on the racetrack. I've gotten so used to being out on the road with my team that I'm at the point where when I come home, it starts to not feel like home anymore. My team, my race car and my family are my "home."
My friend and PR girl Sarah Adams flew into California early to help me bake some Halloween goodies for my team. I wanted to do something nice for them because they have been an amazing team and so supportive and encouraging all season long, even when I made mistakes. I think the most important thing to have out here is a team that is confident in its driver and supports him or her through the highs and the lows. I'm so fortunate to say that I have that with them. Not only are they a great group of guys, a lot of fun to be around and goofy, but they are amazing at what they do. These guys have the ability to tear apart and rebuild a Funny Car engine in a little over an hour between rounds, and with all the pressure on them to be very thorough at their job -- because one little mistake could cost us the race -- they handle it well.
We packed up and headed to Las Vegas -- which is a four-hour drive from home -- with two races left in my rookie year in Funny Car. We loaded all our suitcases, bags of shoes and goodies for the crew guys and headed for the Strip. With a carful of girls singing every '90s pop and rap song we could find on our iPod, we finally made it.
Bruton Smith built an amazing racetrack at the Las Vegas Motor Speedway. I always look forward to racing there because we get great conditions during night runs and the atmosphere in Vegas is exciting. We came in a couple of days early and toured the Las Vegas Strip, trying out restaurants in the Monte Carlo and even going to a nightclub. We had a lot of fun before it was time to get back to business.
On Thursday I headed out to Fremont Street in old Las Vegas with some of the other NHRA race car drivers for autographs and pictures with the fans.
We had a busy weekend at the track and even got to run the hot pink Breast Cancer Awareness Funny Car for one last race and finish off October. We made some great runs during qualifying and ended up in the top half of the field, gaining lane choice in the first round for eliminations on Sunday. We won first and second round, and I was up against Jack Beckman in the semifinal round. There was a lot of pressure because we really needed that win if we wanted to help our teammate, Mike Neff, move up in the points chase for the championship. I was so nervous and had practiced my lights all day long. I got so fired up wanting to get that win for our team; I ended up red-lighting. I was so bummed and hard on myself for letting these guys down but came back to a pit area full of support. I apologized for making a mistake, and they told me it just shows them how bad I want to win and shows how hard I'm trying for it.
It's been a great season so far, and I'm proud of the way it has been going for my rookie year. I've learned that you will win some and you will lose some, but you have to make mistakes in order to learn. It's about sticking together to come out on top the next weekend and keeping each other motivated. We're testing after the race in Vegas, then heading to the Specialty Equipment Market Association auto show for an appearance before heading back to California to get ready for the biggest race of the season -- the Auto Club Finals in Pomona, Calif.
My team has been nominated for the Full Throttle Hard Working Crew Award, and I'm going to do everything I can to help it win it. Please vote for the team.


July, 30, 2012
7/30/12
3:58
PM ET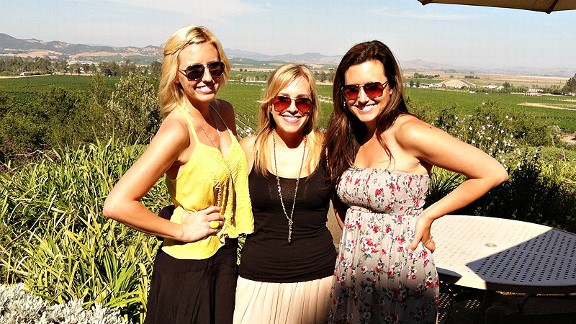 Courtesy of Courtney Force Courtney Force and her sisters enjoyed a day away from the track wine tasting.
Ever since I was a little kid, summertime meant that it was time to travel out to the races for the Western Swing. I looked forward to it every year, back-to-back races at Denver, Sonoma and Seattle, and getting to watch my dad compete in the Funny Car category. It's pretty crazy that I'm now out on the Western Swing in my very own Traxxas Ford Mustang Funny Car competing against the same guys I grew up watching, including my dad.
My sisters and I decided to come up early to the Sonoma, Calif., race and actually see a little bit of wine country. We all went wine tasting together to a few different wineries in Sonoma and had an amazing time. Now that I've been on the road racing and Ashley has been raising her son, Jacob John Hood, it's been a lot harder to get time with my sisters. Luckily, Ashley's husband Dan agreed to watch the baby while we had a girls day out and taste the wines from Sonoma. The wineries were so beautiful so it really was a great experience to share with them before I had to change gears and get ready to compete at The Raceway at Sonoma.
The day before qualifying began, my sisters and I took part in the annual Eric Medlen Charity Dinner for our teammate who passed away during a testing accident in 2007. We participated in a Q&A at the event along with some other drivers to help benefit the Speedway Children's Charities in Eric Medlen's name. It was great getting to be with my sisters and some other drivers, and be able to tell stories of our friend Eric, and doing it for a good cause.
When the race weekend in Sonoma began, our team was off to a great start. I ran my career best elapsed time (E.T.) of 4.08 seconds and then followed it up the very next pass with an event better career-best -- 4.05 seconds at 312 mph. It was awesome to achieve two career best times for me in the same day.
On race day, we matched up against the current world champion in Funny Car, Matt Hagan. Unfortunately we lost, but we had nothing to hang our heads about. Our Traxxas Ford Mustang was on a roll and running good numbers all weekend, so it was definitely a bummer to go out in the first round, but not the end of the world for us. It was a tough weekend, but can't be too hard on myself because I feel confident about how our car is running for next weekend in Seattle.
In between Sonoma and Seattle, my family and I are going to take a few days to relax and hang out in Lake Tahoe, Nev., so we can regroup and get our minds straight for the next race! Seattle is the track that I earned my first ever National event win while I was competing in the Top Alcohol Dragster category. I'm definitely looking forward to returning to a track where I'm comfortable and excited to wrap up the Western Swing. My crew chief told me that the worst thing to do is dwell on a round loss. You just have to suck it up and move on to the next race. I can't be too hard on myself, I just need to remind myself that this is my rookie season and our team has definitely done better than expected the first year out. Even after a tough weekend, we still are pretty solid in the top 10!