February, 28, 2013
2/28/13
11:28
AM ET
By
Lexie Brown
| ESPN.com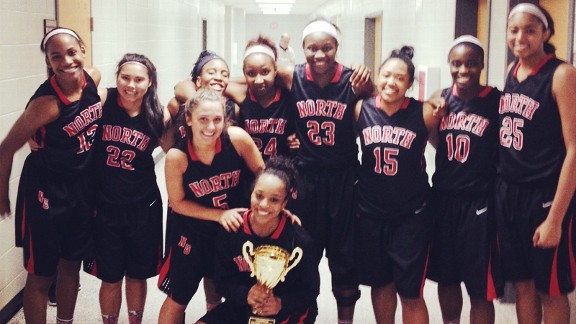 Courtesy Lexie BrownLexie Brown says she's been more reflective as a senior and has realized how blessed she is to have great teammates.
We're fresh off a regional championship and on our way to Georgia's Final Four this week, and it marks the last two weeks of my high school basketball career at North Gwinnett (Suwanee, Ga.). Thinking back, I have an immense amount of memories I can't help but daydream about. I didn't think I would be this nervous and sad about the season ending, but honestly a milestone in my life is almost complete. I wouldn't have wanted to have my high school career end any other way.
Finishing my senior year at North Gwinnett, I am reminiscing about how far we have come as a program. When I arrived my sophomore year, the team was pretty good but really had no statewide recognition and definitely no national recognition. The beginning of the season was a struggle, but we eventually pulled it together and made it to the Sweet 16 of the state tournament. One of the biggest reasons our season had such a huge turnaround was the arrival of Peyton Whitted. She was the catalyst for an 18-game winning streak. She is signed to play at Penn State, and I would not have had ANY success without her joining our squad sophomore year.
Junior year went a lot smoother. We didn't have any rough patches and only had one bad loss the whole season. Another transfer, Baylee Rexing, enriched our basketball team and we enjoyed a lot of success last year. Baylee added another scoring threat and became one of our go-to shooters, not to mention my best friend. Unfortunately, we couldn't get it done and lost in the final four of the state tournament.
Senior season, however, has been one to remember for sure! Two more additions, Joshlyn Belcher and Stephanie Amichia, made our team (in my eyes) almost unstoppable. Joshlyn is a shooter who has unlimited range and Stephanie gives us a post presence we had been lacking for two years. Right now, we are in the midst of a historic state title run, and this year is the year we can win it all!
The phrase "there is no I in team" never had so much meaning to me until this season. You spend little time as an underclassman reflecting because you are always looking forward to the next season. For me, there is no next season in high school, and I have realized I have been blessed with an amazing team.
There are so many parts of our team that are so important, but quite frankly listing them would make the blog way too long. Without these girls, I wouldn't have enjoyed high school basketball nearly as much. They each have taught me something about myself (not always good). These lessons will help me in the future. They have become my sisters and my family. I can't take credit for any of my successes or our team successes without mentioning them. I love each and every one of my teammates and I definitely respect what each one of them brings to this team.
Now wish us luck as we continue our quest to "Win The Last One!"
February, 15, 2013
2/15/13
1:16
PM ET
By
Lexie Brown
| ESPN.com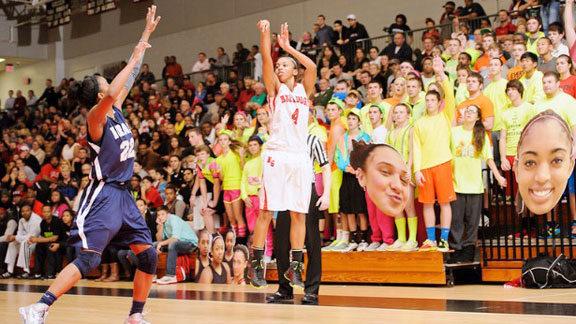 Courtesy Ty FreemanCheck out the fatheads! Lexie Brown says the support North Gwinnett has received from its fans has been amazing.
We have finally started our region tournament, and I am so excited to get the postseason under way. My teammates and I have worked so hard this season to get to this point, and we can't let up now. Our motto for the postseason is "8 Games of Greatness."

The state championship is on March 9, and my goal is to still be playing at that point. After this last go-round in the playoffs, I will have completed my high school career. I have experienced so much success and victory with my team these past three seasons at North Gwinnett, so playoff time this year is bittersweet.

My team this year has accomplished what no other basketball team has in school history, and we are one of the most successful senior classes to come out of this basketball program. When I first got to North Gwinnett, one of the first things Coach [Bryan] Sellers told us was that we need to leave the program better than we found it. I am pretty sure that we have done just that!
[+] Enlarge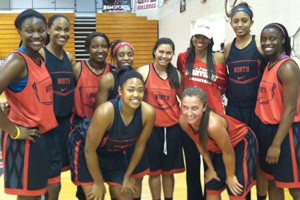 Courtesy Lexie BrownNorth Gwinnet is No. 11 in the most recent espnW 25 Power Rankings.

One of the most amazing things that I have experienced while playing at North is the way we have impacted the community. When I first got here we had fans, but not a huge number. Now we always have a lot of people at our games, and our student section is awesome! My favorite thing to see when I am playing is the young girls' basketball players who are in the stands. They always are in their basketball stuff and cheering so loud for us! We have become role models for the girls in our community.

High School basketball, of course, is about winning state championships, but I haven't reached that goal yet. Hopefully this year will be our year.

I have never been so excited, anxious, prepared or nervous for playoffs before. Maybe it's because this is it for me. I so badly want this team to be remembered forever, and I have a good feeling that we can make a huge run. My teammates have my back and I have theirs, so I am no too worried. This season has been unforgettable, to say the least, but I don't want to be done yet! We have about four weeks left to have "8 Games of Greatness."