December, 1, 2014
12/01/14
10:31
PM ET
Courtesy of Ruth Riley Ruth Riley, second from right, went to the Congo this past August for a U.S. State Department sports diplomacy trip.
Looking over the audience at the Junior Chamber International (JCI) World Congress this past weekend in Leipzig, Germany, brought back fond memories of my experiences at the 2004 Olympics. It reminded me of the opening ceremonies, where the beauty and diversity that exists in our world was highlighted by the amazing culmination of countries, cultures, ages and races.
For those not familiar with JCI, it is a non-profit of young, active citizens who are taking action to provide sustainable solutions in more than 100 countries around the world. I was incredibly humbled to be honored as one of their Top Outstanding Young Persons of the World in the category of Humanitarian and or Voluntary Leadership.
In the sports world, as a society, we love to idolize the "superstar." If you ask any coach, or purist of the game, they would tell you that the winning shot does not happen without the rest of the team members playing their role. They are the ones who create space on the court, set the screen, and deliver the ball at the right time, and these "thankless jobs" are incredibly important to the overall success of the team.
I think that concept is evident in our daily lives as well. Take the UN Foundation's NothingButNets campaign, which I have been a spokeswoman for on behalf of NBA/WNBA Cares since it's inception in 2006. We would not have had the opportunity to take Stephen Curry to Tanzania a few years ago to help distribute nets if organizations like JCI wasn't mobilizing people around the world to partner with the campaign. They participate in the BUZZ Tour, advocate on Capital Hill for funding, and just this past weekend I stopped by the NBN 3x3 tournament that JCI Turkey was hosting for the World Congress. The most amazing thing is that NBN is only one of thousands of causes that JCI rally behind globally. It has been very inspiring and encouraging to witness the incredible impact that JCI members are making!
As active citizens, we have the responsibility to serve & make positive, sustainable impact in our communities & around the world #JCIWC2014

— ruth riley (@ruthriley00) November 28, 2014
While I am humbled that people admire my achievements and those of my fellow nominees, I hope that everyone can take a moment to recognize and celebrate the uniqueness and greatness that lies within each of you. I love the quote by Gandhi: "Be the Change you want to see in the World." Our society so often portrays this impossible image that we should strive to live up to. Gandhi truly celebrated the potential that lies within each of us.
I believe our actions should inspire others, not to be like us, but rather to look within themselves and seek out their own unique purpose in life. Each day we are given a virtual pen and paper and how we live out those 24 hours, the time that we invest, the love that we share, the encouragement and resources we provide will inevitably dictate the story of our lives.
Starting in 2012, the Tuesday after Thanksgiving has been named #GivingTuesday. Seeing an opportunity to channel the generous spirit of the holiday season to inspire action around charitable giving, 92nd Street Y and the UN Foundation came together to find ways to promote and celebrate the great human tradition of giving. So as you contemplate your purpose, seek out a charity that you are passionate about and spread a little holiday love this season!!!
November, 13, 2014
11/13/14
2:51
PM ET
AP photo/Sara D. DavisNotre Dame head coach Randy Waldrum celebrates a national championship with goalie Erika Bohn, left, and Annie Schefter (11) for the women's soccer championship on Dec. 5, 2004 in Cary, N.C.
With the NCAA soccer tournament starting this week, we decided to dive into the vault for one of the best moments in NCAA Women's Division I Soccer.
On Dec. 5, 2004, Notre Dame defeated UCLA in the only women's soccer championship to end in penalty kicks. The Fighting Irish won 4-3 on penalty kicks after being tied 1-1.
Not only did the Fighting Irish become champions, they also capped a near-perfect season with a 25-1-1 record.
Goalkeeper Erika Bohn held it down between the goal posts during the shootout for Notre Dame. Junior forward Katie Thorlakson described the feeling when Bohn leaped to the right side for the final save to win the match.
"I'm not outwardly emotional, but I started crying," said Thorlakson to UND.com. "They were tears of happiness and pride, for everything our team stood for: heart, desire, accomplishment, love."


Watch video of Notre Dame celebrating the 10th anniversary of the title by inviting the team back for a celebration.
April, 9, 2014
4/09/14
8:19
AM ET
Don McPeak/USA TODAY SportsConnecticut routed Notre Dame on Tuesday night and propelled itself into the record books with its ninth NCAA title.
The 2014 NCAA tournament is a wrap. And a historic one at that. The Connecticut Huskies routed the Notre Dame Fighting Irish 79-58 Tuesday night in Nashville to win the NCAA women's basketball national championship. Here are five fast facts about the game to impress your co-workers at the water cooler today.
1. With the win, Geno Auriemma and UConn move out of a tie with Pat Summitt and Tennessee for most NCAA women's basketball titles overall with nine. Auriemma is now one title shy of matching John Wooden's Division I record of 10.
2. The Huskies finished the season at 40-0, completing the fifth perfect season for the program and the eighth in women's college basketball history. UConn joins the 2012 Baylor Lady Bears as the only teams to reach 40-0.
3. Both the men's and women's teams at UConn won the NCAA title this week, marking the second time that the same Division I school won both championships in the same season. The Huskies also did it in 2004. Just as impressive, the Huskies are a combined 13-0 in national championship games.
4. UConn sophomore Breanna Stewart was named the Final Four's Most Outstanding Player for the second straight season. She is the first player to win the award back-to-back since Candace Parker of Tennessee did it in 2007 and 2008.
5. Notre Dame is 1-3 all-time in national championships. The Irish have lost three straight since winning the NCAA title in 2001.
April, 8, 2014
4/08/14
9:08
AM ET
Getty ImagesUConn and Notre Dame will put their perfect seasons on the line in Tuesday night's national championship game.
Need a crash course before the epic collision of Connecticut and Notre Dame? Here are 10 fast facts for Tuesday night's NCAA championship game (8:30 ET, ESPN/WatchESPN) between the two undefeated powerhouses.
1. This is the first time in NCAA Division I basketball history -- men or women -- that two undefeated teams will meet in the championship game. Connecticut is 39-0, and Notre Dame is 37-0.
2. UConn is 8-0 in NCAA title games; Notre Dame is 1-2.
3. The Huskies are looking to complete their fifth undefeated season in program history. The combined total of undefeated seasons from all other Division I women's basketball programs is three.
4. UConn is tied with Tennessee for the most women's basketball national championships with eight. With a win Tuesday night, the Huskies would break the record and coach Geno Auriemma would pass former Lady Vols coach Pat Summitt for most titles won by a women's basketball coach.
5. Notre Dame has advanced to the championship game three out of the past four seasons, but the Fighting Irish haven't won a title since 2001.
6. The Huskies have won their first five games of the tournament by a combined 135 points. Their closest game was a 69-54 win over Texas A&M. The Irish have outscored their first five tournament opponents by a combined 130 points, with a pair of 17-point victories being their toughest tests.
7. Both UConn and Notre Dame's last losses have come at the hands of the other. UConn last lost in the 2013 Big East championship game, falling 61-59 to Notre Dame. Notre Dame last lost in the 2013 NCAA tournament semifinals, falling 83-65 to UConn.
8. The Irish have won seven of the past nine meetings against the Huskies over the past seven seasons. Baylor is the only other school with multiple wins (2) against UConn in that time span.
9. UConn looks to become the first team to win back-to-back national championships since UConn did it in 2009 and 2010. The Huskies also won three straight titles from 2002 to 2004.
10. Both teams have three Associated Press All-Americans on their rosters -- Breanna Stewart, Stefanie Dolson and Bria Hartley for UConn and Kayla McBride, Jewell Loyd and Natalie Achonwa (injured) for Notre Dame. Stewart and McBride are the only two to make the first team.
April, 4, 2014
4/04/14
8:59
AM ET
Jonathan Ferrey/Getty ImagesCam Newton and Auburn beat Oregon in the most recent meeting of two unbeaten teams in a national title game.
With just the semifinals standing in the way of a clash of unbeatens between UConn (38-0) and Notre Dame (36-0) in the NCAA women's basketball tournament, we look back at the 12 previous NCAA championship games between perfect teams.
Auburn vs. Oregon football, 2010: Led by quarterback Cam Newton, the Tigers edged the Ducks 22-19 in the BCS National Championship.
Alabama vs. Texas football, 2009: After the Longhorns lost star quarterback Colt McCoy to injury early, the Crimson Tide capitalized and took home the BCS title with a 37-21 victory.
USC vs. Oklahoma football, 2004: Despite entering the game with matching 12-0 records, the Trojans routed the Sooners 55-19 in the BCS Championship. The title was later stripped from the Bruins for NCAA violations and no champion is recognized from that season.
Miami vs. Ohio State football, 2002: Bringing a 34-game winning streak into the BCS Championship, the Hurricanes fell to the Buckeyes in a double-overtime classic, 31-24.
Florida State vs. Virginia Tech football, 1999: The Seminoles held off a second-half rally by the Hokies for a 46-29 victory and claimed their second national championship.
Long Beach State vs. Penn State women's volleyball, 1998: The 49ers became the first volleyball program in Division I history to finish the season undefeated by topping the Nittany Lions. Long Beach State was led by now-icon and three-time Olympic gold medalist Misty May.
Marshall vs. Montana football, 1996: The Thundering Herd, featuring Randy Moss and Chad Pennington, captured their second NCAA Division I-AA title with a 49-29 victory over the Grizzlies.
Old Dominion vs. Iowa women's field hockey, 1992: The Monarchs took home their third consecutive national title, and seventh overall, with a 4-0 win over Iowa.
Johns Hopkins vs. Syracuse men's lacrosse, 1984: The Blue Jays snapped the Orange's 22-game win streak -- that stretched over two seasons -- with a 13-10 victory in the national championship.
North Carolina vs. Johns Hopkins men's lacrosse, 1981: North Carolina won its first lacrosse title by edging Johns Hopkins 14-13.
Cornell vs. Maryland men's lacrosse, 1976: The Big Red needed overtime to beat the Terps 16-13 to win their second national championship.
Howard vs. Saint Louis men's soccer, 1971: The first known meeting of unbeatens in the NCAA finals, Howard topped Saint Louis 3-2. The NCAA later stripped Howard of the title for allegedly using ineligible players.

March, 18, 2014
3/18/14
7:08
AM ET
AP Photo/Joe RaymondUConn coach Geno Auriemma and Notre Dame coach Muffet McGraw are both looking for a perfect season and a national championship.
With UConn and Notre Dame both boasting perfect records heading into the NCAA tournament, 2014 goes down in history as just the second time two schools enter the women's tournament unbeaten. In 1998, Tennessee (33-0) and Liberty (28-0) put their unblemished records on the line in the tournament but met in the first round. Tennessee dominated No. 16 Liberty with a 102-58 rout to advance and went on to complete its perfect season with a sixth national championship. UConn (34-0) and Notre Dame (32-0), on the other hand, can't meet until the April 8 final in Nashville. UConn is looking for its fifth undefeated season (1995, 2002, 2009 and 2010) and ninth NCAA title while Notre Dame seeks its first perfect season and second title (2001).
March, 5, 2014
3/05/14
8:04
AM ET
The ACC tournament gets underway today in Greensboro, N.C., and top-seeded Notre Dame looks to win the title in its first year as a member. The Irish won the regular-season title with a 16-0 conference record and earned a double-bye. They open with a quarterfinal game on Friday. In anticipation of their ACC tournament debut, here are five key facts about their season:
1. Notre Dame completed its first undefeated regular season (29-0) in the program's 37-year history after winning its final game on Sunday against No. 13 North Carolina State.
2. The Irish have gone undefeated in conference play the last two seasons, with a 16-0 mark during their final season in the Big East in 2012-13.
3. Notre Dame is the eighth team in ACC women's basketball history (1977-78 to present) to have a perfect record in conference play and is the first team since North Carolina did it in 2007-08.
4. Notre Dame was 9-0 against ranked opponents this season, with an average margin of victory of 17.3 points.
5. Notre Dame's senior class (Natalie Achonwa, Ariel Braker and Kayla McBride) has tied the program record for most wins by a senior class, improving to 130-14 during their four-year careers. Their win total is currently tied with the 2013 class (Skylar Diggins and Kaila Turner), which went 130-20.
January, 27, 2014
1/27/14
8:12
AM ET
G Fiume/Maryland Terrapins/Getty ImagesAfter losing to unranked Virginia last week, the Terps will be playing with something to prove tonight.
No. 2 Notre Dame (18-0) looks to keep its undefeated season alive as it takes on No. 6 Maryland (16-2) in College Park (7 p.m. ET, ESPN2 and WatchESPN). Here are five fast facts about the rivalry.
1. Maryland leads the series 4-2. The Terps won the first meeting 84-62 in January of 1983.
2. The teams last met in the Elite Eight of the 2012 NCAA tournament. Notre Dame won 80-49 and advanced to its second consecutive Final Four. After beating UConn in the semifinal, the Fighting Irish fell to Baylor in the championship game.
3. Maryland beat Note Dame the last time the Irish visited College Park, 75-59 in the Women's Preseason NIT in November of 2007. It was the schools' first meeting in more than 20 years. Maryland tied a school record with 12 3-pointers in that win.
4. This is Notre Dame's second straight week playing on "Big Monday." The Irish beat the Tennessee Lady Vols 86-70 in Knoxville last Monday. Led by Kayla McBride's 22 points, Notre Dame erased its largest deficit of the season (12) to remain undefeated.
5. The game features four players on the recently released Wooden Award's Midseason Top 20 list -- Natalie Achonwa, Jewell Loyd and Kayla McBride of Notre Dame and Alyssa Thomas of Maryland.
---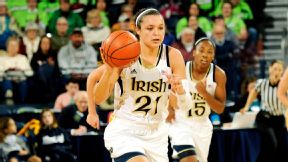 January, 20, 2014
1/20/14
9:14
AM ET
AP Photo/Wade PayneNotre Dame's Ariel Braker and Tennessee's Jasmine Jones will face off again tonight in Knoxville.
No. 2 Notre Dame puts its undefeated record on the line tonight against No. 12 Tennessee in Knoxville. (7 p.m. ET, ESPN2 and WatchESPN). Here are five fast facts about the rivalry.
1. The Lady Vols own a 20-3 career record over the Fighting Irish. Tennessee won the first 20 games between the schools, with Notre Dame finally defeating its orange-clad rivals to punch a ticket to the 2011 Final Four. Including that NCAA tournament victory, the Irish have won the last three meetings.
2. The teams last met on Jan. 26, 2013. Former Notre Dame star Skylar Diggins had a career-high 33 points to lead the Irish to a 77-67 victory.
3. The Lady Vols honored legendary coach Pat Summitt before the 2013 meeting by raising a banner in her honor to the rafters at Thompson-Boling Arena. Many of the Tennessee greats were in attendance, including Candace Parker, Chamique Holdsclaw and Tamika Catchings.
4. Notre Dame held Tennessee to its lowest scoring game in school history on Jan. 23, 2012, beating the Lady Vols 72-44 in South Bend, Ind.
5. There's more to come. Notre Dame and Tennessee are scheduled to play the next two seasons at Purcell Pavilion before returning to Knoxville to complete the four-year contract in 2016-17.
December, 27, 2013
12/27/13
8:03
AM ET
Cal Sport MediaJonathan the Husky looks pretty excited about the upcoming women's basketball schedule.
This weekend largely marks the end of the nonconference portion of the women's basketball season. And while matchups like UConn-Stanford, UConn-Duke and Tennessee-Stanford were a great way to tip off the season, here are our elite eight conference games before March that we can't wait to see.
Jan. 5:
Maryland at North Carolina, ESPNU
Jan. 27:
Notre Dame at Maryland, ESPN2
Feb. 2:
Notre Dame at Duke, ESPN
Feb. 2:
Stanford at Cal, ESPN2
Feb. 9:
Louisville at UConn, ESPN
Feb. 10:
North Carolina at Duke, ESPN2
Feb. 16:
Kentucky at Tennessee, ESPN
Feb. 23:
Duke at Notre Dame, ESPN
But if you just can't get enough of the nonconference showdowns, there are two more next month that are perfectly acceptable to start popping the popcorn for.
Jan. 13:
UConn at Baylor, ESPN2
Jan. 20:
Notre Dame at Tennessee, ESPN2
November, 26, 2013
11/26/13
8:27
AM ET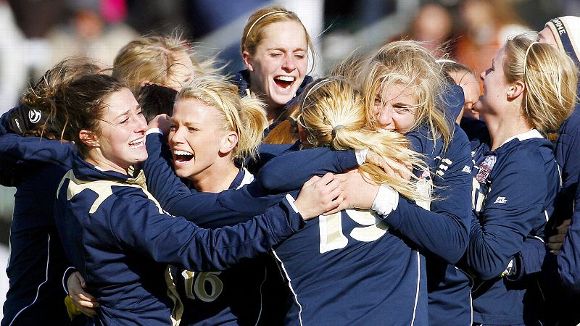 John Rottet/Raleigh News & Observer/MCT/Getty ImagesThe Notre Dame women's soccer program won its most recent NCAA championship in 2010.
On this day in 1842, the University of Notre Dame was founded in South Bend, Ind. Established by Father Edward Sorin as an all-male Catholic school, buildings were first constructed in 1843 and degrees were first awarded in 1849. Today with more than 11,000 students -- male and female -- the school is known for both its academics and athletics. The Fighting Irish have 23 Division I athletic programs and have won 27 national championships in NCAA history, including three titles by the women's soccer team (1995, 2004, 2010) and one by the women's basketball team (2001). Notable alumni include Skylar Diggins, Shannon Boxx, George Gipp, Joe Montana, Paul Hornung, Mike Golic, Manti Te'o, Steve Bartman and, of course, "Rudy" Ruettiger.