November, 25, 2012
11/25/12
8:32
PM ET
By
Sonia Thompson
| ESPN.com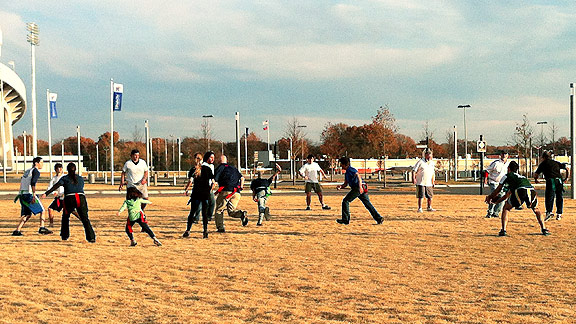 Courtesy of Sonia ThompsonA blue sky greeted the Thompson family for their annual Thanksgiving flag football game.
Saturday was the last Ole Miss home game of the season, the most exciting by far. It was rivalry week, and the Rebels trounced the much-hated Mississippi State Bulldogs 41-24, ending their three-game Egg Bowl losing streak.
But even that game didn't compete for the title of the biggest holiday weekend matchup. No, that honor goes to my husband's family's post-Thanksgiving Day flag football game, proving once again that there's a thin line between love and hate.
Now, the Thompson Thanksgiving is a respectable affair. It rotates between aunts, uncles and cousins' houses in Memphis and Oxford, Clarksdale and Yazoo City, Miss. There are usually between 50 and 75 family members, and everyone dresses up in church clothes for early afternoon Bloody Marys and champagne, a family photo, prayer and feast of shrimp, oysters, lump crab meat salad, cheese straws, meat pies, beef tenderloin with homemade béarnaise, turkey, stuffing, dove, squash casserole, sweet potato casserole, spinach casserole and about a dozen different desserts, including something called chocolate pté. It's all very civilized -- until after lunch. Then, the church clothes are shed and everyone puts on sweatpants and heads over to the closest open field.
[+] Enlarge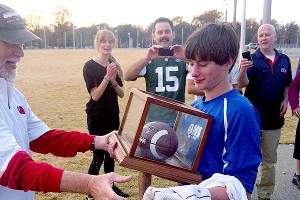 Courtesy of Sonia ThompsonCousin Harry suffered a broken and bloodied nose, but earned the game ball.
The trash talk actually begins weeks before, with emails about draft picks. The family patriarchs, brothers Michael and Will Thompson, who take the competition seriously, head up the teams. This year's email read, "Welcome to the 2012 Thompson Thanksgiving Football Players Draft. You have been drafted in the first round. Congratulations! (Contract $$$ and terms TBD after Thanksgiving Game)."
My family joined the Thompsons this year, and there was a battle over Seth, my 28-year-old brother, who is 6-foot-3. The final email read, "Seth will be on Will's team. ('Older Brother Wins Top Draft Prospect' was the headline)."
I was drafted by Michael (go blue team!), who came to win. He had a notebook full of plays; he tried to coach us up. We huddled before each down and were given specific instructions. It didn't matter that after the ball was snapped, not a single one of them actually happened as Michael had carefully outlined.
The white team went with the no-huddle strategy, which served them well. But I think it might have had more to do with the fact that the draft breakdown was a little lopsided. They got most of the men in the family, while the blue team players were Michael and most of the women, including the 6- and 7-year-old little girl cousins (who, I have to say, showed good hustle).
We had a small crowd of non-players cheering us on. When the little girls got tired, they tagged out to do gymnastic routines on the sidelines, and when someone needed a drink (read: beer) break, there was plenty of laughter. There were lots of touchdowns, but I'm not sure of the official score by the end, although I think (not shockingly) the white team emerged victorious. Cousin Harry bloodied and broke his nose on a (illegal) tackle, which still earned him the game ball.
Someone videoed most of it on an iPhone, and when we got back to the house, we switched off the NFL game and watched ourselves on the living room TV. Somehow, the broken-nose play wasn't captured on camera, so the re-telling was able to grow and grow (just like poor Harry's swollen face). And even though the rivalry talk over next year's game has already begun, I can still feel the love.
November, 12, 2012
11/12/12
1:32
PM ET
By
Sonia Thompson
| ESPN.com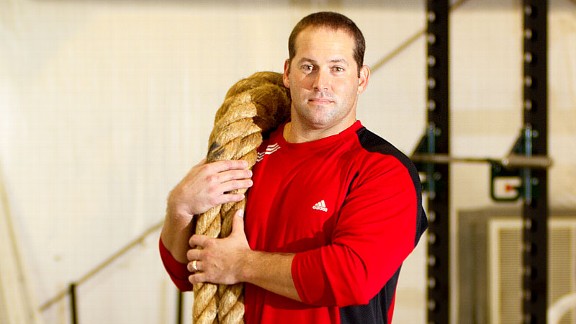 Joe Worthem Former Ole Miss strength and conditioning coach Jason Wilfawn put Sonia Thompson through a workout.
It's nearly the end of football season -- Saturday was the second to last Ole Miss home game. After three weeks off, I was having a hard time finding the motivation to tailgate again. It's like my friend Sally once said, "We usually do a big spread for the first home game. But it kind of dwindles each weekend and by November, we're eating Doritos out of the bag."
Since that's exactly how I felt -- like I could barely manage the Herculean task of fixing sandwiches and then eating them outside -- I couldn't begin to imagine mustering the strength to actually, you know, play football. I decided it was time for a gut check, in more ways than one.
The gym I go to in Oxford, Peak Performance Specialists, is owned by Jason Wilfawn, who, before he opened his own place, was the strength and conditioning coach for the Rebels. I asked Jason if he would put me through a typical football workout so I could better understand what it feels like to be a college athlete. I think at first he thought I was kidding (he's seen my performance during our regular workout sessions, and well, let's just say I don't think he has anyone coming to scout me). But he agreed.
[+] Enlarge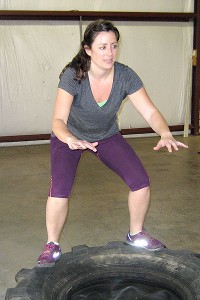 Courtesy of Sonia ThompsonSonia Thompson was feeling ambivalent about late-season tailgates, so she put herself in the players' shoes with a workout typical of the Ole Miss team.
I pictured Tim Tebow doing one-armed pushups and swinging a sledgehammer. It made me nervous. "Nervous is a good thing, that means it is important to you! That's what I tell my athletes," Jason emailed me.
I arrived for the first part of the workout, which was split up into two days so I wouldn't die. Day One was running drills focusing on acceleration. I roped my friend Lena into coming with me for morale. We started the warm-up. Five minutes of jogging, followed by high knees, running backwards, lunges, holding plank, hopping on one foot and some ab work. I was winded. We started getting loose, and one awkward leg stretch reminded Lena of a "Dirty Dancing" move. But other than quoting chick-flicks, we stayed focused.
We did A-skip and A-run drills, designed to break down our running and help us stay light on our feet by getting off the ground quickly. Jason told us to focus on our posture, and keep our feet under our bodies, rather than out front. Of course I've run before, but I've never really thought about what my body was doing. It was a lot to remember, all while doing it quickly and correctly. I tried to imagine doing those things in a game where someone was trying to tackle me.
We ended the day with shuttles sprints for conditioning. The goal was to run 300 yards in 70 seconds, rest for three minutes and do it again in 70 seconds. That's the time big offensive linemen are expected to meet. My times were 123 seconds and 121 seconds. Not even close.
The second day was strength training. My first task was a dumbbell complex combined with jumps onto a tire, which Jason said was help with my "work-capacity and flexibility." I don't know if it accomplished those things, but it did make me tired and sweaty. After that, we did dumbbell shoulder presses for upper body strength movement. Then it was on to a total body circuit of pushups, pull-ups and body weight squats designed to build strength, conditioning, burn body fat and help stimulate muscle growth. I was supposed to do three rounds, but Jason took pity on me.
"I think you'll be good with just two," he said.
In the end, it was hard -- really hard -- but I survived. I suspected my workout probably paled in comparison to what actual players do everyday, and Jason admitted he trained me like a redshirt. But it still gave me a new appreciation for how hard it is to be great at something.
I woke in pain Saturday. I was too sore to tailgate; I watched the game from my couch.
September, 16, 2012
9/16/12
10:02
PM ET
By
Sonia Thompson
| ESPN.com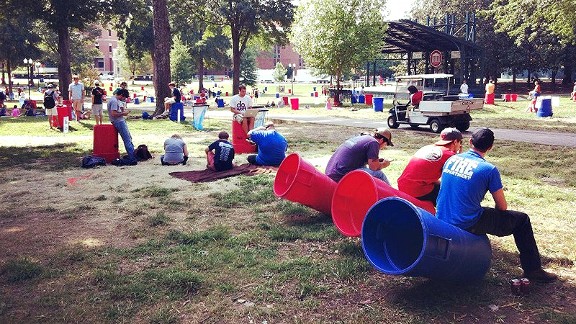 Amy ScruggsFans began saving tailgate spots in the Ole Miss Grove on Friday morning, nearly 36 hours before kickoff against Texas.
The hype around Texas-Ole Miss had been mounting for months. If there's one thing Oxford is good at, it's gossip. Had I heard all the hotels were booked and houses were renting for $20,000? That ESPN's "College GameDay" was coming? Was I aware Bevo would be in the Grove? Or all the past Texas governors would be here? And Matthew McConaughey rented out the City Grocery restaurant and bar for the whole weekend?
Yes. Yes. Yes. Yes. I'd heard it all. Eye roll.
It got so out of hand the rumors sparked their own #TexasGameRumors Twitter trend.
"2pac has been living in Oxford the whole time, and is making his re-appearance in oxford with a duet with george straight," wrote @BobbyMeinhold.
"Lance Armstrong is biking from Austin to Oxford and has rented out highway 6 while he's here," said @wesleywalls.
I tried to hunker down, run my errands early in the week and avoid the Kroger rush. It proved impossible. On Wednesday, I ducked into a department store and was bombarded. "Do you know the weather forecast for Saturday," a frantic woman standing by a rack of red dresses asked.
The university doesn't allow tailgate setup on campus until 10 o'clock Friday night, but as early as 10 that morning, the Grove was full of fans who would wait there a full 12 hours to save their spot. One of my best friends, a bartender, called me after her Friday lunch shift. She had sold 10 gallons of Bloody Marys and was on her way to drop off Red Bull for the bartenders working that night.
People on the Square popped into restaurants yelling "Are you ready," prompting diners to erupt in the "Hotty Toddy" cheer. Frat boys bought rounds of Patron shots at 3 p.m.
The lines of traffic around the Square and down University Avenue looked like ants. The town had a Mardi Gras vibe.
Truthfully, though, I was partied out. It was the third home game in a row and I was tired, a little crabby and (as I wrote about last week) sick of fried chicken. I started wishing I had gone to Nashville with my friends to escape the insanity.
Kickoff wasn't until 8:15 p.m. and I wasn't sure I cared anymore. After the Friday boozing and all-day tailgating, the game seemed to be kind of an afterthought anyway. Ole Miss hasn't had a great football team in years and no one expected a victory. The saying "We may not win every game, but we've never lost a party," is cliché but true.
Walking into the stadium, though, I felt something I'd never felt before. Twenty minutes before game time, the crowd was electric. Players were dancing to the PA during warm-ups. Fans were on their feet, cheering for "The Star-Spangled Banner," cheering for the marching band, cheering for promos on the JumboTron. Red pompoms were shaking fast.
When Van Halen's "Right Now" started blasting, I got goose bumps.
Before heading back into the tunnel, the players stopped in front of the student section, soaking it in. They jumped up, reaching for fingers through the railings and chest-bumping each other. The fans lost it. It felt like Vaught-Hemingway might actually lift off.
It made me think about all those times I'd said how foolish dudes who painted their chests and go shirtless look; about the times I'd belittled the "nuts" who drive RVs across the country to games and brides who won't pick a wedding date until their team's schedule has been set. For once, my inner cynic was quiet.
The game started. Ole Miss got creamed. Final score: 66-31 Longhorns. But it didn't matter.
In that moment before kickoff, I didn't roll my eyes once.