August, 22, 2013
Aug 22
8:35
AM ET
Al Bello/Getty ImagesWith a win at the US Open, Serena Williams would add $3.6 million to her career winnings of $47,262,995.
The women's and men's singles draws for the 2013 US Open tennis tournament at Flushing Meadows, N.Y., will be announced today, and there will be some serious prize money – more than $34 million total -- on the line. Both the women's and men's singles champions will be paid $2.6 million, the biggest single payouts in tennis history. Even first-round losers get a healthy paycheck, $32,000. It is the 40th anniversary of equal prize money for women and men at the Open. In addition, Serena Williams and Rafael Nadal, who won the Emirates Airline U.S. Open Series, will earn a $1 million bonus if they win the Open. Victoria Azarenka, Agnieszka Radwanska, John Isner and Juan Martin del Potro also are in line for performance-based bonuses after top-three finishes in the Open series.
June, 3, 2013
Jun 3
8:34
AM ET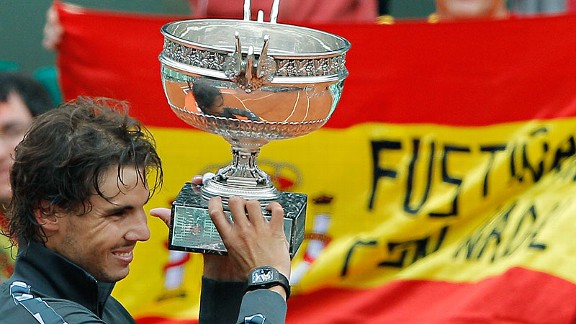 AP Photo/Michel SpinglerRafael Nadal is hoping to become the first man to win the same Grand Slam singles title eight times.
What better place for Rafael Nadal to celebrate his 27th birthday than in Paris? Nadal, who is seeded third at Roland Garros this year, has won a record seven titles at the French Open. Even more impressive, Nadal is 55-1 on the red clay of Paris. The Spaniard's lone loss was against Robin Soderling in 2009. Nadal takes on Kei Nishikori today and is hoping to celebrate his 19th straight win, which would put him in the quarterfinals.
Read more WFYIs.