June, 17, 2014
6/17/14
11:19
AM ET
About 5,000 fans packed the lawn at Arvey Field in Chicago's Grant Park on Monday night, gathering to watch the United States defeat Ghana 2-1 in their World Cup opener. Some fans arrived as early as 10 a.m. to set up blankets and chairs in front of a 19-by-33-foot screen. The late-comers were seen accelerating into a jog toward the lawn as they heard fans go wild for Clint Dempsey's goal in the opening minute of the game.
Sarah Spain/espnW
Late-comers were hard-pressed to find a good view, as fans crowded the screen like it was a headliner stage at Lollapalooza. Many were forced to watch from a berm outside of the gated-off watch party area.
Sarah Spain/espnW
Those who pushed to the front row had a great view for a short pre-game set put on by Chicago musician Lupe Fiasco, who also acts as the music director of U.S. men's soccer. In addition to playing hits like "Kick Push" and "Superstar," he led the crowd in a few rousing rounds of the unofficial USMNT chant "I believe."
Chicago Fire forward and 2013-14 MLS MVP Mike Magee was in attendance at the event, which was put on by U.S. Soccer, the Chicago Park District and the Chicago Sports Commission.
Magee signed autographs and took pictures with fans. He also did a halftime Q&A with former World Cup player and current Fire assistant Clint Mathis.
Late in the second half of the U.S. win on Monday John Brooks became the first USMNT player since Mathis to score a goal in his World Cup debut.
Like the second half for the U.S., the watch party didn't go off completely without a hitch. Fans were packed in like sardines, overflowing onto sidewalks and berms, so they'd definitely benefit from a bigger space and bigger screen for the next match.
And while the event had a lot of beer for sale, the only water I spotted was in the hospitality tent. If there was water available for Average Joes, it sure wasn't easy to find.
Despite the difficulty hydrating, happiness hung in the air after a big 2-1 U.S. victory. For those planning on a return trek to Grant Park for Sunday's match with Portugal, my suggestion: get there early, bring lots of water and don't forget your red, white and blue.
October, 8, 2012
10/08/12
6:31
PM ET
[+] Enlarge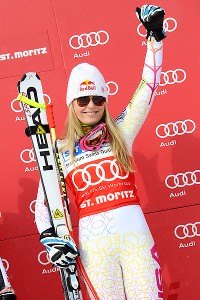 Alain Grosclaude/Getty ImagesLindsey Vonn would like to give the sport she loves more visibility by racing men.
A handful of speakers and influencers at last week's annual espnW: Women + Sports Summit were asked about female athletes being compared to male athletes or trying to compete in men's sports.
Every last one of them said the key to success is avoiding comparisons to men and instead promoting women's sports as a different -- but just as competitive -- exciting and entertaining product. While I agree with their argument on the whole, I can see why the occasional exception is worth pushing for.
Lindsey Vonn has been so dominant in women's skiing, a race against the men may be the only way to truly push herself to the next level. If racing against the best competition out there makes Vonn better and faster, her star will continue to grow, even when she's back in the women's races.
When a dominant female gets a chance to compete with the guys, media and fans pay a lot more attention (see: Anika Sorenstam, Danica Patrick, even Shannon Eastin, the first female to ref a regular-season NFL game). The publicity push would be great for Vonn's brand, but it would also benefit the sport itself. People who watch just to see the "Battle of the Sexes" aspect may decide they like the sport and tune in the next time around, as well.
Only the very best can benefit from a chance to compete with the guys, and it shouldn't be done on a whim or too often. The very best women should want to consistently dominant women's leagues, not struggle to see the field in men's leagues. The focus needs to be on making women's leagues as competitive and compelling as possible, so they can stand alone, but if every once in a while a truly special woman wants to test her mettle against the men, I say let her give it a shot.