November, 12, 2014
Nov 12
9:09
AM ET
By
D'Arcy Maine
| ESPN.com

The Seattle Seahawks mascot, Taima, had her own Richard Sherman-style viral moment on Sunday when she was all like "DEUCES, HANDLER!" and flew into the stands and onto a fan's head.
Taima issued an apology on Tuesday. Because, you know, that's what birds do. She apologized for the "poor judgment" she showed and insisted her actions "were not consistent with the type of bird I hope to become." Of course.
Statement from Taima (the Seahawk) regarding the pregame incident of 11.9.14: pic.twitter.com/vy2AQKGGBA

— Seattle Seahawks (@Seahawks) November 11, 2014
The NFL really might want to consider hiring Taima to craft apologies for all players involved in a scandal. This is some Olivia Pope-level PR here.
See something entertaining on social media that you think deserves to be shared? Let me know on Twitter, @darcymaine_espn.
September, 22, 2014
Sep 22
9:27
AM ET
By
D'Arcy Maine
| ESPN.com

While some members of the Seattle Seahawks surely celebrated their overtime win over the Denver Broncos by hitting the town, DeShawn Shead took a decidedly different route. Surrounded by friends, family and Richard Sherman (complete with his cell-phone camera), the cornerback proposed to his girlfriend, Jessica Martinez, on the 50-yard line after the game. She said yes and it was pretty adorable all around.
Seahawks cb Deshawn Shead proposing on the field after Seahawks beat Denver. pic.twitter.com/HBbr6O0waC

— Alex Flanagan (@Alex_Flanagan) September 22, 2014
AWWWWW! No word on what would have happened had the team lost. That said, hopefully none of the Jacksonville Jaguars plan on proposing after a win this season.
See something entertaining on social media that you think deserves to be shared? Let me know on Twitter, @darcymaine_espn.
January, 30, 2014
Jan 30
7:24
AM ET
Ronald Martinez/Getty ImagesWill the inexperienced Seahawks fare better than the Bills did in Super Bowl XXV?
The Seattle Seahawks enter Super Bowl XLVIII as the first team without a single player to have played in a previous Super Bowl since the Buffalo Bills in Super Bowl XXV on Jan. 27, 1991. How did the inexperienced Bills fare in the Big Game? They lost to the New York Giants 20-19 in Tampa, Fla. The Bills had an opportunity to win, but kicker Scott Norwood missed a 47-yard field goal in the final seconds. Wide right. The loss was the first of four straight Super Bowl defeats for Buffalo. As for the Denver Broncos, they have four players on their roster with Super Bowl experience -- quarterback Peyton Manning, wide receiver Wes Welker, cornerback Dominique Rodgers-Cromartie and tight end Jacob Tamme.
January, 29, 2014
Jan 29
7:01
AM ET
Matthew Emmons/USA TODAY SportsPeyton Manning looks to become the second-oldest QB in history to win the Super Bowl, behind his boss and former Broncos QB John Elway.
You may have already heard, but the Denver Broncos are set to play the Seattle Seahawks in Super Bowl XLVIII on Sunday at MetLife Stadium in New Jersey. And did you know that Broncos quarterback Peyton Manning has an opportunity to set some records and hit some milestones in addition to winning a championship ring? Here are just some of the biggies he could reach on Sunday:
1. Manning could become the first starting quarterback to win a Super Bowl with two different teams. Manning was named MVP after leading Indianapolis past Chicago in Super Bowl XLI.
2. At 37 years and 315 days on Super Bowl Sunday, Manning could become the second-oldest quarterback to win a Super Bowl, behind former Broncos QB John Elway.
3. With a win, Manning would move into solo sixth place for most postseason wins by a starting quarterback all-time. With 11 going into the game, he is tied with Troy Aikman and Roger Staubach. He trails Tom Brady (18), Joe Montana (16), Terry Bradshaw (14), John Elway (14) and Brett Favre (13).
4. With a loss, Manning would take over sole possession of first place for most losses by a starting quarterback in postseason history. With 11 going into the game, he is tied with Favre.
5. With a win, Manning would become the first player to win a Super Bowl after leading the league in passing yards and passing touchdowns in the same season.
January, 27, 2014
Jan 27
2:29
PM ET
By
Anna Wilson
| ESPN.com
Courtesy Anna WilsonThe Wilson family will be gathering in New York and New Jersey this weekend to watch Russell Wilson play in his first Super Bowl.
Anna Wilson, a sophomore at Collegiate High (Richmond, Va.), is one of the best high school basketball players in the nation. The 5-foot-7 point guard, who has given a verbal commitment to Stanford, is also the sister of NFL star Russell Wilson. She blogs for espnW.
In Honor of Super Bowl XLVIII:
I was in third grade when my brother Russell was a sophomore in high school and my oldest brother, Harry, was in college at the University of Richmond. Growing up, I remember going to both of my brothers' games, whether it was football, basketball or baseball.
I vividly recall going to Russell's football games at Collegiate. There were always two really big games, against St. Christopher's, a local private school, and Godwin. Godwin was a public school that Collegiate always played, and it was one of the biggest games because it was the only one under the lights.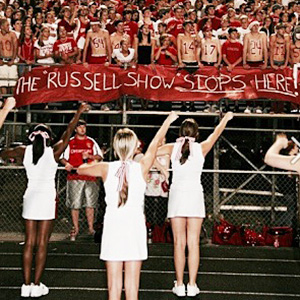 Courtesy of Anna WilsonAnna Wilson recalls the crazy atmosphere when Collegiate took on rival Godwin.
Both student sections would be packed, and Godwin had a sign up that said, "The 'Russell Show' Stops Here" (unfortunately for Godwin that was not the case). Harry and Russell accumulated multiple state championships at Collegiate. Russell would walk around the house days before the state championship game and say, "We going to the ship!" I guess Russell has stuck to that phrase since high school, to his college years and to the pros.
The great part about having siblings, when they have the same passion as you, is that you get to learn from their success and failures. Russell learned from Harry, and I am continuing to learn from Harry and Russell.
On Sunday, Russell and the Seahawks will be playing in Super Bowl XLVIII, which is still mind-boggling to me, but not surprising considering that I picked the Seahawks to go to the Super Bowl anyway (lol). That will be a day my family will never forget, and Chapter 1 to the things Russell will accomplish in the NFL.
I will be attending Super Bowl XLVIII, as will several of my family members. I am immensely excited to be a part of such an incredible experience, and hopefully this will be the first of many. I will be taking plenty of pictures and videos for those not able to come, and I will upload them straight to my Twitter, to Instagram and to espnW for anyone who would like to be a part of the experience, too.
Russell, when you get the chance to read this, I want you to know that I am extremely proud of you. You have been a role model to me and other aspiring athletes. Your work ethic is contagious and second to none. Be thankful for the favor you have had over your life and the gifts God has blessed you with. Most importantly, I love you!
Go Hawks and with much love,
Anna Wilson
P.S. stay tuned for some awesome pictures of Super Bowl XLVIII live from East Rutherford, N.J.!

January, 10, 2014
Jan 10
3:39
PM ET
By
Anna Wilson
| ESPN.com
Courtesy USA BasketballIf one of Anna Wilson's goals was to become one of the top basketball prospects in the nation, she can check it off her list.
Anna Wilson, a sophomore at Collegiate High (Richmond, Va.), is one of the best high school basketball players in the nation. The 5-foot-7 point guard, who has given a verbal commitment to Stanford, is also the sister of NFL star Russell Wilson. She has agreed to blog for espnW.
We're now more than a full week into the New Year, and most people have finished making their resolutions. The greatest part about a New Year is the chance to have a fresh start and grow from the previous one.
Between us, I have never made a New Year's resolution, but I do write down my goals in three separate journals. In each journal I write about one of three specific topics: my goals as a person, as a student and as an athlete. I keep them with me all the time, whether at home or in my basketball bag. Why? Because I always want to be reminded of what I am trying to achieve.
Writing down my goals in three separate journals also serves as a reminder that all of my goals are not the same. I am not just a person, but a role model to kids who look up to me. I am not just a student; I want to be educated enough to hold an intellectual conversation and be engaged with my classmates. I am not just an athlete or basketball player; I want to use basketball as a platform for something much greater.
Over the past year, I took part in some amazing things. I traveled to Colorado Springs and participated in the U16 USA Basketball trials. I had the opportunity to be a part of three great elite camps, including at Stanford. I won two national championships in July with my AAU team. And right before starting my sophomore year I gave my verbal commitment to Stanford University. I was blessed to be a part of all those events and really enjoyed all of my experiences last year. But the goals I have written in my journals are much more grand.
Writing down my goals and putting motivational quotes on my mirror was inspired by my brother, Russell. I remember him being in high school, and seeing all of his goals and dreams typed up on his desk. He also had a list of what people said and how they doubted him. Looking back on what he had on that list, I am pretty sure he has achieved a lot of that stuff, and succeed in the areas others doubted that he could.
I have also learned that writing down your goals is more effective if you go back to look at what you wrote down. Writing this blog has even helped me to look back at what I have achieved this past year and also reminded me of the things I still need to work on. I challenge anyone who is reading this to keep a journal and start writing down your goals, dreams and aspirations.
One goal that I want to accomplish this year is to step outside of my comfort zone. One of the most successful men in history, the third president of the United States of America, Thomas Jefferson, once said, "If you want something you've never had, you must be willing to do something you've never done."
So what are your goals for the year?
With much love,

Anna Wilson

December, 27, 2013
12/27/13
12:39
PM ET
By
Anna Wilson
| ESPN.com
Courtesy Anna WilsonAnna Wilson had a chance to toss the football around with her brothers after attending the Seahawks' practice last Friday.
Anna Wilson, a sophomore at Collegiate High (Richmond, Va.), is one of the best high school basketball players in the nation. The 5-foot-7 point guard, who has given a verbal commitment to Stanford, is also the sister of NFL star Russell Wilson. She has agreed to blog for espnW. This is her first submission.

In the craziness of the holiday season and the new year that is approaching, sometimes we forget what really matters, and as Christmas Day drew near, I began to reflect on what that day really means.
[+] Enlarge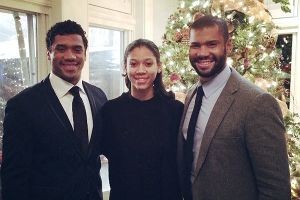 Courtesy Anna WilsonThe Wilson siblings, from left, Russell, Anna and Harry, are rarely in the same place at the same time, which is why Anna cherishes pictures like this one.
It is more than just the Christmas music and presents under the beautifully lit-up tree. I have been more than blessed during this past year and holiday season. I could not be any more thankful for what God, my family, teammates, teachers and coaches have done for me.

The first half of my winter break I got the chance to spend time with my family. The majority of time was spent in the great city of Seattle. I was only there for a week and a half, but I can definitely say we made the most of our time together. During that time, I stayed away from basketball to relax, heal up and be with family. I am not going to lie ... it was nice to be off school, as well as basketball.
The days leading up to Christmas Day were filled with things to do -- like going to Russell's practice, attending the Seahawks' Christmas dinner, traveling to watch the Tennessee vs. Stanford women's basketball game, returning for the Seahawks' game and participating in our family cook-off.
Russell's practice was really cool, mainly because we got the chance to see what he does every day and what game preparations are like. Afterward, it was fun throwing around the football with my brothers and meeting the head coach of the Seahawks, Pete Carroll.
[+] Enlarge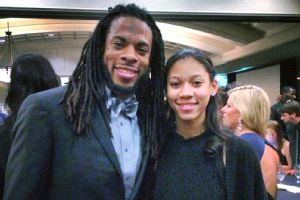 Courtesy Anna WilsonAnna Wilson, lined up to be a future Stanford star, poses with former Stanford star and current Seahawks cornerback Richard Sherman.
Later that night, my family got dressed up to go to the Seahawks' dinner party. The part that made my day was probably the picture I got with my brothers in front of the Christmas tree at the dinner party. Even though I have plenty of pictures with each of them, it is rare for us all to be together at once.
The next day my mom and I traveled to the Tennessee vs. Stanford game. Even though there were few students on campus because of break, the game was sold out and the atmosphere was awesome. I had a great time on the Farm.
My mom and I had to travel back that night to make sure we were back in time for the Seahawks-Cardinals game the next morning. We all got up early and put on our gear, ready to support. My family gets hyped up for game day as if we all are about to play. The game was great, and my whole family got to go on the field for the first time. I love the Seahawks' fans because they are so dedicated and cheer the whole game. The 12th man is so surreal.
The night before Christmas Eve, Russell and his wife, Ashton, made an announcement that we would be having a family cook-off. Everyone paired up, so I was partnered with my mom. My mom and I made a chicken and bean stew and a wedge salad. Our presentation was phenomenal and I whipped together a short video to introduce our menu.


[+] Enlarge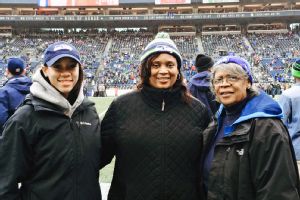 Courtesy Anna WilsonAnna Wilson -- here with her mom, Tammy, and grandmother Carolyn Wilson -- says all the Wilsons get pumped up for game day as if they were going to play.
Only problem with the cook-off was that my family is very competitive, which is not a bad thing, but there was definitely tension in the room. I thought it was a great idea, and plenty of food was left over for Christmas Day, so no one had to cook.
Christmas Day everyone got up at a decent time to open presents. Harry, my oldest brother, played Santa's helper by passing out gifts. The best gift I received was the time spent with my family. No material thing could possibly replace the week and a half I had with them. I love my family and I know that they are always supportive of me.
I hope everyone spent a little time with their family and with the people they love the most this holiday season.
I also want to thank espnW for giving me the opportunity to write about my winter break and Christmas experience. Merry Christmas and Happy New Year!
With much love,
Anna Wilson