December, 27, 2013
12/27/13
8:03
AM ET
Cal Sport MediaJonathan the Husky looks pretty excited about the upcoming women's basketball schedule.
This weekend largely marks the end of the nonconference portion of the women's basketball season. And while matchups like UConn-Stanford, UConn-Duke and Tennessee-Stanford were a great way to tip off the season, here are our elite eight conference games before March that we can't wait to see.
Jan. 5:
Maryland at North Carolina, ESPNU
Jan. 27:
Notre Dame at Maryland, ESPN2
Feb. 2:
Notre Dame at Duke, ESPN
Feb. 2:
Stanford at Cal, ESPN2
Feb. 9:
Louisville at UConn, ESPN
Feb. 10:
North Carolina at Duke, ESPN2
Feb. 16:
Kentucky at Tennessee, ESPN
Feb. 23:
Duke at Notre Dame, ESPN
But if you just can't get enough of the nonconference showdowns, there are two more next month that are perfectly acceptable to start popping the popcorn for.
Jan. 13:
UConn at Baylor, ESPN2
Jan. 20:
Notre Dame at Tennessee, ESPN2
March, 27, 2013
3/27/13
8:40
AM ET
By
Lizzie Haldane
| ESPN.com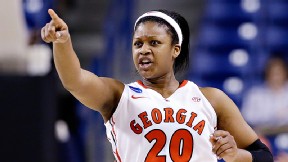 AP Photo/Elaine ThompsonNext up for Georgia is a meeting with Stanford.
With 195 NCAA appearances, 34 Final Four appearances and eight titles, the SEC has led the way at the women's NCAA tournament. The winning tradition has continued this year. Of the seven SEC teams invited to the 2013 dance, four of them (Tennessee, Georgia, LSU and Kentucky) have advanced to the Sweet 16. The Big 12 (Baylor, Oklahoma and Kansas) and the Big East (UConn, Notre Dame and Louisville) tie for second with three apiece.
Read more WFYIs.