March, 1, 2013
3/01/13
5:10
PM ET
By
Rachel Cooperman
| ESPN.com
It's never the case of will I race again, but rather when. Chicago Marathon registration launched just two days after I finished running Austin, and I definitely considered it. But having experienced everything that Austin -- a large race with a small-town feel -- had to offer, I decided my next race wouldn't be in a big city.
I think it was the Livestrong charity fluid station that solidified it for me. My family had been dealt the blow of fighting cancer this year, and it wasn't the first time. The thought of miles to run, by choice, was nothing compared to the journey a cancer survivor is forced to take. Here I was feeling my best --healthy, fit, and ready to race -- how could I not give it everything I had in me? It seemed to matter more here than anyplace else, in the city in which Livestrong was founded.
It gave me the chills when I slowed for water, and a seemingly endless row of volunteers in yellow T-shirts, wearing yellow bands (like the one my dad wears 24/7) called me by name.
All the more chilling was the news I'd heard the night before: a friend's mother had passed away after a long battle with cancer. It made me angry and thankful at once. It made me consider why I run in the first place: to feel invincible; to challenge my mind and body to keep it together; because I can.
I felt so lucky that I got another day to fight for a cure, so I donated in the name of my friend's mom, I donated in the name of my cancer-surviving dad, and I donated because it was something I could do instead of worrying about all the things I couldn't.
In the morning, I was nervous, but it could've been worse. During the race, it wasn't easy, but it wasn't as hard as it'll be next time when I want to PR again. And over 26.2 miles, I had more than enough time to think about how the Livestrong Foundation had begun and how it had become a household name. And when I looked at myself in the mirror before and after my race, I felt a little bit better being the sweaty, medal-wearing marathoner who was not nearly finished yet.
January, 11, 2013
1/11/13
1:21
PM ET
By
Rachel Cooperman
| ESPN.com
What you put into your body is always important, but it becomes even more essential when you're preparing for an endurance event like a marathon. To get it right on race day, you have to make it through training. Once you figure out the best food and drinks for your body, you'll have one less worry on race day.
Here are my top three nutrition tips for the long run:
1. Test everything in advance: When you're running more than a few miles at a time, your body needs fuel -- that's true for all your long runs, as well as on race day. Your pre-run breakfast is just as important as your post-run recovery meal. The easiest way to create your nutrition plan is to try different foods until you figure out what works best for you. It's as simple as eating oatmeal and a banana before one long run, and toast with almond butter before another. Try different food options until you get it right, and be sure to include water and even sports drinks if you're in marathon training.
2. Learn to eat as you go: Eating and drinking on the run is something that takes practice. There are so many different options of gels, liquids and chews because it's really a matter of preference. Not everyone likes the same flavors or consistencies. Try different energy snacks until you're comfortable with one.
3. Don't forget about hydration: What you drink before, during and after your run makes all the difference in the world. Carrying water or sports drinks with you, or planning a pit stop along your running route, is the best way to stay hydrated. You should also include sodium, which can be in your drink or simply a packet of table salt. You may not notice how much fluid you lose when it's cold outside, but a pounding headache will tell all at the end of the day, and by then it's too late.
Rachel Cooperman is a contributor for espnW and training for her next marathon this February.
December, 28, 2012
12/28/12
11:16
AM ET
By
Rachel Cooperman
| ESPN.com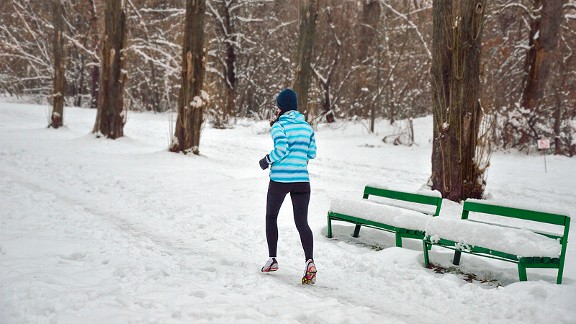 Thinkstockphotos.com
This week, I needed motivation to get out the door. With only seven weeks left to train, I can't afford to lose momentum. But the holidays certainly made it tough.
I had family commitments, so I couldn't go out for a run whenever I wanted. Instead of feeling guilty about my schedule and my life being imperfect, I used it to my advantage. I started my holiday break in the kitchen with my in-laws, as promised, and told them I needed to run at some point on Christmas Eve and Christmas Day. I used my time in the kitchen more efficiently and jumped from one task to the next.
When I needed to leave for a tempo run on Christmas Eve, they weren't surprised; as long as I promised to be back before dark, they were even supportive!
Here's how I made my runs happen over Christmas. Follow this advice to run while on a holiday, business trip or family vacation:
1. I declared that I was running: Once I presented this as fact (I didn't ask), my in-laws started discussing my run and encouraged me to get out the door before it was too late. Instead of taking time away from us, my run became a topic of conversation. I was thrilled to share my passion with them, and they seemed to understand me better.
2. I planned my meals.: Let's be honest, the holidays include a lot of food we wouldn't normally eat. They also require us to follow someone else's schedule. As I prepped appetizers on Christmas morning, I ate a real breakfast of fruit and cereal. Instead of snacking on foods that would surely upset my stomach on a run, I stuck to the basics. I saved the treats for later when I could enjoy them with the rest of the guests.
3. I accounted for my new surroundings: Since I wasn't at home, I didn't know my route. I chose a simple path and decided not to bring music. I needed to pay attention to where I was and the sounds around me. I also wasn't sure if my route would be hillier or harder than I wanted. To counteract that element of surprise, I brought my smartphone (in my pocket) and headset.
Before my run, I called my sister (insert your favorite training partner here), and we decided to hit the road at the same time. Though we were states apart, we could run. We actually had two short calls -- one when I needed her on a particular incline, and another when she needed to vent about the holidays. She was the motivation that got me through my workout.
I'll have more marathon training tools next Friday to help you get in gear for the New Year.
December, 14, 2012
12/14/12
5:53
PM ET
By
Rachel Cooperman
| ESPN.com
It takes me a long time to choose my next race, but it always feels good when I do. Sometimes it's a half marathon or a 5K, but this time it's a full marathon. On Feb. 17, I'll be running the Austin Marathon, and there's no turning back.
Nothing motivates me like having a race date to work toward. It helps if it's centered around a fun trip with friends, like this one. But first, I'll focus on my training, which is in full tilt.
Here are five things to look for when choosing a race:
• Decide if you like big-city or small-town races. There's a huge difference between the crowds in Boston each Patriots' Day and a local race where you may not see spectators for miles. Consider races that suit your style. There are so many to choose from! If you want to run close to home and don't care about fanfare, choose something local and don't worry about the rest. If you expect thunderous applause, don't sign up for Granny's 26.2 in Tiny Town USA or you'll be very disappointed.
• Figure out your relationship with hills. Runners like to talk, so reach out to people you know or sign on to a message board before you register. You could be unpleasantly surprised if you sign up without checking a course map and elevation chart; most big races have those posted on their websites, so check out what you're signing up for.
• The type of course can make a big difference. If you're an out-and-back runner or someone who always follows the same running route, you'll want to look for a course to match. If you're hoping to check out a new city, you won't enjoy repeating a four-mile course more than six times to get to 26.2. There are so many options in the U.S. and abroad, so you don't have to compromise -- choose what you like best.
• Altitude can make a big difference, especially if this is your first marathon. Don't assume you can run anywhere; even the pros go out to train at altitude to adjust to the conditions. If you train at sea level, you will struggle through a race at altitude; if you don't plan to practice at higher elevations, don't put your body through the extra torture if you can help it. Doing 26.2 in decent conditions is challenge enough. You don't need to push your body beyond its limits if you're not prepared for more than 20 miles of sucking air at altitude.
• Find a race that can include your fans. If you're traveling with children, choose a race in a kid-friendly location. You can't beat a spot like Walt Disney World; marathon weekend in February includes runDisney Kids' Races and a Family Fun Run 5K. No matter what spot you choose, find an event that will incorporate everyone who'll be there with you. The happier they are and the more inclusive the event, the better it will be for all of you. Keep in mind that when you're ready for 26.2, your best girlfriend may be in shape for 13.1, and a race weekend with both is the perfect girls' getaway!
Rachel Cooperman is a contributor for espnW.