October, 21, 2013
10/21/13
8:33
AM ET
Ron Hoskins/NBAE/Getty ImagesIn 2012, Tamika Catchings, 33, was the only WNBA player to start every regular-season and playoff game, as well as every game in the Olympics.
One year ago today, the Indiana Fever beat the defending champion Minnesota Lynx 87-78 in Game 4 of the WNBA Finals to win their first and only championship. Tamika Catchings, who scored 25 points in Game 4 and averaged 22.3 during the series, was named MVP of the finals. The win gave the 2011 WNBA MVP the final jewel of the women's basketball "triple crown." Catchings had won an NCAA title at Tennessee and three Olympic gold medals and celebrated the WNBA championship at age 33. This year, the Fever were swept by Atlanta in the Eastern Conference finals. The Lynx won their second title in three years.
May, 24, 2013
5/24/13
8:25
AM ET
By
Lizzie Haldane
| ESPN.com
Ron Hoskins/NBAE/Getty ImagesTamika Catchings is the only player in WNBA history to rank in the top 25 all-time for points, rebounds, assists, steals and blocks.
The Indiana Fever, the defending WNBA champions, open the 2013 WNBA season against the San Antonio Stars in San Antonio tonight at 8 ET. Tamika Catchings, the 2012 Finals MVP who won her first championship as a pro, was the only WNBA player to start every regular-season and playoff game and every game in the Olympics last year. For good measure, she was named the league's defensive player of the year for a record fifth time. A week from today, Catchings, who is back for her 13th season, and the Fever take on the Atlanta Dream in their home opener, which will double as their ring ceremony.
Read more WFYIs.
April, 11, 2013
4/11/13
1:15
PM ET
By
espnW staff
| ESPN.com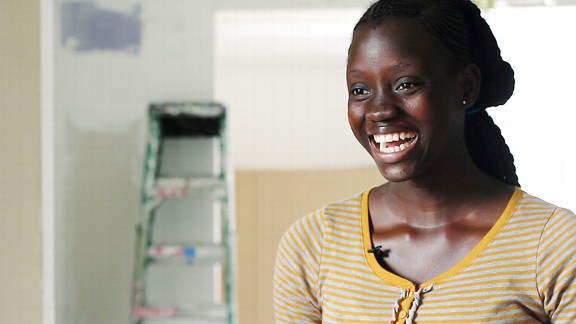 U.S. Department of StateDagces Goodridge was one of the participants in this past weekend's State Department event at the Final Four.
Long after the bright lights of March Madness dimmed, 24 female athletes from Liberia, Lithuania, Pakistan, the Philippines, Saudi Arabia and Venezuela are taking home memories and lessons of their time in the United States to pay it forward to women and girls in their countries.
As part of the State Department's global efforts to empower women and girls, these young athletes were fortunate to meet the likes of Baylor's Brittney Griner and Indiana Fever star Tamika Catchings and see the top women's basketball teams in the country compete for a national championship.
While they may swoon over the stars they met, it will be the lessons of Title IX -- of opportunity and equality -- that they will propel them forward on the field, in the classroom and in society once they return home.
One of these emerging athletes is Dagces Goodridge of Liberia. The 15-year-old is in the 11th grade and has played basketball for three years. Here, she shares her thoughts on her first trip to the United States, the status of sports for women and girls in Liberia and how she has learned to love the game of basketball:
On coming to the United States
"This is my first trip [to the United States] and WOW! It's so nice! I don't even have words to describe it. [I was coming to the U.S.] for training and playing basketball with other teams. It's so fun! We went shopping, we played games other than basketball. We met people in different programs apart from basketball. I'm having fun. Here, I made new friends and I understood what it's like to be friends with other people ... it's teamwork."
Status of sports for women and girls in Liberia
"Sports for girls in Liberia, it's not so good. A lot of girls like basketball, but because of the financial status ... we don't have enough stuff in our country, so it's hard. As for football, it's hard. People start talking to you like, 'You're going to be ugly like a man if you play that sport.' So, for girls in my country, sport is not good. People pay more attention to boys than girls when it comes to sports. My dad is tall and he has two basketball teams, so he encourages me every day."
For love of the game
"I love basketball because I'm tall; I have the height for basketball. I got a lot of encouragement from my friend's family. I was this tall and they said, 'Are you playing basketball? You have good height, you could play basketball and make money.' And I said, 'Well, I don't like it.' But, I started playing and now I like basketball -- it makes me happy. Even though I hate losing, when I'm on the court, I'm happy playing with other people. Even though they may beat me, I have to shake their hands; I have to do it. When I am in college -- like 20 or 21 -- through sports, I'm going to empower other people. We are strong women for a better world, and I'm going to empower other people to make a better world!"
Here are photos from the girls' trip to the Final Four in New Orleans: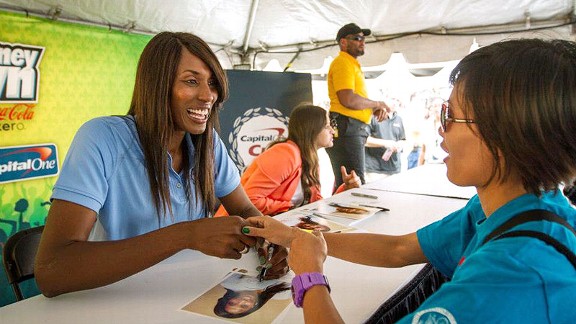 University Of Tennessee's Center for Sport, Peace and Society Sammielyn Semino, right, a basketball coach from the Philippines, meets with WNBA great Lisa Leslie.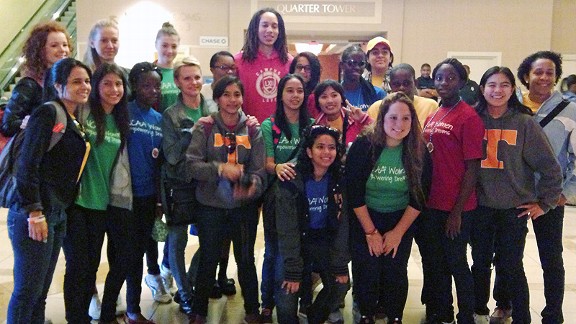 University Of Tennessee's Center for Sport, Peace and Society All-American Brittney Griner meets with emerging athletes and coaches from Liberia, Lithuania, Pakistan, Philippines, Saudi Arabia and Venezuela.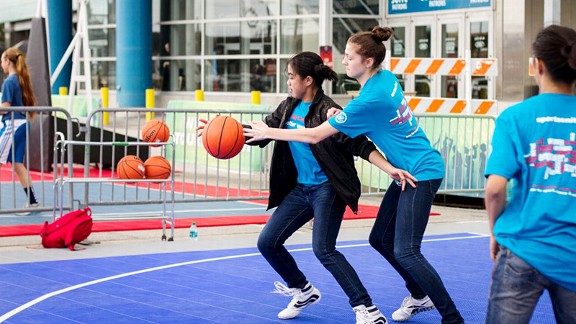 University Of Tennessee's Center for Sport, Peace and SocietyPlaying a little pick up! Martyna Petrnait of Lithuania, right, and Marian Domingo hit the hard court at Tourney Town in New Orlenans.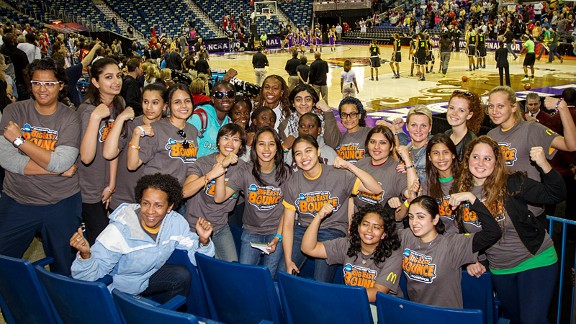 University Of Tennessee's Center for Sport, Peace and SocietyWNBA champion Tamika Catchings meets with emerging female athletes. Catchings recently returned from Thailand, where she and fellow WNBAer Ebony Hoffman led clinics and conversation to empower women and girls in Bangkok.
The Empowering Women and Girls Through Sports Initiative was launched in 2012 by former Secretary of State Hillary Rodham Clinton. So far, it has engaged over 4,000 women and girls in more than 70 countries worldwide. Built on the core belief that empowering women and girls is not only the right thing to do, but also the smart thing to do, this initiative aims to increase women and girls' participation in sports. The cornerstone of this effort is the State Department and espnW Global Sports Mentoring Program, which works to engage, inspire and empower a new generation of women and girls through sports.
March, 27, 2013
3/27/13
1:29
PM ET
By
espnW staff
| ESPN.com
Title IX legislation helped open doors for girls and women in schools and sports since it was signed into law 40 years ago, but can its message reach those beyond America's borders?
That question is one of the main inspirations behind the State Department's Empowering Women and Girls through Sports Initiative, which aims to encourage and motivate young female athletes across the globe.
Many well-known American athletes, including the WNBA's Tamika Catchings and Ebony Hoffman, are traveling abroad to share their stories and experiences with these young athletes and show them that anything is possible for women, on and off the playing field.
This week, as the State Department works in conjunction with the NBA and WNBA, Catchings and Hoffman are in Bangkok, Thailand, as part of the initiative.
"I think with the Title IX celebrating its 40th year, we opened the doors in America and really we are trying to do the same across the globe," Catchings said in an interview with the State Department. "When you get on the court it does not really matter what language you speak. I mean, it's a universal language."
Catchings and Hoffman will share photos with espnW.com throughout the week; but first, here is a short video from their first day on the ground.
Video courtesy of U.S. Department of State:
You can also click here to learn more about the U.S. Department of State and espnW Global Sports Mentoring Program.
February, 15, 2013
2/15/13
8:41
AM ET
By
Lizzie Haldane
| ESPN.com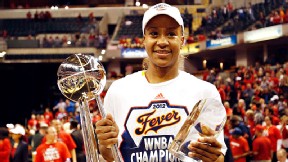 Brian Spurlock/US PresswireTamika Catchings won her first WNBA title last year at the age of 33.
NBA All-Star weekend begins Friday and ends with the big game on Sunday. We're still 162 days away from the WNBA All-Star game set for July 27. Due to the timing of last summer's Olympics, there was no exhibition for the women, so we'll honor the league's MVP instead. Fever forward Tamika Catchings had a spectacular 2012 season, winning one of her three gold medals (2004, 2008, 2012) in London and then earning Finals MVP honors on her way to her first WNBA championship. Add an NCAA title while at Tennessee, a 2002 Rookie of the Year award and a 2011 WNBA MVP to the seven-time WNBA all-star's resume and you've got a seriously full trophy case.
Read more WFYIs.
October, 21, 2012
10/21/12
5:46
PM ET
By
Briann January
| ESPN.com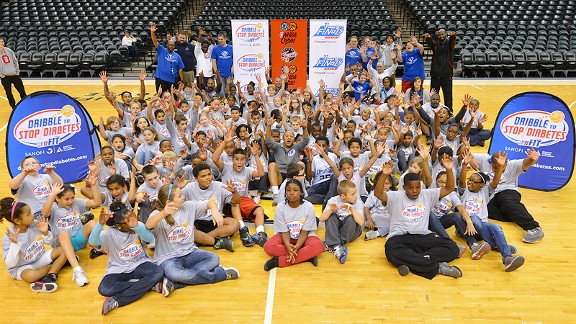 Courtesy of WNBAThe Fever players participated in the WNBA FIT Dribble to Stop Diabetes fundraiser Saturday.
A lot of people would say their teams are close-knit, everyone's friendly and they are their home away from home, but Indiana is different. I've been a member of the Indiana Fever since I was drafted out of Arizona State in 2009. A West Coast-er through and through, I packed my bags and moved more than 1,500 miles to the great Midwestern city of Indianapolis about three years ago hoping one day to be standing where I am today.
I knew three years ago I was coming into a phenomenal franchise with the Indiana Fever. Players like my teammate Tamika Catchings make you want to be better and teach you so much, but a lot of hard work goes behind getting to where the Fever are right now. We practice for hours and watch film over and over again, but we would not be here today if we had done it all alone.
If I've learned one thing about the people in this city over the past three years, it's that they revel in our highs and buoy us in our lows. We have a real community of support, whether it's my neighbor telling me what a good game we had when I go out to get the morning paper or Andrew Luck and the Indianapolis Colts telling us how much they believe in our team.
[+] Enlarge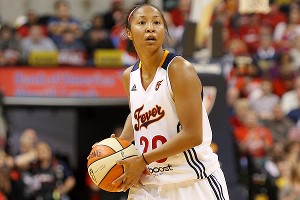 Cal Sport Media/AP ImagesBriann January has experienced plenty of positives with the Indiana Fever franchise.
Everyone probably says they have the best fans, but in Indianapolis, I don't think we have the best fans -- I know we have the best fans. They rock Bankers Life Fieldhouse for us and are amazing as our sixth woman out there on the court. My teammates and I cannot wait to see them rock the red again Sunday night!
Being able to participate in the WNBA FIT Dribble to Stop Diabetes clinic Saturday with the American Diabetes Association and Sanofi US as a part of the WNBA Finals was such a great time to add to the mix of experiences I've had with the Fever. The kids from the Boys & Girls Club of Indianapolis were so excited to be here and their genuine enthusiasm really gets me going. They are our next generation of not only fans but community, and it makes me want to bring home that big trophy even more.
All in all, my teammates and I have been through a lot over the past few years. We've been to the Finals and have had to come home empty-handed, and we don't want to do that again. We've been working on getting back here since the day we lost and we're going to keep working until we bring a championship home.
We've overcome a lot of obstacles with injuries and losing players, but it just builds our camaraderie and makes us closer as a unit. We are teammates, we are confidantes, we are mentors and mentees and we are friends. Together with our fans and the city of Indianapolis, we are one big community and we want to thank you, Fever Faithful. I couldn't be more proud and more ready to bring that championship trophy home for all of you!!
Let's go out today and show the Lynx what we mean by #FeverFinals!!!!!