espnW:

Tennis Hall of Fame
December, 12, 2013
12/12/13
8:06
AM ET
Focus on Sport/Getty ImagesDid you know Tracy Austin's sister-in-law is fitness guru Denise Austin?
Happy birthday, Tracy Austin! The two-time US Open champion and the former No. 1 tennis player in the world turns 51 today. After turning pro in 1978, Austin became the youngest champion at the 1979 US Open at the age of 16 years, 8 months and 28 days. She stunned the tennis world with victories over Martina Navratilova in the semifinal and Chris Evert in the final. The following year she won her lone Grand Slam mixed doubles title at Wimbledon with her brother John. Despite chronic injuries, she was healthy enough to win the 1981 US Open title, but she was sidelined shortly after for long stretches due to back pain and recurring sciatica. She attempted multiple comebacks, but officially retired in June of 1994. She became the youngest person to be inducted into the International Tennis Hall of Fame in 1992 at the age of 29. Since hanging up her racket, Austin has been a tennis commentator for various networks and lives in Los Angeles with her husband and three sons.
November, 22, 2013
11/22/13
8:30
AM ET
Brad Barket/Getty ImagesWhat's left for Billie Jean King to wish for on her 70th birthday? She's already received the gifts of wisdom, compassion, determination and love.
Happy birthday, Billie Jean King! The iconic woman and legendary tennis star turns 70 today. The winner of 39 Grand Slam titles (12 singles) and 129 career titles, King is widely considered one of the best to ever play the game and one of the most influential sportswomen of all time. Her 15-year professional career earned her a spot in the International Tennis Hall of Fame. She also has been inducted to the National Women's Hall of Fame and received a slew of honors and awards, including being named one of Time's Persons of the Year in 1975 and one of Sports Illustrated's Sportspersons of the Year in 1972. Lauded for her work for gender equality in sports, King's "Battle of the Sexes" victory over Bobby Riggs in 1973 is one of the most significant moments in women's sports history. King also has been an advocate for the LGBT community and in 2009 was awarded a Presidential Medal of Freedom by President Barack Obama for her work. She currently is involved with the Women's Sports Foundation, the Elton John AIDS Foundation and the President's Council for Fitness, Sports and Nutrition. She resides in New York with her partner Ilana Kloss.
March, 4, 2013
3/04/13
5:37
PM ET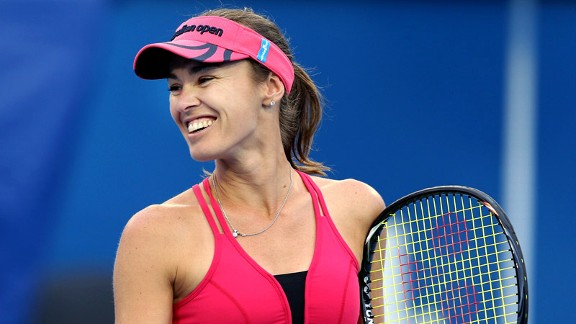 Michael Dodge/Getty ImagesMartina Hingis won three Grand Slam titles in 1997 but had her career cut shot after being banned for positive drug test.
NEW YORK -- Martina Hingis will be inducted into the International Tennis Hall of Fame this June.
It seems just as premature as her retirement.
That's not a slight; I just always wanted to see more of Hingis. She reigned over the WTA Tour for three brief years, in the dusk before the era of the power hitters dawned. When Venus and Serena Williams were just taming their tennis legs, Hingis was the cagey antidote. Her game was clever to the point of being humorous, and her precocious confidence was either charming or, depending on your point of view, irritating.
Hingis won five Grand Slam titles -- including three, all but the French Open, in 1997 -- with her crafty game. She could handle the power of that era, and was quick to mix in slice, placement and drop shots that left her opponents outplayed and outwitted.
"I'm happy for her, she obviously had a Hall of Fame career," Serena Williams said after the announcement. "She had a great game and achieved so much at such an early age, did so much for the sport, inspired me a lot to play. We've had a lot of tough matches. It was definitely inevitable and I think she's so young to be in Hall of Fame, it's pretty awesome."
Hingis never won the French Open despite reaching the final in 1997 and '99. Her loss to Steffi Graf in '99 was epic. Hingis was the villain for the crowd, and was three points away from the title before an epic meltdown.
Hingis had those moments. She offended gays and straight people alike when she accused Amelie Mauresmo, a lesbian, of being "half a man." She could be insensitive and petulant. When the U.S. Open came to New York every year, reporters would offer her a chance to tee off on the Williams sisters, which occasionally she did.
How much of it was genuine and how much a show, it's hard to say.
It must have been frustrating for her to see the game pass her by. Listed at a generous 5-foot-7 and 130 pounds, Hingis' small frame just couldn't produce the massive serves needed to dislodge Serena and Venus Williams, Lindsay Davenport, Kim Clijsters and the power hitters who followed.
A foot injury made retooling her game even harder, although she kept winning doubles titles with partner Anna Kournikova. A positive test for trace amounts of cocaine -- which Hingis never admitted to using -- led to a two-year ban starting in 2008, which effectively caused her retirement at 27. It seemed a double standard was at work given Richard Gasquet's positive test for the same drug around that time led to a 2½-month ban. He claimed he must have ingested the substance during a kiss at a nightclub.
However she ultimately left, the game missed Hingis.
"It was a loss for tennis," former player and tennis analyst Patrick McEnroe told espnW. "And you see this happen a little more on the women's side with her, Justine [Henin], [Jennifer] Capriati. They're really almost professionals at 13, 14. It also lets you know how impressive what Venus and Serena have been able to do is."
Had Hingis been able to play her error-free game against the power hitters for just a little longer, who's to say what might have happened? She might not have won any more majors, but what great matches could have been produced.
But it did not happen. So now at age 32, Hingis will take her place this June in the International Tennis Hall of Fame in Newport, R.I. It is where she belongs, though I can't help but wish there had been a less abrupt ending to her career. It feels too soon to venerate a comet of a career that fell from the sky too soon.