December, 5, 2014
12/05/14
12:41
PM ET
By
D'Arcy Maine
| ESPN.com

If you live in Boca Raton, Florida, you've probably heard a lot of yelling today. But fear not. Everything is OK. That sound you're hearing is just the infectious enthusiasm of the Texas A&M yell leaders. With the Aggies women's soccer team in town for the NCAA College Cup, seniors Patrick McGinty and Shaquille Gould brought the College Station spirit to the tournament.
Even hours before kickoff of the Aggies' seminfinal matchup against the Virginia Cavaliers, McGinty and Gould were ready to go. They showed off their yelling prowess to us on Friday morning. See for yourself, if you think you can handle it.
But whatever you do, just don't call these cheers. You'll see our Toni Collins found that out the hard way.
And now for the yells! You might want to turn your volume down for this.
Your move, Virginia fans.
See something entertaining on social media that you think deserves to be shared? Let me know on Twitter, @darcymaine_espn.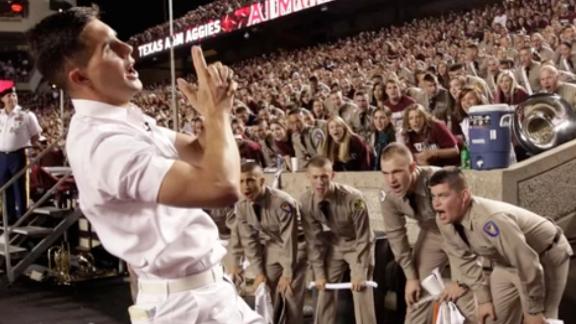 October, 4, 2013
10/04/13
7:52
AM ET
Elsa/Getty ImagesDanielle Adams was named Most Outstanding Player after leading Texas A&M past Notre Dame in the 2011 championship game.
On this day in 1876, Texas A&M opened its doors -- to white men only -- and became the first institution of higher learning in Texas. But it wasn't until 50 years ago – in 1963 – that the university formally admitted women. Since then, several women's sports stars have worn the Aggies uniform. In the WNBA, Kelsey Bone of the Liberty, Sydney Carter of the Sun and Danielle Adams of the Silver Stars all played for Texas A&M. Olympians Breeja Larson, who won swimming gold in 2012 in London; Jennifer McFalls, who won a softball gold at the 2000 Games in Sydney; and Stacy Sykora, who won a silver in Beijing in 2008, also call Texas A&M home. In addition, women's teams have won NCAA titles in basketball (2011), softball (1983 and 1987) and outdoor track (2009-2011).