November, 6, 2014
Nov 6
9:07
AM ET
By
D'Arcy Maine
| ESPN.com
Tim Tebow has high-fived and lent a hand to many stars over the years. Country singer Kacey Musgraves cannot be included among them.
During Wednesday's CMA Awards, Tebow and Darius Rucker were presenting the award for Song of the Year. Musgraves was named the winner for "Follow Your Arrow," and awkwardness immediately ensued. As she approached the microphone, Tebow went to help her up the stairs and he was DENIED.
Needless to say, she did not start Tebowing at any point during her acceptance speech.
See something entertaining on social media that you think deserves to be shared? Let me know on Twitter, @darcymaine_espn.
August, 29, 2014
Aug 29
10:19
AM ET
By
D'Arcy Maine
| ESPN.com

Guys, I have a new co-worker. I haven't actually met him yet, but I've heard he does really great impressions. His name is Tim something, maybe Tim Lebow? Or Tebow, maybe? Whatever it is, he does a hilarious Steve Spurrier. He showed it off before Thursday's Texas A&M-South Carolina game.
I really think this guy will be great for office morale.
See something entertaining on social media that you think deserves to be shared? Let me know on Twitter, @darcymaine_espn.
February, 21, 2013
2/21/13
5:01
PM ET
Anything Jets quarterback Tim Tebow does has a tendency to be in the news, and his decision to cancel a speaking engagement at a Dallas church is no different. That church is headed by Robert Jeffress, who once wrote a sermon called, "Why Gay is Not OK" and said re-electing Barack Obama would lead to the rise of the antichrist.
[+] Enlarge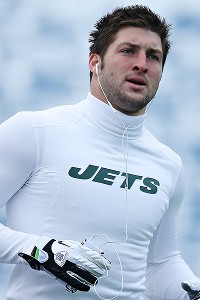 Tom Szczerbowski/Getty ImagesTim Tebow backed out of chance to speak at a church in Dallas.
Tebow is pretty plugged in to the Christian community, so it's surprising he didn't connect the church to its leader's views a little sooner. Tebow has been known to take a conservative stance in the past, appearing in a commercial for the anti-abortion group Focus on the Family during the 2010 Super Bowl.


But it's his current statement that matters to those who want to end discrimination against gays and lesbians.
Hudson Taylor founded Athlete Ally, a group that recruits athletes to take a public stance in support of teammates regardless of their sexual orientation. He thinks of Tebow's decision as a not-so-subtle rejection of Jeffress' ideas.
"I applaud Tim Tebow's decision to cancel his appearance," Taylor said. "Regardless of his reasoning, his absence serves as a reminder that the discrimination of gay and lesbian athletes and individuals has no place in sports or society. I hope Tim will take this opportunity to speak out for respect and acceptance of all people, regardless of a person's sexual orientation."
In the statement he released about skipping the Dallas speaking engagement, Tebow said he was "looking forward to sharing a message of hope and Christ's unconditional love with" the church members before "new information" came to his attention.
Tebow isn't one to make grand political statements. Asked several times last year who he was supporting for president, he said he was still weighing his options. But the use of "unconditional love" in canceling his appearance seems to point to a dismissal of intolerant views.
Brian Ellner worked on New York's campaign for marriage equality, which enlisted actors and athletes like Sean Avery and Steve Nash to tape spots in support of the cause. Now part of Athlete Ally, Ellner sees Tebow's cancellation as part of a groundswell.
"Tim Tebow's decision underscores the major cultural change we are seeing in sports," Ellner said. "We are at a cultural tipping point with more and more athletes standing on the right side of history."
May, 10, 2012
5/10/12
5:54
PM ET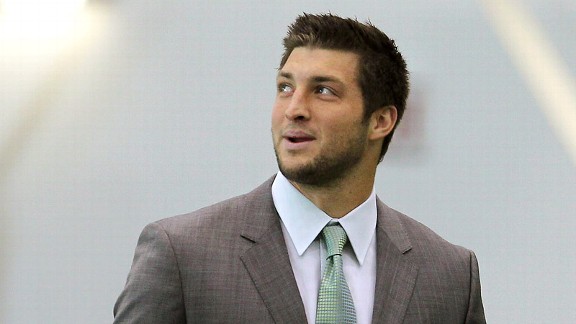 Ed Mulholland/US Presswire
Tim Tebow is changing his dog's name.
It seems the Jets' new backup quarterback got a puppy last season while he was in Denver and named the little guy Bronco.
For the same reason you never want to tattoo a boyfriend's name on your neck, Tebow plans to change the dog's name; he has moved on. At the Jets' practice facility Wednesday, Tebow said he plans to rename the dog Bronx. There are two reasons why that works -- it's in the geographical neighborhood of where Tebow now plays, and the two words sound similar enough that the dog shouldn't get too confused.
When I initially tweeted this (I asked because I, too, have a Rhodesian Ridgeback like Bronco, um, Bronx), a lot of people asked why this is news. Agreed, no one at the Jets popped off about a teammate, which constitutes a relatively slow news day.
But you can tell a lot about the way a man treats his dog. Mitt Romney will never live down the way his Irish Setter traveled on one family vacation to Canada. At least Tebow didn't strap his puppy to the top of the car and haul him from Denver to New Jersey.