May, 6, 2014
5/06/14
8:25
AM ET
AP Photo/Thierry CharlierRussian track star Svetlana Masterkova has held the world record in the mile with a time of 4:12.56 since 1996.

On this day 60 years ago, Roger Bannister became the first person to break the four-minute mile. Then a 25-year-old English medical student, Bannister became an international sensation with his record-setting run of 3 minutes, 59.4 seconds in Oxford on May 6, 1954. While his record was broken 46 days later, the milestone remains one of the most cherished in track and field history.
Less than a month after Bannister's achievement, countrywoman Diane Leather became the first woman to break the five-minute barrier in the mile at the Midland Championships at Birmingham, England. Because the IAAF didn't recognize the women's mile as an official event until 1967, Leather's accomplishment was not officially recorded.
The current women's mile world record was set by Russia's Svetlana Masterkova in 1996 with a time of 4:12.56 seconds. Masterkova, who had given birth to her daughter in March of 1995, set the mark just 11 days after finishing her double-gold performance in the 800 and 1,500 meters at the Atlanta Olympics. In the nearly 18 years since she set the mark, no one has come within five seconds of her time.
Mary Decker Slaney (4:16.71 in 1985) and Alan Webb (3:46.91 in 2007) hold the American records. Hicham El Guerrouj owns the men's mile world record with a time of 3:43.13, set in 1999.
February, 20, 2014
2/20/14
8:08
AM ET
Al Bello/Getty ImagesLauryn Williams, right, became the fifth person in Olympic history to win medals at both the Winter and Summer Games on Wednesday.
Lauryn Williams made history on Wednesday, becoming the fifth person to win medals at both the Winter and Summer Olympics after earning a silver medal in the bobsled with teammate Elana Meyers. With a 4x100 gold medal from the 2012 London Games, Williams narrowly missed out on becoming just the second athlete to win gold medals at both the Winter and Summer Games. American Eddie Eagan remains the only person to accomplish that feat, winning a gold in boxing in 1920 and a gold with the four-man bobsled team in 1932. Three other athletes have won medals in both the Winter and Summer Games -- Jacob Tullin Thams of Norway (ski jumping gold in 1924 and yachting silver in 1936), Christa Luding of Germany (four speedskating medals in 1984, 1988 and 1992 and a cycling silver in 1988) and Clara Hughes of Canada (four speedskating medals in 2002, 2006 and 2010 and two cycling medals in 1996). Luding is the only athlete to win medals at the Winter and Summer Games in the same year.
January, 22, 2014
1/22/14
7:53
AM ET
AP Photo Wilma Rudolph earned three gold medals at the 1960 Olympics, instantly catapulting her into stardom and athletic lore.
On this day in 1961, Wilma Rudolph set the world record for the indoor 60-yard dash with a blistering time of 6.9 seconds. Fresh off her dominant performance at the 1960 Rome Olympics in which she won three gold medals, the fastest woman in the world helped attract a sellout crowd of more than 13,000 to the Los Angeles Invitational. The record was one just one of her accomplishments in 1961 that earned her the Associated Press' Woman Athlete of the Year for the second year in a row. Rudolph retired in 1962 at the age of 22. She is widely considered one of the greatest sprinters of all time. Because yards are no longer used in international track and field, this race is now considered the predecessor to the 55-meter dash. That race is not recognized by the IAFF. Irina Privalova of Russia set the record for the 60-meter dash in 1993 with a time of 6.92 seconds.
January, 16, 2014
1/16/14
7:16
AM ET
Christof Koepsel/Bongarts/Getty ImagesElana Meyers and Lolo Jones celebrate their second-place finish at a World Cup event in Germany earlier this month.
The U.S. Olympic bobsled roster will be announced on Sunday, but first the contenders get one last chance to impress the selection committee with a World Cup race in Igls, Austria this weekend. Olympic hurdler and media sensation Lolo Jones will look to win a spot as a push athlete when she pairs with driver Jazmine Fenlator. Earlier this month, Jones and driver Elana Meyers finished in second place in Winterberg, Germany. Lauryn Williams, the team's other Olympic track star-turned-bobsledder, will work with driver Jamie Greubel for the event. Aja Evans, who was a sprinter at Illinois, will push for Meyers. Katie Eberling and Emily Azevdedo, the other push athletes in the mix to make the Sochi roster, will not compete in Igls. Three push athletes will be selected to join the three drivers at the Olympics. Meyers won a bronze medal in 2010 with Erin Pac. Jill Bakken and Vonetta Flowers remain the lone U.S. women to take home gold (2002) in the event.
April, 27, 2012
4/27/12
10:57
AM ET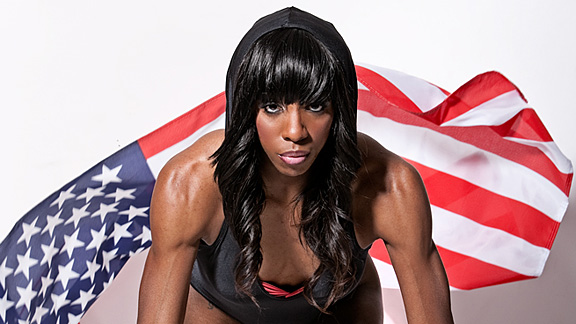 Courtesy of Lashinda DemusDemus narrowly missed making the U.S. Olympic team in 2008, but this year, as the world champion, she is focused on getting to London -- and winning gold there.
Lashinda Demus, the reigning world champion in the 400-meter hurdles, is blogging about her journey to the London Games for espnW. Click here to read her first blog.
I'm not sure what the average morning looks like at your house, but at mine, the cast of characters often includes me, getting ready to go to practice; my husband, getting ready to start the day; our sleepy 4-year-old twins; and, amidst the usual chaos of barking dogs and backpacks and gym bags and breakfast dishes, a drug-tester, who shows up unannounced and demands that I produce a urine sample.
It's bizarre, but drug testing is a necessary evil of making a living as a track and field athlete. You have to give them a location, anywhere on earth, where the USADA (U.S. Anti-Doping Agency) testers can find you for a one-hour window for all 365 days of the year. I give them my home address and an early-morning window because, let's face it, where else am I going to be at 7 a.m.?
Of course, you can't always account for travel to competitions or vacations in advance. No one in their right mind can really know exactly where they'll be every day of the year. So if you have a change of plans or an emergency, you can send the testers an update, via email or from your phone. If you forget to do this and they show up when you're not there, that counts as a missed test. Three missed tests is the same as testing positive in USADA's book. I try to remember to send in updates, but sometimes I forget. And knowing that I have a chance of getting a positive test without doing any drugs at all -- it's ridiculous.
The testers show up at my door at least once a month and sometimes every couple of weeks. If they're taking a blood sample, the tester might be male or female, but if they are taking a urine sample, the tester is always a woman. She goes into the bathroom with you, makes you pull up your shirt to prove there's nothing hidden there, and then watches you pee in the cup. The first time I did this, when I was 18 and still in high school, it made me really uncomfortable. But after 10 years of testing, I'm used to it. Now I just try to make the testers feel more comfortable. You get to know them by name, and we'll share stories about our kids, and say we should all go someplace together.
You also usually get tested at major competitions. Last summer in South Korea, as soon as I crossed the finish line in the 400-meter hurdles final, they whisked me and the other medalists off to doping control. But you don't care at that point; you're laughing straight to the bank. I was so euphoric over having finally broken the American record that my attitude was, take what you want, do what you want. I'm the world champion!
You are informed of your test results, positive or negative, and my tests have been negative my whole career. I know I'm clean, so I'm pretty chill about the whole process. The only thing that can trip me up is medication from the doctor. So if the doctor ever prescribes anything for me, I go right to USADA's website and enter the medication, and it tells you if it's banned or not. That's how simple it is.
Even though the drug-testing process is no more than an inconvenience for me, I do have some philosophical qualms about the system. What bothers me is this: I feel they don't test the people that stand out, the athletes who have had dramatic improvements in performance, enough. I've been running professionally for eight years now, with never a positive test, so why are you still at my door every month, or even every two weeks? So that I can find out 10 years from now that one of my competitors, someone who wasn't getting tested as often, has been using illegal drugs all along?
I wonder if they test the athletes that they know are clean more often, just so they can say they collected this many clean tests for such-and-such a year. I do have those thoughts -- are they testing me because they know I'm clean, and it will help them meet a quota? I'm here working my butt off, getting tested all the time, and then I see athletes making out-of-the-ordinary improvements, and they don't get caught until years later. If you're going to have a drug-testing program, then really do it. Test everyone, and test them often. If you're not going to do that, then leave me alone.
For more on the anti-doping policies of the IAAF, track and field's international governing body, click here.