espnW:

U.S. women's national team
February, 11, 2015
Feb 11
4:17
PM ET
By
D'Arcy Maine
| ESPN.com
Despite its 2-0 loss to France on Sunday, the U.S. women's soccer team is making the most of its time in Europe. Between playing Bananagram and watching "The Bachelor," the ladies found time to take in an English Premier League game between Arsenal and Leicester on Tuesday night. When in England, right?
While you're probably assuming the women were treated like the VIPs they are and given the best seats or a suite, it doesn't seem like that was exactly the case. The team was relegated to the corner of the stadium. The players seemed happy just to be in the building, however.
Here's to hoping the team swapped some tips with Arsenal and will put them to use in its Friday showdown against England.
See something entertaining on social media that you think deserves to be shared? Let me know on Twitter, @darcymaine_espn.
April, 14, 2014
4/14/14
8:48
AM ET
By
Carli Lloyd
| ESPN.com
Liu Jin/AFP/Getty ImagesCarli Lloyd first represented the U.S. as a member of the under-21 national team, when she was just a freshman in college at Rutgers.
In our new espnW series, elite athletes look back on their rookie days.
When I first met Hope Solo, I was on the under-21 national team, and I remember I was so intimidated by her. I was a freshman at Rutgers, and she was a little older. She's a very matter-of-fact person and will tell you exactly what she thinks, and I was afraid I'd say something to make her mad.
Hope knows what she wants in life and knows whom she wants to be friends with, and here I was this kid from New Jersey. I wouldn't say I have the same personality, but I'm pretty tough and I don't usually back down, so we're similar in those ways.
[+] Enlarge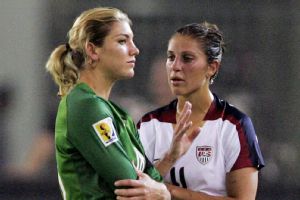 AP Photo/Julie JacobsonCarli Lloyd, right, says that the 2007 Women's World Cup was a turning point in her friendship with Hope Solo.
We went along with our business and continued playing on the U-21 team together without being super close. Then Hope went on to play for the full women's national team, and after I graduated, I made that team as well. That's where we had our first real confrontation: We were doing residency (where we lived in L.A. and trained as a team to prepare for the 2007 World Cup -- kind of a giant team training camp), and one day, we both needed the rental car that everyone was sharing. We got into a bit of an argument, and I won.
I'm not sure why we went from that to being close friends today, but we did, and now we look back at that fight and laugh. I guess you could call it a turning point in our relationship. After that we started sitting in the back of the bus together on team trips, and we realized we actually liked each other.
Then the 2007 World Cup happened: She was pulled from playing in the semifinal against Brazil, we lost the game, and it sparked a ton of media attention after she criticized the decision to not let her play. I think our friendship really evolved when she saw that I stood by her side through it all.
Now we're friends, teammates and occasionally rivals, when my team, the Western New York Flash, takes on hers (Seattle Reign FC) in the National Women's Soccer League. And I try hard not to judge people too quickly because I've realized firsthand that you get a different perspective after you really know someone.
December, 20, 2013
12/20/13
1:29
PM ET
By
Carli Lloyd
| ESPN.com
Matthew Visinsky/Icon SMITraining camp in L.A. for Carli Lloyd and the U.S. soccer team was a lot of hard work, but there was also time for holiday cheer.
Our early Christmas present this year from our fitness coach, Dawn Scott, was everyone's "favorite" drill: the beep test. It involves cones set up 22 meters apart on the field, and we run back and forth every time we hear a beep. In the beginning the time between beeps is longer, but the speed continues to increase. You're only allowed to miss one beep, and basically you run until you can't run anymore!
That's the way we kicked off our final national team training camp of the year on Dec. 3 in Los Angeles. I think I've done the beep test over 30 times in my career, and it's never easy. The goal is to improve your score each time you run it, though, and I am happy with my results as I continue to improve my fitness base each and every year.
We had a tough camp, filled with fitness testing, double days and a few scrimmages. It had been a while since we had just a training camp, without a specific game to prepare for, and it was a good chance to work on things as individuals and as a team. Our coach, Tom Sermanni, has now been on board for a year and we are getting used to his coaching and playing style.
He held positional meetings, showing us video clips from our games and highlighting common mistakes that we need to erase. We have to defend well as a team and we have to learn to be patient and choose our moments to go to goal. We've now implemented these tactics into our training sessions and know what we need to do in order to win a World Cup.
We typically stay in the same hotel when we go to L.A., which we all consider our home away from home. We all have our favorite spots to eat -- sushi, Mexican, a nearby diner-like place called Sloopy's, and many more!
This year for Christmas we did a white elephant exchange as a team. Kristie Mewis actually picked her own gift -- a Starbucks gift card. People called her out on it, so then someone stole it from her. We had quite a few people steal gifts. And Crystal Dunn got stuck with some really ugly shoes that were hilarious!
Next, we're on break through Jan. 8 and I'm looking forward to some time at home, hanging out with friends and family. Christmas is by far my favorite holiday. I can't wait to get my tree and decorate my house! I don't have a huge family but we will all get together.
I definitely love eating great food and cookies this time of year, too. I usually bake my family-recipe apple crisp pie and it is really good, I have to say. The older I get, the less the holiday becomes about gifts and the more it becomes about spending time with family and friends. Heather Mitts, Jill Loyden, Christie Rampone and I have dinner plans as well, which will be fun!
And of course I'll be continuing to train, since this actually isn't a break from soccer, but rather a time to continue to sharpen my skills and push my fitness level at Universal Soccer Academy, in Lumberton, N.J., where I train when I'm in the area.
Merry Christmas and Happy New Year, everyone!
October, 26, 2013
10/26/13
12:50
PM ET
By
Christie Rampone
| ESPN.com
Leon Halip/Getty ImagesWith World Cup qualifiers not until next year, Christie Rampone knows she doesn't need to rush back from knee surgery.
It was a secret at the time ... I had knee surgery right after our game in D.C. versus Mexico.
I literally walked off the field, drove home to New Jersey, dropped off my family and went into New York's Hospital for Special Surgery for my second surgery under Dr. Jo Hannafin. She reconstructed my ACL in 2001. Some bones had broken off my kneecap and were floating around, so they needed to be removed. Also, Dr. Hannafin clipped my meniscus. Nothing too crazy. The biggest issue was the bone fragments moving around and impeding my extension. I wasn't feeling that great, planting my right foot and kicking with my left foot.
The recovery is keeping me out for a little longer, but I've felt a lot better striking the ball and moving around. And definitely a lot more stable in the past couple of days. I stepped into practice the other day with no contact as I'm really trying to take it slow and heal 100 percent. Now is the time. Yes, we're playing games, but I also know that I need to be smart about what I am doing. The Women's World Cup qualifiers aren't 'til next year.
For now, I'm doing fitness one day with our fitness coach, Dawn Scott, and the next day all strength with our trainer, Rick Guter. Initially I was aiming to be back for Sunday's game against New Zealand, but now my goal is Wednesday or the November match versus Brazil. I don't want to push it. It's important to not get over-anxious just because I'm here and miss playing. At the same time there are other players competing and everyone is fighting for a roster spot, so it's not like, "Oh, let me get some minutes." I want to earn it.
Being injured has allowed me to sit back or up high in the box, and watch how the girls adjust to our new coach, Tom Sermanni. He's not over-coaching at this point, really just observing, and I'm sure it will pick up next year when qualifiers begin. We haven't had a lot of training sessions under Tom, and I'm looking forward to the December camp to see how that goes. At the end of the day, I think we're winning marginally more than ever. And that's especially big when we've been away from one another for six weeks or more. There's always some hesitation with a new coach as you try to figure out the style, but it's great to see the team doing so well.
It's a complete 180 from the prior coach, Pia Sundhage. The focus was on change of speed/point with an emphasis on a high-tempo training environment. It was very much about running and fitness with fast-paced training and double days. Tom is trying to slow us down and wants us to evaluate the game, seeing what the game presents on each day. He's been pleased with the technical side but really hasn't seen enough as we have a tendency to go more on our fitness, outrunning teams with superior athleticism. It's an adjustment to go from high-paced on and off the field to taking things much slower, while working on skills and technique. It's all about adapting and adjusting. With Pia we were like, "Whoa, here we go!" At first, under Tom we were like, "Are we going to get unfit?" But then you realize we're playing with fresh legs right now and the team is doing well. The team grew and thrived under Pia's style and now we are looking to grow even further under Tom's vision.