March, 12, 2014
Mar 12
8:01
AM ET
Paul Morigi/Getty ImagesIn 2013, the Girl Scouts sold more than 200 million boxes of cookies across the country.
On this day in 1912, Juliette Gordon Low gathered a group of girls in Savannah, Ga., and formed the first troop of what is today known as the Girl Scouts. Low, an avid swimmer, rower and tennis player, and her troop went on hiking and camping trips, played basketball, learned first aid and participated in community-service activities. The allure was immediate, and by 1920, the Girl Scouts had more than 70,000 members all over the country. In 2013, there were more than 3.2 million Girl Scouts in the United States, organized troops in 92 countries and more than 59 million American women could be counted as alumni. Some notable former Girl Scouts include Rebecca Lobo, Jackie Joyner-Kersee, Nancy Lopez, Janet Evans, Bonnie Blair and Venus Williams. Perhaps known best and most adoringly for their annual sale of cookies, that tradition dates back to 1917 when a troop in Oklahoma began selling homemade goodies in their school cafeteria to raise money for the troop. In 2013, 200 million boxes of cookies were sold nationwide.
July, 8, 2013
7/08/13
8:31
AM ET
AP Photo/Adam ButlerIn addition to her five Wimbledon singles titles, Venus Williams also has won five Wimbledon doubles titles alongside sister Serena.
On this day in 2000, 20-year-old
Venus Williams
beat Lindsay Davenport in the Wimbledon final to win her first grand slam singles title. Williams, seeded fifth, beat No. 1 Martina Hingis in the quarterfinal and sister Serena in the semifinal before taking out Davenport, who was the reigning Australian Open champion. Venus would go on to defend her Wimbledon title in 2001 and also claimed the Venus Rosewater Dish at the All England Club in 2005, 2007 and 2008. In all, Venus has won seven grand slam titles, which ties her for 12th on the all-time list. One of the women she is tied with, Justine Henin, was the runner-up in that 2001 Wimbledon final, falling to Venus in three sets.
June, 22, 2013
6/22/13
9:59
AM ET
Gary M Prior/AllsportBlanche Bingley Hillyard was the first Wimbledon champion to be awarded the Venus Rosewater Dish, but the name of Maud Watson, who won the first two titles in 1884 and 1885, has since been added.
Venus Williams will be missed when Wimbledon starts on Monday, but another Venus will be back for her 118th appearance. The Venus Rosewater Dish has been awarded to the women's singles champion since its introduction in 1886. The salver is 18.75 inches in diameter, is made of sterling silver and has a mythological-themed décor. The trophy bears no writing other than the engraving showing the dates and names of all the Champions. The winners from 1884-1957 are inscribed around the inside of the bowl and champions from 1958-2012 are around the outside of the bowl.The trophy remains at the Wimbledon museum, and champions take home a 14-inch replica. For the record, Venus Williams' name can be found five different times on the Venus Rosewater Dish.
June, 17, 2013
6/17/13
6:58
AM ET
By
Lizzie Haldane
| ESPN.com
Julian Finney/Getty ImagesVenus Williams has won seven Grand Slam singles titles, tied for 12th on the all-time list.
Happy 33rd birthday to a woman who has won 22 Grand Slam singles titles and four Olympic gold medals. Venus Williams, who was born on this day in 1980 in Lynwood, Calif., has won seven majors in singles, 13 in women's doubles and two in mixed. Throughout her career, Venus has had the most success at Wimbledon, which begins next week at the All England Club. She has captured five of her seven singles Grand Slam titles on the green grass and five women's doubles titles there, playing with her sister Serena. Her first singles title at Wimbledon came in 2000 and her most recent was in 2008. In addition to her success on the court, Venus also successfully lobbied the All England Club to award women equal pay. That is the subject of an upcoming Nine for IX documentary,
"Venus Vs.,"
which airs on ESPN at 8 p.m. on July 2.
January, 14, 2013
1/14/13
6:07
AM ET
By
Lizzie Haldane
| ESPN.com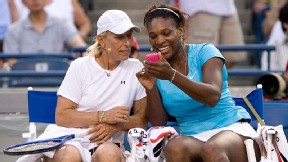 AP Photo/The Canadian Press, Darren CalabreseBetween the two of them, Martina Navratilova and Serena Williams are the proud owners of 214 singles titles and (Serena hopes) counting.
On Jan. 14, 1985, Martina Navratilova won her 100th tournament, becoming the second woman -- after Chris Evert -- to accomplish the feat. Navratilova concluded her record-breaking career with 167 singles titles; Evert piled up 157 trophies. The only other player to reach that 100-win milestone is Steffi Graf, who has 107. Serena Williams, with 47, has the most among active players. She leads her sister Venus by three. They are both trying to add to their totals in a major way over the next two weeks in Australia.
Read more
WFYIs
.