April, 7, 2013
4/07/13
9:44
PM ET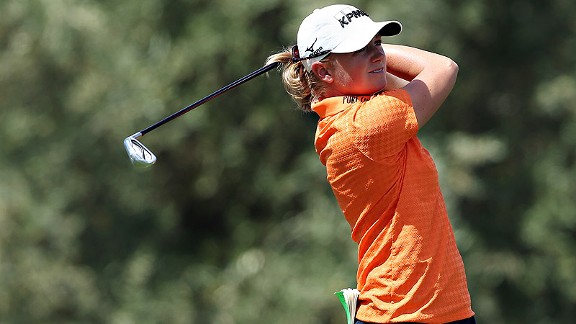 Jeff Gross/Getty ImagesStacy Lewis will hold on to her No. 1 ranking even though she finished well down the leaderboard Sunday.
RANCHO MIRAGE, Calif. -- Stacy Lewis could be forgiven for being a bit distracted.
She entered her first major as the world's No. 1 player following a whirlwind three weeks that, at times, she said, caught her off-guard.
"It's been crazy," Lewis said. "I expected to get the attention at the tournaments and at the course, but I've been surprised at things off the course, just going into a Walgreen's or a CVS and getting recognized. So it's definitely been a little bit of an adjustment."
Finishing in a tie for 32nd [1-under-par] at the Kraft Nabisco Championship on Sunday, following a tie for ninth [6-under-par] at the KIA Classic two weeks ago, could not have been what she had in mind. But Lewis did not sound disheartened leaving Rancho Mirage.
"I've won twice already and just kind of gotten off to a really good start, so I'm excited," she said of her victories at the HSBC Women's Champions and LPGA Founders Cup last month.
"We still have four majors left, and Solheim [this August in Colorado] is probably even of higher importance than those majors. We've got a lot of good stuff coming this year."
Lewis could have lost her No. 1 ranking here had former No. 1 Yani Tseng won. Instead, Tseng finished 2-over-par and in a tie for 48th, losing her No. 2 ranking to Sunday's champion Inbee Park.
The hoped-for rivalry between Lewis and Tseng might turn out to involve Lewis and Park. Or perhaps 2012 U.S. Open champion So Yeon Ryu, who finished second here at 11-under-par and was ranked ninth coming in.
"It might be all the golf fans think like Annika [Sorenstam] or Lorena [Ochoa] are [still] like the queens of golf," Ryu said. "But there's a lot of great players on the tour, a lot of people battling at the tournaments. I think that's a really good thing.
"But yesterday I saw that Stacy changed autographs. She signed it, then put No. 1 under the autograph, so I was jealous. I'm trying to copy her. The first thing I have to do is play well, but I think that battle is a really great thing."
In the meantime, the LPGA will hitch its marketing to Lewis for as long as it lasts.
"We're going to get some recognition for this Tour," Lewis vowed as she embarked on a trip that will include several national interviews, "and right now I guess I'm the face of it."
April, 6, 2013
4/06/13
10:49
PM ET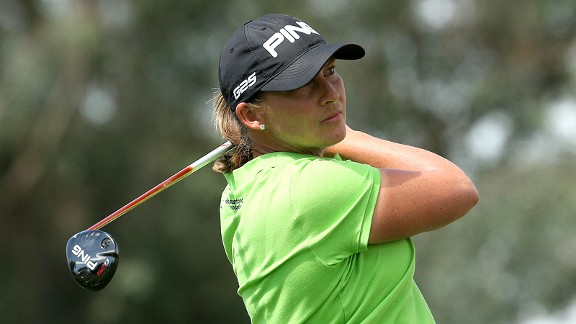 Stephen Dunn/Getty ImagesAngela Stanford shot the best round of the week Saturday, a 6-under-par 66.
RANCHO MIRAGE, Calif. -- As the sun set Saturday on a crowded leader board at the Kraft Nabisco Championship, No. 1-ranked Stacy Lewis was tied for 23rd.
The good news? Five American golfers were ahead of her, four among the top 10, including Angela Stanford, who shot a 6-under 66 for the best round of the week.
Lizette Salas, 23, is at 9-under and in second place going into Sunday's final round, three strokes back of leader Inbee Park, while Stanford is at 6-under and in a six-way tie for third along with Jessica Korda, 20. Paula Creamer, 26, is tied for ninth at 5 under. Cristie Kerr, 35, is tied for 17th at 2 under.
"I think it's cool to see [the young American's] names up there, and they have a lot of energy," said Stanford, 35. "It's fun to watch these young kids play well. I think our future is very bright."
Salas had five birdies Saturday, and Stanford had seven.
"These pin placements were pretty accessible today," Stanford said. "I was a little surprised that leaders aren't completely running away. I'll tell you, anything happens here. … I think five shots out and you still have a chance here on Sunday."
As added motivation, double points are awarded here toward standings for the Solheim Cup team, which will face Europe on Aug. 13-18 in Parker, Colo.
"I think any time it's a Solheim year, as an American you want to be playing well," said Stanford, a four-time Solheim Cup team member. "I think if you can play strong in the majors, captains like to see that, too."
April, 5, 2013
4/05/13
9:52
PM ET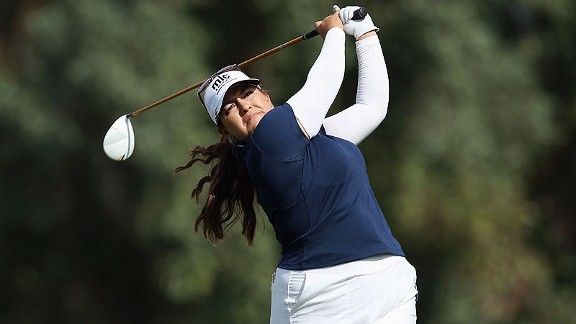 Jeff Gross/Getty ImagesLizette Salas stands just one shot behind the leader after a 4-under 68 Friday and is the top American on the board.
RANCHO MIRAGE, Calif. -- Last year, Lizette Salas was an accomplished four-time All-American out of Southern Cal but a nervous LPGA rookie.
On Wednesday, Salas hobnobbed with Oscar de la Hoya in the Kraft Nabisco pro-am, and on Friday, she shot a 4-under 68 in the LPGA's first major of the year to take a 6-under 138 into the weekend, one shot behind leader Inbee Park.
"I'm more comfortable in my own skin, I'm not intimidated of anything now," said Salas, 23, the only American among the top 11 golfers here. "Last year I was just really nervous, really scared of every shot I hit. Now I'm just much more confident, and these last three weeks in contention, that has been a boost of confidence.
"What I think about is that I have nothing to lose out here. I'm not supposed to be out here but (for) my story."
Her "story" is becoming a familiar one. The daughter of Mexican immigrants, she learned the game after her father, the mechanic at the Azusa (Calif.) Greens public course, exchanged handyman work for the head pro for golf lessons.
"So I started at age 7 and did not know how to dress, barely had a full set of golf clubs and got my first pair of shoes at the age of 9," Salas said. "And it has been a roller-coaster from that point on."
Salas fired five birdies and had one bogey in the second round Friday, continuing a roll this year in which she has had three top 10 finishes in five tournaments, and a sixth-, fourth- and 13th in her last three events.
Salas said minimizing mistakes "to where I can still hit the green and not be in trouble" has been the biggest difference from last year. Well, that, and playing with one of her heroes.
"[De la Hoya] was telling me, 'Go for it, go with your gut feeling,' " said Salas, who also gets regular advice from LPGA Hall of Famer Nancy Lopez.
"I feel like I can bring another crowd to the LPGA," Salas said, "and just like Nancy and Lorena [Ochoa] did for me, I do see a lot of younger girls in general following the LPGA, which is what the LPGA is [supposed to do], bring more children and more females into the game of golf. "
April, 4, 2013
4/04/13
5:21
PM ET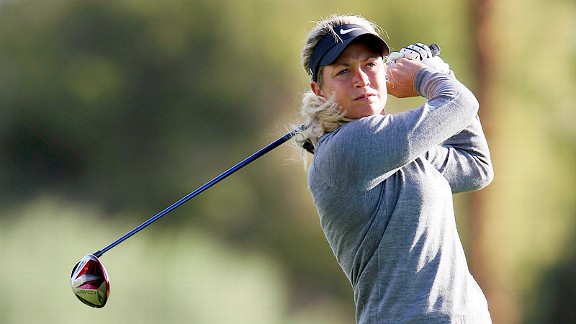 AP Photo/Chris CarlsonSuzann Pettersen was one of only two golfers in the morning group to finish her round without a bogey.
RANCHO MIRAGE, Calif. -- You could hardly blame Suzann Pettersen for feeling this way.
"I'm getting old," she said.
But Pettersen, who turns 32 Sunday, the final round of the Kraft Nabisco Championship, was not talking about her age.
Rather, Pettersen was talking about experience. Specifically, her experience here, where she is a three-time runner-up and was co-leader at 4-under-par 68 after the first round Thursday.
"I hope I know what I'm doing," Pettersen said when asked about Friday and possibly the weekend. "It's really just try and go out there and literally try to enjoy it, which is probably the hardest thing for me.
"I'll never forget when Kathy Whitworth came up to me, I think it was in '09, and she shook my hand and said don't ever let the passion get in my way. It's really spot on. I just need to get up there and hit the shots that I'm seeing."
Ranked eighth in the world, Norway's Pettersen, third on the tour in greens in regulation, did not make a bogey Thursday. Only one other golfer, her playing partner and co-leader Na Yeon Choi, shared the distinction in the morning group.
"We weren't even close to making one," Pettersen said. "We played solid, both of us."
April, 3, 2013
4/03/13
5:09
PM ET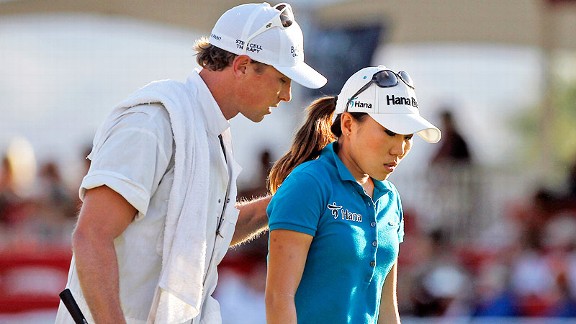 AP Photo/Chris CarlsonI.K. Kim missed a 1-foot putt that would have won last year's Kraft Nabisco; she says what matters more is what she does the next time.
RANCHO MIRAGE, Calif. -- A year later, and I.K. Kim still gets the questions. More astonishing, she doesn't seem to mind.
As Kim correctly points out, everyone who has ever golfed has missed the easy putt. Few, however, have done it on a bigger stage and with more at stake than Kim, who lipped out a 1-footer that would have given her the 2012 Kraft Nabisco Championship.
The miss forced her into a tie with Sun Young Yoo, who eventually won in a playoff.
"I think last year was a big turning point of my life of learning and what's really important," Kim said this week as she prepared to take on the Mission Hills Country Club course. "It just gave me a different view of it. Looking back, it was tough to handle at first, but I think it's important not only to the viewers and the people but to . . . the younger generation, to know that it's not always going to be glorious and like victory."
Kim knows about victory, having won three LPGA events. But she also knows close, having finished in the top 10 at 51 events, including 10 majors. And at 24, she sounds like she has it all figured out.
"Life is not about winning or losing," she said. "When you're 80 and look back, you're not going to remember, 'Oh, I should have made that putt.' I mean, when you're 80, it's more about how much you have fun and enjoy your life.
"I just think that this game really teaches a lot, you know. I'm sure there are people struggling right now. Some people are dying from hunger. . . . So some people think it's really tough and feel sorry for what happened. I just think that it doesn't matter what happens. What matters is what you do after, how you're going to come back, and what you're going to do the next time."
Kim, 16th in the world rankings, finished second in a playoff at the Kia Classic, her last tournament, and also tied for 10th at the Honda LPGA Thailand this year. But she is recognized just as much for her willingness to talk to the media and fans about both her good and bad results, and to impart what she has learned.
"I think what I'm saying is sometimes you got to just pick yourself up and be tough and just move on," Kim said. "Don't really feel sorry for yourself because it's life. You have to be happy and enjoy what you have is I think what I've learned.
"A lot of times that I look and think about results and I want to win this and that and be better, that's great, but I think you either live life happy or unhappy."