August, 6, 2013
8/06/13
11:33
AM ET
Johan Opperman/USA Water Polo Memories of her grandfather, who served in World War II, made Annika Dries especially proud to be representing the U.S.
While fifth place at the water polo world championships is not where we wanted to finish, our last game was a big one.
Just as we had fought Spain under the lights before losing in the quarterfinals, we battled Greece through regulation, went to overtime and won in a shootout. It was a game that represented the resilience and togetherness of our team. Having the opposition score in the final second of regulation and then score the first goal of overtime might be daunting to some, but not to our group. The experiences we gained in this game and in the tournament -- coming from behind, staying ahead, playing overtime and winning one-goal games -- will be vital for the strength of our team.
Our quarterfinal loss to Spain was tough -- really tough -- but our team was in it together the entire time. We didn't execute as well as we needed to and bring the same intensity as the home team. With 3,300 Spanish fans whistling and yelling, playing Spain in Spain is something I will never forget. You could feel the emotion of the moment. That game will fuel our team for a long time.
On a personal note, playing for the USA reached another level for me this year -- a level that I didn't quite realize until our flag was displayed and our anthem was played at the world championships.
My grandfather served in the U.S. Army at the Battle of the Bulge in World War II, and I remember him showing me the picture of the boat with all the men coming back from war. They looked full of pride and joy for their country. At my grandpa's funeral this past spring, the Army presented my grandmother with a flag. The presentation was simple yet powerful. I realized then and at the world championships just how lucky I am to represent this amazing country. I also talked with my grandpa's best buddy from the war. While on a different scale of life and death, the stories of camaraderie hit a chord with the stories of the struggles and victories I share with Team USA.
Looking to the future of women's water polo, the difference in the teams is small. Everyone is good at what they do and is bringing it to the table. At this tournament, the World League champions didn't even make the top eight. Teams are changing and improving every day as we move toward the fifth Olympics ever for the sport. We are ready for the challenge of preparing for the next big moment and to be where we want to be for our country: at the top of the podium.
July, 19, 2013
7/19/13
12:32
PM ET
Courtesy of Annika Dries The beautiful pool in Barcelona will be a lot busier when the water polo world championships begin this weekend.
As a lead-up to the water polo world championships in Barcelona, Spain, we first ventured to the Netherlands. Nestled in the trees of Zeist Sports Center, we had common training with Holland and Canada. After getting in some solid training and weightlifting, we headed to the Dutch Trophy competition in the city of Gouda, which we found out is pronounced "Houda."
Other than hosting this event, Gouda is an old city known for its cheese and classic stroopwafels. I love cheese, so resisting eating the entire cheese wheel we received as a participation gift was quite a challenge.
All joking aside, the games at the Dutch Trophy were great preparation for the upcoming world championships, where 16 top water polo teams will compete for the title. Swimming, synchro and diving athletes also will compete at the various pools in Barcelona. For 2013, the highlight of any aquatic athlete or team is worlds.
[+] Enlarge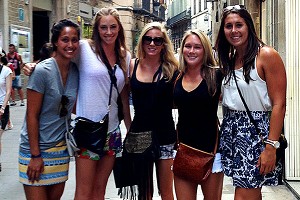 Courtesy of Annika DriesAnnika Dries and her teammates took time to enjoy Barcelona this week, including getting together for a tapas dinner.
In our games in Holland, we had a dominating fourth quarter against our Pan-Am rival Canada, outlasting them 15-8. We held Greece to a low-scoring first half, winning 11-7. And we played a tough, high-scoring game against Holland, losing 14-13. Since we will face both Greece and Canada in our opening-bracket games, it was a great opportunity to play these teams.
Since arriving in Barcelona, we have scrimmaged Spain every day. The competition pool is awesome. Set up on the hill next to a palace and the site of the 1992 Olympic Stadium, it is a beautiful venue. The outdoor stadium gets plenty of sun, and we are already putting on the sunscreen as if we are back home training at Los Alamitos. We also trained at another pool named Montjuic, where there were a lot of kids swimming. As we lined up to scrimmage Spain, a crowd of young Spanish boys gathered behind the cage shouting, "Espaņa, Espaņa, Espaņa." It was amazing how loud they were, but what better preparation than to hear home-crowd cheers and start playing for the silence.
We had a team dinner last night in town and tasted some amazing tapas. My favorites were the veal sirloin flautas, the mushrooms and croquettes with goat cheese. After fueling up, training all week and having Jay-Z's new album on repeat, we are excited to start the tournament. Our first game is Sunday versus Greece. Can't wait to play!
Watch our promo video that captures the spirit of espnW. #ShowUpToWin.
March, 28, 2012
3/28/12
4:29
PM ET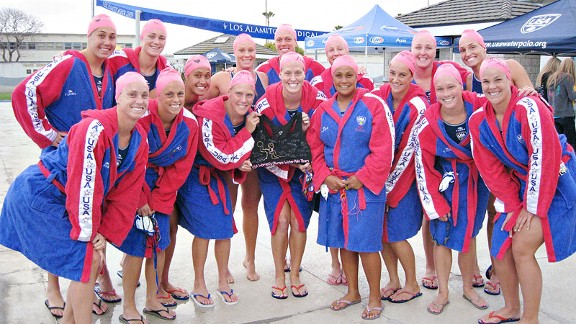 USA Water Polo Annika Dries, top left, and her teammates wore pink swim caps during a Holiday Cup match to bring attention to breast cancer research.
Annika Dries will be blogging for espnW throughout her training for this summer's London Olympics. Check back in April for more from Annika on the journey.
[+] Enlarge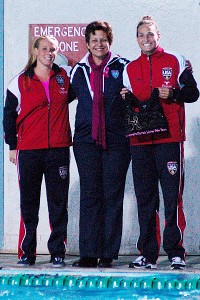 USA Water PoloBreast cancer survivor Pam Dries, center, Annika's mother, posed before she dropped the ball for one of Team USA's Holiday Cup matches.
One of the proudest moments of my career happened last month at the Holiday Cup -- and it had nothing to do with how I played. We had a series of nine matches against Greece, Canada and Italy, and we dedicated one of those matches to raising breast cancer awareness. We all wore pink caps listing the names of people who'd been affected by the disease, and we auctioned off autographed sports bras to help raise money. The biggest moment, though, was when we had a breast cancer survivor drop the ball for the game's opening sprint. That survivor was my mom.
My mother was diagnosed my sophomore year of high school, and during that time, she endured surgery and two years of chemotherapy. I dealt with the diagnosis by throwing myself into the Pink Ribbon Club Foundation, a group that encourages self-screening and patient advocacy. We raised money for research, but most of all, I think we helped instill hope in our community for those who had been dealt this disease.
My mom's a fighter -- she's now a five-year cancer survivor training to hike the Grand Canyon this fall. I'm doing my best to keep fighting, too, and will continue to pursue my human biology major when I return to Stanford this fall. My mom has inspired me to follow a career in medicine, and her determination also gives me power every day in the pool and around the world.
I'm currently in Italy with the U.S. team, to train, compete and continue to sharpen our skills as we eye the Olympics, only four months away. It's awesome to play against someone else; it feels great to take our aggression and tactics out on another team!
[+] Enlarge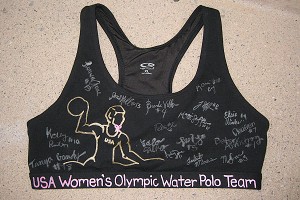 USA Water PoloThe U.S. team auctioned autographed sports bras to raise money for breast cancer research.
Our first match was in Avezzano, about a two-hour bus ride from Rome. It was an adventure through many hills and mountains to get there, and the venue seemed far away from any real sports center, so we were expecting low attendance at the game. But we were completely wrong! As we pulled up, we could see a line of kids and fans surrounding the venue, and it turned out this town is fanatic for water polo. The Italian fans were loudly enthusiastic for both their home team and our team, and the whole game felt like I was at some big celebration rather than an international water polo match.
But we still wanted to win, of course, and we did, 9-7. We were rewarded with a huge Italian dinner and Nutella pizza for dessert. It was amazing. Since then we've played Italy twice more, winning our next game and tying 8-8 in the last one. It sets us up well for the Games, since it will likely be our last matchup with Italy until then.
Now, it's on to Russia next week. We'll play at the Kirishi Cup against Greece, Russia, Spain, China and the Netherlands. They're some of the toughest teams in the world -- and we're hoping to beat them!
Read Annika's previous blog entry, about the Holiday Cup and the dirty fighting that goes on in water polo.