July, 8, 2013
Jul 8
8:31
AM ET
AP Photo/Adam ButlerIn addition to her five Wimbledon singles titles, Venus Williams also has won five Wimbledon doubles titles alongside sister Serena.
On this day in 2000, 20-year-old
Venus Williams
beat Lindsay Davenport in the Wimbledon final to win her first grand slam singles title. Williams, seeded fifth, beat No. 1 Martina Hingis in the quarterfinal and sister Serena in the semifinal before taking out Davenport, who was the reigning Australian Open champion. Venus would go on to defend her Wimbledon title in 2001 and also claimed the Venus Rosewater Dish at the All England Club in 2005, 2007 and 2008. In all, Venus has won seven grand slam titles, which ties her for 12th on the all-time list. One of the women she is tied with, Justine Henin, was the runner-up in that 2001 Wimbledon final, falling to Venus in three sets.
July, 5, 2013
Jul 5
9:07
AM ET
AP PhotoArthur Ashe upset defending Wimbledon champion Jimmy Connors 6-1, 6-1, 5-7, 6-4 in the 1975 final.
On this day in 1975, Arthur Ashe beat Jimmy Connors to become the first African-American man to win Wimbledon, adding to an already impressive list of accomplishments. In 1968, he became the first black man to win the U.S. Open and in 1963 he was the first African-American to represent the United States on its Davis Cup team. Ashe suffered a heart attack in 1979 and retired from tennis a year later. He finished his career with 33 singles titles, including the U.S. Open, Australian Open and Wimbledon. In 1985, he was inducted into the International Tennis Hall of Fame. Ashe died on Feb. 6, 1993.
July, 3, 2013
Jul 3
8:42
AM ET
Mike Hewitt/Getty ImagesMaria Sharapova has earned more than $26 million in career prize money, which ranks third all-time behind the Williams sisters.
While this year's Wimbledon may be running out of star power, a star was born on this day in 2004. In the women's final on Center Court on July 3, 2004, 13th-seeded Maria Sharapova won her first Grand Slam title by stunning two-time defending champion and six-time major winner Serena Williams in straight sets. Sharapova became the first Russian to win a Wimbledon singles title and the third-youngest women's champion in the tournament's history. Sharapova, who lost in the second round this year to Michelle Larcher de Brito, has gone on to win the career Grand Slam. Serena, who lost in the fourth round this year to Sabine Lisicki, has gone on to win a total of 16 Grand Slam titles, including five at Wimbledon.
July, 1, 2013
Jul 1
8:44
AM ET
Kirby/Topical Press Agency/Getty ImagesFrom 1919-1926, Suzanne Lenglen lost a total of one match, a controversial default at the 1921 U.S. Championships.
On this day in 1920, French tennis star Suzanne Lenglen became the first player to win three titles at Wimbledon in one year. She won the women's singles title by beating Dorothea Lambert-Chambers (a seven-time champion at Wimbledon) 6-3, 6-0 in the final. In women's doubles, she teamed with American Elizabeth Ryan, and the duo beat Lambert-Chambers and Ethel Larcombe 6–4, 6–0 in the final. Playing with Britain's Gerald Patterson in mixed doubles, Lenglen won the trophy with a 7-5, 6-3 victory over her doubles partner, Ryan, and Randolph Lycett. She repeated the feat of winning three titles at a single Wimbledon two more times, in 1922 and 1925. In all, Lenglen won 15 titles at Wimbledon, 19 at the French Open and two golds and a bronze at the 1920 Olympics. Lenglen died at the age of 39 on July 4, 1938. She was inducted into the International Tennis Hall of Fame in 1978. In 1997, one of the show courts at the French Open was renamed Court Suzanne Lenglen.
June, 24, 2013
Jun 24
8:38
AM ET
Robert Laberge/Getty ImagesPetra Kvitova, seeded eighth at Wimbledon, was also the eighth seed in 2011 when she won her lone Grand Slam title by beating Maria Sharapova in the final.
There are three former champions looking to get their hands on the Venus Rosewater Dish again as Wimbledon begins today. Top-seeded Serena Williams leads the way with five titles (2002, 2003, 2009, 2010, 2012) and a 24-1 record on the Wimbledon grass since 2009. Her lone loss was to Marion Bartoli, who is seeded 15th this year, in the fourth round in 2011. Third-seeded Maria Sharapova claimed the trophy in 2004 but has reached the final only once, in 2011, since. Petra Kvitova, the 2011 champion, is seeded eighth this year. She lost to Serena Williams in the quarterfinals during her title defense in 2012.
June, 22, 2013
Jun 22
9:59
AM ET
Gary M Prior/AllsportBlanche Bingley Hillyard was the first Wimbledon champion to be awarded the Venus Rosewater Dish, but the name of Maud Watson, who won the first two titles in 1884 and 1885, has since been added.
Venus Williams will be missed when Wimbledon starts on Monday, but another Venus will be back for her 118th appearance. The Venus Rosewater Dish has been awarded to the women's singles champion since its introduction in 1886. The salver is 18.75 inches in diameter, is made of sterling silver and has a mythological-themed décor. The trophy bears no writing other than the engraving showing the dates and names of all the Champions. The winners from 1884-1957 are inscribed around the inside of the bowl and champions from 1958-2012 are around the outside of the bowl.The trophy remains at the Wimbledon museum, and champions take home a 14-inch replica. For the record, Venus Williams' name can be found five different times on the Venus Rosewater Dish.
June, 9, 2013
Jun 9
9:46
AM ET
Julian Finney/Getty ImagesThe 39-year-old Lisa Raymond is currently ranked 11th in doubles.
We close the book on the French Open today, but there is some good news. We're only 15 days from the start of Wimbledon, and we've got Americans defending their titles all over the All England Club. Serena Williams, who just won her 16th major at the French, will be going for her sixth singles championship at Wimbledon. A year ago on the grass, she also claimed the women's doubles crown with sister Venus. Lisa Raymond, who has won 11 majors in doubles, won the mixed doubles title in 2012 at Wimbledon with Mike Bryan.
May, 5, 2013
May 5
8:17
AM ET
By
Lizzie Haldane
| ESPN.com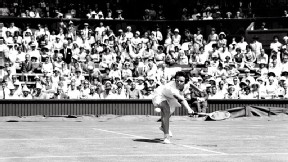 AP Photo/Jim PringleBillie Jean King's first singles loss at Wimbledon was to Yola Ramirez.
Cinco de Mayo happens to be 50 days out from the start of Wimbledon. Back in 1961, a Mexican player named Yola Ramirez defeated Billie Jean King in King's first singles match on the grassy court. Ramirez eventually made it to the quarterfinals that year. King went on to win the first of her 20 titles at Wimbledon in 1961, claiming the women's doubles crown. In all, King won six singles titles at Wimbledon, 10 doubles and four mixed doubles.
Read more WFYIs.