espnW:

world championships
August, 9, 2013
8/09/13
12:04
PM ET
Mike Ehrmann/Getty ImagesJessica Long has kept her love for swimming by reducing her training load post-London. She'll test her fitness at this week's worlds in Montreal.
This year's paralympic world championships, which start Aug. 12 in Montreal, will be much different than every other past worlds. For one thing, my two very best friends won't be there. Anna Eames, Kelley Becherer and I have been "JAK" (Jessica-Anna-Kelly) for the past six years, and Kelley has been my roommate for eight, but both have decided to move on from swimming. Anna took an internship in Washington, D.C., and Kelley announced about a week and a half ago that she's going to retire from swimming to focus on school.
So I'm kind of without my security blankets. There are so many little traditions I'll miss -- secret handshakes, talks before going to sleep, sitting together on the bus. It's going to be totally different at this competition. In some ways it doesn't even feel real that I'm at worlds because normally we'd be texting each other like crazy!
[+] Enlarge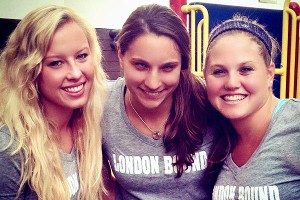 Courtesy Jessica LongJessica Long will be without her two best friends at this year's worlds: Kelley Becherer and Anna Eames. The trio has traveled to countless swim meets together.
But this is also standard after the Paralympics. The post-Games year tends to be when you make changes to your stroke, go to a new swim team and that sort of thing. This worlds will mark the end of a chapter in my life, too. It's my last meet with my coach, Dave Denniston, and afterward I'm leaving the Olympic Training Center in Colorado Springs to move back to Baltimore to be closer to my family.
I'm one of six kids and my older sister just had a baby girl, so I can't wait to get back there and meet the new little one. But at the same time, I moved out to Colorado three years ago when I was 18, and I feel like I really did the rest of my growing up here. It sounds cheesy, but Colorado will always have my heart! I love the mountains and I love the altitude. And there's nothing better than living at the Olympic Training Center.
Dave has been such a great coach for me, and to me as well. There's never a dull moment with his training. At Easter time, he once brought in eggs with our workouts written inside them, and he's always coming up with these crazy drills for us. The latest one is "Beyoncé Booty," in which we swim with our hips raised and butts out of the water. (This helps us create less resistance with the back half of our body when we're swimming freestyle.)
Dave has also been very supportive of the other major change I've made this year: I've cut back on my training -- a lot. I've stopped doing double sessions and instead am just training once a day from 7 to 9 a.m. I'm not a morning person, so it's still earlier than I would prefer, but it's better than the 5 a.m. workouts I've done in the past! Reducing my time in the pool could be really great, or I could see a negative difference in my fitness when I race. We'll see -- I think it's going to be great, though!
[+] Enlarge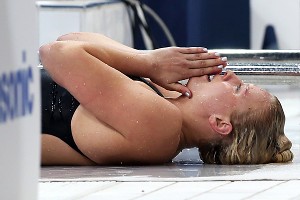 Ian MacNicol/Getty ImagesJessica Long was exhausted by her nine-race schedule in London, and is only doing four races at worlds.
I made the training change after the London Paralympics because I wanted to stay in swimming shape, but I knew if I'd kept pushing myself hard after London I might not be swimming at all today. My goal has been to swim just enough that I still love it. I never want to compete if I don't have that love for the sport.
Since I was about 12 years old, I've always swum at least seven events, but this worlds, I'm cutting back the number of races I do as well. In London I swam nine and it was so exhausting I can barely remember it! This year I'm doing just four events: the 100-meter butterfly, 100-meter freestyle, 400-meter freestyle and 200-meter intermediate medley. I wasn't even going to do the butterfly, but I've been trying to break 1:10 and haven't been able to get under, so I'm giving it another try. I want to swim 1:08. Maybe that's ambitious, but it's what I want!
It's weird, though, to look at the list of events and realize that I'll have a day off and not be swimming every day, three events a day. I'm looking forward to having a good time and finally being able to take it all in for once. I'm excited to see other swimmers race, and to soak it all up. I wasn't ready to say goodbye to swimming after London, and now I'm ready to enjoy every moment in the sport.
August, 6, 2013
8/06/13
11:33
AM ET
Johan Opperman/USA Water Polo Memories of her grandfather, who served in World War II, made Annika Dries especially proud to be representing the U.S.
While fifth place at the water polo world championships is not where we wanted to finish, our last game was a big one.
Just as we had fought Spain under the lights before losing in the quarterfinals, we battled Greece through regulation, went to overtime and won in a shootout. It was a game that represented the resilience and togetherness of our team. Having the opposition score in the final second of regulation and then score the first goal of overtime might be daunting to some, but not to our group. The experiences we gained in this game and in the tournament -- coming from behind, staying ahead, playing overtime and winning one-goal games -- will be vital for the strength of our team.
Our quarterfinal loss to Spain was tough -- really tough -- but our team was in it together the entire time. We didn't execute as well as we needed to and bring the same intensity as the home team. With 3,300 Spanish fans whistling and yelling, playing Spain in Spain is something I will never forget. You could feel the emotion of the moment. That game will fuel our team for a long time.
On a personal note, playing for the USA reached another level for me this year -- a level that I didn't quite realize until our flag was displayed and our anthem was played at the world championships.
My grandfather served in the U.S. Army at the Battle of the Bulge in World War II, and I remember him showing me the picture of the boat with all the men coming back from war. They looked full of pride and joy for their country. At my grandpa's funeral this past spring, the Army presented my grandmother with a flag. The presentation was simple yet powerful. I realized then and at the world championships just how lucky I am to represent this amazing country. I also talked with my grandpa's best buddy from the war. While on a different scale of life and death, the stories of camaraderie hit a chord with the stories of the struggles and victories I share with Team USA.
Looking to the future of women's water polo, the difference in the teams is small. Everyone is good at what they do and is bringing it to the table. At this tournament, the World League champions didn't even make the top eight. Teams are changing and improving every day as we move toward the fifth Olympics ever for the sport. We are ready for the challenge of preparing for the next big moment and to be where we want to be for our country: at the top of the podium.
April, 18, 2013
4/18/13
3:55
PM ET
By
Hilary Knight
| ESPN.com
Hilary Knight is a forward on the U.S. women's hockey team that won gold April 9 at the world championships.
The past week and a half has been a whirlwind of activity, ending with a victory against Canada for the world championship.
I am honored every time I have the opportunity to represent the United States and compete in the USA jersey. Since it is such a memorable experience, I like to take random pictures throughout my journey with my teammates. Hopefully these will give you a better look at us beyond the times when we are clad in our equipment, competing on the ice or in the gym. It should give you a better feel for our non-gladiator look -- after all, we are the only team who can make navy blue and black look fresh!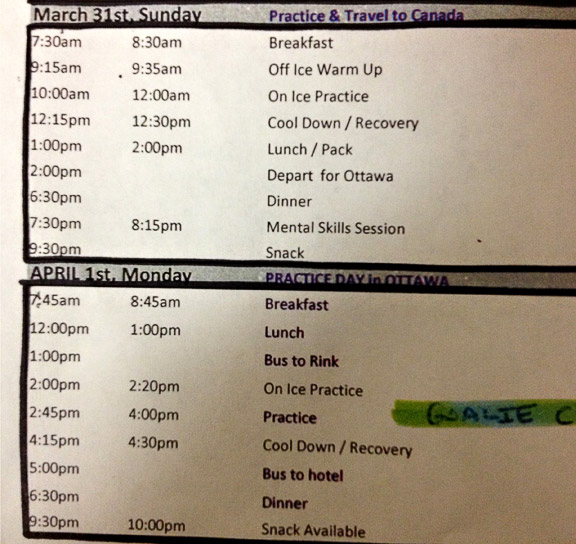 Courtesy of Hilary KnightAt training camp before worlds, invitees were vying for a spot to play for Team USA in this year's world championships in Ottawa. I took a picture of our schedule because March 31, the day we traveled to Canada, was the first step in our quest for gold.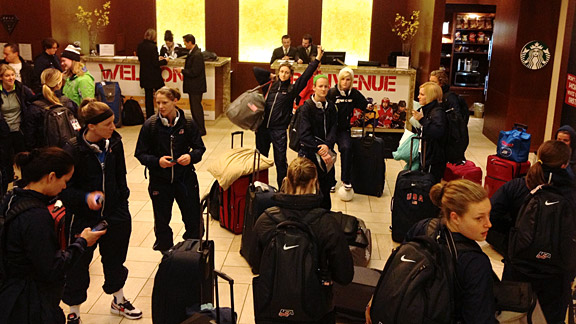 Courtesy of Hilary KnightHere, we've arrived at the hotel in Ottawa! After a bus trip from the Olympic Training Center in Lake Placid, N.Y., to our hotel, we hopped off the bus, excited to scope out our new digs. This is where we called home for the week of the tournament.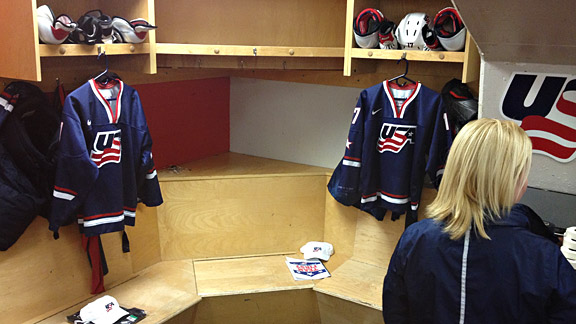 Courtesy of Hilary KnightBrent Proulx, our equipment manager, had everything ready in our locker room. Jocelyne Lamoureux and I have the corner stalls, or as we call it, our honeymoon suite. The corner location is not ideal for chalk talk, but I don't mind the extra legroom!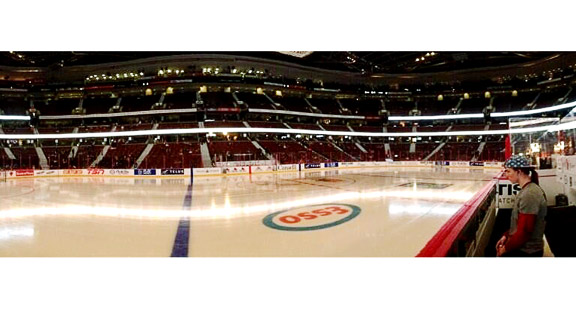 Courtesy of Hilary KnightMy teammate Rigs (Alex Rigsby) snapped this panoramic shot before our first game against Canada. I like to take a few minutes after off-ice warm-ups to sit, listen to music, think and relax before I get dressed in my equipment.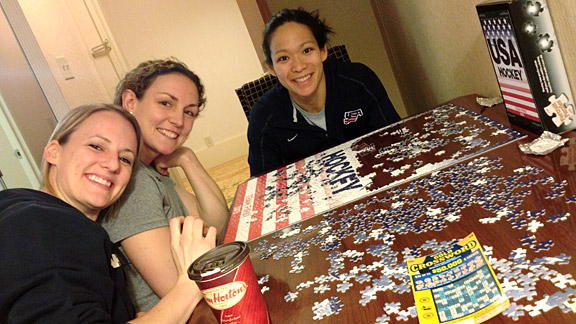 Courtesy of Hilary KnightWhen we weren't eating, sleeping, training or playing hockey you could find us chatting it up in our treatment room/player lounge. Our team loves puzzles, and Brianne McLaughlin, Jessie Vetter and Julie Chu even did a fitting USA Hockey puzzle design.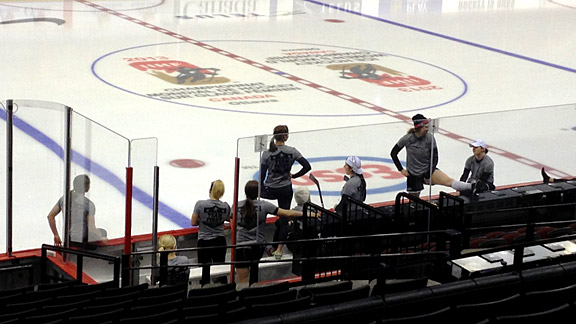 Courtesy of Hilary KnightHere we are, hanging around before off-ice warm-ups during an early game. A few players attempted penguin-belly-slide races on the ice to see how far they could slide past the blue line.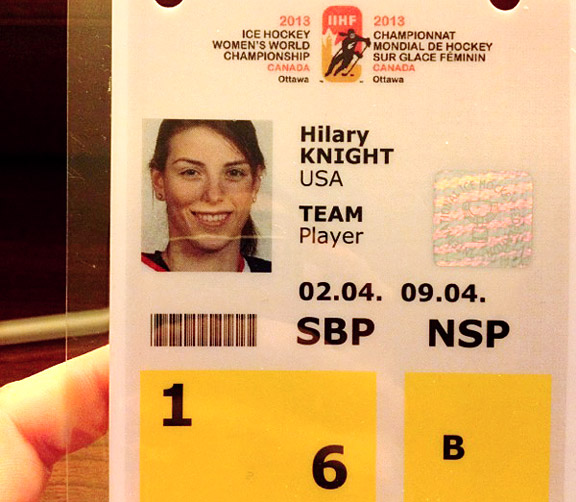 Courtesy of Hilary KnightI'm always so pumped to receive my player credentials! We can't go anywhere around the rink without this.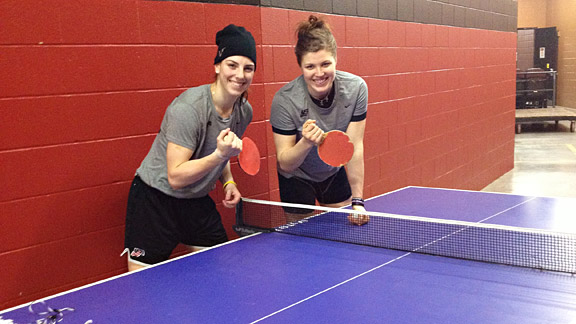 Courtesy of Hilary KnightLook, we found a table tennis table! We might be out of college, but Anne Schleper and I like to keep it light and have fun, and we were pleasantly surprised to find this. Let's just say that table tennis could be a career for either of us.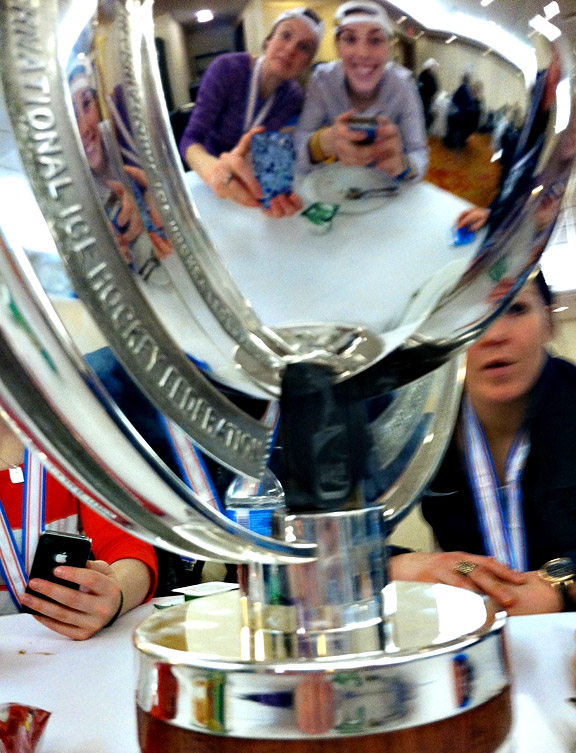 Courtesy of Hilary KnightBrianne McLaughlin and I taking a picture at our post-championship game meal. We thought we were being really artsy. It didn't quite turn out that way, but any picture with the most coveted cup is a great picture!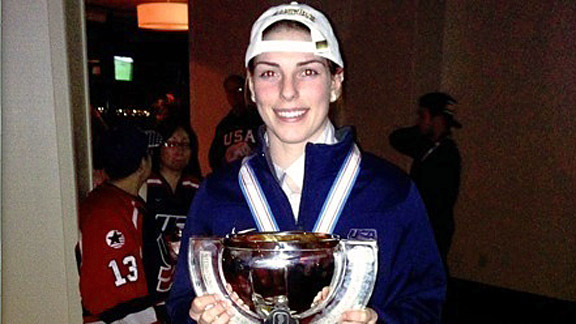 Courtesy of Hilary KnightThe world championship trophy and me having a casual moment during our postgame celebration.