June, 17, 2014
6/17/14
11:19
AM ET
About 5,000 fans packed the lawn at Arvey Field in Chicago's Grant Park on Monday night, gathering to watch the United States defeat Ghana 2-1 in their World Cup opener. Some fans arrived as early as 10 a.m. to set up blankets and chairs in front of a 19-by-33-foot screen. The late-comers were seen accelerating into a jog toward the lawn as they heard fans go wild for Clint Dempsey's goal in the opening minute of the game.
Sarah Spain/espnW
Late-comers were hard-pressed to find a good view, as fans crowded the screen like it was a headliner stage at Lollapalooza. Many were forced to watch from a berm outside of the gated-off watch party area.
Sarah Spain/espnW
Those who pushed to the front row had a great view for a short pre-game set put on by Chicago musician Lupe Fiasco, who also acts as the music director of U.S. men's soccer. In addition to playing hits like "Kick Push" and "Superstar," he led the crowd in a few rousing rounds of the unofficial USMNT chant "I believe."
Chicago Fire forward and 2013-14 MLS MVP Mike Magee was in attendance at the event, which was put on by U.S. Soccer, the Chicago Park District and the Chicago Sports Commission.
Magee signed autographs and took pictures with fans. He also did a halftime Q&A with former World Cup player and current Fire assistant Clint Mathis.
Late in the second half of the U.S. win on Monday John Brooks became the first USMNT player since Mathis to score a goal in his World Cup debut.
Like the second half for the U.S., the watch party didn't go off completely without a hitch. Fans were packed in like sardines, overflowing onto sidewalks and berms, so they'd definitely benefit from a bigger space and bigger screen for the next match.
And while the event had a lot of beer for sale, the only water I spotted was in the hospitality tent. If there was water available for Average Joes, it sure wasn't easy to find.
Despite the difficulty hydrating, happiness hung in the air after a big 2-1 U.S. victory. For those planning on a return trek to Grant Park for Sunday's match with Portugal, my suggestion: get there early, bring lots of water and don't forget your red, white and blue.
May, 2, 2013
5/02/13
1:13
PM ET
By
Lizzie Haldane
| ESPN.com
[+] Enlarge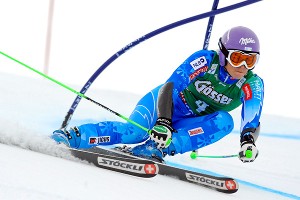 Alain Grosclaude/Agence Zoom/Getty ImagesTina Maze had the most statistically dominant World Cup year since it began in 1967.
Skiing sensation Tina Maze turned 30 today. The Slovenian set a world record in March with 2,414 World Cup points, topping Hermann Maier's record of 2,000, and claiming the overall giant slalom title. The 2014 season starts in six months, and we can be sure that Maze will be hungry after finishing second to the injured Lindsey Vonn in the downhill and second behind American teen Mikaela Shiffrin in the slalom.
Read more WFYIs.
February, 5, 2013
2/05/13
3:19
PM ET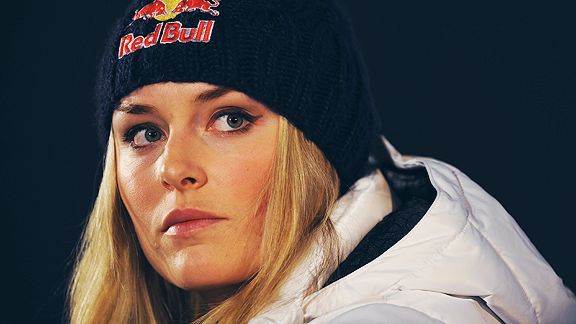 Clive Mason/Getty ImagesThe U.S. Ski Team said Vonn is expected to return for the 2013-14 World Cup season.
Just when things were starting to look up for Lindsey Vonn, the American skier crashed out of Tuesday's super-G at the world championships and suffered an injury that could make her path back to the Winter Olympics a lot more difficult.
Vonn had completed the fastest first interval on the course, but later suffered a torn ACL and MCL in her right knee, as well as a lateral tibial plateau fracture. She will miss the rest of this World Cup season. The opening ceremonies for the Sochi Olympics are set for Feb. 7, 2014.
"This is a very complex injury," said Dr. Daniel Kharrazi, an orthopedic surgeon at Kerlan-Jobe Orthopaedic Clinic in Los Angeles. He has not treated Vonn, but is familiar with the type of injury she suffered. While the U.S. Ski and Snowboard Association put out a news release Tuesday saying Vonn is expected to return for the 2013-14 World Cup season and 2014 Sochi Games, Kharrazi estimated it could take as long as a year before Vonn can start training again, depending on the severity of the fracture. A simpler ACL/MCL combination tear would only require six to nine months of recovery.
It has been a difficult stretch for the 28-year-old Olympic champion. Vonn missed almost a month of World Cup action to recover from an intestinal illness, but she had won two races since returning to competition last month. Vonn was feeling some optimism, judging from one of her most recent tweets after a giant slalom World Cup win in Slovenia.
"Wow ... this was unexpected! First win in GS this season... I don't know what to say. Thanks for the support."
Her divorce from her former coach, Thomas Vonn, was finalized last month. She also said earlier this week that her sponsor, Red Bull, had hired security for the popular skier during worlds. In recent weeks, her publicist, Lewis Kay, issued a statement in response to reports that Vonn was dating golfer Tiger Woods.
"Lindsey is currently in the midst of the World Cup season in Europe," the statement read. "Her focus is solely on competing and on defending her titles and thus she will not participate in any speculation surrounding her personal life at this time."
Before the start of worlds, Vonn was asked about the alleged relationship and whether Woods was coming to watch her compete in Austria.
"Oh, my god! I don't know," Vonn was quoted as telling reporters. "You should ask him."
Vonn did open up about her divorce to People magazine in December. She said it was hard to admit that the union had become unbearable. She and Thomas Vonn met when she was just 16 while both were competing, but she said things weren't perfect and she had battled intense depression for years.
"Divorce doesn't fit my cookie-cutter image," Vonn told People. "But I got to the point where I said, 'I don't care if I ever win another race; I just can't live like this.'"
After the article came out, Vonn announced she was taking a break to fight her stomach bug, and she made it clear the hiatus had nothing to do with the story.
"I had completed that interview weeks before I was in the hospital with the intestinal infection," Vonn told fans on her Facebook page.
Now the skier will be on another enforced break, one that could be a setback on the road to Sochi.