Green Bay Packers:

2014 NFL Combine
February, 23, 2014
Feb 23
7:00
PM ET
INDIANAPOLIS – The media access portion of the NFL scouting combine ended on Sunday afternoon, but events for the invitees and league personnel continues through Tuesday.
Looking back over the four days spent in and around Lucas Oil Stadium, there was plenty to be learned.
Here are some final thoughts from the Green Bay Packers' perspective.
Lineup changes
: This is the time of year where the coaches ponder new roles for new players. We already told you about
a possible new role in the defense
that might better suit
Nick Perry
, and coach Mike McCarthy's desire to turn
Eddie Lacy
-- and the other running backs -- into
three-down players
in order to limit substitutions and therefore speed up the offense. Also, cornerback
Micah Hyde
could add safety to his list of duties, while
David Bakhtiari
appears likely to remain at left tackle, but there's been no decision made on where
Bryan Bulaga
will play.
Salary-cap space
: With the 2014 salary cap expected to exceed $130 million and possibly be as high as $132 million, the Packers will have even more room than they expected. Including unused cap space, they could carry over from last season, the Packers will have more than $30 million of salary-cap space available for this offseason.
Tag or no tag
: General manager Ted Thompson would not reveal whether he would use the franchise tag as a way to retain cornerback
Sam Shields
. Although they have the space to absorb the more than $11 million that the tag would cost, Thompson would prefer to sign Shields to a more cap-friendly, long-term deal. Shields' agent, Drew Rosenhaus, was expected to continue discussions with the Packers in Indianapolis.
Talking to prospects
: On the final day of media access, among the players who confirmed they have met or will meet with the Packers included Wisconsin linebacker
Chris Borland
, Notre Dame defensive lineman
Louis Nix III
and safeties
Ha Ha Clinton-Dix
of Alabama and
Calvin Pryor
of Louisville. There are two kinds of interviews -- formal ones that last 15 minutes (teams are limited to 60 of those) and informal interviews (of which there is no limit).
Up next:
Free agency officially begins on March 11 but teams can start negotiating with free agents on March 8. The next official league gathering is the NFL annual meeting, known as the owners meeting, March 23-26 in Orlando, Fla.
February, 22, 2014
Feb 22
3:15
PM ET
INDIANAPOLIS -- Some long-time attendees of the NFL combine estimated that the crowd of reporters around former Missouri defensive end
Michael Sam
was the largest media gathering around a single player they had ever seen.
"I just wish you guys would see me as Michael Sam the football player, not Michael Sam the gay football player," the draft hopeful said Saturday.
It sounds like
Green Bay Packers
general manager Ted Thompson sees it that way. When asked for his reaction to Sam being the first openly gay player in the NFL, Thompson on Friday said: "I haven't had much of one."
"I think there's a lot to do about much of nothing," Thompson said.
He echoed what coach Mike McCarthy said on April 10, the day after Sam made his announcement, when McCarthy said
the Packers "have room" for any player
that can be a good teammate and a productive player.
"With the Packers and every one of these teams, what we've been talking about the last 10 minutes since I've been standing here is how do we win and how do we do things?" Thompson said. "If someone can help us win games and be a good citizen, we're fine with him."
February, 22, 2014
Feb 22
8:00
AM ET
INDIANAPOLIS -- The
Green Bay Packers
would like to get back into the business of developing young quarterbacks like they did throughout the 1990s -- when
Ty Detmer
,
Mark Brunell
,
Matt Hasselbeck
and
Aaron Brooks
all came up through their system.
The problem is, this isn't the 1990s.
The rules of the collective bargaining agreement that was put in place following the 2011 lockout greatly reduced the amount of time coaches can work with players in the offseason, a time often set aside for individual and group instruction. For Packers' quarterbacks, that means four weeks have been shaved off coach Mike McCarthy's quarterback school.
Nevertheless, the Packers have come to the NFL scouting combine with one eye on finding a developmental quarterback prospect and hope to take four quarterbacks into training camp this summer.
"I think we definitely need four," McCarthy said at the combine, "So I'm hopeful that we can get a young guy in the draft."
The Packers have only two quarterbacks under contract for 2014 -- starter
Aaron Rodgers
and
Scott Tolzien
, who was signed to the practice squad last September and then promoted to the active roster after Rodgers broke his collarbone on Nov. 4. Tolzien has yet to go through an offseason in McCarthy's training program, having been with the
San Francisco 49ers
for his first two seasons.
Matt Flynn
was re-signed last November and became the fourth quarterback to start for the Packers last season, but his contract was only for the 2013 season.
"I thought Matt Flynn came in and did a number of good things," McCarthy said. "There's a lot of stability he brings to the quarterback room as far as the role that he needs to play and his role to the starting quarterback to help them scout and so forth, so Matt is obviously a good fit for our program. I thought he definitely gave us a shot in the arm when we needed it. Free agency is upon us, we'll see what happens."
Whatever happens, the Packers don't want to be stuck in the position they were in at the end of last summer, when the trio of
Vince Young
,
Graham Harrell
and B.J. Coleman all failed to win the backup job, forcing the Packers to sign veteran
Seneca Wallace
the week of the season opener.
That general manager Ted Thompson has drafted only one quarterback -- Coleman in the seventh round in 2012 -- since he took
Brian Brohm
(second round) and Flynn (seventh round) in 2008 would seemingly indicate that it's time to take another one.
"We're always looking," Thompson said. "Coach McCarthy's a quarterback guy. He likes to have a group, so you never stop looking, turning over rocks, that sort of thing."
February, 21, 2014
Feb 21
7:30
PM ET
INDIANAPOLIS -- Two seasons into his NFL career, former first-round draft pick
Nick Perry
still hasn't fully shown he can make the transition from collegiate defensive end at USC to NFL outside linebacker with the
Green Bay Packers
.
He might not have to this year.
Neal
Perry
Among the ideas the Packers have considered to tweak and improve their defense is to use an elephant defensive end position, and Perry is one of the players whom coach Mike McCarthy sees in that role, he said Friday during an interview at his hotel during a break from the NFL scouting combine.
"We're looking at different combinations," McCarthy said. "That's part of the thing I was talking about [earlier in the day at the combine] utilizing personnel better."
McCarthy and defensive coordinator Dom Capers actually toyed with the position last offseason, but never employed it. McCarthy explained the elephant end position as someone who is a "tweener." Perry was considered that by scouts who debated whether his best position in the NFL would be defensive end or outside linebacker.
The elephant position would essentially cover both spots. McCarthy described it as a position in which a defensive player would never line up on the inside shoulder of an offensive tackle. Instead, the elephant end would play what's called a 7-technique, which lines up on the inside shoulder of a tight end.
It was a position that Charles Haley of the
San Francisco 49ers
made famous in the 1980s and 1990s.
That might suit Perry, who is listed at 6-foot-3 and 265 pounds. In parts of two seasons in which he was slowed by injuries, Perry has played in 17 regular-season games and has six sacks. He has been most effective using his powerful bull-rush move.
A year ago, the Packers decided to try defensive end
Mike Neal
at outside linebacker, and it was largely successful. According to McCarthy, Neal was never supposed to play as much at outside linebacker as he did.
"We developed a position called the elephant and we never really [used it]," McCarthy said. "We trained it in training camp. Just the way the injuries went, Mike played pretty much outside linebacker most of the year. That wasn't the plan or the vision of his job description."
McCarthy said he believes that Neal's best position, especially on third downs, remains the 3-technique position, which is a lineman who plays opposite the guard.
"I think he's a real force in there," McCarthy said.
Some of the plans could hinge on whether Neal returns. He was in the final year of his contract last season, and is scheduled to become a free agent next month.
February, 21, 2014
Feb 21
1:00
PM ET
INDIANAPOLIS -- The full scope of the changes the
Green Bay Packers
have planned defensively remain unclear, but coach Mike McCarthy insisted that getting smaller up front will not be part of the process.
Still, what can't be dismissed is the distinct possibility the Packers might let go of all three of their starting defensive linemen --
Johnny Jolly
,
Ryan Pickett
and
B.J. Raji
, a combination that weighed 1,000 pounds.
[+] Enlarge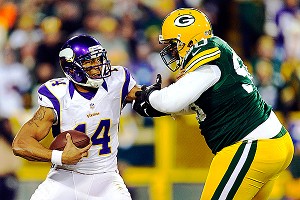 Jeff Hanisch/USA TODAY SportsB.J. Raji is among the defensive linemen who might not return to the Packers this coming season.
All were in the final year of their contracts last season, and there has been little or no conversation about bringing any of them back.
"I've never been part of a conversation that you want your D-linemen to be smaller," McCarthy said Friday at the NFL combine. "That's not accurate."
McCarthy revealed last week that he has
plans to make changes
to a defense that ranked 25
th
in the NFL last season. Part of that included a minor restructuring of defensive coordinator Dom Capers' staff following the resignation of outside linebackers coach
Kevin Greene
.
But there will be adjustments in scheme and personnel that will play out over the next several months.
"We want to continue our process as far as evaluating our D-linemen," McCarthy said. "We will be a little different on defense as far as how we utilize our defensive players, particularly our front players, because we do have a number of players who can play both the rush outside position and maybe make some plays from the inside position.
"But our evaluation as far as what we're going to do, bringing defensive linemen into our program, if anything you always want to get bigger, stronger and faster and things like that. We're definitely not going to be a smaller."
In fact, ever since Capers was hired as the Packers defensive coordinator in 2009, he has made it no secret that one of the keys to his scheme has long been having big, run-stopping defensive linemen in his base 3-4. Through Week 9 of last season, the combination of Jolly (325 pounds), Pickett (338) and Raji (337) played a major part in the fact that the Packers ranked 5
th
in the league in rushing defense, a figure that plummeted to 25
th
by season's end.
"I think we have a very solid defense coming back in terms of personnel," Packers general manager Ted Thompson said Friday. "Like I said, we like to have our own guys back, and if we can find value in the free agent market to help us we'll do that, too. We'll do whatever, as will the 31 other teams. They're all going to go about this the same way."
There is reason to think the Packers might be trending smaller up front. They have added more young, quick-twitch defensive linemen like
Mike Daniels
(fourth-round pick in 2012) and
Datone Jones
(first-round pick in 2013), and McCarthy on Friday mentioned specifically getting the 285-pound Jones more involved in his second season.
"There's a number of packages that he was a big part of, a primary part of, and frankly we really didn't get to a lot of them just because of the way the season went with our injuries," McCarthy said. "Getting him back in the offseason, I feel he's one of those second-year players who take a huge jump. That will be my expectations for him."
February, 21, 2014
Feb 21
8:00
AM ET
INDIANAPOLIS -- One by one, the top tight ends in this year's NFL draft rolled through Lucas Oil Stadium as part of Thursday's interview session at the scouting combine.
There was
Eric Ebron
of North Carolina,
Jace Amaro
of Texas Tech,
Austin Seferian-Jenkins
of Washington,
Troy Niklas
of Notre Dame,
C.J. Fiedorowicz
of Iowa and on and on.
Most, if not all, were asked which NFL tight end they admired, emulated or resembled.
For some, like Ebron, it was
San Francisco 49ers
tight end
Vernon Davis
.
[+] Enlarge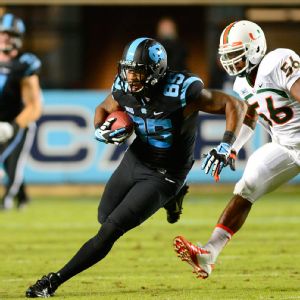 Bob Donnan/USA TODAY SportsCarolina likely would have to trade up in the first round of the NFL draft to have a shot at selecting Eric Ebron.
For others, like Amaro and Fiedorowicz, it was the New England Patriots'
Rob Gronkowski
.
For Seferian-Jenkins, it was the New Orleans Saints'
Jimmy Graham
and the Denver Broncos'
Julius Thomas
, who like him had a background in basketball.
Not one of them, however, mentioned
Jermichael Finley
.
Yet if the
Green Bay Packers
don't bring back their starting tight end, which is a likely course of action given his neck injury and his expiring contract, one of those players could become the next Finley.
Most of the top tight end prospects said Thursday that they had either visited with the Packers or planned to talk with team representatives this week at the combine.
So too will Blake Baratz, the agent who represents Finley, but the Packers may have already decided that Finley's neck fusion surgery was too much of a risk to bring him back. If that's their plan, then there are plenty of viable options in this draft, which features playmaking tight ends of all sizes.
It starts with the 6-foot-4, 250-pound Ebron, who likely will be the first tight end taken in the draft and could be gone before the Packers pick at No. 21.
"I'm very fast; I'm very different," said Ebron, who along with the other tight ends will do their on-field testing this weekend. "I play the tight end role like no one else."
In some ways, he plays it like Finley, whose physical presence is similar to Ebron's.
Amaro (6-5, 255) is as much receiver as he is tight end. Most of last season, when he caught 106 passes for 1,352 yards (the NCAA record for a tight end), he played standing up away from the line of scrimmage.
"That's why I'm so unique," Amaro said. "It's kind of a revolution into the game and how the tight ends are coming in across the board. I like to see myself as both a tight end and a receiver."
But can he block?
That's not an issue with Fiedorowicz (6-5½, 265), who was more of a blocking tight end in Iowa's run-heavy offense.
"A lot of tight ends in the NFL are either blocking tight ends or receiving tight ends," Fiedorowicz said. "I like watching Rob Gronkowski. He can dominate both the line of scrimmage and down the field."
Seferian-Jenkins (6-5, 262) said he was asked to do both last season at Washington, where he played basketball as a freshman.
"At the tight end position, you've got a lot of great players [in this draft]," he said. "But what I think I do is if you watched me play, I split out and played receiver. I've done fullback. I've played in line. I think I've showed I'm very capable of being a playmaker down the seam and run regular routes as a receiver, and I've shown the capability of being a blocker."
Niklas (6-6½ , 270) might be the biggest bruiser of this bunch. He began his college career as an outside linebacker.
"I can block, and I enjoy blocking," Niklas said. "I think it's something I can use to my advantage."
Further down the tight end pecking order is Jacob Pedersen of Wisconsin. He grew up just north of Green Bay in Michigan's Upper Peninsula. He's a late-round prospect who would love the chance to be the Packers' next tight end.
"Growing up 45 minutes away from Green Bay, obviously it'd be a childhood dream to play for your home team," said Pedersen, one of six Badgers invited to the combine. "But I'm just hoping to get drafted by a team. Whoever takes me, they're going to get my best effort."
February, 20, 2014
Feb 20
7:00
PM ET
INDIANAPOLIS -- You'll never see a picture of a shirtless Ted Thompson wearing a championship belt, but the
Green Bay Packers
' general manager might do well to emulate his counterpart with the
Seattle Seahawks
, John Schneider.
And we're not talking about questionable fashion decisions.
[+] Enlarge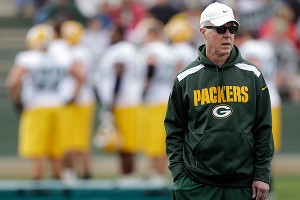 AP Photo/Morry GashAt 61 years old, Ted Thompson said he's not ready to retire as Packers GM anytime soon. "I'm feeling good and ready to go," he said.
For five years in Green Bay, Thompson listened to Schneider's opinions about all things personnel -- free agency, the draft, trades, waiver claims ... you name it. Not that Thompson, conservative by nature, always acted on Schneider's suggestions, but it was the protege's job to offer opinions and suggestions from his office down the hall at Lambeau Field.
Now, they sit more than 1,900 miles apart, competitors, not colleagues. Yet as Thompson faces one of the most important offseasons since he took over the Packers' personnel department in 2005, there are things he could learn from the man who put together a Super Bowl-winning roster.
Not that Thompson doesn't know how to do that; he built much of the roster that won Super Bowl XVL. But since the Packers' last championship, they have won just one playoff game -- against the
Minnesota Vikings
, who were forced to start backup quarterback
Joe Webb
at the last minute.
If there's a common denominator in their playoff exits, it's that their defenses failed them.
With
salary-cap space to use
and holes to be filled, Thompson might want to examine how Schneider built the Seahawks' top-ranked defense.
Although Packers quarterback
Aaron Rodgers
said shortly after the Super Bowl that it would be unrealistic to expect the Packers -- or any other NFL team -- to
play at the same level as the Seahawks
did last season and in their 43-8 destruction of the
Denver Broncos
in Super Bowl XLVIII, there are some things Thompson might be able to do to help bridge the gap between the Seahawks' dominating defense and the Packers' half-broken unit that slipped to 25
th
last season.
"If you're able to acquire players that can run fast and are big and are good-looking, then you've got a shot," Schneider said Thursday at the NFL scouting combine.
The Schneider formula for acquiring speed and size on defense goes like this:
Thompson has tried to employ some of those strategies. He used his first six draft picks in 2012 on defensive players with only minimal success. He signed safety
Morgan Burnett
to a four-year, $24.75 million contract last offseason only to see Burnett fail to come up with a single interception last season. But he hasn't touched free agency in any significant way since 2006, when he signed
Charles Woodson
and
Ryan Pickett
.
With the 21
st
pick in this year's draft, Thompson could be looking at defensive players again. Given the copycat nature of the NFL, it's worth wondering if another team, say the Packers, could duplicate what Schneider and Seahawks coach Pete Carroll have done on that side of the ball.
"It wouldn't be very hard, I don't think," Schneider said. "Just [get] more speed. It's just about having guys that are willing to teach and play young players, and [the Packers] have that. They have a young team. They have good teachers."
Packers coach Mike McCarthy said last week defensive coordinator Dom Capers' unit "is going to change some" and that he would "set the vision for the defense and Dom Capers and the defensive staff will carry it out."
To do so, Thompson might have to take more aggressive measures to rebuild a defense that in the Super Bowl season of 2010 ranked fifth in the NFL and ranked second in 2009.
February, 20, 2014
Feb 20
2:55
PM ET
INDIANAPOLIS -- The University of Wisconsin has produced plenty of quality NFL offensive linemen recently -- from
Travis Frederick
to
Peter Konz
to
Joe Thomas
to
Ricky Wagner
to
Kevin Zeitler
.
None of them, however, has made the short trip north to play for the
Green Bay Packers
.
It has been more than 10 years since the Packers drafted a lineman from Wisconsin. In back-to-back years (2000 and 2001), they picked tackle
Mark Tauscher
(seventh round) and guard
Bill Ferrario
(fourth round). Tauscher went on to become a longtime starter, while Ferrario lasted only one season as a backup.
There's another former Badgers lineman on the Packers' radar this year.
Ryan Groy
said Thursday that he met with Packers offensive line coach James Campen on Wednesday at the NFL combine.
Groy played mostly guard for the Badgers, starting every game at left guard last season. But he also has experience at tackle (three starts in 2012) and center (one start in 2011).
With the Packers potentially in the market for a center depending on whether they re-sign
Evan Dietrich-Smith
, who will be a free agent next month, Groy might be someone the Packers would consider in the late rounds.
ESPN draft analyst Mel Kiper Jr. rated Groy as the
10

th

-best guard in the draft

, although he's not limiting himself to just that position.
"A lot of guys have asked me that, and what I've told them mostly is the inside three [positions]," Groy said on Thursday at Lucas Oil Stadium. "That's where I feel most comfortable. I feel very comfortable at guard [and] center, and I told them if need be I can play tackle. I'm not afraid to go out there. I'm not afraid to play it."
Groy's lone start at center came against Illinois as a sophomore.
"Pete Konz went down against Minnesota, hurt his ankle, and then I played [center] at Illinois," said Groy, who said he was measured at 6-foot-4½ and 316 pounds at the combine. "Travis switched to center in the third quarter and I played left guard the last three games [of that season]."
February, 20, 2014
Feb 20
11:15
AM ET
INDIANAPOLIS -- As things stand Thursday, the first day of the NFL combine, the
Green Bay Packers
have seven picks in the 2014 draft.
Beginning with the 21st pick overall, general manager Ted Thompson owns his own selection in each round.
Knowing how Thompson covets what he calls "more swings at the plate," that could change. In his nine years in charge of the Packers' draft, he has selected 87 players, or an average of 9.7 per year.
The Packers will be awarded at least one and possibly two compensatory picks, which are expected to be handed out next month at the NFL annual meetings, based on losing free agents
Greg Jennings
and
Erik Walden
last offseason (and not signing any themselves).
And then there's Thompson's penchant for trading down for more picks.
Last year, he ended up with 11 selections.
As of Thursday, the
San Francisco 49ers
have the most selections in this year's draft with 11. The
Cleveland Browns
and
Jacksonville Jaguars
each have 10.
Much of Thompson's draft strategy will be formed here at Lucas Oil Stadium over the next several days. Thompson and Packers coach Mike McCarthy are scheduled to speak to reporters here tomorrow.
Here's a look at how many players the Packers have drafted since Thompson took over as general manager:
2005: 11
2006: 12
2007: 11
2008: 9
2009: 8
2010: 7
2011: 10
2012: 8
2013: 11
February, 20, 2014
Feb 20
8:00
AM ET
INDIANAPOLIS – The
Green Bay Packers
' contingent of coaches, doctors, executives and personnel evaluators is on the ground at the NFL combine – and so is ESPN's NFL Nation – and therefore we have come to the conclusion of our countdown.
The first three parts focused on the Packers many defensive needs, from
safety
to
defensive line
to
linebacker
.
The final part before we turn our attention to the events at Lucas Oil Stadium for the remainder of the week will focus on what could be the biggest need on the offensive side of the ball for the Packers: tight end, a position group that will meet with reporters here on Thursday.
Why the Packers need help
: It all hinges on the Packers' plans for
Jermichael Finley
, who has said he expects to be cleared soon from his neck fusion surgery. But that doesn't mean the Packers -- or other NFL teams -- will clear him. With Finley headed toward free agency next month, the Packers could simply decide not to re-sign him, regardless of the medical report. But they would be walking away from their most athletic, big-bodied tight end, and therefore would need to find a replacement.
Andrew Quarless
, who also is scheduled to be a free agent, probably didn't show enough in the second half of the season after Finley's injury to convince anyone that he can be that guy. He's a serviceable player who could return for a modest contract, but he's not a potential difference-maker like Finley. Of the Packers' three other young tight ends,
Brandon Bostick
has the most potential because of his athleticism and receiving skills, but he remains raw.
Ryan Taylor
is a solid blocker and top special teams player, and
Jake Stoneburner
has a ways to go. They also signed street free agent
Raymond Webber
this offseason. The Packers struggled in the red zone last season, ranking 25
th
in the touchdown percentage (50.8 percent), and missing a big target like Finley was one of the reasons.
Tight ends the Packers should be watching
:
Eric Ebron, North Carolina
: In his
first mock draft

back in December, ESPN draft analyst Todd McShay had the Packers taking the 6-foot-4, 231-pound Ebron, who caught 62 passes for 973 yards last season. At that time, the Packers were projected to have the 18th pick in the draft. Now that they're locked into No. 21, it appears Ebron could be gone before the Packers pick.
Jace Amaro, Texas Tech:
The 6-5, 260-pound Amaro caught 103 passes last season. He lined up in the slot position most of the time, much like Finley did for the Packers.
Troy Niklas, Notre Dame
: More of a pure blocker than Ebron or Amaro, but the 6-7, 270-pounder has the potential to grow into a split-out role. He averaged 15.6 yards per catch on 32 receptions last season.
February, 19, 2014
Feb 19
1:00
PM ET
GREEN BAY, Wis. -- As we head toward the NFL scouting combine, which starts Wednesday in Indianapolis, it's a good time to look at the
Green Bay Packers
' greatest needs this offseason and which prospects general manager Ted Thompson might be taking a closer look at during workouts and interviews this week.
Which position is the greatest need could be debated, but there's no arguing that it's on the defensive side of the ball. Before things get underway at Lucas Oil Stadium, we'll look at three areas on defense where the Packers need help.
Monday was dedicated to
the safety position
. On Tuesday, we looked at
the defensive linemen
.
We'll wrap up the defensive side of the ball with the linebacker spots, both inside and outside.
Why the Packers need help
: If the Packers are going to field a defense that at all resembles the units fielded by the NFC's top two teams -- the
Seattle Seahawks
and
San Francisco 49ers
-- they need to upgrade their linebackers. Specifically, they need more speed both on the outside and up the middle.
The Packers seem satisfied with
A.J. Hawk
but might be looking to upgrade the other inside spot, which was occupied most of last season by
Brad Jones
. The Packers gave Jones a three-year, $11.75 million deal that included a $3 million signing bonus.
On the outside, they continued their search for someone to complement
Clay Matthews
.
Mike Neal
's conversion from defensive end went perhaps better than could have been expected. He had five sacks, including four in the last seven games, but is scheduled to be a free agent next month. For the second straight season,
Nick Perry
(a first-round pick in 2012) battled injuries and still hasn't shown whether he's a natural fit at outside linebacker.
Linebackers the Packers should be watching:
Chris Borland, Wisconsin
: Probably the second-best inside linebacker in the draft behind Alabama's
C.J. Mosley
, who almost certainly won't be around when the Packers pick at No. 21. The only issue with Borland is that he's a tad short at 5-foot-11, so he will need to have an impressive showing at the combine and his pro day in order to convince the Packers he can be effective.
Ryan Shazier, Ohio State
: With the top two outside linebackers -- Buffalo's
Khalil Mack
and UCLA's
Anthony Barr
-- likely being top-10 picks, Shazier might be the best remaining option. But there are questions about whether he can rush the passer.
Michael Sam, Missouri
: After revealing earlier this month that he is gay, Sam will be perhaps the most scrutinized player at the combine. Projected as a mid-round pick, teams will have to decide whether he can make the adjustment from defensive end to outside linebacker.
February, 18, 2014
Feb 18
1:00
PM ET
GREEN BAY, Wis. -- As we head toward the NFL scouting combine, which starts Wednesday in Indianapolis, it's a good time to look at the
Green Bay Packers
' greatest needs this offseason and which prospects general manager Ted Thompson might be taking a closer look at during workouts and interviews this week.
Which position is the greatest need could be debated, but there's no arguing that it's on the defensive side of the ball. Before things get underway at Lucas Oil Stadium, we'll look at three areas on defense where the Packers need help.
Monday was dedicated to
the safety position
.
Now, we look at the defensive linemen.
Why the Packers need help
: All three of the preferred starters –
Johnny Jolly
,
Ryan Pickett
and
B.J. Raji
– are scheduled to become free agents next month unless the Packers work out new deals. Even if some or all of them return, the Packers need more from their front, especially in terms of a pass rush. That trio combined for just one sack (by Jolly) last season. To be sure, they don't get many third-down pass-rushing opportunities, but they haven't cashed in on many of their rushes of late. Raji hasn't had a sack since 2011, while Pickett has been sackless since 2010.
The Packers have a couple of promising, young defensive linemen in
Mike Daniels
(6.5 sacks last season) and
Datone Jones
, their 2013 first-round pick, but
Jerel Worthy
(second round in 2012) hasn't produced yet.
Dom Capers will always need a sturdy nose tackle in his 3-4 scheme, but considering how little base defense he plays, there may be a greater need for smaller, athletic linemen.
Defensive linemen the Packers should be watching
:
Louis Nix III, Notre Dame
: It's a thin defensive tackle class, so it's possible the 6-foot-3, 340-pounder from Notre Dame could go in the top half of the first round, and he might be the third-best defensive line prospect behind South Carolina's
Jadeveon Clowney
and Florida State's
Timmy Jernigan
. Clowney could go No. 1 overall and Jernigan is better suited for a 4-3 scheme. Nix is an ideal 3-4 nose tackle and could replace either Raji or Pickett.
Stephon Tuitt, Notre Dame
: Nix's teammate is a versatile lineman who could play either end or tackle in the Packers' scheme. A high-motor player who gives maximum effort, something not all 6-6, 303 pounders can do.
Ra'Shede Hageman, Minnesota
: Viewed as better pass-rusher than run-stopper who has rare athleticism for a 6-6, 318 pounder. Also has shown flexibility to play multiple positions on the defensive line, something Capers likes.