Green Bay Packers:

Adrian Peterson
December, 2, 2013
Dec 2
11:15
AM ET
GREEN BAY, Wis. -- Brett Favre won all three of his NFL Most Valuable Player awards before the age of 30.
The former
Green Bay Packers
quarterback was 26 when he won the first one in January of 1996. He won his three MVPs in consecutive years, meaning his last one came at the age of 28.
Aaron Rodgers
was 28 he was named the NFL's MVP on Feb. 4, 2012.
The Packers' current quarterback turned 30 today. So does that mean his best years are behind him?
Probably not.
That Favre's MVP seasons all came in his 20s has not been the norm for award-winning quarterbacks in recent years.
Dating to the 2001 season, for which
St. Louis Rams
quarterback Kurt Warner was the MVP, 10 quarterbacks have won the award. Seven of them, including Warner, were in their 30s.
Rodgers is under contract through the 2019 season thanks to the extension he signed in April. He will be 36 years old when that deal expires.
How many more MVP-type seasons would be it reasonable to expect? This season, even if Rodgers returns this week from his broken collarbone --
which is still a big if
-- is lost in terms of his MVP candidacy. However, based on the past winners, the answer to that question would seem to be several.
An NFL scout told me last week he thought Rodgers had four more "great seasons" in him.
Three non-quarterbacks have won the MVP since 2001. All were running backs, and all were in their 20s -- Shaun Alexander (28), LaDainian Tomlinson (27) and
Adrian Peterson
(27). That's not surprising considering the shelf life for running backs is much shorter than for quarterbacks.
November, 25, 2013
Nov 25
8:00
AM ET
GREEN BAY, Wis. -- A review of four hot issues from the
Green Bay Packers
' 26-26
tie
against the
Minnesota Vikings
on Sunday:
Too early for two:
Mike McCarthy became the latest in a long line of coaches who made the mistake of trying a two-point conversion too early in the game. The Packers coach made the call with 11:42 remaining after
Eddie Lacy
's 3-yard touchdown run cut the Vikings' lead to 23-13. McCarthy gave away one sure point, and quarterback
Matt Flynn
couldn't convert on a throw to tight end
Andrew Quarless
. The Packers got two more possessions and scored a touchdown (and kicked the extra point) with 3:30 left and then kicked a field goal with 46 seconds left. That field goal, which forced overtime, would have been the go-ahead points had McCarthy gone for the PAT earlier. "I think once you cross that fourth quarter like you've got to look at the whole picture -- how many series were available to you at that time, obviously what was going on on the headsets just getting ready for each series on offense, the way they were running the football on defense, you're playing at home is a positive because you've got to the crowd behind you," McCarthy said. "I'm comfortable with the decision. We had a good play. Frankly, I wish had a couple more reps in that play; I think it would have been a little clearer for [Flynn]. So I thought it was a solid decision."
[+] Enlarge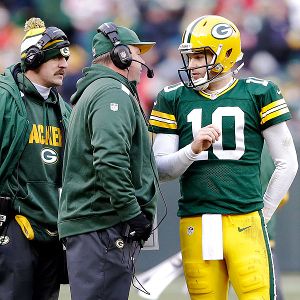 Tom Lynn /Getty ImagesMatt Flynn has a better grasp of the Packers offense than Scott Tolzien.
More for Flynn:
It didn't take long for Flynn to show how much better versed in the Packers offense he is than
Scott Tolzien
. On the second play of Flynn's first series in relief of Tolzien in the third quarter, he had a run-pass option play and checked to the run. The play went for 34 yards when
James Starks
ran off right tackle. On the next series, the Packers went to the no-huddle offense, something they did with Tolzien only in two-minute situations. "I've always been comfortable here in this offense making the checks, making the audibles," Flynn said. "I kind of know what the coaches are looking for run-wise. Definitely need to study and get more familiarized with what we're trying to get accomplished but there was definitely, they gave me the freedom. They said, 'Are you comfortable with no-huddle?' And I said, 'Yeah, let's get it rolling.' We had some success doing that. But not enough." Though McCarthy wouldn't commit to a starting quarterback for Thursday's game at the
Detroit Lions
, it's hard to imagine him not going with Flynn if
Aaron Rodgers
is unavailable again because of his broken collarbone.
Lacy bounces back:
The Vikings stacked the box against Lacy just like the
New York Giants
did a week earlier when they limited him to just 27 carries on 14 yards. This time, Lacy was a tackle-breaking machine against a similar defensive strategy by the Vikings. More than half of his yards came after contact. According to ESPN Stats & Information, 56 of Lacy's 110 rushing yards came after contact. His 4-yard gain on fourth-and-1 in the fourth quarter was made even more impressive by the fact that he was first hit 2 yards behind the line of scrimmage. Lacy also caught a season-high six passes for 48 yards, giving him 158 total yards from scrimmage. Lacy had to leave the game late in the overtime period after he had problems with his asthma, but his tackle-breaking ability elicited some of the loudest cheers from the fans at Lambeau Field and provided a boost of energy for the offense. "I think it lights a spark under Packer Nation," fullback
John Kuhn
said. "You hear the fans get riled up after something like that so if it jacks the fans up, you know our sideline is going to be happy."
Up-and-down defense:
The Packers had a season-high six sacks, including
Clay Matthews
' first two-sack game of the season, and they didn't have any major coverage gaffes that led to big plays like they did against the Giants. Then again, they were playing against
Christian Ponder
, one of three Vikings quarterbacks to play this season. But as has been the case with this defense this season, there's almost always one major weakness. This time, it came against the run. Missed tackles were a killer. It's one thing to give up 146 yards rushing to
Adrian Peterson
, but it's another to let
Toby Gerhart
get 91 more on only eight carries. On the second-half drive in which the Vikings kicked a field goal to take a 23-7 lead, it was worth wondering whether the defense had mailed it in. "You're going to have your missed tackles against AP," Matthews said. "It always seems that he's good enough to exploit you when you're out of gaps. And that's kind of been the theme whenever we've given up too many yards rushing. I'm sure that'll be addressed. You know he's going to make his plays but not that many."
November, 24, 2013
Nov 24
8:27
PM ET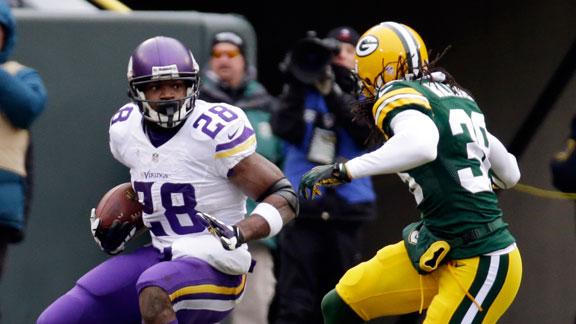 GREEN BAY, Wis. --
Matt Flynn
took the field to a hero's welcome from much of the 77,871 at Lambeau Field on Sunday when he entered the game midway through the third quarter.
He walked off as just another victim of a blown opportunity by the
Green Bay Packers
' defense.
Not even Flynn's remarkable relief effort could make up for the defensive deficiencies that have befallen the Packers ever since
Aaron Rodgers
' broken collarbone altered this season's path on Nov. 4.
Point to the quarterback carousel all you want. Few, if any, teams could thrive playing four quarterbacks in as many weeks. But in the transition from Rodgers to
Seneca Wallace
to
Scott Tolzien
and now to Flynn, there have been issues elsewhere, too.
"We haven't handled Aaron Rodgers' departure [well]," Packers coach Mike McCarthy said. "I haven't talked about it on purpose. That hasn't worked, and we all need to step up as a football team and take advantage of these opportunities."
Sure, the Packers' ended their three-game losing streak on Sunday. But they didn't win, either. No one -- not even Flynn -- was celebrating the
26-26 tie
with the
Minnesota Vikings
that left the Packers at 5-5-1 and prevented them from moving into a three-way tie with the
Chicago Bears
and
Detroit Lions
-- both Sunday losers -- for first place in the NFC North at 6-5.
McCarthy called the Packers' first draw since Sept. 20, 1987 against the
Denver Broncos
"an empty feeling."
"You go out there and you didn't lose the game," he said, "but you feel like you didn't really accomplish what you set out to do."
Flynn nearly did that.
McCarthy turned to him
after Tolzien, who was making his second straight start, went three and out on his first series of the second half. Flynn inherited a 20-7 deficit when he took the field with 8:22 remaining in the third quarter. The deficit grew to 23-7 before Flynn started to look like he did in 2011, when he last played for the Packers and set single-game team records for passing yards (480) and touchdown passes (six) in a Week 17 start against the Detroit Lions before he left in free agency the following offseason.
In throwing for 218 yards on 21-of-36 passing with one touchdown, Flynn rallied the Packers from a 16-point deficit -- with some help from the defense, which actually finished regulation with three straight fourth-quarter stops -- to get the game to overtime. He directed three straight fourth-quarter scoring drives, two touchdowns and a field goal. He then led an overtime drive that
Mason Crosby
capped with a 20-yard field goal to give the Packers their first lead since it was 7-6 in the second quarter.
"I had no doubt," said Flynn, who was re-signed on Nov. 12. "Looking at the guys' eyes in the huddle, I don't think there was any doubt, especially when we started to make some plays. I think that hyped up the sideline, hyped up the guys and we just felt like we did some stuff. That's how you've got to go about it. That's the mentality you have to have. I'm proud of the guys for fighting. But we've got to finish."
He couldn't do that on the first possession of overtime. On third-and-goal from the 2-yard line, Flynn had
Jordy Nelson
on a fade route but badly overthrew him.
"I wasn't exactly sure what angle Jordy was going to come out and he came out flat and I just haven't gotten enough reps with Jordy," Flynn said. "I was set to throw it a little bit higher than he was. I could've maybe at the last minute tried to stick it in there, but I didn't want to take any chances when we're down there. I knew we'd come away with points. I didn't want to make a throw that I wasn't 100 percent sure about."
A touchdown would have ended the game, but the field goal put the game back in the hands of the defense.
Three weeks ago, the Packers had a top-five run defense. The past three weeks, they've been blown off the ball. The Vikings nearly had two 100-yard running backs.
Adrian Peterson
rushed for 146 yards and a touchdown on 32 carries, and
Toby Gerhart
added 91 yards on eight carries.
In the past three games, the Packers have surrendered 514 yards rushing. In the first six games of the season, they allowed just 474 yards rushing.
"It's just the same old problems -- missed tackles and not fitting where we're supposed to be," Packers linebacker
Clay Matthews
said.
Still, there was a chance for redemption in overtime after Crosby gave the Packers the lead. After
Mike Daniels
sacked Vikings quarterback
Christian Ponder
for one of the Packers' six sacks, they were two plays away from a win on third-and-9. But in a flash, Peterson ripped off a 15-yard run to keep the drive going. Gerhart then had gains of 9, 12 and 11 yards that led to
Blair Walsh
's game-tying 35-yard field goal with 3:49 left in overtime.
And with that, the improbable story of a comeback victory led by Flynn was no more. A comeback tie doesn't quite have the same magic.
"I would've been amazing," Packers linebacker
A.J. Hawk
said. "I felt like the tide was shifting. We were trying to take the momentum back. We got some big stops at the end defensively to get it into overtime, and we just couldn't find a way. That's kind of been the story of this season, especially defensively. We couldn't find a way to get off the field and make that play when we needed to to end the game."
November, 22, 2013
Nov 22
5:15
PM ET
GREEN BAY, Wis. -- It's probably not the best week for the
Green Bay Packers
to be without one of their top run stoppers.
But if they're going to be short on cornerbacks, this isn't a bad time for that.
Shields
Jolly
They will likely be without defensive tackle
Johnny Jolly
, whose groin injury has him listed as doubtful for Sunday's game against the
Minnesota Vikings
. Jolly has been one of the key components to the Packers' run defense, which for most of the season was ranked in the top 10 but slipped outside the last two weeks.
It could be a key loss considering the Packers expect to face running back
Adrian Peterson
even though he was
listed as questionable
with a groin injury of his own.
"I think we have a good depth situation on our defensive line," defensive coordinator Dom Capers said. "With Johnny being doubtful, those other guys are going to have to step up. This is a week when Adrian Peterson is carrying the football that you have to step up and play well up front. Be solid in your gap control, be disciplined. He has a different style of running to where he's going to hit into the line. You think you have him stopped at the point of the attack, but he stutters his feet and he's looking for a horizontal seam to come out on."
They also appear likely to be without starting cornerback
Sam Shields
, who was listed as questionable with a hamstring injury. Shields was a last-minute scratch last Sunday against the
New York Giants
and did not practice all week.
"It's been up and down; we'll see how it goes," Packers coach McCarthy said of Shields. "We've got 48 hours. We'll give Sam a chance to get ready."
He was one of four cornerbacks to miss practice Friday. Two others --
Casey Hayward
(hamstring) and
James Nixon
(knee) -- have been ruled out, while
Micah Hyde
(groin) was listed as probable.
"I feel pretty confident he's going to go," McCarthy said of Hyde. "It's just something that's been bothering him throughout the week. We're just being smart."
If all four injured cornerbacks can't play, then the Packers will have to do some shuffling in their sub packages.
Jarrett Bush
, who played in the dime (six defensive backs) package last week, likely would play for Hyde in the nickel (five defensive backs). Meanwhile,
Jerron McMillian
, who has played only five snaps on defense since Week 6, likely would move back into the dime spot.
McMillian has been relegated to special teams duties after struggling during extensive playing time the first five games of the season.
However, given that the Vikings' passing game isn't proficient -- they rank 25th in passing yards per game -- the Packers might not have to use their dime package much, if at all.
Here's the full injury report:
Out
-- T
Don Barclay
(knee), CB Casey Hayward (hamstring), CB James Nixon (knee), LB
Nick Perry
(foot/ankle), QB
Aaron Rodgers
(collarbone).
Doubtful
-- DT Johnny Jolly (groin, did not practice).
Questionable
– CB Sam Shields (hamstring, did not practice).
Probable
– C
Evan Dietrich-Smith
(knee, limited participant in practice), CB Micah Hyde (groin, did not practice), LB
Clay Matthews
(thumb, full participant), LB
Andy Mulumba
(ankle, full participant), LB
Mike Neal
(abdomen, limited participant), DT
Ryan Pickett
(knee, limited participant).
November, 22, 2013
Nov 22
8:00
AM ET
A roundup of what's happening on the Green Bay Packers' beat.
GREEN BAY, Wis. -- The Packers don't know -- or at least they aren't saying -- when quarterback Aaron Rodgers will return from his broken collarbone.
But with or without him, they might still have a fighting chance to save their season.
Despite three straight losses that have left them at 5-5, they are only one game behind NFC North co-leaders Detroit and Chicago.
But perhaps more importantly, they entered Week 12 with the fourth-easiest remaining schedule in the NFL, according to ESPN Stats & Information.
The Packers' remaining opponents went into the week with a combined winning percentage of .417. Only the Buffalo Bills (whose remaining opponents had a combined winning percentage of .340), the Jacksonville Jaguars (.377) and the Lions (.377) will face an easier schedule.
Beginning with Sunday's game against the Minnesota Vikings (2-8), the Packers have only two games remaining against teams that currently have winning records: the Lions (6-4) and Bears (6-4).
Then again, maybe by the time Rodgers gets back they will be too far out of the playoff picture.
In case you missed it on ESPN.com:
Elsewhere:
November, 21, 2013
Nov 21
10:00
AM ET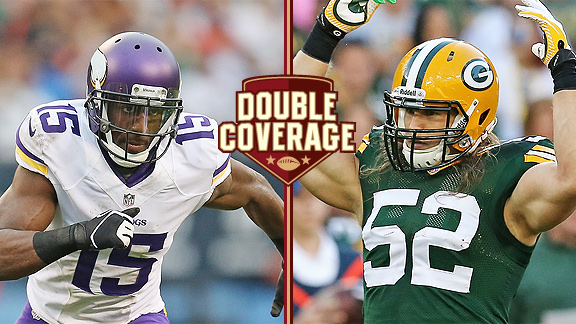 Jonathan Daniel/Getty ImagesIt's been a rough season for Greg Jennings and the Vikings, who hope to split their season series with Clay Matthews' Packers.
A month ago, when the
Green Bay Packers
left Minnesota with a 44-31 victory over the Vikings, all seemed right in their world.
They were 5-2 and in first place in the NFC North.
A week later, their season took an unexpected turn when quarterback
Aaron Rodgers
broke his collarbone. He hasn't played since, and the Packers have lost three in a row.
Meanwhile, the Vikings' slide has continued. They have lost five of their last six and still haven't answered their questions at quarterback.
Packers reporter Rob Demovsky and Vikings reporter Ben Goessling discuss Sunday's rematch at Lambeau Field.
Demovsky:
Ben, when these two teams met last month in Minneapolis, the Vikings had just gone back to quarterback
Christian Ponder
after
Josh Freeman
's disastrous start against the
New York Giants
. Has their quarterback situation -- both short term and long term -- cleared up at all since then? From here, it sure doesn't seem like it has.
Goessling:
It looked like it might have, until last week. Ponder had started every game since then and was having one of his best games of the season Nov. 7 against the
Washington Redskins
when he left with a dislocated shoulder. We've got to grade that one on a curve because of the Redskins' porous defense, but Ponder looked more decisive, a little less skittish in the pocket and more confident while throwing on the run. That lasted through the first half Sunday in Seattle, but the two interceptions Ponder threw in the second half were unconscionable and the Vikings might make another switch at quarterback this week. If I'm them, I would take a look at Freeman and see if he's improved at all with a month to study the offense. The Vikings know what Ponder is at this point, and he's not going to be a franchise-level quarterback. The Vikings continue to say they don't need Freeman to play to evaluate him, but with so little on the line, why not put that $2 million to good use, see if he can give the team a spark and roll the dice on something different?
Speaking of quarterbacks, it seems like
Scott Tolzien
has played well for the most part, but he's been unable to avoid the turnovers that Rodgers simply doesn't commit. Can the Vikings -- a team that has been terrible at generating takeaways -- count on a couple this weekend, or do you see Tolzien excelling against a weak defense?
Demovsky:
After throwing five interceptions the past two weeks, including three Sunday against the Giants, Tolzien knows he absolutely must take care of the ball. The strange thing is, he's been fantastic throwing the deep ball. Some backups get into trouble with interceptions when they're trying to force the ball down the field. That wasn't the case with Tolzien last week. All three interceptions were on short or underneath throws, including the one
Jason Pierre-Paul
returned for a touchdown. Assuming Tolzien does a better job taking care of the ball this week, where he really needs to improve is in the red zone. The Packers have scored just two touchdowns on their past nine trips inside the 20, so along with taking care of the ball, that's where I expect a lot of Tolzien's focus to be this week.
I know I asked you this about
Greg Jennings
before the first meeting, but given the somewhat strange circumstances surrounding him being inactive last week, how do the Vikings feel now about the investment they made in the former Packers receiver this offseason?
Goessling:
You know, when Leslie Frazier talked about Jennings on Monday and said how he couldn't predict for sure whether Jennings would be back against the Packers, it was the first time I wondered about that. It seemed to me Frazier was miffed about the whole situation, whether Jennings decided he couldn't play or whether a valid injury cropped up at the last moment and kept him out of the game. Durability was absolutely a concern with Jennings before the Vikings signed him, and it was a day they were counting on him, with
Jerome Simpson
probably due to sit because of his drunken driving arrest. Whatever caused it, there's no question the Vikings were hoping Jennings could lend some stability to their passing game and help their quarterback, be that Ponder, Freeman,
Matt Cassel
or whomever. They're paying him enough that they have to count on him to make that contract worthwhile.
We've talked before about Jennings' digs at the Packers. What kind of a reception do you expect he'll get on Sunday, and could he be in for a better game with injuries surfacing again for the Packers in the secondary?
Demovsky:
I can't imagine the reception for Jennings will be friendly at Lambeau Field. People here don't take too kindly to those who bash their team or their quarterback. Jennings said some pretty hurtful things this offseason, and regardless of whether he was "just messing around," those words have not been forgotten. I would be willing to bet that every time Jennings touches the ball -- which lately hasn't been much -- he'll get booed. Regarding the Packers' secondary, the fact that it's still having communication breakdowns this late in the season isn't a good sign.
Jennings didn't do much of anything in the first meeting against the Packers, and neither did
Adrian Peterson
. I'm not sure which one was more surprising. But since Peterson carried only 13 times (for 60 yards) against the Packers, he has gotten 25, 20 and 21 carries in the past three games. Is he the Vikings' only hope for success on offense?
Goessling:
Depends on what the Vikings get at quarterback -- which is pretty hard to predict these days. They had planned this year to have more balance on offense, and without it, they've suffered from Peterson having merely a good, not historic, season. He said after Sunday's game that his groin injury was bothering him a lot, and it's the first time in the past two years I've heard Peterson admit an injury was affecting him like that. There were certainly runs where it looked like he just didn't have that top gear like he normally does, and it kept him from breaking a couple. I'm not so sure the best thing wouldn't be to sit him down for a game or two and let him get healthy, rather than having him try to play when he's clearly not 100 percent. The fact the Vikings could be missing center
John Sullivan
because of a concussion doesn't help either. Their best chance to get going on offense would be to feed Peterson, get a lead and try to pressure Tolzien. If Peterson is not at his best, it might not be feasible to lean on him so much.
What about the Packers' running game? It was striking to see
Eddie Lacy
& Co. pound the ball at will against the Vikings in October. Was that legit, or are teams taking that away now because Rodgers is gone?
Demovsky:
That was legit. He leads the NFL in rushing over the past seven games. Less than three weeks ago, the Packers ran for a season-high 199 yards against the Bears. The past two weeks, however, both the Eagles and the Giants have loaded the box to stop the run, and it has worked. There weren't many yards for Lacy to get last week against the Giants, and he averaged only 1.9 yards per carry on 14 attempts. It's like defenses have completely changed the way they're playing the Packers. With Rodgers, they used to dare the Packers to run the ball. Now, they're daring them to throw it by bringing extra defenders up to the line of scrimmage.
November, 21, 2013
Nov 21
8:00
AM ET
A roundup of what's happening on the Green Bay Packers' beat.
GREEN BAY, Wis. -- On Wednesday evening, the Pro Football Hall of Fame announced the
25 semifinalists for the 2014 class
.
Among them was current Packers outside linebackers coach Kevin Greene. He made the first cut for the eighth straight year. The five-time Pro Bowl selection played 15 seasons for four different teams and ranks third on the career sacks list with 160, which is first among linebackers.
But from the Packers' standpoint, Wednesday's announcement may have been more notable for who didn't make the cut. Neither former coach Mike Holmgren nor former general manager Ron Wolf, the men perhaps most responsible for turning around Green Bay's football fortunes in the 1990s, made the list. They were among the
126 preliminary candidates
announced in September.
For Holmgren, who led the Packers to the Super Bowl XXXI title and another appearance in Super Bowl XXXII, it was his first year of eligibility.
Among others with Packers' ties who did not make the cut were receiver Sterling Sharpe, safety LeRoy Butler and the father of current Packers linebacker Clay Matthews.
The list of 25 semifinalists will be reduced to 15 plus two recommendations from the seniors committee, punter Ray Guy and defensive end Claude Humphrey, on Jan. 8. Those who will be enshrined in Canton, Ohio, will be announced on the eve of Super Bowl XLVIII.
In case you missed it on ESPN.com:
Elsewhere:
On ESPNWisconsin.com, Jason Wilde used a screen shot from the TV broadcast to show a play in which Lacy faced eight defenders in the box.
In the Green Bay Press-Gazette, Weston Hodkiewicz wrote that while the Packers believe backup quarterback Scott Tolzien is good enough to lead them to victories, they need help from other areas – like defense and special teams.
In the Milwaukee Journal Sentinel, Tom Silverstein broke down four of the big plays that the Packers' defense gave up in Sunday's loss to the Giants and put the blame on the secondary -- and not on defensive coordinator Dom Capers -- and Tyler Dunne's notebook leads with an item on receiver James Jones, who despite returning to action is still battling his knee injury.
November, 20, 2013
Nov 20
7:35
PM ET
GREEN BAY, Wis. -- If anyone knows what
Eddie Lacy
has gone through the last couple of weeks, it's
Adrian Peterson
.
Peterson, the
Minnesota Vikings
' star running back, has spent most of his NFL career dealing with defenses that game plan to stop him, which is exactly what Lacy, the
Green Bay Packers
' rookie running back, has faced the last two games.
[+] Enlarge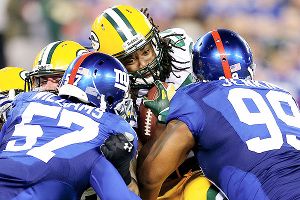 Elsa/Getty ImagesEddie Lacy managed just 27 yards against New York as the Giants committed to stopping the run.
Without starting quarterback
Aaron Rodgers
, who hasn't played since his Nov. 4 broken collarbone, Lacy has found things much more difficult. As we
noted on Monday
, in the last two games, the Packers have faced seven or more defenders in the box nearly twice as often in the last two games, according to ESPN Stats & Information, as they did in the first eight, when opposing defensive coordinators had to prepare for Rodgers and the Packers' prolific passing game.
Rarely in his seven-year NFL career with the Vikings has Peterson had the luxury of playing with a top-tier quarterback. Perhaps only in 2009, when
Brett Favre
had the better of his two seasons with the Vikings, did Peterson have that.
He certainly doesn't have it this year, when the Vikings have used three different quarterbacks (
Christian Ponder
,
Matt Cassel
and
Josh Freeman
).
"When you're not really passing the ball that well, teams can focus on the run, especially when you're a run-first team," Peterson said Wednesday during a conference call with reporters at Lambeau Field. "So it makes it difficult when the quarterback play is not up to par."
While the Packers have been pleased with the play of backup quarterback
Scott Tolzien
, who will make his second straight start on Sunday against the Vikings, so far he hasn't convinced opposing defensive coordinators to sit back and play coverage.
"That's a perfect example," Peterson said. "Lacy, he had come in and helped their running game tremendously. But it shows with Aaron Rodgers not back there how big of a difference he makes and what he means to that offense. So that situation right there is a perfect one to look at."
Last season, when Peterson rushed for 2,097 yards (8 yards short of
Eric Dickerson
's single-season record), the Vikings faced seven or more defenders in the box on 61.3 percent of their snaps, according to ESPN Stats & Information.
"It's real difficult to make a play work in situations like that," said Lacy, who leads the NFL in rushing yards since Week 5 with 645 yards but was held to just 27 yards on 14 carries in Sunday's loss at the
New York Giants
.
"But my mindset is just try to get anything that's positive and just make sure I don't get tackled for like a loss of 1 or 2 because it can put the offense in an even worse situation."
When teams load the box to stop the run, it's simply a matter of numbers. If the Packers don't keep a fullback or tight end in to block, the five offensive linemen could be outnumbered by two or three defenders.
"At the first level, you have to make sure you're covering guys up and allowing your running back to get to that point where he's getting some one-on-one matchups with the safety down in the box and give him a chance to make that guy miss," Packers right guard
T.J. Lang
said. "We haven't really been executing as well as we should be."
If Lacy -- or any running back for that matter -- can avoid the initial onslaught of a loaded box, then the chance for a big play in the running game increases.
"If you can get past that unblocked guy," Lacy said, "then yeah, there's pretty much no one else back there."
October, 28, 2013
Oct 28
1:23
AM ET
MINNEAPOLIS – Observed in the locker room following the
Green Bay Packers
'
44-31 win
over the
Minnesota Vikings
:
Lacy
Still in awe:
Packers running back
Eddie Lacy
outgained Vikings running back
Adrian Peterson
on the ground, 94 yards to 60, but the rookie was still in awe. "I respect A.P.; I look up to him," said Lacy, who carried a career-high 29 times and scored one touchdown. "He's a great running back, very talented, and I was just happy to be on the same field with him. A part of me is still a spectator, I guess you could say. So to watch him, that was cool, too. But we had a good game on the ground; me and
[James] Starks
were able to get a lot of yards tonight."
Pitching a shutout:
Rookie left tackle
David Bakhtiari
was changing just a few lockers over from guard
T.J. Lang
, who was asked about the job Bakhtiari did on Vikings defensive end
Jared Allen
, who did not record a single tackle, sack or quarterback hit. That didn't stop Lang from giving him a little rookie ribbing. "David's been struggling quite a bit," Lang said. "Nah, I'm just kidding. You didn't hear [Allen's] number at all today."
One man to beat:
Punt returner
Micah Hyde
had only one man to beat on his 93-yard punt return for a touchdown in the second quarter – his teammate
Sam Barrington
. Barrington nearly took out Hyde in the middle of the field. "We talked about it at halftime," Hyde said. "I was like, 'Sam, you almost tackled me, man.' He said, 'I was about to crush somebody, and the next thing I know we're running face to face.' He did a good job of avoiding me, though. Right off my cut, he just jumped out of the way, so kudos to him, too." Hyde, who was criticized for his lack of speed, said he didn't feel vindicated by outrunning everyone on the Vikings. Rather, he was happy to make up for
Cordarrelle Patterson
's 109-yard kickoff return for a touchdown to open the game. "That was tough," Hyde said. "Obviously, we gave that up. I was a part of it; I could've made the tackle. We just had to go out there as a punt-return team and make some plays."
Favre who?
In the wake of reports last week that the
St. Louis Rams
called Brett Favre to see if he was interested in coming out of retirement, coach Mike McCarthy was asked if the Packers would call Favre if
Aaron Rodgers
got hurt. With a look of disbelief, McCarthy said: "It was a helluva football game. I'm going to talk about the game."
October, 25, 2013
Oct 25
12:00
PM ET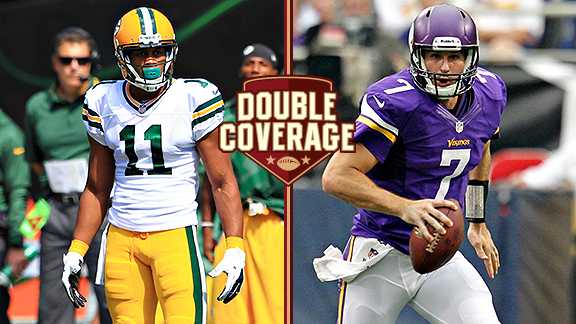 USA TODAY SportsPackers WR Jarrett Boykin came up big as an injury fill-in last Sunday; can Vikings QB Christian Ponder do the same against the Packers?
.
The
Minnesota Vikings
and
Green Bay Packers
will meet for the fourth time in 11 months on Sunday night at Mall of America Field, but things have changed quite a bit for both teams since they faced off in the wild-card round of the NFC playoffs last January.
Christian Ponder
will likely start at quarterback for the Vikings, but it might be a one-week engagement with
Josh Freeman
out because of a concussion.
Greg Jennings
became the latest Packer to switch sides in the rivalry. And
Aaron Rodgers
is relying as much on a nasty offensive line and a productive running game as he is on a receiving corps that's been hit hard by injuries.
As the Packers try to extend their lead in the NFC North and the Vikings try to get their season headed in the right direction following a 1-5 start, ESPN Vikings reporter Ben Goessling and ESPN Packers reporter Rob Demovsky got together to break down the matchup.
Ben Goessling:
Rob, one of these teams has the sixth-ranked rushing game and the third-ranked run defense in the league. And it's not Minnesota. Those two things have been fixtures for the Vikings for years, but they're struggling to open holes for
Adrian Peterson
, who has looked too anxious at times to turn everything into a big gain, and on a few occasions they've been whipped up front by opposing offensive lines. How strange has it been to watch the Packers play so physically, and what kind of an advantage will that create for them on Sunday?
Rob Demovsky:
It's like the Bizarro World around here. The Packers haven't run the ball this well in a decade, not since the days of Ahman Green. And they haven't had this kind of run defense since 2009, when they led the NFL in the category. But it's probably the way they have to win now, considering all the skill-position guys –
Randall Cobb
,
James Jones
,
Jermichael Finley
– they're missing on offense and all the pass-rushers –
Clay Matthews
,
Nick Perry
-- they're missing on defense.
I'm used to seeing the Vikings run the ball like crazy. Are the problems at quarterback the major reason the running game hasn't taken off, or are there other issues at work?
Goessling:
Ah, yes, the old U-71 package with Kevin Barry. And then they got gun-shy in the famous fourth-and-26 game against the Eagles. Sorry, I'm probably hitting some nerves for the Packers fans out there. Moving on …
It's hard to put a finger on exactly what hasn't worked for the Vikings this season, but I'd start with two guys they paid handsomely over the winter -- right tackle
Phil Loadholt
and fullback
Jerome Felton
. Peterson has done his best work running behind those two guys, but Loadholt hasn't been anywhere near the road grader he was last season, and Felton has had trouble as a lead blocker since returning from his three-game suspension at the beginning of the season. It also seems like Pro Bowl left tackle
Matt Kalil
and center
John Sullivan
(who was a Pro Bowl alternate) aren't playing at the same level they were last season. But yes, if the Vikings could throw the ball and make teams pay for putting nine men in the box, they'd have a little more margin for error. That's got to be on the quarterback situation; the Vikings spent plenty of money trying to upgrade their offense over the winter, but without a guy who can make it all go, it's not going to work.
Speaking of the guy who makes it all go for the Packers, am I right in assuming Rodgers is going to be hanging on tightly this week to what Greg Jennings said about him over the summer? Those two can play nice all they want with their comments, but Jennings' earlier remarks would seem like the type that would activate the famous chip on Rodgers' shoulder.
Demovsky:
It was funny, Rodgers talked at length this week about being focused on this game, this team -- and not about what anyone outside the organization (hint: Jennings) had to say. But when someone asked him how he could forget about that, he came back with a classic response. He said that he didn't say anything about forgetting, just focusing. Now, does this rival the intensity behind the 2009 games against the Brett Favre-led Vikings? Not even close. But knowing Rodgers, he'll have a little something extra for this one.
What's the feeling about Jennings' contributions so far? Do the Vikings feel like they're getting their $45 million worth?
Goessling:
Yikes. That does sound like a classic Rodgers response. And with the shape this Vikings secondary is in -- especially without safety
Harrison Smith
-- that might be bad news for defensive coordinator Alan Williams.
Coach Leslie Frazier has raved about what Jennings has meant to their receiving corps, the work he's done to mentor young receivers such as
Cordarrelle Patterson
and the time he's spent with Ponder. He's had moments, such as the short pass he turned into a 70-yard touchdown against the Steelers, when he's looked like the player he was in Green Bay. But it's hard to gauge exactly what he's done, because there's been so much uncertainty at quarterback. He's played with three starters in six games; he had the same number in seven seasons with the Packers. He's also so technical as a route-runner -- and so good in small spaces – that I think he's really at his best when he has a quarterback who understands the details in his game and can use those to exploit a defense.
Maybe Ponder can get closer to that on Sunday. He played one of his best games last December when the Vikings needed to beat the Packers for a playoff berth. Can he recreate that against what looks like a tougher defense, or will he struggle, especially now that it looks like
Casey Hayward
might be back?
Demovsky:
This is a much different defense than Ponder saw last season, even if Hayward doesn't return. The Packers are so much deeper in the secondary now with the emergence of
Davon House
, who had his first career interception Sunday against the Browns, and rookie
Micah Hyde
.
Sam Shields
has become their new shutdown corner, but that's not to say
Tramon Williams
still isn't a factor. He's actually playing some in the slot now, so it's a new role for him. As good as Hayward was last season, I'm not sure he's essential to their pass defense right now. The Packers have only three interceptions on the season, but I wouldn't be surprised if the floodgates open fairly soon.
One of the matchups I'm most interested in is
Jared Allen
against the Packers' new left tackle,
David Bakhtiari
. Bakhtiari has played well, especially for a rookie, but he hasn't yet had to pass-protect with the noise inside of a dome. And you know Allen will have some tricks for the rookie. How much do you think the Vikings will try to key on that matchup?
Goessling:
I'm sure they're hopeful it's a productive one for them. Allen hasn't looked like the same guy this season -- although he still is on pace for double-digit sacks -- and the Vikings have had enough trouble getting to the quarterback that they've had to blitz a little more, which typically isn't a smart strategy against Rodgers. But Allen always seems to do his best work against the Packers, particularly in the Metrodome, and if the Packers leave Bakhtiari alone against Allen, he could have his hands full.
See you on Sunday night, Rob. Soak up those Metrodome memories. With these two teams in this building, something interesting usually happens.
.
October, 24, 2013
Oct 24
11:16
AM ET
GREEN BAY, Wis. -- Dom Capers liked how the
Green Bay Packers
defended the run last season.
"Except when we've played Minnesota," the Packers defensive coordinator said this week.
In two regular-season games last season against the Vikings, Capers' unit was embarrassed by
Adrian Peterson
. He rushed for 409 of his near-record setting total of 2,097 yards -- nine yards short of breaking Eric Dickerson's single-season record -- in the two games against the Packers.
It was tough to tell which game was worse for the Packers' defense -- Peterson's 210 yards at Lambeau Field or his 199 yards at Minnesota.
Three years removed from leading the NFL in rushing defense, the Packers would not rank in the top 10 for a third straight season. They allowed 118.5 rushing yards per game in 2012, the most they have given up since 2008. Even if you magically removed Peterson's two-game totals, the Packers still would not have ranked in the top 10. They would have been 12th with a 14-game average 106.2 yards rushing allowed per game.
The Packers handled Peterson slightly better in the NFC wild-card playoff game last season, holding him -- a relative term -- to 99 yards rushing on 22 carries.
Heading into Sunday's game at Minnesota, the Packers believe they are better equipped to handle Peterson -- or any running back for that matter. Through six games, they rank third in the NFL in rushing defense. They have allowed an average of just 79.0 rushing yards per game, better than their franchise-record mark of 83.3 yards per game set in 2009 when they led the league in run defense.
"I think we're more prepared to play against anybody this year," Packers defensive tackle
Mike Daniels
said. "You could tell by the tone during our meeting last year; it was different before we played the Vikings. Now, it's like let's go out there and do what we've been doing."
The Packers have allowed only one running back -- Washington's
Alfred Morris
(13 carries for 107 yards) -- to rush for more than 50 yards against them this season.
"I like the way our run defense is playing now," Capers said. "You haven't seen many explosive plays come out. I think we're getting more people to the ball with better leverage and tackling better. That's what you have to do against Peterson."
The Packers learned some hard lessons against Peterson last season, especially during the regular-season finale in Minnesota. Peterson's 199 yards led the Vikings to a 37-34 victory that allowed them to get into the playoffs.
Daniels can still envision where they erred against Peterson.
"I remember specifically in the playoffs last year I was lined up against one of their guards, and I had complete control of the guy, and I just peeked slightly, I peeked into the wrong gap," Daniels said. "I swear that's when Adrian got the ball. By the second I got to my gap, he was already hip to hip with me taking off, and I said 'Woo.'
"There was a time when we played them away last year, guys played hard up front. [Defensive tackle B.J.] Raji was basically unblockable that game, but it's almost as if we're a little too overaggressive, and he kind of made us pay. You have to have that controlled aggression."
By Peterson's standards, he's off to a slow start, although he still manages to rank fifth in the NFL in rushing with 511 yards. But the Vikings' 1-5 start and their quarterback issues, having started three different ones this season, have rendered Peterson less impactful.
But that isn't what has the Packers defense feeling more confident heading into Sunday's game at Mall of America Field. Rather, it's a feeling inside their defensive meeting room that's different this year.
"When you're playing run defense, you have to take care of your responsibilities," Raji said. "We know what our responsibilities are and if we do that, there shouldn't be anywhere for anyone to run."
October, 24, 2013
Oct 24
8:00
AM ET
A roundup of what's happening in the Green Bay Packers beat.
GREEN BAY, Wis. – Barring a meeting in the playoffs (which seems unlikely) or a snag in the plans to start building the Minnesota Vikings' new stadium next season (which is more likely), this will be the Packers' last appearance in the Hubert H. Humphrey Metrodome, known now as Mall of America Field.
And it doesn't sound like many of those on the visiting side are all that broken up about it.
"There's so many good memories, and some tough ones, too," Packers coach Mike McCarthy said. "Very difficult place to play, always has been. I can remember being up there in a playoff game in 2000 and the quarterback not being able to hear the play call over the speakers. Just a lot of things like that. Incredible home-field advantage for the Vikings.
"But it's time."
The Vikings are expected to play the next two seasons at the University of Minnesota while their new stadium is being constructed on the old site.
McCarthy has actually fared better at the Metrodome than his predecessors. He has a 4-3 record there, including 2-3 with Aaron Rodgers as the starting quarterback.
Mike Holmgren lost his first three games there as the Packers coach and finished 2-6. Ray Rhodes lost his only game there in 1999. Mike Sherman went 3-3.
"It's one of the, for sure, one of the three or four loudest places [in the NFL]," Rodgers said. "Obviously, Kansas City and Seattle are very loud for outdoor environments. Detroit is a loud place. Atlanta is a loud place that we played in. It ranks right up there with those, if not more, especially when there's a late third down in a tight game late in the fourth [quarter], it's almost impossible to hear."
Elsewhere: