Green Bay Packers:

Al Harris
September, 26, 2014
Sep 26
4:25
PM ET
GREEN BAY, Wis. --
Davon House
stood at his locker at Lambeau Field this week and looked around at the neighboring cornerbacks who occupy one wall in the
Green Bay Packers
' changing area.
One after another, he rattled off the players the Packers have at his position.
Sam Shields, Tramon Williams, Casey Hayward, Demetri Goodson, Jarrett Bush.
[+] Enlarge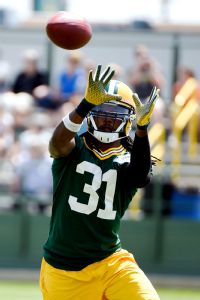 Benny Sieu/USA TODAY SportsDavon House could be the next Packer in line for a contract extension.
It's no wonder the Packers have not even approached House about a contract extension.
"If they decided not to go my way, they've still got all those guys," said House, who has emerged early this season as one of the team's top playmakers in the secondary.
When told the 31-year-old Williams is in the final year of his contract, House appeared surprised.
"Oh, OK," he said. "I think J.B. is in his last year, too."
Indeed, both Williams and the 30-year-old Bush are working under contracts that expire after this season, which is all the more reason to think House could be next in line for a contract extension. Yet, according to House, there has been nothing but crickets from the Packers' financial people.
"Not even discussed," he said.
If House keeps playing like he has the past two weeks, that will surely change. He is the final year of his rookie contract, the one he signed after the Packers drafted him in the fourth round out of New Mexico State in 2011.
While the consensus is receiver
Randall Cobb
is next in line for a new deal, the Packers have plenty of room under the salary cap -- $8,570,906 in unused space, according to the latest figures from ESPN Stats & Information -- to do more than one extension.
After not even getting on the field in Week 1 because cornerbacks coach Joe Whitt went with Hayward in the nickel package, House, who has played sparingly on defense his first three seasons in part because of injuries, moved into that role in Week 2 against the Jets. He threw himself into the spotlight with an interception last Sunday against the Lions on a
Matthew Stafford
deep ball that was intended for
Calvin Johnson
. The 6-foot, 195-pound House took his share of snaps against Johnson, who caught just one ball for 15 yards in three targets against him.
Lest you think House has come out of the blue the past two weeks, Whitt is quick to say otherwise. He mentioned House's offseason workouts with Bush, his study time with Williams and the
time he spent honing his skills
with veteran cornerback
Darrelle Revis
this past summer as signs of House's progression.
"Everything we've asked him to do, you're seeing the fruits of it," Whitt said. "He's playing in the pass game the way we want him to play. He has to tighten up his run-game support and the tackling. Once he does that, we'll have a complete football player that's going to play high-level football. I'm excited to see what he can be because he has a skill set that is different than everybody else in the room."
That skill set Whitt referred to is House's size and strength. He reminds Whitt of former Packers cornerback
Al Harris
, one of the strongest press-cover corners the team has ever had.
"I've coached three men that had hands like bricks -- Al Harris, him and another guy named Antoine Sharp, who you've never heard of but I coached him at Louisville," Whitt said. "But when they put their hands on you, it feels like bricks on you and they can redirect people. And they're fast enough."
If you're wondering how Whitt knows their hands are like bricks, well, he has the bruises to prove it.
"During the first couple of days of training camp, I am black and blue because I allow them to punch me because I want to feel their hand placement," Whitt said. "And the very first time he put his hands on me, oh my goodness. Him and Al, their hands feel like bricks."
September, 19, 2014
Sep 19
4:15
PM ET
GREEN BAY, Wis. -- You could see it in
Al Harris
' eyes that day back in January 2008. It was the NFC Championship game against the
New York Giants
, and the
Green Bay Packers
' Pro Bowl cornerback was amped up for the challenge of covering receiver Plaxico Burress.
Too amped up, as it turned out.
[+] Enlarge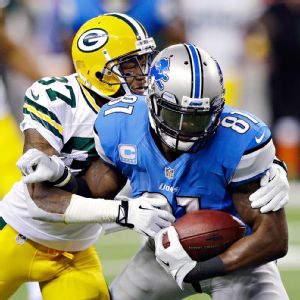 AP Photo/Carlos OsorioCalvin Johnson has put up his best numbers against Green Bay, but the Packers' Sam Shields is up to the challenge.
Burress used Harris' overly aggressive, physical style against him and burned the Packers for 11 catches, 151 yards and a touchdown in the Giants' upset win at Lambeau Field.
That was a full year before defensive coordinator Dom Capers and most of his current staff came to Green Bay, but it's a lesson that might be worth reminding their cornerbacks this week when they prepare for a megasized challenge in the
Detroit Lions
'
Calvin Johnson
.
"It's important for our guys, particularly our corners, to play with their technique and play with their leverage and just play football," Packers coach Mike McCarthy said this week. "Anytime you go up against a top-notch player like Calvin, you can't let players like that take you out of your technique."
Surely, that message has been conveyed to
Sam Shields
,
Tramon Williams
and the rest of the Packers' secondary this week. Shields is most likely to draw Johnson the most, although Capers has said repeatedly that you can't cover him with the same defensive back all the time. The Packers say they aren't worried about a guy like Shields, who signed a four-year, $39 million contract this offseason, trying to go out and justify his contract by trying to shut down Johnson.
If anything, Shields should be confident in knowing that he has done it in the recent past. Shields covered Johnson for most of last year's Thanksgiving game at Ford Field. Although the Lions won in a 40-10 blowout, Shields held Megatron to just three catches for 46 yards in seven targets when he was in coverage, although Johnson still managed six catches for 101 yards overall for the day.
"At the end of the day, it's all competition, and he's a big challenge," Shields said. "You know a guy like that, you want that. In the NFL, all eyes on you, everybody wants to see what you're going to do against Calvin Johnson. So you know, like I said, do the right things, do my keys, my techniques right, everything will be good."
The same goes for Williams, who has had success -- and seen others have success -- against Johnson. In 2012, Williams' primary job was to cover Johnson, and he held him to four catches for 54 yards without a touchdown in a game at Lambeau Field. However, Williams did not have him the entire time, and Johnson still managed a 100-yard game. And he saw
Charles Woodson
hold Johnson, in his worst game against the Packers, to two catches for 10 yards for an entire game in 2009.
However, those were not the norms for Johnson, who in 12 career games against the Packers has 71 catches for 1,163 yards and 12 touchdowns -- the most catches, yards and touchdowns he has against any one opponent.
Williams remembers the Harris-Burress situation and, for one, doesn't think Harris played as poorly as most thought.
"I went back and looked at that game, he was in some good positions, and at the end of the day, you battle a guy like that, and he's just making plays for his team, you can live with that," Williams said.
But he and others also do not think the same circumstances apply to a player they know as well as Johnson, their divisional foe.
"We play him twice a year, so it's not anything new," Packers cornerbacks coach Joe Whitt said. "It's not like we're on a team that might see him once every two or three years, we see him so much that we understand the challenge, and the challenge is huge."
January, 6, 2014
Jan 6
12:45
PM ET
GREEN BAY, Wis. -- For at least the past eight seasons, the
Green Bay Packers
have been one of the youngest teams in the NFL.
Based on opening-day rosters, the Packers were the sixth-youngest team in the NFL this season with an average age of 25.42 years. Before that they were fifth, second and fifth in the age rankings. And every year from 2006-09, they were the youngest team in the league.
A day after their season ended with Sunday's 23-20 loss to the
San Francisco 49ers
, it was worth wondering if the Packers need more veterans.
One such inhabitant of their locker room thinks so.
"A lot of guys thought they know how to prepare when they were in college and whatnot, but then they get into the league and you find out that it's a different level to preparation," said 30-year-old cornerback
Tramon Williams
, who just completed his seventh NFL season. "That's what you're faced with with young guys. Even though we always say it's a young league, yeah, it's a young league but it's an old league, too, because the old guys make the league go. That's the guys who've been there before, who know how to prepare, who mold the young guys. That's what they're there for. I understand that."
[+] Enlarge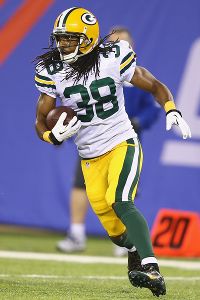 Al Bello/Getty ImagesCornerback Tramon Williams is of the mindset the Packers need more veterans on their roster.
Williams' own future with the Packers
could be in doubt
. He's scheduled to make $7.5 million next season in salary and bonuses, and although he had his best season since 2010, his age and salary make him vulnerable in general manager Ted Thompson's youth-based system.
To be sure, Williams is worried about his own situation, but it's clear he thinks the constant roster turnover has impacted the defense, which struggled to a 25
th
overall ranking this season.
This season, he played in a secondary that was littered with youth and inexperience. Among the key players who played alongside him for most of the season were cornerbacks
Sam Shields
(age 26, fourth season),
Davon House
(24, third season) and
Micah Hyde
(23, rookie) plus safeties
Morgan Burnett
(age 24, fourth season),
M.D. Jennings
(25, third season) and
Sean Richardson
(23, second season). Of that group, only Burnett was in his second NFL contract.
"I had the privilege to play with [Charles] Woodson and [Nick] Collins and
Al Harris
," Williams said. "I understand what chemistry in the secondary can do. That's what you try to find when you get a good group of guys. You want to get guys all on the same page. You want guys to see things like you see it if you're the leader of that group. When you can get guys to that point, it slows the game down for everyone in that back end. That's when you start seeing a lot of plays being made out there. Whether it's your play or not, you know where the ball's going and you go in and you make the play. That's what we're trying to get.
"We have a great group of young guys in this room but, like you said, they're young. They can play, very talented but still, they're young."
The Packers have 17 players scheduled to be unrestricted free agents, meaning they all have at least four years of NFL experience. Depending on how many of them are re-signed, the Packers could get even younger next season.
"When you have a young team like this, that's what you're challenged with," Williams said. "You're challenged with coming in and – with young guys, with talented young guys, they play but the game's still fast for them because they don't understand what teams are trying to do. They don't understand the scheme fully. They don't understand what the scheme can do for them once they understand it. That's what you're faced with."
It may be a problem more so for the Packers' defense given that receiver
James Jones
– a 29-year-old seventh-year veteran who is one of the 17 free agents to be – didn't necessarily have the same view as Williams on the idea of veteran leadership.
"There's a lot of leaders in this locker room," Jones said. "You can't just point out one or two leaders in the locker room just because they're older. A lot of the young guys lead in this room. I don't think that's going to play a part [in getting re-signed]. We've got a real good locker room here. Everybody loves each other, everybody works hard, fights for each other. I don't think that's going to be an issue. They're not going to be bring me back for some leadership."
October, 31, 2013
10/31/13
8:45
PM ET
GREEN BAY, Wis. -- Apparently,
Chicago Bears
receiver
Brandon Marshall
has a selective memory when it comes to the
Green Bay Packers
.
Marshall
Asked on Thursday about the success the Packers had defending him, Marshall said: "Well, I don't know where you get that from."
He seemed to have little recollection of the two games he played against the Packers last year.
In a Week 2 loss at Lambeau Field, he caught just two passes for 24 yards and no touchdowns.
Three months later in a loss at Soldier Field, he caught six passes for 56 yards and one touchdown.
"You go back to the Denver days when [former Packers cornerback]
Al Harris
was there, I had a good game, made some plays even though it as a tough matchup, a lot of give and take," Marshall said during a conference call with reporters at Lambeau Field. "When I was in Miami, I think I had 100-something yards, and we won the game. I think that was y'all's Super Bowl year, so I don't know where you get that from that it's been tough for me."
Marshall had that part of it right. In 2007, he caught three passes for 74 yards for the Broncos in a loss to the Packers. In 2010, he had a monster game with 10 catches for 127 yards for the Dolphins in a win at Lambeau Field.
The 6-foot-4, 230-pound Marshall is a tough matchup for anyone, but Packers cornerback
Tramon Williams
-- with some help -- nearly shut him out in the first meeting last season.
"Tramon, he was pretty much following me a little bit," Marshall said, "with help over the top."
That's the norm for Marshall, who often is double covered.
"Yeah, it sucks," he said.
"He's one of those guys, he's big and he does everything well," Williams said. "He runs pretty good routes. He comes back to the ball, comes out of his breaks well and he's good after the catch and strong. so he's a guy who presents a lot of challenges. Your best odds are to try to keep him from catching the ball because once he does catch the ball, he's really good with it."
Packers defensive coordinator Dom Capers has used his cornerbacks differently this season. He began by leaving Williams on one side and
Sam Shields
on the other rather than matching them up. In recent weeks, he has moved Williams inside in the nickel (three cornerbacks) package, leaving Shields and
Davon House
on the outside.
Since giving up 13 catches for 208 yards to
San Francisco 49ers
receiver
Anquan Boldin
in the season opener, the Packers have fared much better against No. 1 receivers. Since, if anyone draws the assignment to match the other team's top receiver, it has been Shields. Halfway through the Week 3 game at Cincinnati, Shields asked to cover Bengals Pro Bowl receiver
A.J. Green
and although he gave up a touchdown, Shields held Green relatively in check with four catches for 46 yards.
"After the first game getting torched by Anquan, no other number one has put up huge numbers, so you have to look at that and respect what they do on defense," Marshall said. "They're getting better."
In the game at Chicago last December, Shields covered receiver
Alshon Jeffery
for most of the game. Shields frustrated Jeffery to the point where he was called for three offensive pass interference penalties.
Now, it may be up to Shields to shadow Marshall in Monday night's game at Lambeau Field. In some ways, it may make up for the fact that Shields did not get to cover
Detroit Lions
receiver
Calvin Johnson
in the Oct. 6 game. Shields was looking forward to testing himself against Johnson, who was inactive because of a knee injury.
"We got another game coming this Thanksgiving," Shields said, referring to the rematch with the Lions.
But for now, his sights are set on Marshall, should he draw that assignment.
"This is a big challenge, and I'm up for all challenges," Shields said. "Whatever decision the coaches make, I'm ready and willing to go forward."
Since Boldin and the 49ers lit up the Packers in the opener, Green Bay's pass defense has made a steady recovery. Ranked 30
th
out of 32 teams in the league in passing yards allowed per game after two weeks, the Packers have climbed to 21
st
.
"We're not letting anyone get the big, explosive plays," Shields said.