Green Bay Packers:

Antonio Dennard
August, 26, 2014
8/26/14
6:15
PM ET
GREEN BAY, Wis. -- The
Green Bay Packers
reached the mandated 75-player roster limit on Tuesday by placing six players on injured reserve. Two days earlier, they waived seven players.
Most surprising move
: When the Packers used to hold their offseason practices on the old practice field that bordered Oneida Street, there was a term for players who stood out in helmets and shorts and then faded when the pads came on. They were known as members of the "All-Oneida Team." Put receiver
Chris Harper
in that category. The second-year pro drew praise from quarterback
Aaron Rodgers
and coach Mike McCarthy for his production during the offseason program. After a practice on June 3 during which Harper caught a deep pass, McCarthy said: "That's the kind of explosiveness that he has." Two and a half months later, Harper did not even make it to the final cuts. He was one of seven players released on Sunday.
Change of plans
: So much for tight end
Colt Lyerla
spending the season learning the Packers' ways while on injured reserve. On Tuesday, they reached an injury settlement with him, the details of which
can be found here
. If the Packers truly wanted to develop Lyerla, it would seem logical that they would have kept him on injured reserve to keep a close eye on him.
Packers' moves
: After Sunday's release of seven players -- Harper, safety
Charles Clay
, cornerback
Antonio Dennard
, linebacker Korey Jones, fullback Ina Liania, quarterback
Chase Rettig
and receiver
Gerrard Sheppard
-- the Packers were at 81 on their roster. On Tuesday, they placed the following six players on injured reserve: receiver
Jared Abbrederis
(knee), guard/tackle
Don Barclay
(knee), running back
Rajion Neal
(knee), nose tackle
B.J. Raji
(biceps), linebacker
Joe Thomas
(knee) and guard
Andrew Tiller
(calf). Abbrederis, Barclay and Raji will remain on injured reserve for the entire season, but Neal, Thomas and Tiller most likely will be given injury settlements and released at a later date.
August, 24, 2014
8/24/14
5:15
PM ET
GREEN BAY, Wis. -- A daily review of the hot topics coming out of
Green Bay Packers
training camp:
Before practice began on Sunday, the Packers released seven players. They were: safety Charles Clay, cornerback Antonio Dennard, receiver Chris Harper, linebacker Korey Jones, fullback Ina Liaina, quarterback Chase Rettig and receiver Gerrard Sheppard. That left the Packers with 81 players on their roster. NFL teams must cut down to 75 players by Tuesday, but the Packers might only have to release three more if they place receiver Jared Abbrederis (knee), guard/tackle Don Barclay (knee) and nose tackle B.J. Raji (biceps) on injured reserve. All have been lost for the season but remain on the roster.
Cornerback Casey Hayward, who did not play in Friday's preseason game against the Oakland Raiders, returned to practice on Sunday, although he appeared to be on a limited snap count. Hayward also missed two days of practice last week because coach Mike McCarthy said they were just being smart with him given that he missed all but three games last year because of a hamstring injury.
In addition to Raji, the Packers also were without another defensive starter, linebacker Brad Jones. McCarthy said Jones sustained a quadriceps injury and won't play in Thursday's preseason finale against Kansas City but should return for the season opener at Seattle.
Second-year pro Josh Boyd took most of Raji's snaps at nose tackle with the No. 1 defense on Sunday. Last season, Boyd played almost exclusively at defensive end. "Maybe things happen a little faster because it's got you closer to the ball," Boyd said. "It's a more closer area, more faster reactions, but it's nothing I can't handle."
It does not look like rookie running back Rajion Neal will return before the end of the preseason. Neal sustained a knee injury in the preseason opener at Tennessee but impressed the Packers early on with his hard-running style. Others who did not practice were: cornerback Demetri Goodson (concussion), linebacker Joe Thomas (knee), guard Andrew Tiller (calf), center JC Tretter (knee), tight end Brandon Bostick (leg) and defensive tackle Letroy Guion (hamstring).
Sunday's practice, which was closed to the public, lasted only one hour and 40 minutes. There will be just two more practices open to the public: Monday at 11:45 a.m. local time and Wednesday at 10:30 a.m.
August, 3, 2014
8/03/14
12:40
AM ET
GREEN BAY, Wis. -- A daily review of the hot topics coming out of
Green Bay Packers
training camp:
When Packers coach Mike McCarthy said he was going to treat the annual Family Night event like a regular practice instead of a scrimmage, he meant it. What the Family Night-record crowd of 67,336 at Lambeau Field on Saturday night saw was a near-perfect replication of what takes place across the street every day during camp at Ray Nitschke Field. About the only difference was near-constant music playing over the public address system and a fireworks show that followed. Tickets to the event were $10 and sold out in one week.
By the end of the receiver-defensive back one-on-one drill early in the practice, all the defensive players could do was laugh at the amount of penalty flags that flew. Even though they know the officials are placing an emphasis on contact in the passing game, they did not expect what they saw. There were about 20 reps in the drill and by unofficial count, the officials threw flags on 10 of them. Only one was on a receiver. "That was amazing," safety Micah Hyde said. "I've never seen that before in my life. I think they were trying to call every little thing. ... We were literally laughing after a while."
Just because the Packers gave cornerback Sam Shields a four-year, $39 million contract this offseason does not mean they're going to be afraid to use him on special teams. The speedy Shields was back at his usual spot as the outside cover man on the kickoff team.
Rookie second-round receiver Davante Adams has shown up big in practice more often of late. He made perhaps the best catch of Family Night, when he had to extend himself to haul in a ball on the left sideline from Matt Flynn against tight coverage from cornerback Antonio Dennard.
In other odds and ends: A year after he missed five of his eight field goals in Family Night, kicker Mason Crosby was perfect on Saturday. He ended the practice by making kicks of 28, 33, 38, 43, 48 and 50 yards. He is 20-of-22 so far in training camp. ... The two undrafted rookie running backs -- Tennessee's Rajion Neal and Mississippi State's LaDarius Perkins -- continue to make some impressive plays. On a fourth-and-1 play, Neal busted a stretch play to the left for a long gain. Even though there was no live tackling, the play appeared to be legitimate because Neal was untouched as he turned it up the field. ... Outside linebacker Mike Neal might struggle to play inside after dropping down to 264 pounds. He got swallowed up by rookie guard Jordan McCray on one play when he lined up at defensive tackle.
Rookie center Corey Linsley (shoulder) returned after missing only one day of practice. Those who did not dress on Saturday were: safety Tanner Miller (ankle), receiver Jeff Janis (illness), receiver Jared Abbrederis (ankle), defensive tackle Letroy Guion (hamstring), defensive end Jerel Worthy (back). Nose tackle B.J. Raji (ankle) and tight end Colt Lyerla (leg) dropped out of practice
Players are off on Sunday and don't return to the practice field until 5:30 p.m. CT on Monday.
July, 23, 2014
7/23/14
12:00
PM ET
GREEN BAY, Wis. -- Between now and the
Green Bay Packers
' first training camp practice Saturday, we will break down each position group.
Next up is cornerbacks.
Returning players:
Sam Shields
,
Tramon Williams
,
Casey Hayward
,
Micah Hyde
,
Davon House
,
Jarrett Bush
,
Jumal Rolle
,
Antonio Dennard
.
Gone from last season:
James Nixon
.
New this season:
Demetri Goodson
(sixth-round pick),
Ryan White
(undrafted rookie).
Position coach:
Joe Whitt (sixth season, also spent one season as a defensive quality control coach).
Biggest issue:
Halfway through last season, it was starting to look like Williams' days with the Packers -- at least under his current contract structure -- might be coming to an end. In the middle of his seventh NFL season, Williams' game had still not returned to its 2010 form, when he was a key player on the Super Bowl-winning defense. But over the course of the second half of the season, Williams closed with the kind of play that prompted the Packers to sign him to a four-year, $33 million contract extension in the first place. Williams now is in the final year of that contract and is slated to make $7.5 million this season. Although it's highly unlikely, if the Packers were to cut Williams before the season started they would remove his base salary of $6.9 million off their books and would have to count only $2 million of his remaining prorated signing bonus on their salary cap.
House
Player to watch:
The last two offseasons have been the same for House. He has shown up big in practice, but those results have not transferred to the regular season. Once again this year, the former fourth-round pick has stood out in OTA and minicamp practices. Now entering the final year of his rookie contract, House must show that he can take the next step to warrant consistent playing time, another contract and possibly a shot at a starting job someday.
Medical report:
On the eve of training camp last season, Hayward pulled his hamstring. He was never the same. He played in only three regular-season games last year before landing on injured reserve. He was a regular participant in the offseason practices this spring and has shown no signs that the hamstring will continue to be an issue.
Help wanted:
The Packers want to get Hyde on the field as much as possible but with Hayward returning as the likely nickel defensive back and Shields and Williams seemingly entrenched as starters, his best chance might be at safety. Although he is still listed as a cornerback on the roster, Hyde spent most of this offseason playing safety, where he regularly lined up as a starter next to
Morgan Burnett
.
Quotable:
"As a cornerback group, I believe we were eighth in the league in interceptions [last season] with nine," Whitt said. "In the [last] five years, I know we're No. 1. We've got to be top-five as a cornerback group in interceptions. I think we had nine last year; we need to be around 12. We just have to catch the football when it's thrown to us."
Previous installments
July 14: Quarterbacks
July 15: Running backs
July 16: Receivers
July 17: Tight ends
July 18: Offensive line
July 21: Defensive line
July 22: Linebackers
April, 4, 2014
4/04/14
8:00
AM ET
GREEN BAY, Wis. -- With the bulk of the free-agent work done, it's a good time to recheck the
Green Bay Packers
' depth chart leading up to the May 8-10 NFL draft.
On Thursday, we broke down
the way things look on offense
.
Next up is the defense:
Defensive end
:
Datone Jones
,
Josh Boyd
,
Jerel Worthy
.
[+] Enlarge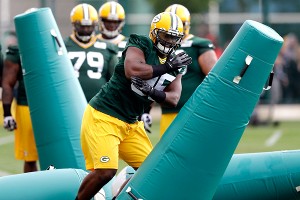 AP Photo/Morry GashThe Packers are counting on defensive end Datone Jones to rebound in his second season.
Analysis
: The Packers have high hopes for Jones despite a disappointing rookie season in which the former first-round pick was slowed by an ankle injury and recorded just 3.5 sacks (two of which came in one game). "I feel he's one of those second-year players who [can] take a huge jump," coach Mike McCarthy said of Jones earlier this offseason. "That will be my expectations for him." Boyd, a fifth-round pick, actually saw more playing time late last season than Jones. Worthy played in only two games a year after he blew out his knee.
Defensive tackle
:
B.J. Raji
,
Mike Daniels
,
Letroy Guion
.
Analysis
: Moving Raji back to nose tackle on a full-time basis should help his production, which declined sharply over the last three years following a move to defensive end. Daniels was perhaps the team's most improved player last season, which should lead to an even bigger role this season. Guion, who was cut the
Minnesota Vikings
, will have to battle for a roster spot.
Elephant
:
Julius Peppers
,
Nick Perry
,
Mike Neal
.
Analysis
: Elephant is a catch-all term for
the multiple positions
this trio will play. They will be part outside linebacker, part defensive end and part defensive tackle. The addition of Peppers, who was signed last month after being released by the
Chicago Bears
, should boost the pass rush. Expect Perry to play more on the right side this season, where he was far more impactful last season. These players will actually be tutored by linebackers coach
Winston Moss
.
Inside linebacker
:
A.J. Hawk
,
Brad Jones
,
Jamari Lattimore
,
Sam Barrington
,
Victor Aiyewa
.
Analysis
: Hawk had perhaps his best season last year, but Jones was a disappointment after signing a three-year, $11.75 million contract and could be on shaky ground for a starting job. Lattimore, a restricted free agent who has yet to sign his tender, got some playing time last year while Jones was hurt and could push for the starting job. So could Barrington, a promising rookie who missed the second half of the season because of a hamstring injury.
Outside linebacker
:
Clay Matthews
,
Andy Mulumba
,
Nate Palmer
,
Chase Thomas
.
Analysis
: Neal and Perry played almost exclusively at outside linebacker last season, so there's a good chance they'll be a big part of this group again. But behind Matthews are a couple of second-year players, Mulumba and Palmer, who played more than anyone expected last year as a rookies. Mulumba, an undrafted free agent, played better than Palmer, a sixth-round pick. Thomas was signed early in the offseason off the street after spending most of last season on the
Atlanta Falcons
' practice squad.
Safeties
:
Morgan Burnett
,
Sean Richardson
,
Chris Banjo
.
Analysis
: Easily the thinnest position on the roster, there's still likely to be several additions here, probably via the draft. However, McCarthy said cornerback
Micah Hyde
will get some work at safety. Whether he's a candidate to start next to Burnett (a strong safety), however, remains to be seen. Burnett needs to bounce back from a disappointing season, but there's little reason to think his job is in jeopardy. Richardson returned late last season from a serious neck injury and showed promise. Banjo played more early in the season than he did late last year.
Cornerbacks
:
Sam Shields
,
Tramon Williams
,
Casey Hayward
, Micah Hyde,
Jarrett Bush
,
Davon House
,
James Nixon
, Jumel Rolle,
Antonio Dennard
.
Analysis
: This is among the Packers' deepest positions thanks to the return of Shields, who signed a four-year, $39 million contract, and Hayward, who is expected to be healthy after a hamstring injury limited him to just three games last season. Williams closed the season playing perhaps as well as he did during the Super Bowl season of 2010, which is why they kept him despite a $7.5 million salary. Bush had his best season in coverage last year, while House was a disappointment. Nixon's speed makes him an intriguing prospect. Rolle was promoted from the practice squad late last season, while Dennard joined the practice squad late last season.
December, 4, 2013
12/04/13
8:00
AM ET
A roundup of what's happening on the Green Bay Packers beat.
GREEN BAY, Wis. -- The Packers still believe they are in the playoff hunt, and while that technically is true, the reality is that with a 5-6-1 record heading into the final month of the season, it is a long shot.
Which means it's not too early to start thinking about the NFL draft.
Thanks to ESPN Stats & Information, we now know where the Packers might end up in
the 2014 draft order
. If the season ended today, the Packers would hold the No. 16 overall pick in the draft.
They have not picked in the first half of the first round since 2009, when they held the ninth overall pick after finishing 6-10 in 2008. They took defensive tackle
B.J. Raji
with that pick, and Raji turned into a better-than-average player.
What kind of player would the Packers be getting at No. 16?
Here's a look at the last five players taken in that spot:
2013
: QB
EJ Manuel
, who won the starting job for the Buffalo Bills as a rookie.
2012
: Defensive end
Quinton Coples
, who had 5.5 sacks for the New York Jets as a rookie.
2011
: Linebacker
Ryan Kerrigan
, who had 7.5 sacks for the
Washington Redskins
as a rookie and has 22.5 sacks in his first three NFL seasons.
2010
: Defensive end
Derrick Morgan
, who tore his ACL four games into his rookie season but has rebounded to be a solid contributor for the
Tennessee Titans
with 14 sacks the past three seasons.
2009
: Linebacker
Larry English
, who has battled injuries during most of his five seasons with the
San Diego Chargers
.
In case you missed it on ESPN.com:
Elsewhere: