Green Bay Packers:

Ben McAdoo
December, 12, 2013
Dec 12
7:45
PM ET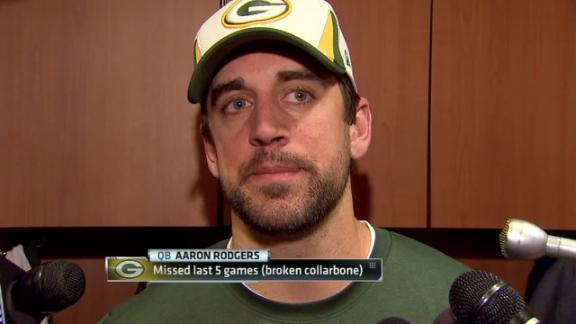 GREEN BAY, Wis. -- In front of a semicircle of camera operators and reporters surrounding his locker on Thursday,
Green Bay Packers
quarterback
Aaron Rodgers
answered five minutes worth of questions about his collarbone injury.
The queries came rapid-fire:
What was your level of pain this week?
Are you holding out hope to play Sunday against the Dallas Cowboys?
When will you have another scan?
How frustrating has this process been?
Are you surprised by the day-to-day coverage of your injury?
On and on it went until every possible way to ask him when he will be back on the field had been exhausted.
But not one of the questioners asked anything about how well Rodgers thinks he will perform whenever he returns -- whether it's this Sunday against the Dallas Cowboys, the next Sunday against the
Pittsburgh Steelers
or in 2014.
[+] Enlarge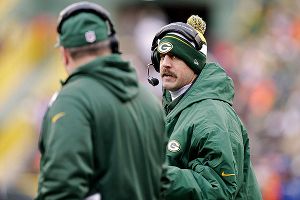 Tom Lynn/Getty ImagesMike McCarthy isn't worried about rust with Aaron Rodgers. "The thing you appreciate is my man can throw the football," McCarthy said. "He throws the heck out of it."
Perhaps that's because everyone just expects Rodgers to return to his pre-injury form. Through seven games, Rodgers had led the Packers to a 5-2 record. He had the NFL's fourth-highest passer rating (108.0), the fourth-best touchdown-to-interception ratio (15-to-4), the fifth-highest completion percentage (67.1 percent) and the most yards per pass attempt (8.8).
Before
Chicago Bears
defensive end
Shea McClellin
sacked Rodgers and put him into the ground left-shoulder first on Nov. 4, Rodgers had been doing the things he had always done.
But is it reasonable to expect that to continue after the longest layoff of his career as a starter, which dates to the beginning of the 2008 season?
Before this injury, Rodgers had missed only two starts -- one in 2010 because of a concussion and one in 2011 when he was rested in a meaningless Week 17 game.
"We've been around long enough that, when he comes back, we expect him to be the way he's been," Packers receiver
Jordy Nelson
said Thursday, standing across the locker room from where the masses were waiting for Rodgers. "I don't think the situation is, 'How is he going to play?' It's, 'What can he take as far as hits?'
"Any player with a broken bone, yeah, you might be able to do some stuff, but until you take that blow, there's only one way to find out. We have to make sure that all the scans are right, and him and the doctors will take care of that."
Packers coach Mike McCarthy put it a little more succinctly after watching Rodgers practice on Thursday.
"He's Aaron Rodgers," McCarthy said. "The thing you appreciate is my man can throw the football. He throws the heck out of it. It's good to have him out there."
Rodgers said Thursday that he would need to
practice more on Friday in order to play
against the Cowboys.
But that's likely for medical purposes and to become familiar with the game plan -- not because Rodgers needs the work.
"You know, in teams reps I haven't seen any rust," Packers quarterbacks coach Ben McAdoo said. "He's been working in the individuals with us for a few weeks now, so I haven't seen any at this point.
"He's been in the offense forever, and the offense is built around him, and we don't anticipate any problems if he were to go."
Perhaps that's why it's not even worth questioning.
December, 8, 2013
Dec 8
8:00
AM ET
GREEN BAY, Wis. -- Emptying out the notebook from the week that was with the
Green Bay Packers
:
Cold-weather impact
: The
Atlanta Falcons
have played nine games indoors this season. Their three outdoor games have been in Miami, Charlotte, N.C. and Tampa, Fla.
Temperatures are expected to be in the teens and snow is in the forecast for Sunday's game against the Packers at Lambeau Field. In theory, that should be an advantage for the Packers, who have spent all week in those conditions, including half of a practice Friday that was spent outdoors in single-digit temperatures.
Pickett
"I told our football team, that's a loser's mentality," Packers coach Mike McCarthy said. "We're not counting on the weather. We're preparing to play the game in the weather we live in. We're really focused on ourselves. I think if you sit here and try to play that mind game with your opponent, it's a waste of time."
Said Packers defensive tackle
Ryan Pickett
: "I don't know about the weather favoring us. I don't buy into the weather and this and that. Everybody from [the] Atlanta [Falcons] is not from Atlanta. There's a lot of them up north who have dealt with the cold before. I don't think that's going to play any part in it."
Armed and dangerous
: Whenever quarterback
Aaron Rodgers
returns from his broken collarbone, the Packers won't have any concerns about his arm strength.
During the portion of practices that were open to reporters this week, Rodgers appeared to have no trouble putting zip on the ball on short and intermediate passes. He didn't throw any deep balls when the media was around.
Those who watched the full practices this past week said Rodgers' velocity returned quickly.
"He can throw it still," quarterbacks coach Ben McAdoo said. "He can still throw the ball. He looked good."
And then there were two:
When McCarthy became the Packers coach in 2006, he was one of 10 hired that offseason. After the
Houston Texans
fired Gary Kubiak on Friday, only McCarthy and
New Orleans Saints
coach Sean Payton remained for that group of hires.
Together, McCarthy and Payton have a record of 160-87-1 including the postseason, and each won a Super Bowl.
The other eight -– Kubiak, Dick Jauron (Buffalo), Herm Edwards (Kansas City), Eric Mangini (
New York Jets
), Art Shell (Oakland), Rod Marinelli (Detroit), Brad Childress (Minnesota) and Scott Linehan (St. Louis) -- have all been fired.
Hall worthy?
: Packers outside linebackers coach
Kevin Greene
was recently named a semifinalist for the Pro Football Hall of Fame for the eighth time.
Perhaps the reason the all-time sacks leader among linebackers, who ranks third on the all-time sacks list with 160, hasn't made it in is that some voters view him as a one-dimensional player.
"I can tell you first of all that I truly have a peace about what I was able to accomplish," Greene said. "I know, really, inside, how I played and the time that I put in, the film that I studied. The countless hours on the field, in the workout room -- all those things. I've got a peace about that. It's not something I regret. Should I have done more? Could I have done more? No. I did everything I possibly could to try to be the best at the position in all three phases of the game. Not just one phase.
"You know this position, there's three phases. To be successful at this position, you've got to be able to do all three. You can't just do one and really suck at playing the run and suck at covering people. It just doesn't jive at this position. If you have success at one of the areas of this position, chances are you're doing a pretty good job in the other two as well. So it is what it is."
Ring ceremony
: Former Packers linebacker Dave Robinson, who was inducted into the Pro Football Hall of Fame in August, will receive his Hall of Fame ring in a ceremony at halftime of the game against the Falcons.
A picture of his ring can be seen on the
Pro Football Hall of Fame's website
.
December, 6, 2013
Dec 6
1:20
PM ET
GREEN BAY, Wis. -- The official designation on
Green Bay Packers
quarterback
Aaron Rodgers
will come later on Friday, but nothing appeared to change about his status for Sunday's game against the
Atlanta Falcons
based on the final practice of the week.
Rodgers
Rodgers spent most of the portion that was open to reporters standing next to quarterbacks coach Ben McAdoo and later head coach Mike McCarthy while
Matt Flynn
took snaps with the starters like he's done all week.
Although Rodgers had a helmet on and threw some passes off to the side and during individual drills, indications were that he has not been cleared to return to game action. It's unknown whether he had any additional tests done on his broken collarbone, which has kept him out since Nov. 4.
Only two players were absent from practice -- center
Evan Dietrich-Smith
(ankle, knee) and defensive end
C.J. Wilson
(ankle).
Left tackle
David Bakhtiari
(illness), linebacker
Mike Neal
(abdomen) and defensive tackle
Ryan Pickett
(knee) all returned to practice.
With temperatures in the single digits, the team practiced inside the Don Hutson Center.
November, 21, 2013
Nov 21
7:10
PM ET
GREEN BAY, Wis. – Defensive coordinators have long been reluctant to blitz
Green Bay Packers
quarterback
Aaron Rodgers
. In his MVP season of 2011, Rodgers' passer rating against the blitz was 131.4. According to Stats LLC, that was the second-highest mark in NFL against pressure since 1993.
They have not taken the same approach against Rodgers' current replacement,
Scott Tolzien
.
Tolzien, who has played nearly two full games and will make his second straight start on Sunday against the
Minnesota Vikings
, has struggled against pressure, which has come far more often than it did against Rodgers. According to ESPN Stats & Information, four of Tolzien's five interceptions over the last two games came against blitzes, which are defined as pass rushes of five or more defenders.
The old defensive coordinator's adage that the more you pressure a quarterback, the more prone he will be to mistakes, has held true against Tolzien.
"I think it's just something that's in the back of your mind," Tolzien said. "But you've still got to play ball. It's a reactionary sport. They all are. You just keep it there and you just try to make good decisions ultimately. I think the more you prep the better you feel about the decisions."
The
Philadelphia Eagles
and
New York Giants
combined to blitz Tolzien on 31.25 percent of his dropbacks, according to ESPN Stats & Information, and he has a passer rating of just 52.9 and a QBR of 1.8 (on a scale to 100) in those situations. Tolzien has faced five rushers on 20 percent of his dropbacks, six rushers on 10 percent and seven on 1.3 percent.
The good news is Tolzien has gotten the ball out quickly against pressure. He has been sacked only once in the last two games.
"I mean, he's handling it pretty good," Packers coach Mike McCarthy said. "That's all we ever work on. I mean we've put a lot of time on it. I go back to April. This is something really that we've taken to a different level, and it started with Aaron. Just as far as our versatility in dealing with pressure, it's something that we invest in. So with that, I expect us to be good in that area. So that's why it's frustrating when your sack numbers do go up."
Before he left the Nov. 4 game against the
Chicago Bears
with a broken collarbone, Rodgers had faced blitzes on 25.6 percent of his dropbacks this season. Against that pressure, he threw five touchdowns and only one interception and had a 104.5 passer rating and a QBR of 53.9. Rodgers saw five rushers on 20.4 percent of his dropbacks, six on 4.9 percent and seven on just one snap this season.
The key to beating the blitz, as Rodgers has shown time and again, is locating the hot receiver and getting the ball out fast.
"In any system, in any of the protections, you want to know what makes you hot," Packers quarterbacks coach Ben McAdoo said. "It's no different here than anywhere else. You want to know what makes you hot. You want to know where your eyes need to be and what it takes to make you hot and get the ball out."
November, 3, 2013
Nov 3
8:00
AM ET
GREEN BAY, Wis. – Cut off the dreadlocks and put a No. 55 jersey on his back, and
Jamari Lattimore
might look a lot like a former
Green Bay Packers
linebacker.
The way the third-year pro has played the past three games, he's playing the way
Desmond Bishop
did in that spot in 2010 and 2011 before injuries set him back.
"He was always so active; he had an attitude playing," Lattimore said of Bishop, who was released by the Packers and signed with the
Minnesota Vikings
in the offseason before a knee injury ended his season. "He's got all the skills. He'll hit you, and he can cover. What more can you want out of a guy?"
[+] Enlarge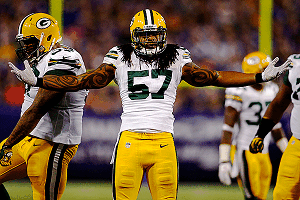 Bruce Kluckhohn/USA TODAY SportsGreen Bay LB Jamari Lattimore has made an impression with his production -- not just his hair -- as a starter.
The same could be said of Lattimore in his first three NFL starts. Since taking over for the injured
Brad Jones
(hamstring) on Oct. 13 against the
Baltimore Ravens
, Lattimore has combined for 24 tackles (based on the Packers coaches' film review) and two sacks.
"I spent a lot of time watching Desmond; He always used to tell me that I remind him of him," Lattimore said. "We talk a lot; we just recently spoke a couple of days ago, and he was very positive about the way [Lattimore has] played."
At 6-foot-2 and 237 pounds, Lattimore is the same height and just one pound lighter than Bishop.
With Jones set to return for Monday night's game against the
Chicago Bears
, defensive coordinator Dom Capers will have to decide whether to use both players plus veteran
A.J. Hawk
in some kind of rotation. Before his injury, Jones was the every-down inside linebacker who called the defensive signals. Hawk took over in that role, and Lattimore has played along side of Hawk in the base and nickel – but not the dime – packages.
"I think we'll take the approach that Brad is healthy now, and we'll insert Brad in and if there's going to be a change from there, then those decisions will be collectively discussed with Coach Dom and Coach McCarthy and so forth and we'll make decisions then," inside linebackers coach Winston Moss said. "But right now, Brad seems to be practicing well, looks healthy and we'll go from there."
Said Capers: "You'll see Jamari at times because he's certainly played well enough to warrant getting some time."
Emptying out the notebook from the week:
More Micah
: Rookie cornerback
Micah Hyde
said he took the same amount of practice reps on kickoff returns as he has each week this season, and therefore wasn't sure whether he would handle the duties full time on Monday night against the Bears.
Hyde, who took over as the full-time punt returner on Oct. 20 against the
Cleveland Browns
and had a 93-yard punt return for a touchdown a week later against the Vikings, looks like a good bet to replace the ineffective
Johnathan Franklin
on kickoff returns. Hyde lined up for kickoff returns in the second half against the Vikings but did not get any chances.
"I have no idea coming into Monday night," said Hyde, who leads the NFL with an 18.6-yard punt return average. "If I'm back there, I'd love the opportunity, but if not, I'm sure my teammates will be prepared."
Hyde returned punts – but not kickoffs – in college at the University of Iowa.
The Packers rank last in the NFL in kickoff return average at just 15.3 yards per return.
Sherrod decision coming
: The Packers will have to decide this week whether to add tackle
Derek Sherrod
to the active roster for the first time in nearly two years. Sherrod's three-week practice window on the physically unable to perform list expires on Tuesday.
Sherrod, a first-round pick in 2011, has not played since he broke both bones in his lower right leg on Dec. 18, 2011.
"He's progressing nicely," offensive line coach
James Campen
said. "I'm excited to see what's going to happen there."
Sherrod also started last season on PUP, practiced for two weeks and then was placed on injured reserve.
Three other PUP players – safety
Sean Richardson
(neck), offensive lineman
JC Tretter
(ankle) defensive end
Jerel Worthy
(knee) – have not returned to practice. They have until the week of Nov. 11 to begin practicing or they cannot return this season.
Developmental quarterback
: If you get to the stadium early enough on game days, you can watch practice squad quarterback
Scott Tolzien
go through a workout on the field.
Typically, it's just Tolzien, quarterbacks coach Ben McAdoo and anyone they can find to run routes and catch passes – which sometimes is backup quarterback
Seneca Wallace
, who has moonlighted as a receiver during his career.
For Tolzien, the former University of Wisconsin quarterback who was signed to the practice squad at the start of the regular season, it's a rare chance for one-on-one instruction.
"You think about it, typically the last practice is Friday," Tolzien said. "For those who aren't playing in the game, the next [practice] is Wednesday, so I think it's huge to get an extra day in there. And why not? Everyone else is playing the game, so why can't I treat it as my own little game?
"Bottom line is it's an opportunity to get better. So maybe you get 50 extra throws. Well, that's 50 extra throws, and you're not going to be throwing until Wednesday, so it's a great opportunity to improve and get one-on-one time with your coach, too."
The Packers believe the 6-foot-2, 213-pound Tolzien has potential, which was why last week they gave him a raise from the usual practice-squad pay check of $6,000 per week to a salary practically equivalent to a second-year roster player, at $544,999, after the Cleveland Browns offered him
a spot on their roster two weeks earlier
.
McAdoo said last week that he wouldn't comment on Tolzien's development, but earlier this season he said: "That's why he's here. He's a heck of a football player. He's a talented young man. He's smart. He's a quick study, and we're fortunate to have him."
October, 13, 2013
Oct 13
5:35
PM ET
BALTIMORE -- Observed in the locker room after the
Green Bay Packers
' 19-17
win
over the
Baltimore Ravens
:
Nelson
Last man standing:
Jordy Nelson
was the only one of the Packers' top three receivers left in the game after
Randall Cobb
and
James Jones
both were
knocked by injuries in the first half
, and he was the last player to leave the locker room after the game. "Unfortunately we lost some guys," said Nelson, who caught four passes for 113 yards and a touchdown. "Hopefully it's not as bad as what some of it looked, and they'll be back quick."
Running back fuel:
Running back
Eddie Lacy
, whose 120 yards on 23 carries gave him his first 100-yard rushing game in the NFL, had three empty bottles of Gatorade and one empty bottle of water in his locker. Without Cobb and Jones, Lacy knew he would get a lot of carries. "I had to stay hydrated," Lacy said.
Happy quarterback
: Quarterback
Aaron Rodgers
was the last Packers player to enter the locker room after the game, but before he did, he stopped outside the door where his position coach, Ben McAdoo, was waiting to give him a hug.
Team victory:
Tight end
Ryan Taylor
was seated in front of his locker when reporters entered. To no one in particular, Taylor said: "That's a team win right there."
October, 7, 2013
Oct 7
7:50
PM ET
GREEN BAY, Wis. -- The
Green Bay Packers
did not hesitate to try multiple backup quarterbacks this preseason.
They went from
Graham Harrell
to
Vince Young
to
B.J. Coleman
before finally settling on 33-year-old
Seneca Wallace
, who was signed on Sept. 2.
Wallace
Flynn
But they don't appear interested in shaking things up behind
Aaron Rodgers
again -- not even to re-sign their former backup
Matt Flynn
,
who was released
by the
Oakland Raiders
on Monday.
"Personally, I'm very happy with the quarterback room, the way it looks, the people in it," Packers coach Mike McCarthy said Monday. "Obviously Matt was a Packer, very fond of Matt and his time here. As far as any roster moves and things like that, I really don't have any comment on, but I do like Seneca Wallace. I like what he's done since he's been here. I feel very good about our quarterback room."
Just last week, Packers quarterbacks coach Ben McAdoo said Wallace's 10 years in the NFL and his experience in a similar offense during his time with the
Seattle Seahawks
have made him a good fit.
"He's been around the block," McAdoo said. "This isn't his first rodeo. He's an experienced guy; he's a smart guy. He knows his role, and he's a good team player."
Flynn cashed in on the strength of two performances -- his 2010 start against the
New England Patriots
when Aaron Rodgers was ruled out because of a concussion and the 2011 record-setting performance in the regular-season finale against the
Detroit Lions
with Rodgers resting for the playoffs. In the latter, Flynn threw for a team-record 480 yards and six touchdowns.
The following offseason, he signed a three-year, $26 million free-agent contract with the Seattle Seahawks but couldn't beat out then-rookie
Russell Wilson
for the starting job. The Seahawks then traded him to the Raiders this past April, but once again Flynn couldn't win the job. He started one game this season, the Week 4 loss at Washington, and was demoted to third string shortly thereafter before he was released.
"I definitely am surprised because when his opportunity came I obviously gave him a very high recommendation," McCarthy said. "Injuries and all the different types of things, quarterback competition in both places, a lot of factors go into it. I haven't watched the film of Matt, so I really can't even give you an educated or informed opinion on how exactly he did play, but on a personal level I'm very fond of Matt Flynn. He was excellent in his time here, and I wish him the best of luck."
August, 31, 2013
Aug 31
1:05
PM ET
GREEN BAY, Wis. -- It's easy to say
Vince Young
didn't have enough time to learn the
Green Bay Packers
' offense.
And it would be true.
After all, any quarterback signed to a new team with an unfamiliar system would struggle to pick things up in less than a month. So when Young signed with the Packers on Aug. 5, he was a long shot from the start, making
his release Saturday
far from a complete shock.
Young
But after watching Young practice for four weeks and play in all four preseason games, there's reason to wonder whether an entire offseason with coach Mike McCarthy, offensive coordinator Tom Clements and quarterbacks coach Ben McAdoo would have turned Young into a capable backup for
Aaron Rodgers
.
Young's throwing motion and footwork didn't match with what McCarthy teaches in his offseason quarterback training sessions. Although he praised Young for trying to incorporate some of the team's fundamentals, the coaches might have had a hard time breaking a 30-year-old quarterback of his old habits.
Two issues Young has had in his career -- accuracy and ball security -- were problematic in his stint with the Packers might may not have changed no matter how much time he had been in their system. A career 57.9 percent passer, Young completed just 26 of 49 passes (53.1 percent) this preseason. Although he didn't throw an interception, he fumbled twice (losing one). In 60 career regular-season games (including 50 starts) with the
Tennessee Titans
and
Philadelphia Eagles
, Young fumbled 40 times.
To be sure, most of his playing time this preseason came with second- and third-string players, many of whom also will be released this weekend, but he also played against many players of the same caliber and couldn't take advantage.
The Packers now have to figure out where they will turn for a backup to Rodgers. The only other quarterback they have on their roster is
B.J. Coleman
, who spent all of last season on the practice squad but never made a strong bid for the No. 2 job this preseason.
Almost any quarterback they bring in at this point -- whether through a trade, a waiver claim or a free-agent signing -- would be in the same position as Young in terms of learning a new offense.
August, 26, 2013
Aug 26
6:50
PM ET
GREEN BAY, Wis. -- Even if
Green Bay Packers
quarterback
Aaron Rodgers
does play in Thursday's preseason finale at Kansas City -- something that appears unlikely -- this will be his lightest exhibition workload since he became a starter in 2008.
Through three preseason games, Rodgers has played in only five series for a total of 45 snaps. For comparative purposes, Rodgers averaged 13.6 series and 80.4 snaps of preseason action per summer from 2008 to 2012.
It was evident early in training camp that Packers coach Mike McCarthy had a different plan for his 29-year-old starting quarterback by limiting his practice reps. But not until Rodgers played only one series in the third preseason game was it clear just
how significantly the approach had changed
. Typically, the third preseason game is when the starters play the most. A year ago, Rodgers played six series and 41 snaps in that game at Cincinnati.
ESPN.com's Mike Sando
compiled preseason snap counts
for all 32 presumptive starting quarterbacks, and Rodgers' 45 snaps rank him 30
th
on that list. Only San Francisco's
Colin Kaepernick
(33 snaps) and Washington's
Robert Griffin
III (who hasn't played a snap while recovering from reconstructive knee surgery) have played less.
It's understandable that established quarterbacks like Rodgers, who this offseason signed a five-year, $110 million contract extension, might not need the same number of snaps as a developmental starter such as Miami's
Ryan Tannehill
(who leads all starters with 103 snaps this season) or Tennessee's
Jake Locker
(second with 97 snaps). But that hasn't stopped
Baltimore Ravens
coach John Harbaugh from playing
Joe Flacco
95 snaps (third most) or
Denver Broncos
coach John Fox from playing
Peyton Manning
94 snaps (fourth most). Even
New England Patriots
coach Bill Belichick has played starter
Tom Brady
(86 snaps, sixth most) a considerable amount.
"We have a plan to make sure he's ready," Packers quarterbacks coach Ben McAdoo said of Rodgers. "We're going to keep him sharp on fundamentals. We have a plan in place."
Perhaps that's why Rodgers on Monday took nothing but scout-team reps in practice. While that's an indication he won't play against the Chiefs, it was a way for Rodgers to get some work. In fact, Rodgers' scout-team work came with many of the starters, including receivers
Jordy Nelson
and
Randall Cobb
, neither of whom has played in the preseason because of injuries.
There were 44 snaps in three team periods combined on Monday, and Rodgers took 11 of them -- all with the scout team. On one play, Rodgers uncorked a deep pass to Nelson that went for an 85-yard touchdown.
"It's important for us to find some time to get some reps in," Rodgers said. "We've been throwing on the side a little bit with Jordy, and hit Jordy on a nice long one in the scout team work as well. That's going to be our opportunities before the season starts. We're going to have to find that connection here in the next couple of weeks."
There's been no reason to be concerned about Rodgers' play this preseason. He has completed 17 of 24 passes (70.8 percent) for 237 yards and hasn't turned it over. However, he hasn't led a touchdown drive, and the starting offense has accounted for just nine points. It's just that the sample size has been small.
Rodgers said he's more concerned about his conditioning than being sharp. He said he has "been doing stuff on the side" to make sure he's ready for the Sept. 8 opener at San Francisco.
"I'd say Aaron's in his game-ready shape," McCarthy said. "He's been very sharp. I feel very confident that Aaron's ready to go."