Green Bay Packers:

Bill Belichick
August, 13, 2014
Aug 13
7:15
PM ET
GREEN BAY, Wis. --
Aaron Rodgers
did not mention anyone by name, but it's entirely possible that he was referring to the
Green Bay Packers
' 2011 and 2012 draft classes when he made a rather cryptic comment on Wednesday.
The Packers quarterback was asked about this year's rookie class.
And his answer was both a compliment to this group and a shot at ones that came before it.
"I think you're seeing it with this draft class, the maturity about them, the lack of the entitlement that maybe we've seen in some other draft classes," Rodgers said. "They've come in and worked really hard. It's going to be a tough cut down."
Only hours after Rodgers' comments, another disappointing member of the 2012 draft class
saw his Packers' career end
. Second-round pick
Jerel Worthy
, the 51
st
overall selection that year, was traded to the
New England Patriots
for a conditional draft pick. The Packers will only get something in return, believed to be a seventh-round pick, if Worthy makes Bill Belichick's opening-day roster.
He's the
fifth player out of the eight
selected by Packers general manager Ted Thompson in 2012 that did not pan out in Green Bay. A year earlier, Thompson picked 10 players, and only only one -- receiver
Randall Cobb
(second round) -- is a starter. Just four of the 10 are still on the roster.
Of the 18 players Thompson selected in those two drafts, only seven still remain on his roster. The 38.9 percent retention rate is the lowest in the NFL from the those two drafts (see accompanying chart below).
However, Thompson did well with undrafted rookies in both years. The Packers still have offensive lineman
Don Barclay
(although he is injured), receiver
Jarrett Boykin
, safety
Sean Richardson
and tight end
Brandon Bostick
from the 2012 rookie free agent class and linebacker
Jamari Lattimore
from the 2011 group.
Also, it's worth noting that the previous two seasons, Thompson drafted 15 players and nine are still on his roster.
"You stumble and fall from time to time," Thompson said. "You do what you think is the right thing for the team and sometimes it doesn't work out."
In the 2012 class, Thompson went heavy on defense, using six of the eight selections to try to bolster that side of the ball. But not all of them were natural fits for Dom Capers' 3-4 scheme. First-round pick
Nick Perry
played defensive end at USC but was converted to an outside linebacker in Green Bay, while Worthy was viewed as a 4-3 defensive end prospect coming out of Michigan State.
"In terms of the scheme and things, sure, that's an ongoing thing unless you're able to see somebody play in a particular position," Thompson said. "Oftentimes they play in a different position in college. We have a number of players on our team that fit that mode that have done fine."
Thompson, a former player himself, is loath to criticize players. Instead, he takes the blame, even though he said, "I think you get far too much credit and far too much blame for the first-round things."
Of the three remaining 2012 draft picks -- Perry (first round), cornerback
Casey Hayward
(second round) and defensive end
Mike Daniels
(fourth round) -- only Daniels is slated to be a starter this season. There are high hopes that Hayward can return to the form he displayed as a rookie, when he intercepted six passes, before he was limited to only three games last season because of a recurring hamstring injury.
As for Perry, the 28
th
overall pick that season, the Packers grew tired of waiting for him to get healthy and handed his starting spot to free-agent acquisition Julius Peppers.
Which takes us back to Rodgers. Thompson did not dispute the fact that some rookies enter the NFL with the sense of entitlement that Rodgers mentioned.
"But normally that goes away when you get around the veterans for any length of time," Thompson said.
March, 26, 2014
Mar 26
2:15
PM ET
Each offseason presents different challenges. That's part of what helps keep things fresh for Mike McCarthy, one of the longest-tenured coaches in the NFL.
[+] Enlarge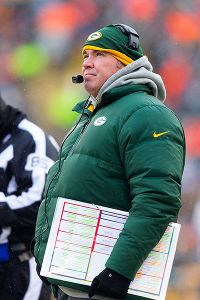 Jeff Hanisch/USA TODAY SportsPackers coach Mike McCarthy is determined to keep his message fresh.
McCarthy has been at the helm of the
Green Bay Packers
since 2006. Only New England's Bill Belichick (2000), Cincinnati's Marvin Lewis (2003) and the
New York Giants
' Tom Coughlin (2004) have coached their current teams longer.
"I feel like I'm at halftime, frankly," McCarthy told reporters Wednesday at the NFL annual meetings. "Hopefully."
With a Super Bowl title and an 88-50-1 record (including postseason), there's little reason to think otherwise of the 50-year-old McCarthy, who signed a five-year contract after the Packers' championship season of 2010.
However, he's cognizant of the fact that things can get stale under the same leadership.
"Yeah, I think you have to be concerned about that even if you're in your first, second or third year too," McCarthy said. "I know I was. You're always trying to keep your messaging not only fresh and creative but real to where you think your team is and how you get your team to move to where you want them to get to. I think that's a big part of coaching. It's a huge part of being a head coach."
This offseason, McCarthy became more involved in the defense after veteran coordinator Dom Capers' unit was hit with injuries and slipped to 25th in the NFL last season. He called his postseason conversation with Capers "harder than other years, a lot of hard topics that we had to talk about" although he did not elaborate on what that meant.
While McCarthy said he's careful not to spread himself too thin, he has no plans to give up calling the offensive plays -- something he has done since his first season in Green Bay.
"If I felt we would be better served to have someone else call the plays, frankly, I'd give that up," McCarthy said. "But I just don't think we're there right now."
February, 6, 2014
Feb 6
12:35
PM ET
Football season is over, but you can still see some NFL stars -- including
Green Bay Packers
quarterback
Aaron Rodgers
-- in competition this week.
Rodgers is in the field at the PGA Tour's AT&T Pebble Beach National Pro-Am. He's the amateur partner of PGA Tour professional Jerry Kelly, a native of Madison, Wis. Rodgers and Kelly tee off Thursday at 12:39 p.m. ET (9:39 a.m. local time).
The pairings list Rodgers as a 7-handicap. His official USGA handicap index is 5.4 via the Wisconsin State Golf Association. His home course is Green Bay Country Club.
Of the NFL quarterbacks in the field, Rodgers is tied for the lowest handicap with
Peyton Manning
.
Tom Brady
is listed as an 8, while
Alex Smith
is a 9.
Brady's coach, Bill Belichick (a 14 handicap), also is in the field and is in the same group with Brady.
Another group to watch includes a pair of ESPN NFL personalities Chris Berman and Herm Edwards, both 18 handicaps.
TV coverage of the event is on Golf Channel and CBS. The NFL stars are sure to get some air time.