Green Bay Packers:

Bob Harlan
August, 4, 2014
Aug 4
6:45
PM ET
GREEN BAY, Wis. -- There were so many elements to Monday's announcement that Brett Favre will be inducted into the
Green Bay Packers
Hall of Fame and have his No. 4 jersey retired next summer.
Let's take a look at some of the details that did not make it into
the news story
:
[+] Enlarge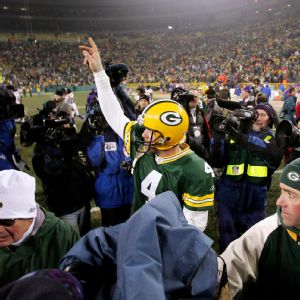 Matt Cashore/USA TODAY SportsBrett Favre says he is not concerned with how the fans will react when he is inducted into the Packers Hall of Fame
Favre and the fans
: Once and for all, Favre sounded hopeful that he could convince everyone that he is not concerned about the reaction from Packers' fans when he returns to Lambeau Field. The last time he stepped foot in the stadium, it was in 2010 as a member of the
Minnesota Vikings
, and he was not well-received.
"Not everyone's going to like you, not everyone's going to be pleased, and that was the case some years back," Favre said. "Will 100 percent of the people be for you? That's never the case. But I know Packers fans as well as anyone, and there's no one like them. That's what makes them such a special organization, city and fan base worldwide.
"I'm not concerned about it one bit because I know the true Packers fans and what their hearts are about, and that's what I am is a Packer and will always be remembered as that, and that's the way I want to be remembered. I'm not concerned about it one bit. In fact, I look forward to it."
Harlan's role
: Bob Harlan probably thought his final imprint on the Packers' organization would be the hiring of Ted Thompson as general manager in 2005 and his subsequent contract extension before Harlan retired as team president following the 2007 season.
But perhaps Harlan will now be remembered as the man who repaired the relationship between Favre and the Packers. Favre credited Harlan for being the liaison between him and the organization in recent times, and Harlan revealed after the announcement that this has been in the works since last November.
"Brett's just always been important to me," Harlan said. "I can remember sitting down with Brett before I hired Ted Thompson and told him I was going to do it and I said, 'I want you to know ahead of time because I know you're giving some thoughts to retirement, and I want you to know how we're going to restructure the football operation by bringing Ted Thompson in.'
"And he said, 'I like Ted; that's good.' We talked just before we went home that year. So I feel very close to Brett, and I have a lot of respect for him and just very thankful for what Ron Wolf and Mike Holmgren and Brett Favre did, and I'd put Reggie White in there too, did for this organization. If you talk to our fans back in the 80s, it was bad. Those guys, they truly did resurrect [the organization]. They lifted it right out of the ashes."
Texting Ted
: The relationship between Favre and Thompson was thought to be a stormy one by the end.
After all, it was ultimately Thompson's call to trade Favre to the
New York Jets
in 2008.
But it might not have been as frosty as some thought.
Favre said Monday that although he has not spoken with Thompson recently, the two have maintained some semi-regular contact.
"Ted, over the last couple of years has sent some messages periodically, very good messages, even back when I was playing elsewhere," Favre said. "Just complimentary, which I returned as well."
Mooch's take
: Steve Mariucci was more than just a media member in attendance on Monday.
The NFL Network analyst, who was in town to cover training camp, was Favre's first quarterbacks coach with the Green Bay Packers. He tutored Favre during his formative years, beginning in 1992, through his first MVP season of 1995.
What's more, Mariucci grew up as a Packers fan in the nearby Upper Peninsula of Michigan, so he knows how important the relationship between Favre, the fans and the organization is. To that end, he hopes Monday's announcement isn't just the end of whatever bad feelings existed between the two parties but the beginning of a long association.
"Let's not stop there," Mariucci said. "I hope he comes back every year -- golfs here, hunts here, or whatever that is -- and he feels welcome to walk in the locker room or the coaches offices or downtown and shop a little bit so he feels, 'I helped build this stadium,' and feels at home here."
July, 30, 2014
Jul 30
4:05
PM ET
GREEN BAY, Wis. – There are certain relationships within an NFL team that cannot be compromised.
At the top of that list are these two: general manager-coach and coach-quarterback.
The
Green Bay Packers
have quarterback
Aaron Rodgers
signed through 2019. On Wednesday they locked up general manager Ted Thompson with a
multi-year contract extension
.
[+] Enlarge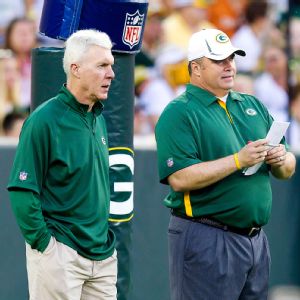 Jeff Hanisch/USA TODAY SportsPackers GM Ted Thompson (left) and head coach Mike McCarthy have an 88-50-1 overall record, including playoffs, since McCarthy's hiring in 2006.
Next up should be the man connected to both of them: coach Mike McCarthy, whose current contract runs through the 2015 season. That was not lost on Thompson, who called it "a big priority" to get McCarthy's deal extended.
"It's been the plan the whole time," Thompson said Wednesday shortly after his extension was announced. "The way the organization is set up – obviously, I'm not giving any trade secrets away – it's the way it's always been done here: The general manager kind of gets put away and then you do the head coach."
All indications are the working environment on the football side of the offices at Lambeau Field is as harmonious as ever. Whatever competitive clashes they might have had in the past, the relationship between McCarthy and Rodgers appears strong. As for the GM and the coach, Thompson says it like this: "We anticipate each other's thoughts often, which might drive both of us crazy sometimes, but I think it's working well and has worked well. Obviously, we see things pretty close."
Anyone who doesn't believe the coach and GM must be of like mind was not around Lambeau Field in 2005, when Thompson and then-coach Mike Sherman barely spoke. Thompson, who was brought in after then-Packers president Bob Harlan stripped Sherman of the GM job, tried in vain to work closely the head coach he inherited. In fact, Sherman could have survived the 4-12 season had he been more receptive to Thompson's arrival rather than shutting him out, according to several members of the organization at the time.
Thompson made it clear when he completed an exhaustive coaching search to hire McCarthy in 2006 that he never intends to go through that again.
At the Packers' annual shareholders meeting in 2013, Thompson told the assembled crowd: "I thank God every day that he's the Green Bay Packers' head coach."
Together, McCarthy and Thompson have an 88-50-1 overall record, including playoffs.
"I think when two people work together for as long as Mike and I have, I think you develop certain understandings of each other," Thompson said Wednesday. "There are certain things you can communicate that are unsaid as opposed to originally when you probably need to spell everything out."
July, 24, 2014
Jul 24
4:15
PM ET
GREEN BAY, Wis. -- If Brett Favre is worried about getting booed when he returns to Lambeau Field -- which
he claimed this week
he is not -- Green Bay Packers president Mark Murphy perhaps sent a message to fans on Thursday when he essentially asked them to treat the legendary quarterback with respect whenever he returns.
That return still could happen this season.

Favre
"I'm very hopeful that when he does come back that he will be fully, fully supported by our fans," Murphy said Thursday following the team's annual shareholders meeting. "I'm confident in that. In terms of when he would come back, we've had ongoing discussions with him, very good relations. We are talking about bringing him back for a game this year. We had discussions last year about bringing him back for a game; those were not fruitful, but we're hopeful we can get him back for a game this year."
If Favre does come back this season, it would not be to have his jersey No. 4 retired. Although Murphy said he hopes to have that done before Favre is eligible for the Pro Football Hall of Fame in 2016, a return this season would only be to attend a game.
Murphy, who said previously this offseason that both Favre and the team
were concerned about how he would be received
upon his return, said he read Favre's most recent comments during his appearance Monday on ESPN 1000 in Chicago.
"I guess I'd say kind of stepping back from it, and you were all here, that was a very emotional time for the Packers," Murphy said, referring to the summer of 2008 when Favre unretired and was traded to the New York Jets.
"I think as time goes on, the emotions are passing and cooling down, I really hope, and I think we have the best fans. There's not anything close in terms of other fans across the league. I think they're going to look back and they're going to see the entirety of what he did, not just the last few years when he played for the Vikings. First of all, I don't know if there's, arguably the best or one of the best players in the history of the Packers. Probably had as big of an impact on the organization as anybody in the history of the organization."
Murphy also said he would like to see Favre go into the Packers Hall of Fame before he's inducted to the Pro Football Hall of Fame, for which Favre is eligible in 2016. Former Packers president Bob Harlan, who is on the board of the Packers Hall of Fame, has been working closely with Favre on his induction.
"Bob and I have worked together on it," Murphy said, "particularly as it relates to his induction into the Packers Hall of Fame."
May, 30, 2014
May 30
10:00
AM ET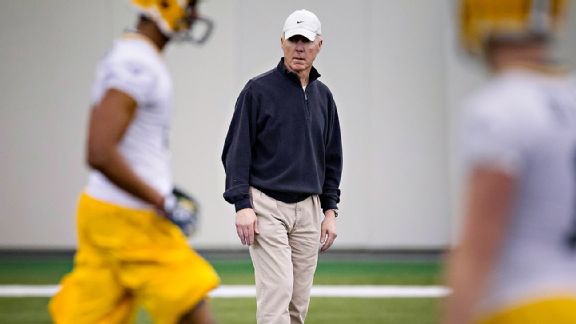 AP Photo/Mike RoemerUnder the direction of general manager Ted Thompson, the Green Bay Packers have maintained stability in the front office.
GREEN BAY, Wis. -- A month ago, Ted Thompson looked –- and sounded –- worn out.
In his annual pre-draft session with reporters, his speech was slower and more deliberate than usual, prompting whispers about his health and questions about how much longer he might continue as the
Green Bay Packers
' general manager.
Even Bob Harlan, the former Packers president and the man who hired Thompson in 2005, noticed a difference.
"I did see him on TV a couple of times where he seemed down, and I don't know if it was just exhaustion from the preparation for [the draft] and all the travel that he goes through because he just grinds all the time," Harlan said. "He's either in that room looking at video, or he's on the road."
At age 61, could Thompson have been showing signs that he was nearing the end of a successful run as general manager that has included one Super Bowl title?
Those close to him did not think so at the time, even when Thompson was forced to miss the NFL annual meetings in March because of an undisclosed personal matter. And they do not think so now, especially after he appeared energized following the draft.
So when Thompson joked a week after the draft
that he's "just getting started
," the Packers should hope there is more than just a shred of truth to his typically dry humor.
In many ways, Thompson is the key to keeping the Packers' successful leadership team intact.
Consider what happened when Thompson's mentor, Ron Wolf, retired in 2001: The Packers had a coach in Mike Sherman they wanted to keep. Harlan feared that if he went outside for a general manager, he might lose Sherman, so he added the GM role to Sherman's responsibilities. Four years later, it had become apparent it was too much for him, prompting Harlan to bring back Thompson, who had followed Mike Holmgren to Seattle and was the Seahawks' director of player personnel. Thompson and Sherman worked together for one season before Thompson fired him and hired coach Mike McCarthy.
All the while, some of quarterback Brett Favre's prime years passed without even reaching another NFC Championship Game during Sherman's tenure (2000-05).
It's not unreasonable to think the same problems could befall McCarthy and quarterback
Aaron Rodgers
if Thompson were to walk away anytime soon.
"That poses a problem; there's no doubt about it," Harlan said. "I guess because I saw it happen twice –- when Ron came in and Lindy [Infante] was here [as the coach] and with Ted, who tried very hard to make it work with Mike Sherman –- I know it can go downhill in a hurry. It is very difficult if the general manager cannot select his own coach."
No doubt, that's why current Packers president Mark Murphy indicated earlier this month that before any contract extension will be done for McCarthy, Thompson's situation will be taken care of first.
Like McCarthy, Thompson has two more years left on a contract he signed after the Packers won Super Bowl XLV. Thompson would not say how much longer he intends to work but added that he "wouldn't anticipate doing anything different."
When Harlan hired Thompson, he received no assurances of how long Thompson would stay on in the role, but Harlan considered Thompson -- who has never been married and does not have children – to be all football, all the time.
"I had watched him for all of those years when he was working for Ron in Green Bay, and his life was just football then as I'm sure it was in Seattle, too," Harlan said. "Ron was 53 when I hired him [in 1991], and I was shocked when he wanted to leave so early, but I understood. Frankly, what I was trying to do was make the move on Ted before it was time for me to go so that I could be sure football was good hands."
And Harlan's last major act as president did just that. Of the 53 players on the Packers' roster for Super Bowl XLV, 49 of them were acquired by Thompson, whose draft-and-develop philosophy has kept the Packers competitive on an annual basis.
If Murphy has a succession plan in mind for the GM job, he has not shared it. Perhaps he could try to lure former Packers scouts-turned-general managers John Schneider or John Dorsey back to town, but it might be tough to get Schneider out of Seattle or Dorsey out of Kansas City, where both have strong support from their owners.
It's possible he could maintain continuity by promoting vice president of player finance Russ Ball or one of Thompson's chief scouts –- Brian Gutekunst, Alonzo Highsmith or Eliot Wolf.
Some believe Murphy might hire a search firm -– as he has done with several other key front-office positions -– to identify candidates.
Or maybe, if the Packers are fortunate, Thompson will keep going strong.
One person close to him said recently that he does not see Thompson leaving anytime soon, unless the Packers win another Super Bowl, and that all the recent talk about him retiring "got him going."
When told of that, Harlan said, "I would think he'd at least go to 65, and then I think probably what he's going to do is become an area scout. He told me a long time ago that someday he might just go back to Texas and just be an area scout.
"Maybe he'd do it for the Packers. I would be surprised if he didn't work until at least 65. His health is good, and this is everything for him."