Green Bay Packers:

Brandon Meriweather
January, 9, 2014
Jan 9
10:00
AM ET
NFL players, by their very nature, are largely fearless. So it wasn't a huge surprise that when several Green Bay Packers players were asked
which NFL player they feared most
, the response was the same.
"I don't fear anyone," a few of them said.
But that wasn't going to work for our NFL Nation confidential survey (more of which will be revealed as the month leading up to the Super Bowl goes on).
It should come as no surprise, especially to those who play in the NFC North, that
Detroit Lions
defensive tackle
Ndamukong Suh
topped the league-wide list in this category.
But feared doesn't have to mean dirty, which is why some players in the Packers' locker room selected running back
Adrian Peterson
.
Among the other names suggested for this category by Packers players were Lions receiver
Calvin Johnson
,
Seattle Seahawks
running back
Marshawn Lynch
,
Washington Redskins
safety
Brandon Meriweather
and
Minnesota Vikings
defensive end
Jared Allen
.
September, 27, 2013
9/27/13
5:10
PM ET
GREEN BAY, Wis. -- When players are fined for hits that were not penalized during the game, it's essentially an admission of an officiating error.
For the second straight week, that applied to a
Green Bay Packers
' opponent.
Finley
On Friday, the NFL announced it fined
Cincinnati Bengals
safety
George Iloka
$15,000 for his unpenalized hit during the first quarter of Sunday's game that left Packers tight end
Jermichael Finley
with a concussion.
A league spokesman said Iloka was fined for "unnecessarily striking a defenseless player in the head and neck area."
Finley could not return to the game, and his status is unknown for the Packers' next game, following their bye, against Detroit on Oct. 6.
That fine came a week after
Washington Redskins
safety
Brandon Meriweather
was
fined $42,000 for a helmet-to-helmet hit
on Packers running back
Eddie Lacy
, who also was forced to leave the game with a concussion. Lacy did not play against the Bengals. Like in the case with Iloka, the game officials did not call a penalty on Meriweather.
Also on Friday, the league announced that Bengals linebacker
Vontaze Burfict
was fined a total of $31,000 for two infractions against the Packers -- one that was called a penalty and one that was not. He was docked $21,000 for "unnecessarily striking a defenseless player (Packers receiver
James Jones
) in the head and neck area" and another $10,000 for "striking" Packers tight end
Ryan Taylor
in the groin area. Burfict was not flagged for striking Taylor, who was penalized but not fined after he retaliated against Burfict.
Two other Packers players who were called for personal fouls -- linebacker
Nick Perry
and cornerback
Tramon Williams
-- were not fined. Neither was Bengals safety
Reggie Nelson
for his roughing the passer penalty against
Aaron Rodgers
, nor defensive end
Michael Johnson
for hitting Rodgers low, which also wasn't penalized.
September, 17, 2013
9/17/13
8:30
AM ET
A roundup of what's happening on the Green Bay Packers beat.
Monday used to be the day for injury updates from Packers coach Mike McCarthy, but there's been a philosophical switch this year.
That meant when reporters gathered for media access the day after the Packers' 38-20 win over the Washington Redskins, McCarthy offered no injury updates. So fans wondering about Eddie Lacy's condition after he was knocked out of the game because of a concussion likely were disappointed.
The NFL does not require teams to give any information until Wednesday during a normal week with a Sunday game.
"I think it's a little more accurate," McCarthy said of the Wednesday updates. "I stand up here on Mondays and a lot of the times there's more testing going on and based on the protocol of the league, we're going to follow it, so we'll have an update for you on Wednesday."
So about the only things we learned about Lacy were that McCarthy
did not see him on Monday
, meaning Lacy may have been told to stay at home to rest, and that the Packers had
no immediate plans
to sign another running back.
Elsewhere:
September, 16, 2013
9/16/13
6:00
PM ET
GREEN BAY, Wis. --
Green Bay Packers
running back
Eddie Lacy
's status for Sunday's game at Cincinnati remains uncertain.
Lacy
Packers coach Mike McCarthy did not provide an update Monday on Lacy, who was knocked out of Sunday's game against the
Washington Redskins
with a concussion he suffered after taking a hit from safety
Brandon Meriweather
.
It was unclear how far along in the concussion protocol Lacy was on Monday, however. He was not at the team meeting.
Teams do not have to provide injury reports until Wednesday.
"I stand up here on Mondays and a lot of the times there's more testing going on," McCarthy said. "And based on the protocol of the league, we're going to follow it, so we'll have an update for you on Wednesday."
Meriweather wasn't penalized for the hit on Lacy.
"The Washington safety definitely led with his helmet, so I know that's not what we're looking for," McCarthy said.
Meriweather delivered another questionable helmet hit -- the second one on running back
James Starks
actually caused Meriweather to leave with a concussion.
"Same thing, different result," McCarthy said.
Redskins coach Mike Shanahan had a different opinion of the plays during his news conference on Monday.
"To be honest with you, on the first one it looked like the running back was kind of going downhill and when Brandon went for the tackle it looked to me like it was perfect. And then all of a sudden when [Lacy] ducked his head, I couldn't tell -- I didn't see the TV copy, I just saw the video -- and that's exactly where the contact was," Shanahan said. "The second one on the sidelines, that's what you're supposed to do. That's a legal hit."
Update:
ESPN's Chris Mortensen reported that the NFL is reviewing Meriweather's hit on Lacy.
September, 16, 2013
9/16/13
1:00
PM ET
A review of four hot issues from the Packers' 38-20 victory over the Redskins on Sunday:
Reviewing Rodgers:
Quarterback
Aaron Rodgers
has had plenty of games where he's taken more deep shots down the field, but against the Redskins he piled up his franchise-record tying 480 yards passing in a much different manner. He utilized short drops and relied on the hitch route to put the ball in the hands of his receivers and let them do the work. As ESPN Stats & Information told us Sunday night, 283 of the Packers' receiving yards came after the catch. That was the most YAC by any team since the start of the 2008 season. According to ProFootballFocus, Rodgers got the ball out of his hands in 2.5 seconds or less on 33 of his 46 drop-backs.
[+] Enlarge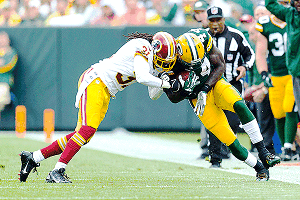 Jeff Hanisch/USA TODAY SportsPackers RB James Starks didn't let this helmet-to-helmet hit by Washington's Brandon Meriweather stop him from having a productive game.
Helmet hits:
No one in the Packers locker room after the game was willing to come right out and say the two helmet hits delivered by Redskins safety
Brandon Meriweather
were dirty plays. But after the Monday film review, I suspect the Packers will be unhappy about them at the very least. Meriweather wasn't penalized either time for helmet-to-helmet contact, the first of which knocked out running back
Eddie Lacy
in the first quarter; the second knocked out Meriweather himself in the second quarter after leading with his helmet against
James Starks
. Said Packers right guard
T.J. Lang
: "I saw the first play on the replay. I'm not really sure what happened there. I know Eddie was spinning off some tackles trying to get some extra yards, ended up jumping over the pile where he was met by the safety. It's one of those plays where you don't like to see helmet-to-helmet contact. It's just one of those safety concerns that they try to eliminate from the game. I'm not going to tell the refs how to do their jobs. I don't know if it should have been a penalty or not, but hopefully Eddie's all right."
Sharing the carries
: Depending on the severity of Lacy's concussion, which may not be known for several days, the Packers may want to divide up the running back duties more equally between Lacy and Starks. It was Starks' 132-yard performance that snapped the team's ignominious streak of consecutive games without a 100-yard rusher at 44. "Maybe this will start a little string," Rodgers said. Or maybe it will make coach Mike McCarthy decide to take some of the workload off Lacy, at least for a while. In the opener at San Francisco, Lacy handled 14 of the 15 carries by running backs and appeared to be headed for another busy day against the Redskins. A running back combination might not result in many 100-yard individual games, but it might be the best thing for Lacy at this point.
New special-teams standout:
With special-teams ace
Jarrett Bush
(hamstring) sidelined for the first time since Week 16 of the 2007 season, the Packers may have found a new star on the coverage units. Cornerback
Davon House
, who had three special-teams tackles in the opener against the 49ers, had two more against the Redskins. On the Packers' first punt of the game, House beat the Redskins' jammer at the line of scrimmage and outran two Washington players down the field to tackle returner
Chris Thompson
after only a 3-yard return.
September, 13, 2013
9/13/13
12:00
PM ET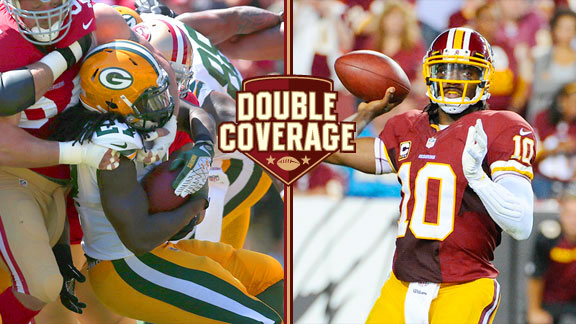 AP Photo, Getty ImagesEddie Lacy, left, and Robert Griffin III are among the keys to Sunday's Packers-Redskins matchup.
The
Green Bay Packers
and
Washington Redskins
, NFC division winners last season and playoff hopefuls this season, both lost in Week 1.
That means, barring a tie, when they meet Sunday at Lambeau Field, one of these teams will be in an 0-2 hole to start this season.
"It's not about, does it make or break your season," Redskins quarterback
Robert Griffin III
said this week.
ESPN Packers reporter Rob Demovsky and ESPN Redskins reporter John Keim break down the key elements to this matchup.
Demovsky:
John, let's get right to perhaps the most closely watched knee rehabilitation in recent NFL history. You've watched Griffin's every move in his comeback from the knee injury. You have chronicled practically every step he has made since, and by now, you've dissected the film of Monday night's loss to the
Philadelphia Eagles
. What limitations, if any, did he play with?
Keim:
Griffin did not look the same and showed the effects of not playing in a game in the preseason -- and of recovering from major knee surgery in January. Was his knee 100 percent? Everyone says it is, including the doctors. But his game was not 100 percent, as should be expected. Jon Gruden pointed it out a few times on Monday night, showing how Griffin wasn't always transferring his weight onto his front leg when he threw. In some cases, the line was getting shoved back and provided him no chance to step into a throw. But it was evident early, even when he had that room. It seemed like his reactions in the pocket, especially early, were not where he would want them to be. He also made the worst passing decision of his career, throwing an interception into triple coverage to a receiver who never even appeared open. He finished strong, though most of the passes he completed during this stretch were short throws. Still, he showed a better rhythm. It's going to take him a few games.
The Packers just played a mobile quarterback; how did they take away
Colin Kaepernick
's legs -- and how did it leave them vulnerable to the pass?
Demovsky:
The Packers did a good job limiting Kaepernick's running opportunities by playing a lot of zone coverage. That kept the defenders' eyes on the quarterback, and they rarely had their backs turned to him. However, that meant they couldn't play as much press coverage as they normally would, and the result was that they gave up massive amounts of yardage to receiver
Anquan Boldin
, who caught 13 passes for 208 yards, and allowed Kaepernick to throw for 412 yards. Now, it should be noted that the Packers were missing two key players in the secondary, safety
Morgan Burnett
and cornerback
Casey Hayward
, who both missed the game because of hamstring injuries.
How much, if anything, do you think Redskins can learn from watching the way Kaepernick and the 49ers attacked the Packers?
Keim:
I'm sure there is a lot to learn, but I wouldn't be surprised if they anticipate different looks in the secondary because of who might be back for Green Bay and because Griffin needs to prove himself as a dynamic threat again. Until he does, I wouldn't be surprised to see teams play him more aggressively, or at least without as much fear. I'm not sure how long that will last; until he makes them pay, I suppose. But I also think what Washington needs to do more than learning from Green Bay's game is learn from its own. The Redskins killed themselves with penalties and poor decision-making. That meant their bread-and-butter run game could never get going, and their offense sputtered until it was 33-7.
Are Burnett and Hayward expected to play Sunday? If so, how big a difference will that make for the Packers?
Demovsky:
Hayward won't play. He already has been ruled out and is likely to miss at least another game or two. This is the second time he pulled the same hamstring. The first time, he missed a month. He reinjured it Aug. 23, and if it's as severe, he could be out for a while. Last season, his six interceptions were huge for the defense. Burnett's injury didn't seem as bad, and it was somewhat surprising that he missed the 49ers' game. The Packers hope he can play, because their safety play with
M.D. Jennings
and
Jerron McMillian
was subpar at San Francisco.
Speaking of the secondary, the Redskins were 30th in the NFL last season in passing yards allowed. Are there any signs that will improve this season? I would think
Aaron Rodgers
would be licking his chops to play against this defense.
Keim:
It's debatable how much they've improved. Long term? I think they'll be helped because two rookies -- starting free safety
Bacarri Rambo
and cornerback
David Amerson
-- are playing key roles. Rambo's big issue is tackling, mostly in the open field. His coverage has mostly been fine, but I don't think he's been challenged in a way that Rodgers could on Sunday. I like Amerson's future, if he remains disciplined with his technique. He's a better tackler than anticipated. But Washington has issues at strong safety because of
Brandon Meriweather
's constant injury issues (missed Monday with a groin injury). The Redskins used a cornerback who had never played safety before in his place (
E.J. Biggers
), and he struggled. Their corners,
DeAngelo Hall
and
Josh Wilson
, do some good things but are not top-line starters. What this group needs more than anything is a better pass rush.
Speaking of the rush, how is the Green Bay offensive line holding up without
Bryan Bulaga
, and where is it susceptible?
Demovsky:
Perhaps surprisingly, Green Bay's young tackles, rookie
David Bakhtiari
on the left side and second-year man
Don Barclay
on the right, held up well against the 49ers.
Aldon Smith
beat Bakhtiari a couple of times for sacks, but Smith does that to a lot of tackles. It's why he had 19.5 sacks last season. But other than those two plays, Bakhtiari's first start went fine. Barclay is much improved over last season, when he filled in for Bulaga the final six games. As a unit, the run blocking needs to get much better.
Eddie Lacy
didn't have much running room, and when he did, there were penalties -- three of them on left guard
Josh Sitton
, who is normally pretty clean -- that wiped away the Packers' longest rushes of the game.
Looking at the big picture, one of these teams is going to be 0-2 after this game (barring a tie). If that's the Redskins, how devastating would that be for them? I know they finished strong last season, but I'm sure they don't want to put themselves in a hole again.
Keim:
It's a hole they could dig out of with games against the
Detroit Lions
at home and on the road against the
Oakland Raiders
in the following two weeks before their bye. But I don't think any team wants to start off 0-2, especially one that has designs on accomplishing grand things in the postseason, which, if healthy, the Redskins should have. I also think it would depend on how they look against Green Bay. If they play well and lose a close game, it still suggests they're on a certain path (no moral victories, but more about being headed in the right direction). If it's an ugly game like it was for nearly three quarters Monday? Then it suggests other issues. That would be difficult for them to swallow. But the one thing I've seen with this group, last season and in the previous few, is that they are resilient. Their mindset is a good one for a 16-game season.
I would think if there's any formula for stopping the Green Bay offense, everyone would use it. But is there a theme to when teams are able to slow this attack?
Demovsky:
For about the past year and a half, teams have played the Packers predominantly one way -- keep both safeties back and dare them to run the ball. That's why they drafted Lacy in the second round. The hope is that teams will start respecting the Packers' running game and bring a safety in the box to stop it. That would give Rodgers more open space to throw in the secondary. Lacy did not get off to a strong start against the 49ers, but he did have one impressive series late in the game in which he gained 26 yards on five carries. Problem was, he couldn't get much else done the rest of the game.