Green Bay Packers:

Brandon Weeden
November, 4, 2013
11/04/13
2:45
PM ET
GREEN BAY, Wis. -- Jon Gruden has spent the better part of the past week studying the
Green Bay Packers
in advance of Monday's game against the
Chicago Bears
.

A few hours before the ESPN "Monday Night Football" analyst would head over to Lambeau Field to call the game, he spent some time with me discussing the Packers' 5-2 start to the season.
The former Packers assistant coach (1992-94) offered his thoughts on the play of quarterback
Aaron Rodgers
, the new-found success in the running game with
Eddie Lacy
, the revamped offensive line including rookie left tackle
David Bakhtiari
, the defense's performance without injured outside linebackers
Clay Matthews
and
Nick Perry
, his memories of the Packers-Bears rivalry and more.
Here's Gruden on:
Rodgers' play since losing receivers Randall Cobb, James Jones and tight end Jermichael Finley to injuries: "It's similar, and it's amazing. It's always been the quickest release, pinpoint accuracy but it's the scrambling ability, the decision-making, the mastery of this offense that separates him. But his ability to adjust with a new supporting cast not only at wide receiver but at running back and on the offensive line is quite amazing to me."
Whether the running game is for real: "It is for real and as a matter of fact, it's formidable. Nobody talks about the line here. Where they've made the biggest strides is in their offensive line. They switched both guards [flip-flopping T.J. Lang and Josh Sitton]. They've got a new starter at center [Evan Dietrich-Smith], who's better than the center they had last year [Jeff Saturday], and this left tackle is a pretty good player."
Bakhtiari's play: "He's getting better and better. He's got to eliminate some penalties and some rough edges in his play, but he can move his feet, he can run block. And [right tackle Don] Barclay's a guy that in the running game is a pretty good player. Without Finley, they put [Andrew] Quarless in there and some of these other tight ends that are blocking tight ends, John Kuhn is a good blocking back and the lead dog is a helluva runner, No. 27."
Maintaining the pass rush without Matthews: "The last couple of weeks, no disrespect, but they've sacked Brandon Weeden, a young quarterback, and they've sacked Christian Ponder, who I don't know what they're doing at quarterback. They'll get a chance to see a really good offensive line tonight, but [defensive coordinator] Dom Capers has leaned on an inside pass rush that's different. Mike Daniels is a good inside rusher, and some of the inside blitzes that he's called – A.J. Hawk's got three sacks in one game – but what's good about him is they've got an inside pass rush with Datone Jones, even though his numbers aren't there, he does a great job of creating for these linebackers, and Mike Daniels is a bear to block. So when they get the outside guys back, Perry and Matthews, the outside rush with the inside rush will be very good."
The Packers' weaknesses: "Well, we're still early in the season. Defensively, let's see them go up against a top-flight quarterback with these injuries that they've had. But I don't see a lot of weaknesses, man. Can they pass protect when they have to? If they fall behind and get into predictable passing situations, can the right tackle handle it? I don't know that."
The Packers' chances if they had to play a road playoff game at San Francisco, Seattle or New Orleans: "If they can run it. What happens to them is they've always seen a split-safety look in coverage, and it forces Rodgers to hold the ball a long time to attack those coverages, and the pass rush has eaten him up. They've give up a lot of sacks. Now, they're running the ball against those looks, so now they're seeing an eight-man front or a seven-man box, and they've got one-on-one with these healthy receivers. That's when they're going to be at their best."
His favorite Packers-Bears memory when was an assistant coach: "It was perfectly clear to us, we have to win this game. In 1992, Mike Holmgren made that perfectly clear. I remember I got my first game ball in this series. He gave me a game ball. I came up with one play that actually worked. Halloween night, 1994. It was Brett Favre's 36-yard touchdown run. He called it on third-and-2 in a monsoon, and Favre ran around the right side and picked up a block from Edgar Bennett, and I got a game ball. And I stuck it right in Andy Reid's face."
November, 1, 2013
11/01/13
12:00
PM ET
On the day former
Chicago Bears
coach Lovie Smith got the job, he said that one of his priorities was to beat the
Green Bay Packers
.
First-year Bears coach Marc Trestman made no such promises about this rivalry, but it goes without saying that he's eager to end Chicago's six-game losing streak to the Packers.
The last time Chicago beat Green Bay was on Sept. 27, 2010, on "Monday Night Football." The teams meet again in prime time Monday night at Lambeau Field.
ESPN.com's Packers reporter Rob Demovsky and Bears reporter Michael C. Wright break down the matchup.
Rob Demovsky:
We all know how much Smith wanted to beat the Packers. He stated as much the day he got the head coaching job. What has Trestman's approach to this rivalry been like?
Wright
: Rob, my man, you know that rivalries have to cut both ways in terms of wins and losses for it to be truly considered a rivalry. Counting the postseason, the Bears have lost six in a row and nine of the last 11. So, if anything, this is more Green Bay dominance than a rivalry. But the interesting thing about Trestman is he's a guy who likes to compartmentalize everything. He looks at today rather than the past or the future. So while it sounds cliché, Trestman is looking at the Packers as just another opponent on the schedule. That's just the way Trestman likes to operate, and I think for him it sort of makes things easier.
I keep looking at Green Bay's sack numbers, and I'm a little surprised the club is still in the top 10 in sacks with
Clay Matthews
out the last three games and other key members of the defense missing time. What is Dom Capers doing over there schematically to keep up the production?
Demovsky:
I figured when Matthews broke his thumb, Capers would have to blitz like crazy. Now, he's picked his spots, but he hasn't gone blitz-happy like I thought he might. However, he has been sending different pass-rushers to keep offenses off guard. One game, against the
Baltimore Ravens
, linebacker
A.J. Hawk
came a bunch and sacked
Joe Flacco
three times. Also, they've finally found a defensive lineman with some rush ability in second-year pro
Mike Daniels
. Three of his team-leading four sacks have come in the past two games.
As long as we're on the topic of quarterbacks, in 2011, backup
Josh McCown
played a halfway decent game against the Packers on Christmas at Lambeau Field, but he threw a couple of interceptions. What do you expect from him this time around as he starts in place of the injured
Jay Cutler
?
[+] Enlarge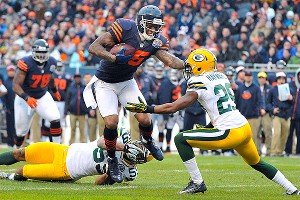 Rob Grabowski/USA TODAY SportsThe Packers have limited Brandon Marshall to 8 catches for 80 yards in their past two meetings.
Wright
: Believe it or not, I expect little to no drop-off from McCown in this game. The biggest difference between now and then is that in 2011, McCown joined the team in November, fresh from a stint as a high school football coach in North Carolina, and four weeks later became the starter. So he basically came in cold and still played relatively well. This time around, McCown has become immersed in the offense from the ground level, when Trestman first came on board, and even had some input as the team constructed the scheme. In fact, during the offseason, McCown was holding film sessions with all the club's new additions to teach everyone the new offense. So he's got complete mastery of the offense just like Cutler, which is why McCown came in against the Redskins and the offense didn't miss a beat. Obviously, McCown doesn't possess Cutler's arm strength. But he'll make up for that deficiency with anticipation. I'm quite sure the Bears won't scale down the offense to accommodate McCown at all, because they don't need to. So I expect McCown to play well. I'm just not sure Chicago's offense can keep up with Green Bay's in what I expect to be a high-scoring game.
Speaking of high scoring, the Packers put up 44 points on the
Minnesota Vikings
. How is Green Bay handling the preparation process for the Bears?
Demovsky
: Well, they certainly don't have as much time as the Bears do, considering the Bears are coming off their bye week. But the Packers have gotten themselves into a rhythm. They've won four in a row after their 1-2 start and look like a different team than they did the first three weeks of the season. Mike McCarthy probably doesn't get enough credit nationally, but show me another coach who has stared injuries in the face and hasn't blinked. What other team could lose playmakers like
Randall Cobb
,
James Jones
,
Jermichael Finley
and Matthews and still keep winning? That's a testament to the program he has established here. You can argue with some of his in-game coaching decisions, but you can do that with every coach. What you can't question, though, is the team's preparation.
The Bears, obviously, have had their share of injuries, too, losing Cutler and linebacker
Lance Briggs
. What's a bigger loss -- Cutler to the offense or Briggs to the defense?
Wright
: Well, Cutler's replacement is a veteran in McCown who has plenty of experience and a ton of weapons surrounding him on offense, while rookie
Khaseem Greene
will likely fill in for Briggs on a bad defense that will also feature rookie
Jon Bostic
in the middle. From my vantage point, losing Briggs is much more significant. The Bears have already proved to be horrible against the run (ranked 25th), and that issue certainly won't improve with two rookies at linebacker and a defensive line decimated by injury. It's also worth noting that Briggs made all the defensive calls and served as somewhat of a coach on the field for Bostic. Given that Green Bay seems to be running the ball so well, the current situation with Chicago's front seven could be devastating.
Now that the Packers are running the ball so well, how has that changed the way the offense is called? It seems Green Bay runs well regardless of which running back they line up in the backfield.
Demovsky
: It's remarkable -- and even a bit stunning -- to see
Aaron Rodgers
check out of a pass play and in to a run play at the line of scrimmage. That kind of thing hasn't happened around here in a long, long time -- probably not since
Ahman Green
was piling up 1,000-yard seasons nearly a decade ago. Teams no longer can sit back in a Cover-2 look and dare the Packers to run. Because guess what? The Packers can finally do it. It also has given the receivers more one-on-one opportunities, so it's helped the passing game, too. Right now, this offense almost looks unstoppable.
If the Packers keep playing like this, they might be tough to catch in the NFC North. What are the Bears' prospects for staying in the NFC North race until Cutler and Briggs return?
Wright:
To me, this game is the measuring stick for making that determination. But I'm not really confident about Chicago's chances, and that has more to do with the team's struggling defense than Cutler's absence. There have been conflicting statements made about Cutler's recovery time frame. Some teammates think he'll be ready to return by the time the Bears face Detroit on Nov. 4, while Trestman said the plan is to stick to the minimum four-week time frame prescribed by the doctors. Either way, if the Bears lose to the Lions you can kiss their prospects for the playoffs goodbye. The Bears might be able to afford a loss to the Packers because they'll face them again on Dec. 29. But a sweep by the Lions kills Chicago's chances to me because just from what we've seen so far, it appears one of the wild cards will come out of the NFC North with the other coming from the NFC West. Obviously it's too early to predict that, but that's the way things seem to be shaking out.
Without two of his top receivers and tight end Finley, Rogers still hit 83 percent of his passes against the Vikings. Is that success a product of the system, a bad Minnesota defense, or is Rodgers just that good at this point?
Demovsky
: The more I see other quarterbacks play, the more I'm convinced it's Rodgers. For example, seldom-used receiver
Jarrett Boykin
makes his first NFL start two weeks ago against the
Cleveland Browns
, and he ends up with eight catches for 103 yards and a touchdown. How many catches do you think he would have had if he were playing for the Browns that day? Their quarterback,
Brandon Weeden
, completed only 17-of-42 passes. That's not to minimize what Boykin did or what players like
Jordy Nelson
do week in and week out, but Rodgers is special, and special players elevate the play of those around them. Look at what
Greg Jennings
has done since he left for the Vikings. Now tell me the quarterback doesn't make the receiver, not vice versa.
Speaking of receivers, other than
Anquan Boldin
, who lit up the Packers in the opener at San Francisco, they've done a solid job shutting down other team's No. 1 receivers -- most recently Jennings and Cincinnati's
A.J. Green
. How do you think the Bears will try to get
Brandon Marshall
involved against what has been a pretty good Packers secondary?
Wright
: This question brings me back to the 2012 massacre at Lambeau Field on Sept. 13. The Packers bracketed Marshall with two-man coverage, and the Bears struggled tremendously. Shoot, cornerback
Tramon Williams
caught as many of Cutler's passes as Marshall, who finished the game with two grabs for 24 yards. Obviously, this offensive coaching staff is a lot different than last year's group. So the Bears will go into this game with a lot more answers for that coverage. I definitely see McCown leaning on Marshall and trying to get him involved as early as possible, but the only way he'll be able to do that is for the Bears to establish the rushing attack with
Matt Forte
so the quarterback can operate off play action. When the Bears go to Marshall early, expect to see a lot of short passes that will enable the receiver to gain some yardage after the catch.
Over the years, Green Bay has been pretty successful at limiting the impact of return man
Devin Hester
. So I was a little shocked to see the Packers give up a kickoff return for a touchdown to
Cordarrelle Patterson
. As you probably know, Hester is coming off a pretty strong return game against the Redskins. Do you think the Packers fix the problems they encountered last week, and minimize Hester's impact?
Demovsky
: Part of the Packers' problem on special teams has been that all the injuries have created a trickle-down effect. Here's what I mean: On the kickoff coverage until they gave up the 109-yard return to Patterson, they lined up six rookies, two of whom weren't even on the opening day roster. The Packers always have feared Hester, as they should, and in various games in recent years have shown they'd almost rather kick the ball out of bounds than give him any return opportunities. He's one of those special players who make rivalry games so entertaining.
October, 30, 2013
10/30/13
2:35
PM ET
GREEN BAY, Wis. -- For the third straight week, the
Green Bay Packers
are preparing for a quarterback they probably did not expect to face.
Is that a disadvantage for the Packers?
It hasn't been so far. They beat both the
Cleveland Browns
and
Minnesota Vikings
-- two teams that were forced to change quarterbacks because of injuries.
They face the same task Monday night at Lambeau Field against the
Chicago Bears
.
However, the Bears, coming off their bye week, have had plenty of time to prepare veteran backup
Josh McCown
for Monday night. McCown, who finished the Oct. 20 loss to Washington after
Jay Cutler
sustained a torn groin muscle, will make his first start since the 2011 regular-season finale.
Here's a look at how the opposing quarterback dynamics have changed over the past three weeks:
McCown
Cutler
Chicago Bears
Who the Packers thought they'd face
: Cutler, under new coach Marc Trestman, was off to a solid start. With a passer rating of 91.7, he was on pace for the best mark of his career. Trestman was hired in large part because of his work with quarterbacks, and he made an immediate impact on Cutler, who had only one game with more than two interceptions this season. Other than his three-interception game in a 40-32 loss to the
Detroit Lions
in Week 4, Cutler had largely avoided those disastrous stretches that have plagued him during his tenure as the Bears' starter. The Packers will likely still see Cutler this season. They don't play the Bears again until the regular-season finale on Dec. 29, and Cutler is expected to return well before that game.
Who they will face:
The 34-year-old McCown, a third-round pick of the
Arizona Cardinals
in 2002, is not a complete stranger to the Packers. He started for the Bears at Lambeau Field on Christmas night 2011, only a month after he was signed following a thumb injury to Cutler. In a 35-21 Packers victory, McCown threw one touchdown and two interceptions. He has played in only two regular-season games since then, including 2½ quarters this season against the Redskins after Cutler's injury. In relief, McCown completed 14 of 20 passes for 204 yards with one touchdown and no interceptions for passer rating of 119.6 -- his highest mark in a game since Dec. 2, 2007.
Freeman
Ponder
Minnesota Vikings
Who the Packers thought they'd face
: The Monday night before the Packers' Oct. 27 game at Minnesota, the Vikings turned over the offense to
Josh Freeman
, who had been signed two weeks earlier. Though Freeman was horrific in his debut, completing just 20 of 53 passes in a 23-7 loss to the
New York Giants
, he was expected to start against the Packers until it was discovered after the fact that he sustained a concussion in the loss to the Giants.
Who they faced
: The Vikings decided to go back to opening day starter
Christian Ponder
rather than veteran
Matt Cassel
, who led them to their only win this season. The Packers had plenty of film on Ponder, who took over as the Vikings' starter on Oct. 23, 2011, against Green Bay and held the job through the first four games of this season. In perhaps his last shot to regain the starting job, Ponder was ineffective against the Packers on Sunday, throwing for just 145 yards on 14-of-21 without a touchdown or an interception in the Packers' 44-31 victory.
Hoyer
Weeden
Cleveland Browns
Who the Packers thought they'd face:
The Browns had seemingly resurrected their season when they benched starter
Brandon Weeden
in favor of journeyman
Brian Hoyer
. After an 0-2 start with Weeden, the Browns went to Hoyer. He won his first two starts but then sustained a torn ACL in his third start, an Oct. 3 win over the
Buffalo Bills
.
Who they faced
: Weeden came on in relief and led the Browns to a win over the Bills and then was named the starter against the Lions on Oct. 13, the week before the Browns came to Green Bay. Weeden lost to the Lions and then was so bad against the Packers, throwing two interceptions while completing just 17 of 42 passes, that the Browns benched him in favor of
Jason Campbell
the following week.
October, 25, 2013
10/25/13
4:10
PM ET
GREEN BAY, Wis. -- Admit it, you thought the
Green Bay Packers
' pass rush would disappear without linebacker
Clay Matthews
.
And you thought defensive coordinator Dom Capers would need to resort to mass blitzing in order for his unit to muster any pressure whatsoever on opposing quarterbacks.
In the two games since the four-time Pro Bowl outside linebacker broke his right thumb, neither has been the case.
[+] Enlarge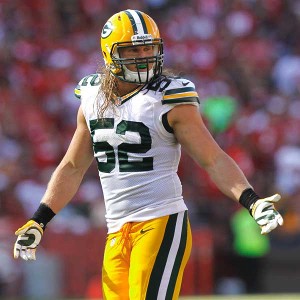 Cary Edmondson/USA TODAY SportsInjuries to Clay Matthews and other pass-rushers have forced the Packers to get creative when applying pressure. So far, so good.
In fact, even without their best pass-rusher, the Packers have put more heat on quarterbacks and have done so by blitzing less often. In two full games without Matthews, the Packers have recorded eight sacks and, according to ProFootballFocus, they have combined for five other quarterback hits and 31 hurries.
"I think, all in all, our pass rush has been good," Packers outside linebackers coach Kevin Greene said. "Yeah, our goal is three [sacks] a game, and we got five and three, so that's on target."
The sack and pressure numbers from the past two games have almost already matched what the Packers did in four games last season when Matthews was out with a hamstring injury. In that stretch, they combined for only seven sacks, six hits and 38 hurries, according to PFF.
In the past two games, wins against the
Baltimore Ravens
and
Cleveland Browns
, Capers has sent more than the standard four pass-rushers on 32.2 percent of the opponent's dropbacks, according to ESPN Stats & Information. In the first four games, he did so on 39.5 percent of the opponent's dropbacks.
Against the Ravens, he sent five pass-rushers on 25 percent of
Joe Flacco
's dropbacks, six rushers on just one snap and never sent seven. Last week against the Browns, he sent five rushers on 25.5 percent of
Brandon Weeden
's dropbacks, six rushers on 6.4 percent and seven rushers on two snaps. In fact, Capers rushed only four on the Browns' last 17 pass plays of the game.
Halfway through the game against the Ravens, the Packers lost another outside linebacker,
Nick Perry
, to a foot injury. Combined with a bruised shoulder that limited outside linebacker
Mike Neal
against the Browns, the Packers started with a pair of rookies,
Andy Mulumba
and
Nate Palmer
, at outside linebacker against Cleveland.
"Part of that is based on the fact that you have to be careful not to get too exotic with these new guys," Capers said. "Their head will be swimming, and you aren't going to get much done. You say, 'Let's have them be able to play their base fundamentals and technique, then we'll take our shots in terms of when we do come with pressure.'"
That's not to say Capers hasn't blitzed. He has sent inside linebackers, safeties and cornerbacks. It's just that sometimes he does so without rushing more than four.
In Matthews' absence, six different players have recorded sacks. Four have come from the inside linebacker spot (
A.J. Hawk
with three,
Jamari Lattimore
with one), two from cornerbacks (
Micah Hyde
and
Tramon Williams
), one from the defensive line (
Mike Daniels
) and one from the outside linebackers (Perry).
"That's just a testament to the guys we've got," said Daniels, who has two sacks this season. "Guys are ready to go. We had a great camp. I always go back to that camp because I think it set a crucial tone. You can see all the work coming out right now."
The Packers rank eighth in the NFL with 20 sacks despite not having a player rank in the top 46 individually.
"So much of our pass rush is based on if we can play the run well," Capers said. "Get the game to be one-dimensional, and then we feel like all those things the players like to do, we can do that. We've been able to do that because people haven't been able to run the ball against us. We've had five, five and three sacks, so we've had 13 sacks in the last three games, but there's been a number of quarterback hits, too."
October, 20, 2013
10/20/13
11:43
PM ET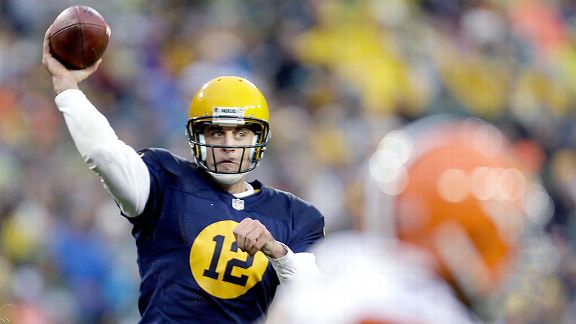 Mike McGinnis/Getty ImagesEven without two of his top receivers, Aaron Rodgers threw three TD passes to lead the Packers.
.
GREEN BAY, Wis. -- It's starting to look like it might not matter who the
Green Bay Packers
line up at receiver.
A street free agent cut last season by the
Jacksonville Jaguars
?
An undrafted rookie promoted last week from the practice squad?
As long as
Aaron Rodgers
is the one throwing them the ball, they will be productive.
What other explanation could there possibly be for what happened at Lambeau Field on Sunday, when seldom-used receiver
Jarrett Boykin
, turned away by the Jaguars more than a year ago, led the Packers with eight catches for 103 yards and a touchdown in Sunday's
31-13 rout
of the
Cleveland Browns
?
A week earlier, Boykin dropped two passes when pressed into action after
Randall Cobb
(fractured fibula) and
James Jones
(knee) were injured against Baltimore. On Sunday, Boykin and rookie
Myles White
, promoted from the practiced squad last week, took their places, and the offense, while perhaps not turbocharged like usual, still had plenty of pep.
Considering what the Packers were missing, including tight end
Jermichael Finley
-- who left on a stretcher after a scary neck injury in the fourth quarter -- it might say more about Rodgers than anyone else.
Imagine what Boykin and White (who caught one pass for 9 yards) would have done with, say, Browns quarterback
Brandon Weeden
-- who completed just 40.5 percent of his passes on Sunday -- throwing them the ball?
"Yeah, that would've been tough," White said when that scenario was proposed to him after the game. "But I'm just glad we're here."
That the Packers didn't completely abandon their preferred three-receiver set just because
Jordy Nelson
was the only one of the original trio still standing tells you everything you need to know about Rodgers. Sure, they relied more than usual on their tight ends, and running back
Eddie Lacy
(22 carries for 82 yards and one touchdown) had another productive day.
But minus two of his top three receivers -- and then without his playmaking tight end for the final 10 minutes -- Rodgers still threw three touchdown passes without an interception. He completed 25 of 36 passes for 260 yards and finished with a passer rating of 117.8.
"I don't think it would have been able to be possible, not without [No.] 12," White said, referring to Rodgers. "Because he's a genius out there on the field."
Perhaps the smartest thing Rodgers and coach Mike McCarthy did was to get Boykin involved early with a couple of short passes. On the Packers' opening possession, Rodgers threw a hitch to Boykin, who gained 4 yards. On third-and-8 on the next possession, Rodgers went to Boykin on a stop route for a 15-yard gain, and they were off and running.
"I think he's a confidence guy," Rodgers said. "So we wanted to make sure we got him some plays early."
Both of those drives ended with touchdowns -- the first on a 10-yard pass to Finley and the second on a 1-yard run by Lacy -- and the Packers proved they could function with this hodgepodge cast.
The Packers needed Boykin and, to a lesser extent, White because the Browns blanketed Nelson with their best cornerback,
Joe Haden
. Nelson still managed five catches for 42 yards and a touchdown, but Rodgers knew he couldn't force the ball to him every time.
So, wisely, he didn't.
[+] Enlarge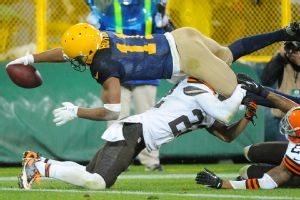 Benny Sieu/USA TODAY SportsSeldom-used Jarrett Boykin played a starring role Sunday, with eight catches for 103 yards and a TD.
Rodgers targeted Boykin more often (10 times) than Nelson (six) and White (two) combined. In the second half, Boykin delivered a pair of big plays. His 39-yard catch and run set up Nelson's 1-yard touchdown catch in the fourth quarter, and then, Boykin scored one of his own, when he stretched out for the goal line at the end of a 20-yard reception.
"I felt like we were on a better rhythm today," Boykin said of his connection with Rodgers. "Just a little bit of like dialing in and him giving me what he wants me to do and me focusing on what I need to do to get in an area to where he can make a terrific pass."
Who knows how many more injuries the Packers will sustain? If Finley's
scary-looking neck injury
is serious, even more will be placed on Rodgers.
But, after a day like Sunday, when the Packers (4-2) moved into first place in the NFC North, there's little reason to think the Packers -- more specifically, Rodgers -- can't handle it.
"There's a lot on his shoulders, and he handles it well," said Packers backup quarterback
Seneca Wallace
, who signed with the team last month. "I've been around some good quarterbacks, and there's a lot of pressure on him, and he handles himself well, tremendously well.
"A lot of the stuff he does, people don't understand because you've got the
Peyton Manning
s and the
Tom Brady
s who get all the attention but handles himself very well no matter what."
October, 18, 2013
10/18/13
12:00
PM ET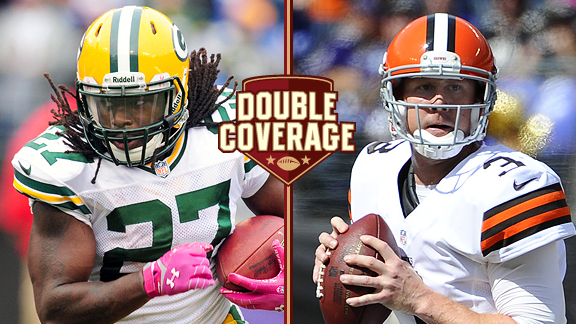 USA TODAY SportsThe Packers may have to rely more on their run game, while Browns QB Brandon Weeden seeks to recover from a forgettable outing.
The
Green Bay Packers
have made it past a difficult stretch in which they played four playoff teams from last season in their first five games.
And they came out of it with a respectable 3-2 record.
The
Cleveland Browns
, despite going from
Brandon Weeden
to
Brian Hoyer
and now back to Weeden at quarterback, also aren't out of anything yet at 3-3.
ESPN.com Packers reporter Rob Demovsky and Browns reporter Pat McManamon break down the matchup:
McManamon:
Rob, what will Green Bay do at receiver with all those injuries, and how much will it affect the offense?
Demovsky:
It's bound to have a significant impact.
Randall Cobb
more or less became the focal point of the passing game last season and if anything, that intensified this season. Sure, he's only a slot receiver and the Packers still have the deep threat of
Jordy Nelson
on the outside. But in this offense, a lot of those quick-hit passes -- especially against teams that blitz -- are directed to the inside. No team used more three-receiver sets than the Packers had until Cobb went down last week against the Ravens. They had used a three-receiver set on 90 percent of their snaps. That number likely will go down beginning this week against the Browns. They might have to rely on their new-found running game more than ever. But with fewer threats in the passing game, teams might be able to load up to stop running back
Eddie Lacy
.
The Browns have offensive issues of their own, Pat. Brandon Weeden's turnovers in the loss to the Lions looked like killers, especially that backhanded, underhand flip. How can they get him to play smarter?
McManamon:
That backhanded, underhand flip will live for a long time in the annals of Cleveland Browns misplays since 1999, Rob. A lengthy list just got longer. As for getting him to play smarter, that's the challenge. And the challenge has gone on for 18 starts. Weeden actually started fairly well as a 29-year-old rookie, but he struggled the end of last season and this season he's played in fits and starts. Which of course won't be good enough against Green Bay. With Brian Hoyer injured, the Browns have few other options -- it's not like
Tom Brady
is on the streets waiting for a job -- so they will stick with Weeden. But you have to wonder whether the Browns aren't coming to the conclusion that what they see is what he'll be when it comes to this 30-year-old quarterback.
Rob, Weeden does not read the rush well and does not move well. The Packers are ninth in the league in sacks. Is that yet another bad recipe for Weeden and the Browns offense?
Demovsky
: It remains to be seen whether they can keep up their sack pace. They did it without
Clay Matthews
last week, getting five sacks at Baltimore, but now they're going to be without another outside rusher,
Nick Perry
. Matthews and Perry each have three sacks on the season, which ties
A.J. Hawk
for the team lead. At some point, those injuries have to slow down their pass rush. The one thing that's helping them is they're playing the run very well, probably the best they have since they led the league in rushing defense in 2009. After shutting down
Ray Rice
last week, they're up to third in the NFL in rushing yards allowed per game (78.2). That's putting teams in a lot of third-and-long situations, which allows defensive coordinator Dom Capers to blitz. That's how Hawk got all three of his sacks against the Ravens.
Perhaps the Browns can help protect Weeden if they run the ball effectively to keep the Packers from rushing like crazy. What are their prospects for doing that?
McManamon:
Running the ball would protect Weeden. But it helps to have a ... well ... a running game. At present, the Browns are in make-do mode with the running game, and as the season continues that will more and more become a problem. Since the trade of
Trent Richardson
the Browns have relied on aging
Willis McGahee
, young
Bobby Rainey
and fullback
Chris Ogbonnaya
. These guys give effort, but there's only so much they can give. McGahee can't run outside, Rainey is inexperienced and Ogbonnaya is what he is. The Browns rank 22nd in the league by running for 86.8 yards per game -- though they are averaging 3.9 yards per carry. If the Browns want to run, they will have to commit to it and pound it out, something I am not sure they can do.
Rob, the Browns have had 19 starting quarterbacks since 1999 -- and it appears next year or soon after that number will hit 20. Do the Packers and their fans realize just how fortunate they have been these many years to have
Brett Favre
and
Aaron Rodgers
?
Demovsky:
They should. There are only a handful of organizations who can say they've had the kind of quarterback transition that the Packers had. The 49ers with
Joe Montana
to
Steve Young
come to mind. Maybe the Colts have that now with
Andrew Luck
following
Peyton Manning
. Not only was Favre a great quarterback, but he was there week in and week out. Rodgers is pretty much the same way. Those guys rarely get injured and when they do, they still play.
Most Packers fans here are still fond of Mike Holmgren, for leading them to the Super Bowl XXXI title. His tenure with as a Browns executive was much shorter. What impact, if any, did he have on the organization?
McManamon
: Let's just say the feelings for Holmgren are a lot warmer in Green Bay -- odd as that sounds -- than in Cleveland. Many fans feel Holmgren's epitaph with the Browns should be "As a president, he was a great coach." A lot of that is frustration at constant losing. Some is frustration at the job title and salary scale Randy Lerner gave Holmgren. More still that Holmgren never took on the coaching duties himself. On balance, Holmgren's tenure was no worse than many, and better than some. He and GM Tom Heckert brought in some good players who are helping the team win now. But with any regime change comes more change, and Joe Banner has gotten rid of some of Holmgren's guys -- notably Richardson. Holmgren's biggest gamble was selecting a quarterback in the first round a year ago who is now 30. But Weeden clearly would have been helped by more continuity in the front office.
.