Green Bay Packers:

Breno Giacomini
April, 30, 2014
4/30/14
8:00
AM ET
GREEN BAY, Wis. -- Since he took over as general manager of the
Green Bay Packers
in 2005, Ted Thompson has drafted 87 players.
Leading up to this year's draft, in which Thompson currently has nine selections, we will look at his best and worst selections in each round.
We'll start at the bottom and work our way up. So far, we've looked at the seventh and sixth rounds.
Next up is the fifth round.
Total players drafted
: 14.
By position
: Tackles 3, tight ends 2, cornerbacks 2, defensive ends 1, linebackers 1, centers 1, guards 1, fullbacks 1, quarterbacks 1, receivers 1.
Hyde
Best pick
:
Micah Hyde
, CB.
Hyde (No. 159 overall, No. 2013) has only played one season, but he has the makings of a full-time starter after playing mostly as a slot defensive back in the nickel and dime defenses as a rookie.
Honorable mention:
Andrew Quarless
, TE (No. 154, 2010),
Marshall Newhouse
, T (No. 169, 2010).
Worst pick
:
Ingle Martin
, QB.
In attempt to continue their practice of drafting a late-round quarterback to develop and trade, Thompson picked Martin at No. 148 overall in 2006. Martin served as the third-string quarterback behind Brett Favre and
Aaron Rodgers
. He saw action in only one game, taking the final three snaps (two of which were kneel downs) and then was released the following year in training camp. He never played in another regular-season game.
Dishonorable mention:
Terrell Manning
, LB (No. 163, 2012),
D.J. Williams
, TE (No. 141, 2011), Junius Coston, C (No. 143, 2005), Mike Hawkins, CB (No. 167, 2005).
Notes
:
Quinn Johnson
, FB (No. 145, 2009),
Jamon Meredith
, T (No. 162, 2009),
Breno Giacomini
, T (No. 150, 2008), David Clowney, WR (No. 157, 2007) and Tony Moll, T (No. 160, 2006) all went on to play for other teams with Giacomini being the most successful. He started at right tackle for the Super Bowl champion
Seattle Seahawks
last season and signed a four-year, $18 million contract with the
New York Jets
this offseason.
February, 14, 2014
2/14/14
3:15
PM ET
GREEN BAY, Wis. -- Three days after
he was released
by the
Green Bay Packers
, offensive lineman
Greg Van Roten
signed a one-year contract with the
Seattle Seahawks
, he said Friday.
Van Roten had to clear waivers before he was free to sign with another team.
The 6-foot-3, 303-pound lineman was being groomed as a possible candidate to start at center for the Packers. He played left tackle in college at the University of Pennsylvania but moved inside to center and guard when he signed with the Packers on July 25, 2012.
He played in seven games as a rookie after being promoted from the practice squad and three games this past season before a foot injury ended his year.
Van Roten could be following a similar path to Seahawks right tackle
Breno Giacomini
, who was a fifth-round pick of the Packers in 2008. Giacomini played two seasons for the Packers before being released at the end of the 2010 training camp, only two be re-signed to the practice squad. The Seahawks signed Giacomini to their active roster less than a month later, and he became a full-time starter in 2012.
In other news, the Packers have reportedly added a 22
nd
member to their coaching staff. The Big Ten Network reported that the Packers have added former Iowa Hawkeyes quarterback and assistant coach David Raih as an offensive assistant. Raih had most recently been on the Texas Tech coaching staff.
That would give the Packers 22 assistant coaches, tied for
the second most in the league
. Only the Eagles and Seahawks have larger coaching staffs with 23 assistants each.
January, 31, 2014
1/31/14
4:50
PM ET
GREEN BAY, Wis. -- People in Green Bay and fans of the Packers love to hate the
Seattle Seahawks
after the infamous Fail Mary play in the 2012 meeting between the two teams.
Yet there's a segment of them who likely will be rooting for the Seahawks against the
Denver Broncos
on Sunday in Super Bowl XLVIII. They're the ones who know John Schneider, the Seahawks' 42-year-old general manager whose ties to this city and his old team run deep.
[+] Enlarge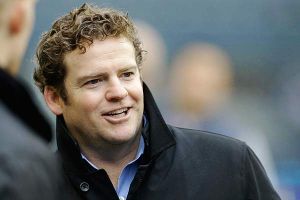 Elaine Thompson/AP PhotoSeattle's John Schneider has so many ties to the Packers that some wonder if the general manager will one day return to Green Bay.
Schneider grew up just a few miles from Lambeau Field in the neighboring town of De Pere, Wis., which is essentially an extension of the Green Bay city limits. He was a high school football standout as a running back at a private, catholic high school that no longer exists. And he began his NFL scouting career as an intern for the Packers under then-general manager Ron Wolf, who only hired Schneider because of his persistence.
While in college, Schneider wrote a letter to Wolf asking for an opportunity as a volunteer scout. Wolf replied with a rejection letter, so Schneider wrote him again. Another rejection letter followed, so Schneider wrote again.
Many years later, Schneider admitted, "I kind of stalked him a little bit."
Finally, Wolf told Schneider he would get in touch with him after the 1992 draft, Wolf's first in Green Bay. Yet Schneider heard nothing. Six weeks went by before a friend convinced Schneider to just call Wolf directly.
So he did.
That led to an internship in Wolf's scouting department for the summer of 1992 to jobs as a pro personnel assistant with the Packers (1993-96) to
Kansas City Chiefs
director of pro personnel (1997-99) to stints with the Seahawks (2000) and
Washington Redskins
(2001) as vice president of player personnel and then back to the Packers (2002-2009) as a one of the top personnel advisers.
Of all the participants in Super Bowl XLVIII, no one has stronger ties to Green Bay and the Packers than Schneider.
"Growing up there and having different people reach out to you, this week has been really neat to get text messages and emails from people back there," Schneider said during a phone interview on Friday from the Seahawks' Super Bowl headquarters in Jersey City, N.J. "It's cool because it's such a small community, but yet you have that strong football foundation."
Schneider's foundation is rooted in Wolf's beliefs. Though he and Seahawks coach Pete Carroll have forged their own identity as one of the most aggressive and compatible coach-GM combinations in the league, Schneider still calls on what he learned from Wolf and current Packers general manager Ted Thompson, another Wolf protégé.
"I think there's a lot of Ron in this just because of the philosophical foundation of how you approach acquisitions," Schneider said. "So I think it's huge."
Together, Schneider and Carroll have formed an unusual approach to signing, drafting and trading for players. In their first season together, they made an astounding 284 player transactions. Schneider also hit on a quarterback, when he drafted
Russell Wilson
in the third round in 2012, something for which Carroll gives full credit to Schneider.
"John and I have joined together aggressively to compete at every single turn, at every opportunity whatever it may be, to see if there's something in there for us," Carroll said during one of his Super Bowl week news conferences. "He's done a great job of having the competitive will to keep pushing and fighting and clawing and scratching to have the opportunity that has sent us down the read early on with the hundreds of guys that came through the program."
Schneider's parents still live in Green Bay. As do some of his best friends, including the one who convinced him to make that call to Wolf. All of them will be at MetLife Stadium for Sunday's game.
There are plenty of people who wonder whether Schneider will be the Packers' next general manager. Thompson turned 61 on Jan. 17 and some within the organization believe he may walk away after his contract expires following the 2015 season.
That's not a topic Schneider is comfortable discussing.
Instead, he'd rather swap stories about his friends who remain back in his hometown and talk about players who have ties to the Packers. He has two of them on his roster, right tackle
Breno Giacomini
and punter
Jon Ryan
. He signed Giacomini off the Packers practice squad in 2010, but he inherited Ryan, who had signed with the Seahawks early in the 2008 season after the Packers cut him.
The person responsible for telling Ryan the Packers planned to release him? That was Schneider.
"This is kind of a funny story," Schneider said. "Jon Ryan's brother after the (NFC Championship) game the other night was like, 'Hey man, 'I'm glad you're doing well now, but I wanted to kick your butt because you cut my brother.'
"Both players, Breno and Jon, have obviously improved since leaving Green Bay."
The same could be said for Schneider.
The only question is, will he ever come back?
January, 20, 2014
1/20/14
8:00
AM ET
A roundup of what's happening on the Green Bay Packers' beat.
GREEN BAY, Wis. -- The Packers will play one of the Super Bowl XLVIII participants next season and if the Seattle Seahawks win it all, perhaps it will be in the NFL's opening game.
But there are other Packers connections.
On the Seahawks' side, there's general manager John Schneider, who got his start in the NFL scouting business with the Packers as a 21-year-old intern in 1992. A native of De Pere, Wis., a suburb of Green Bay, Schneider left the Packers in January 2010 to join forces with Seahawks coach Pete Carroll.
The Seattle Times profiled Schneider
and his journey earlier this month.
In Schneider's personnel department, he has former Packers scout Scot McCloughan as a senior personnel executive.
Schneider has two former Packers players on his roster -- tackle Breno Giacomini and punter Jon Ryan.
Three former Packers assistant coaches are on Carroll's staff -- offensive coordinator Darrell Bevell (a Green Bay assistant from 2000-05), receivers coach Kippy Brown (2000) and assistant offensive line coach Pat Ruel (2001-02). Former Packers safety Marquand Manuel (2006) is a defensive assistant for the Seahawks. Former Packers strength and conditioning assistant Mondray Gee (2008-09) has the same job with the Seahawks.
In the front office, Seahawks vice president/general counsel Lance Lopes held a similar position with the Packers from 1993-2000.
On the AFC side, the only former Packers' player on the Broncos' roster is backup linebacker Paris Lenon (2002-05). On the personnel side, the Broncos employ former Packers scout Lenny McGill as their assistant director of college scouting.
In case you missed it on ESPN.com
:
Best of the rest
:
At ESPNWisconsin.com, Jason Wilde profiled Greene and his journey to the coaching ranks.
In the Green Bay Press-Gazette, Pete Dougherty wrote that GM Ted Thompson's usual aversion to free agency may change this year given all the holes on the defense, and Mike Vandermause looked at how kicker Mason Crosby turned things around after his dismal 2012 season.
In the Milwaukee Journal Sentinel, Tyler Dunne wrote that the Packers have a difficult decision to make about the future of their center position.