Green Bay Packers:

Bruce Irvin
February, 1, 2015
Feb 1
11:34
PM ET
GREEN BAY, Wis. -- Lest you had any doubt about which team the
Green Bay Packers
-- or at least a couple of their offensive linemen -- were rooting for in Super Bowl XLIX,
David Bakhtiari
and
T.J. Lang
cleared that up as the
New England Patriots
were putting the finishing touches on their improbable win against the
Seattle Seahawks
on Sunday night.
Couldn't be happier! The right team wins and true colors are shown. #havesomeclass

— David Bakhtiari (@DBak69) February 2, 2015
What a Seattle way to end the game.

— TJ Lang (@TJLang70) February 2, 2015
Sure, Bakhtiari and Lang were no doubt still bitter over the Packers' collapse against the Seahawks in the NFC Championship Game two weeks earlier, but there's been an unfriendly rivalry between the two teams ever since the Fail Mary game in 2012. The Packers weren't happy with how the Seahawks celebrated after a game in which they felt the replacement officials handed Seattle the win.
The next year, the Packers played the Seahawks in a preseason game that was chippy to say the least.
Lang's message hit cyberspace shortly after Seahawks linebacker
Bruce Irvin
was ejected for instigating a fight following the Patriots' game-clinching interception of
Russell Wilson
near the goal line in the game's final seconds.
A few minutes later, Lang offered something more politically correct.
Serious note congrats to both teams on unbelievable seasons. What a great championship game.

— TJ Lang (@TJLang70) February 2, 2015
January, 15, 2015
Jan 15
12:05
PM ET
GREEN BAY, Wis. – Take note,
Bruce Irvin
:
Corey Linsley
doesn't need anyone to pray for him this time.
Four months after Linsley, the
Green Bay Packers
rookie center, made his first NFL start against Irvin and the
Seattle Seahawks
in Week 1, there might be no player better prepared for Sunday's NFC Championship Game than Linsley.
At the time, Linsley admitted
he was rattled by Irvin's comment
that he was going to pray for him because it was going to be a long night.
Not much has rattled him since then.
[+] Enlarge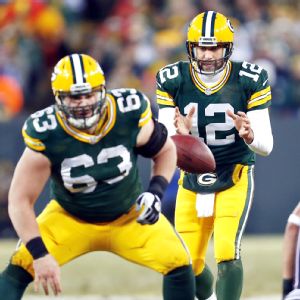 AP Photo/Mike RoemerRookie center Corey Lindley has come a long way since he last saw the Seattle Seahawks.
Linsley returns to the site of his first NFL game as one of the league's best centers.
ProFootballFocus.com rated Linsley as the fifth-best center in the league during the 2014 regular season. What started as a temporary assignment while
JC Tretter
was out with a knee injury has turned into a permanent position.
"It feels a lot different mainly because of the guys around me, and I feel like they have a little bit more confidence in me since Week 1," Linsley said. "And also in our offense, I think our offense is 10 times as better than it was Week 1. We found our identity."
Linsley had one major gaffe in the Packers' 36-16 loss to the Seahawks. He fired a shotgun snap into
Aaron Rodgers
' chest when he wasn't ready for it. Rodgers barked at him. Linsley took it, and they moved on.
Linsley, the only player who has been on the field for all 1,118 of the Packers' offensive snaps this season, is a different player, and the Packers are a different team. In that first game, the only offensive production came from
Jordy Nelson
and
Randall Cobb
. Now, two other rookies – receiver
Davante Adams
and tight end
Richard Rodgers
– have been integrated into the offense, and the running game with
Eddie Lacy
is as strong as ever.
"Corey was in his first start, and he was getting a lot of prayers for him," Rodgers said this week on his ESPN Milwaukee radio show. "I'm not sure if he'll get the same amount of prayers. Hopefully he will; we need all the prayers we can get at this point. And then Davante rarely played; I think he played about eight to 10 snaps. And then Richard didn't play a whole lot, either. Those guys are playing more significant roles."
Maybe it's revisionist history, but coach
Mike McCarthy
said he knew right away in training camp that Linsley, a fifth-round pick from Ohio State, could handle the NFL.
"The first one-on-one pass blocking in padded practice," McCarthy recalled. "I remember that day. He stood out to me then."
With all that Linsley has done since then, he just laughs now when Irvin's comments are brought up.
"The whole situation was kind of funny," Linsley said. "But, yeah, now it's just long gone. That's long gone."
January, 14, 2015
Jan 14
8:00
AM ET
A roundup of what's happening on the Green Bay Packers beat.
GREEN BAY, Wis. – When Packers special-teams coordinator Shawn Slocum saw Kam Chancellor leap over the line of scrimmage -- not once, but twice -- to try to block a field goal last Saturday against the Carolina Panthers, it brought back memories.
Slocum had seen the Seattle Seahawks try that against his team.
Although it wasn't Seattle's standout safety who tried it against the Packers in the 2012 "Fail Mary" game. It was linebacker Bruce Irvin.
Like Chancellor did against the Panthers in last Saturday's NFC divisional playoff game, Irvin
got a running start and flew over
Packers long snapper Brett Goode. Like Chancellor, Irvin
failed to block the kick
. Mason Crosby nailed the 40-yard field goal in the third quarter of that game.
"It doesn't happen often," Slocum said this week. "But you have to be aware of it."
Slocum said he also saw the St. Louis Rams do it earlier this season.
"You have to have some awareness in blocking," Slocum said.
Blocking been an issue for the Packers' special teams units all season. They
had seven kicks blocked
-- three field goals, two extra points and two punts -- during the regular season.
In case you missed it from ESPN.com
:
Best of the rest
:
September, 8, 2014
9/08/14
7:00
PM ET
GREEN BAY, Wis. --
Corey Linsley
can admit it now:
Bruce Irvin
got in his head a little bit.
But you would have never known it by how Linsley, the
Green Bay Packers
rookie center, played in his first start against Irvin's
Seattle Seahawks
. Of all the things that went wrong for the Packers in their 36-16 loss last Thursday night, Linsley's play was not one of the issues.
Other than one miscommunication with quarterback
Aaron Rodgers
, in which the Packers had to burn a timeout during which Rodgers chastised his new center, Linsley's first start ended up being a non-story.
But anyone who was around the rookie on the evening of the game, when he read
Irvin's comments that he would pray
for Linsley because it's going to be a long night, might have had their doubts about how he would play.
"At the time when I first read it, I was sitting in my hotel and it kind of got me aggravated," Linsley said Monday. "I had just gotten past the anxiety of everything and I felt comfortable and confident going into the game. Then I was like, 'Man, these guys are after my head. I'm going to have the best defense in the league after my head.' I had to get over it; it took me a couple hours to get over it."
A call to his girlfriend helped.
"She didn't really bring it up but it just helped me," Linsley said. "We didn't talk about it at all, but it helped me to calm me down. It was intense there for a little bit."
During the game, in which Linsley was not responsible for a sack or a quarterback hit and performed his run-blocking duties well, Linsley said he did not hear any trash-talking from Irvin or any other Seattle defenders. Perhaps it was his play that shut them up.
"He did very well," Packers offensive coordinator Tom Clements said Monday. "He was good with his calls, he was good with his snaps, he blocked well both in the run and the pass. It was a very good debut for him."
After the game,
Irvin praised Linsley
for playing a good game.
"I noticed that there was a comment where he said, 'My hat's off to him' or something," Linsley said. "Obviously, I didn't prove myself totally but I gained a little bit of respect."
And then Linsley joked: "Everybody deserves a good prayer."
September, 5, 2014
9/05/14
9:15
AM ET
SEATTLE -- The noise from the boisterous crowd at CenturyLink Stadium did not bother
Green Bay Packers
rookie center
Corey Linsley
, and neither did
Bruce Irvin
or any of the other Seahawks defenders.
The way it turned out, Linsley was the least of the Packers' troubles in their
36-16 loss
on Thursday night.
Linsley
Even Irvin, who earlier in the week said
he would pray for Linsley
because "it's going to be a long night, man," came away impressed by how well the fifth-round draft pick from Ohio State performed under difficult circumstances.
"He actually played a good game," Irvin said. "Even [Seattle defensive tackle Brandon] Mebane said he played well. So I take my hat off to him."
But for one miscommunication with
Aaron Rodgers
, who fortunately called a timeout just before Linsley prematurely snapped the ball, things ran smoothly between the two who had never worked together in a game before Thursday night. Rodgers lit into Linsley for his mistake, and the rookie understood.
"Obviously, he got on me like a leader should," Linsley said. "And I think that was our only one."
The Packers were not flagged for a single false-start penalty, which is a remarkable feat in one of the NFL's loudest stadiums.
"Corey did a great job," Rodgers said. "He did a really good job of protection. I thought the protection was really good inside and snaps were solid. He's learning. This is his first start, he's a rookie, but I thought he held his own well. I think he can do a good job for us."
ESPN Seahawks reporter Terry Blount contributed to this report.
September, 4, 2014
9/04/14
7:30
AM ET
A roundup of what's happening on the Green Bay Packers beat.
SEATTLE -- Today will be the last one for season predictions, I promise.
I know, I know, it has to be, considering it all starts tonight at CenturyLink Field against the Seahawks.
But remember when I took a stab at the Packers'
game-by-game results
earlier this week and came up with a 12-4 record? Turns out, I wasn't alone.
With a hat tip to ESPN NFL Nation Cleveland Browns reporter Pat McManamon, who had the foresight to go through each of the other NFL Nation reporters' picks when his or her team played the Browns and then came up with a composite record from those predictions, I thought it might be interesting to do the same for the Packers.
Sure enough, adding up each writer's pick when the Packers were the opponent resulted in the 12-4 mark. We just reached it a little differently.
The four predicted losses on my sheet were at the Bears in Week 4, at the Saints in Week 9, home against the Eagles in Week 11 and home against the Patriots in Week 13.
My colleagues in Chicago (Michael C. Wright) and New Orleans (Mike Triplett) saw those games the same way. But Mike Reiss, who covers the Patriots, picked the Packers in that game. Likewise, Phil Sheridan, who covers the Eagles, picked the Packers.
However, Seahawks reporter Terry Blount picked Seattle to beat the Packers tonight, and Buccaneers reporter Pat Yasinskas picked Tampa Bay to beat the Packers in Week 16.
In case you missed it on ESPN.com
:
Elsewhere
At ESPNWisconsin.com, Jason Wilde previewed the Packers' season on offense, defense and special teams.
In the Green Bay Press-Gazette, Pete Dougherty talked to three league scouts who discussed the Seahawks chances to repeat and the Packers' chances to upset them in the opener.
In the Milwaukee Journal Sentinel, Tom Silverstein dissected the intricacies of how Aaron Rodgers runs the no-huddle offense.
September, 3, 2014
9/03/14
4:15
PM ET
GREEN BAY, Wis. – If
Seattle Seahawks
linebacker
Bruce Irvin
is trying to intimidate
Green Bay Packers
center
Corey Linsley
, he might be messing with the wrong rookie.
There's no getting around the fact that Linsley, a fifth-round draft pick, will be making his NFL debut on Thursday against the Seattle Seahawks.
And he'll do it without having ever snapped a ball in a preseason game to quarterback Aaron Rodgers.
And he'll do it against the Seahawks' Legion of Boom defense.
And he'll do it in one of the loudest stadiums anywhere.
But time and again in the two weeks since Linsley inherited the starting job after
JC Tretter
's knee injury, his Packers coaches and teammates have raved about Linsley's toughness – both physically and mentally.
[+] Enlarge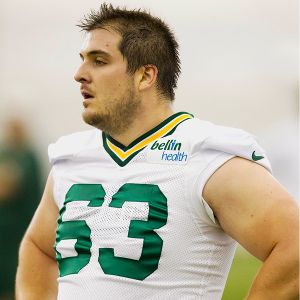 AP Photo/Mike RoemerRookie Corey Linsley stepped right in as the first-team center and impressed his Green Bay Packers teammates.
So when the Seahawks' Irvin said
he's going to pray for Linsley
because "it's going to be a long night, man. We've just got to take advantage of it," don't be surprised if Linsley was unaffected.
He has handled everything else just fine so far, something backup quarterback
Matt Flynn
noticed when the coaches moved Linsley into the starting lineup.
"They're like, 'All right, you're the starter,' so he just quietly walked up there and started taking reps," Flynn said. "He's been impressive."
When Mike McCarthy announced Linsley as the starter, without a burble in his voice he pronounced: "He's going to do a heck of a job."
In fact, it started even before Linsley became a starter. In the first two weeks of training camp, when the Packers conducted the one-on-one pass blocking/pass rushing drill day after day, Linsley took on all comers and lost only two of 10 reps
in the drill
.
Linsley's task on Thursday at CenturyLink Field will be two-fold: Dealing with the crowd noise and handling the Seahawks' defensive front, specifically nose tackle
Brandon Mebane
– something that apparently Irvin thinks should make Linsley shudder.
"All the weaknesses that [Linsley] shows us, we've got to expose it," Irvin told reporters in Seattle this week. "Hopefully, 'Bane' is going to do what I know he's going to do to him. So, we've just got to be ready."
If you ask the Packers, Linsley will be ready, too. He will have Rodgers and two established guards in T.J. Lang and
Josh Sitton
to help him along.
"He's a guy we're confident in, and I know he's got a lot of confidence in himself and you never want to put too much pressure on a guy, especially a rookie making his first start, but he's doing a solid job for us," Packers guard T.J. Lang said. "He's making all the right calls, doing all the right things. We have high expectations for him, and he's going to do a lot of good things."
September, 2, 2014
9/02/14
2:45
PM ET
GREEN BAY, Wis. -- The way
Green Bay Packers
coach Mike McCarthy sees it, Seattle is the perfect place for
Bryan Bulaga
's first game in nearly 22 months.
And he might be right.
The last time Bulaga played against the Seahawks at CenturyLink Field, it was perhaps the low point of his career. The right tackle was responsible for two of the eight first-half sacks of quarterback
Aaron Rodgers
in the Packers' 14-12 loss to Seattle in Week 3 of the 2012 season on Monday Night Football.
Bulaga had allowed just one sack in 12 starts the previous season and didn't have another game in which he allowed more than one sack the rest of the 2012 season.
Several demons from that night in the Seattle still torment the Packers (see Mary, Fail), and Bulaga's uncharacteristic performance remains one of them, in part because of what he went through in the two years that have followed.
"I think Bryan needs to go back to Seattle, just like we all do," McCarthy said Tuesday, two days before the Packers open the season against the Seahawks.
Seemingly on the way to becoming one of the premier right tackles in the NFC, Bulaga's career path changed significantly shortly thereafter. He has not played in a regular-season game since Nov. 4, 2012, when he sustained a season-ending hip injury that was followed by a knee blowout the following summer that cost him the entire 2013 season.
Although he insisted this week that he has not given the last Seattle game much thought, it's hard to forget just what the Seahawks did to Bulaga and the rest of the Packers' offense in the din of the boisterous crowd at CenturyLink Field. The problems started almost immediately. On the Packers' third play from scrimmage, then-rookie
Bruce Irvin
tossed Bulaga aside like it was nothing and sacked Rodgers 2.5 seconds after the ball was snapped.
As if to show it was no fluke, Irvin beat Bulaga on the next series with an up-and-under move and got to Rodgers in 3.4 seconds for his second sack.
When the night was over, Bulaga had been charged not only with the two sacks but also with another quarterback hit and eight hurries allowed, according to ProFootballFocus.com.
"I really don't go back [two] years and look at game tapes, I really don't," Bulaga said. "Obviously it needs to be better than what it is; I knew that after the game, but I really don't compare years to years, especially single games. But yeah, overall individually, I definitely do [need to protect better] and as a group, we just need to be more solid. The more time we can give Aaron the better."
Against the Seahawks, even that might not be enough given how well their secondary covers. On four of the sacks in that game two years ago, Rodgers held the ball longer than 3.5 seconds (including longer than 4.8 on two of them).
Bulaga wasn't responsible for any of the four sacks
Chris Clemons
had that day, and Clemons has now moved on to the
Jacksonville Jaguars
, but there's still plenty of motivation for Bulaga -- and the rest of the Packers' offensive line. The environment will be just as difficult, as loud or louder than it was in 2012, and the opponent just as capable. The Seahawks fielded the league's top-ranked defense last season on the way to their Super Bowl title.
"That game is a great example of getting out of your fundamentals, and when those things happen, it can snowball on you," Packers offensive line coach James Campen said. "That's certainly a lesson learned."
This is the start of an important season for Bulaga, the 25-year-old, fifth-year tackle. The former first-round pick is in the final year of his contract. According to McCarthy, Bulaga has come back in better shape than ever -- "He's 15 pounds heavier," McCarthy said -- while Campen insists Bulaga's level of play is back to where it was before the injury.
"He looks better than he did," Campen said.
And what better place to show it than in Seattle.
February, 20, 2014
2/20/14
7:00
PM ET
INDIANAPOLIS -- You'll never see a picture of a shirtless Ted Thompson wearing a championship belt, but the
Green Bay Packers
' general manager might do well to emulate his counterpart with the
Seattle Seahawks
, John Schneider.
And we're not talking about questionable fashion decisions.
[+] Enlarge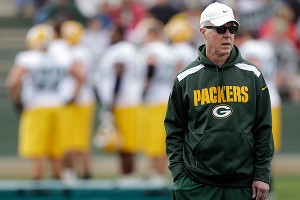 AP Photo/Morry GashAt 61 years old, Ted Thompson said he's not ready to retire as Packers GM anytime soon. "I'm feeling good and ready to go," he said.
For five years in Green Bay, Thompson listened to Schneider's opinions about all things personnel -- free agency, the draft, trades, waiver claims ... you name it. Not that Thompson, conservative by nature, always acted on Schneider's suggestions, but it was the protege's job to offer opinions and suggestions from his office down the hall at Lambeau Field.
Now, they sit more than 1,900 miles apart, competitors, not colleagues. Yet as Thompson faces one of the most important offseasons since he took over the Packers' personnel department in 2005, there are things he could learn from the man who put together a Super Bowl-winning roster.
Not that Thompson doesn't know how to do that; he built much of the roster that won Super Bowl XVL. But since the Packers' last championship, they have won just one playoff game -- against the
Minnesota Vikings
, who were forced to start backup quarterback
Joe Webb
at the last minute.
If there's a common denominator in their playoff exits, it's that their defenses failed them.
With
salary-cap space to use
and holes to be filled, Thompson might want to examine how Schneider built the Seahawks' top-ranked defense.
Although Packers quarterback
Aaron Rodgers
said shortly after the Super Bowl that it would be unrealistic to expect the Packers -- or any other NFL team -- to
play at the same level as the Seahawks
did last season and in their 43-8 destruction of the
Denver Broncos
in Super Bowl XLVIII, there are some things Thompson might be able to do to help bridge the gap between the Seahawks' dominating defense and the Packers' half-broken unit that slipped to 25
th
last season.
"If you're able to acquire players that can run fast and are big and are good-looking, then you've got a shot," Schneider said Thursday at the NFL scouting combine.
The Schneider formula for acquiring speed and size on defense goes like this:
Thompson has tried to employ some of those strategies. He used his first six draft picks in 2012 on defensive players with only minimal success. He signed safety
Morgan Burnett
to a four-year, $24.75 million contract last offseason only to see Burnett fail to come up with a single interception last season. But he hasn't touched free agency in any significant way since 2006, when he signed
Charles Woodson
and
Ryan Pickett
.
With the 21
st
pick in this year's draft, Thompson could be looking at defensive players again. Given the copycat nature of the NFL, it's worth wondering if another team, say the Packers, could duplicate what Schneider and Seahawks coach Pete Carroll have done on that side of the ball.
"It wouldn't be very hard, I don't think," Schneider said. "Just [get] more speed. It's just about having guys that are willing to teach and play young players, and [the Packers] have that. They have a young team. They have good teachers."
Packers coach Mike McCarthy said last week defensive coordinator Dom Capers' unit "is going to change some" and that he would "set the vision for the defense and Dom Capers and the defensive staff will carry it out."
To do so, Thompson might have to take more aggressive measures to rebuild a defense that in the Super Bowl season of 2010 ranked fifth in the NFL and ranked second in 2009.