Green Bay Packers:

Chester Marcol
July, 11, 2014
Jul 11
10:00
AM ET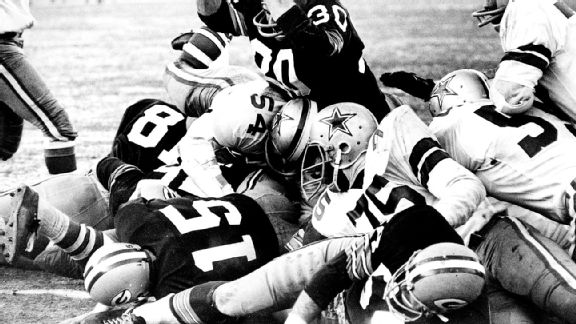 John Biever/Icon SMI
We have a winner. The voters picked Bart Starr's quarterback sneak for a touchdown to win the Ice Bowl as the Packers' most memorable play, and I applaud their selection.
Score:
Packers 21, Cowboys 17
Date:
Dec. 31, 1967
Site:
Lambeau Field
From the moment we began soliciting nominations for the
Green Bay Packers
' three most memorable plays, Bart Starr's quarterback sneak for a touchdown to win the Ice Bowl was mentioned more often than any other play.
So it should come as no surprise that it was the runaway winner in the voting.
Few NFL franchises have one defining play like that, but Starr's sneak ranks up there with
the Immaculate Reception
and
The Catch
.

When the voting closed on Thursday, Starr's play finished as a landslide winner over Brett Favre's 54-yard touchdown pass to Andre Rison in Super Bowl XXXI and
Aaron Rodgers
' third-and-10 completion to
Greg Jennings
to help clinch Super Bowl XLV.
What was most interesting in researching this project was that there was no consensus on the most memorable plays from Super Bowls XXXI and XLV. There was just as much support for Desmond Howard's 99-yard kickoff return for a touchdown that helped him win the Super Bowl XXXI MVP. Likewise in Super Bowl XLV, strong cases could be made for Nick Collins' interception return for a touchdown in the first quarter and
Clay Matthews
' forced fumble that thwarted a potential go-ahead drive by the Steelers in the fourth quarter.
Unlike Starr's sneak, no one play won Super Bowls XXXI or XVL.
And that is why Starr's play was so special.
As we wrap up this project, it's also worth noting some of the other plays that were considered, thanks in part to input from readers and other longtime observers of the team.
Among the others:
Don Hutson's first touchdown, an 83-yarder in 1935.

Dave Robinson drilling Don Meredith, leading to Tom Brown's interception to beat the Cowboys in the 1966 NFL Championship.

Herb Adderley's interception against the Lions in a 1962 regular-season game to set up the game-winning field goal in a 9-7 victory.

Chester Marcol's blocked field goal that he ran in for a touchdown to beat the Bears in 1980.

Don Majkowski to Sterling Sharpe for a 14-yard touchdown pass in 1989 against the Bears in what is known as the Instant Replay Game.

Favre to Sharpe in Detroit for a 40-yard touchdown with 55 seconds remaining in a 1994 playoff game.

Antonio Freeman's "Monday Night Miracle" catch to beat the Vikings in 2000.

B.J. Raji's interception return for a touchdown against the Bears in the NFC Championship Game in 2011.

The "Fail Mary" play against the Seahawks in 2012.
The problem with some of those plays is they were either flukes or meaningless plays in meaningless games. Oh, and there was one other play that a longtime Packers observer was convinced would be the most important play in team history if there more details about it were available. It was a punt, said to be nearly 90 yards by Verne Lewellen in a 1929 game against the
New York Giants
. That punt pinned the Giants deep in their own territory and helped secure a victory that was the difference between the teams in the standings (there were no playoffs at that time). The Packers, with a 12-0-1 record, won the championship over the Giants, whose only loss was to the Packers. It gave the Packers their first championship and, because it happened in New York, helped the Packers capture the attention of the powerful New York media. However, reports from that game do not clearly describe Lewellen's punt.
In the end, Starr's sneak is the play that has been, and likely will continue to be, the most memorable.
November, 1, 2013
11/01/13
2:45
PM ET
GREEN BAY, Wis. -- When the
Green Bay Packers
and
Chicago Bears
play on Monday Night Football at Lambeau Field, it will be their 187
th
meeting.
[+] Enlarge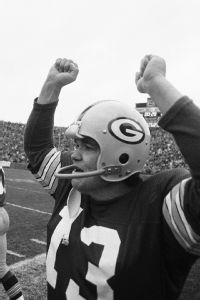 AP Photo/Steve PyleFormer Packers kicker Chester Marcol, shown during a win over Tampa Bay in 1978, reveals the darker side of his improbable game-winning score against the Bears.
In the NFL's oldest rivalry, there have been tens of thousands of plays.
But there was only one Chester Marcol miracle.
And every time the Packers and Bears play, it's a story worth retelling as Marcol did in his 2011 biography "Alive and Kicking," which he co-authored with longtime Milwaukee Journal Sentinel sports writer Gary D'Amato.
The book's opening chapter is entitled "Miracle." What better way to describe how the Packers beat the Bears 12-6 in overtime on Sept. 7, 1980. Marcol, the Packers kicker, lined up for a game-winning field goal in overtime only to have it blocked by Bears defensive lineman Alan Page.
What happened from there is best told by Marcol in his book.
He wrote:
"I looked up, expecting to see the ball sail through the uprights for the sudden-death victory. Instead, I saw nothing but Page's jersey numbers. He had bull-rushed [center Larry] McCarren, timed his leap, and blocked the kick -- just as he said he would.

"A split-second later, I was clutching the ball, which had bounced directly back into my chest.

"Instinctively, I started to run to my left. Most of the Bears were in a heap on the ground, having gone all-out to try to block the kick. By the time they realized I had the ball, it was too late to do anything about it. Jim Gueno, our left up-back, got in the way of the only Bears defender in the area and threw a little hook block. It wouldn't have mattered; nobody was going to catch me.

"I held the ball high and tight to my chest and sprinted into the corner of the end zone for the winning touchdown. Lambeau Field went crazy as my teammates mobbed me, screaming and pounding me on the back.

"I had not only scored a touchdown, but a game-winner and against our hated rivals, the Bears, no less. In the locker room afterward, Starr presented me with a game ball and asked me to lead the team in prayer. I did so with tears of joy streaming down my cheeks. The ball I carried into the end zone is today in the Packers Hall of Fame.

"But here's the thing about that touchdown that nobody knows:

"I was under the influence of cocaine when I scored.

"I had gone into the bathroom at halftime and, while the coaches and players were preparing for the second half, I snorted coke. I don't know if it would be accurate to say I was high when I scored that touchdown two hours later, but I definitely was under the influence.

"It's not something I'm proud to admit. But it happened and to tell the story of my touchdown without including the part about the cocaine would not be an honest account."
Marcol, who said he first tried cocaine the week before and quickly became hooked, later became a drug and alcohol counselor.
His book is available from
KCI Sports Publishing.
And video of the famous play
can been seen on YouTube
.