Green Bay Packers:

Chip Kelly
August, 19, 2014
Aug 19
8:00
AM ET
GREEN BAY, Wis. -- Maybe you've seen
the picture from Super Bowl I
, when
Kansas City Chiefs
quarterback Len Dawson was photographed in full uniform, sitting on a chair in the locker room and taking a drag off a cigarette during halftime of the game against the
Green Bay Packers
.
Or perhaps you've heard the story of Packers defensive end Ezra Johnson
scarfing down a hot dog
on the sideline during a preseason game in 1980.
That is not the NFL that Chip Kelly and Mike McCarthy believe in.
"Not to say that stuff didn't work," Packers outside linebacker
Clay Matthews
joked.
[+] Enlarge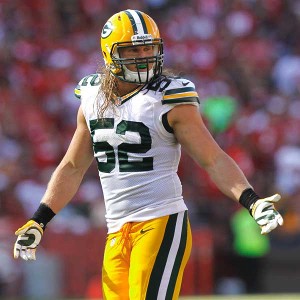 Cary Edmondson/USA TODAY Sports"There was a point where you'd smoke cigarettes and eat hot dogs at halftime," Clay Matthews said. "Now, we have specifically designed drinks for us and stuff that gets you up and going."
There has been much written of late about how Kelly, the
Philadelphia Eagles
' second-year coach, has brought an element of science to the NFL game. An
ESPN the Magazine profile
of Kelly by Seth Wickersham detailed how the Eagles players "wear mandated heart monitors and GPS devices. Trainers carry water bottles labeled with each player's name and after practice ask the players to pee into a cup, part of Kelly's plan to track hydration. A monitor on a wall in the facility ranks the most hydrated players. Drinking water is now a drinking game."
In a
recent Grantland.com story
, Chris B. Brown devoted a part of his Kelly profile to explaining how the Eagles take part in a full-speed practice the day before games "rather than the leisurely walk-throughs run by essentially every other team in the league."
If much of this sounds familiar, it's because in preparing for his ninth season as Packers coach, McCarthy has adopted some of the same practices in Green Bay.
This offseason, the Packers hired Catapult Sports, an Australian-based company that uses GPS technology to compile live data on athletic exertion and help determine how injuries can be prevented.
Nearly a month into training camp, and the Packers, who have been
crushed by injuries in recent years
, had just seven players who sat out of practice on Monday. Only one of them, defensive tackle
Letroy Guion
, had a muscle pull.
"I don't want to really talk about it, honestly," McCarthy said Monday of the relatively low injury totals. "We have a lot of football left."
McCarthy also altered his weekly routine that will put the players through a practice the day before a game. Previously, all of the Packers' on-field work was completed about 48 hours before kickoff.
"Here we are now getting it going on Saturday," Matthews said. "It's a fast, crisp practice. The next thing you know [the game is] the following day. So it doesn't feel like there's a lull. It doesn't feel like there's a wait until the game. You just kind of roll right into it."
And then this summer, the
Packers hired nutritionist
Adam Korzun, who previously worked at the University of Oregon, where it just so happens Kelly coached before jumping to the NFL in 2013. Korzun has been working closely with strength and conditioning coach Mark Lovat.
"These are … discussions that have been going on for some time," McCarthy said when asked about the comparisons to Kelly's program. "Mark Lovat does a great job staying on the front end of the research and the stuff that's out there. We've done a pretty good job around here training our players and winning games.
"We're about winning championships. Anything we feel we can do better, we're going to do our due diligence, go through it. Never want to just do something because someone else did it. But if they're doing something that's better than what we're doing, then we're going to do it. This is the Green Bay Packers. We have tremendous resources and our organization gives us that each and every year, and we feel the changes we made have been for the best."
Matthews' younger brother Casey is a linebacker for the Eagles, but he said the two have not spent much time discussing the similarities of their respective team's use of sports science. Clay Matthews said he has done some reading about what the Eagles are doing, and it sounds a lot like what's going in Green Bay. Matthews said the Packers are monitoring players' hydration levels by checking urine samples on a regular basis just like the Eagles do.
"Seeing this change, I'm able to buy into it," Matthews said. "And I think the other players are too just because of the science behind it."
Receiver
Randall Cobb
, who said he has changed his eating habits and has not eaten red meat in three months, said the team has done sleep studies to give players more information about their health and conditioning.
"Now it's on us as pros to go out and do those things," Cobb said. "They're giving us the education and helping us understand that what we can be doing to help ourselves."
This is not the NFL of Dawson and Johnson, of halftime smoke breaks and sideline sausages.
"I just think it's the natural progression of the league," Matthews said. "There was a point where you'd smoke cigarettes and eat hot dogs at halftime. Now, we have specifically designed drinks for us and stuff that gets you up and going."
July, 14, 2014
Jul 14
10:00
AM ET
GREEN BAY, Wis. – The faster the better.
That's what
Green Bay Packers
coach Mike McCarthy has planned for his offense this season.
And why not, especially with
Aaron Rodgers
on board with the idea?
[+] Enlarge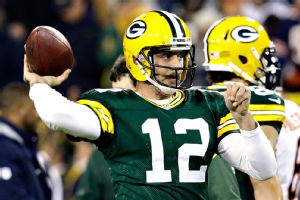 AP Photo/Mike RoemerAaron Rodgers and the Packers are determined to play faster and thus run more plays in 2014.
McCarthy and his quarterback have one primary goal in mind for 2014: Run 75 plays per game.
Do that, and everything else -- big numbers for
Randall Cobb
,
Jordy Nelson
,
Jarrett Boykin
and possibly one of the new rookie receivers; another 1,000-plus-yard season for
Eddie Lacy
; solid pass protection -- will fall into place.
"That seems to be the answer to some of the different things that defenses are doing," Rodgers said during an interview this offseason.
The first hint of McCarthy's plans came in February, when he stood at the lectern at the NFL scouting combine and declared that he wants Lacy -- and all of his running backs -- to
turn into three-down players
in order to limit the need for substitutions, which, of course, slows down the game.
"We play pretty fast, but you always want to play faster," McCarthy said during an interview near the end of the offseason program last month. "With a guy like Aaron, he plays faster than anybody I've ever been around."
McCarthy's offense isn't Chip Kelly's, which averaged 80-plus plays per game when he ran the fastest game in college football at Oregon. But Kelly's offense in the NFL -- despite 53 plays in the first half of his first game as the
Philadelphia Eagles'
coach last season -- wasn't Kelly's offense in college, either.
The Eagles finished last season 13
th
out of 32 teams in total offensive plays with 1,054, an average of 65.875 per game.
The Packers ranked 11
th
with 1,074 total plays (67.125 per game) -- their second-highest total in McCarthy's eight seasons as head coach -- but averaged nearly 69 plays in the games Rodgers finished last season.
"Aaron Rodgers is a beast the way he plays the game, the way he attacks the defense, whether it's his cadence, his ability to recognize defenses to take advantage of a certain pressure, and then on top of it he's so well-rehearsed in this offense," McCarthy said. "If anything, you worry about him just sometimes playing too fast. Not that he's playing too fast, he has the ability to play at such a fast level, it's keeping everyone coordinated to be able to play with him."
And that's where the running backs come into the picture.
As Lacy pounded his way to well-earned yards on first and second down last season, he usually came off the field on third down -- not because he needed a blow but because McCarthy and his offensive staff felt better about using another back (often fullback
John Kuhn
) in pass protection. That plan usually worked (remember
Kuhn's game-saving block
on
Julius Peppers
in the Week 17 division-clinching win over the Bears), but the Packers had to downshift in order to make the change.
This year, McCarthy sees no need to change speeds and no reason to give the defense time to adjust.
"We've always been a fast-tempo offense," he said. "To me, there are two approaches to playing the game of football. Historically, in my opinion because I don't want to offend anybody, defensive coaches want to slow the game down, run the ball, shorten the game. Your offensive coaches more want to pick it up.
"I've always been of the belief of getting as many shots as you can, so we've always emphasized playing as fast as you can. When you have as many three-down players as you can possibly have, obviously your substitution patterns are cleaner. You're not subbing because you have to, you're subbing just when you need to."
That could mean even more no-huddle series this season. Rodgers, who has excelled in the no-huddle offense, likes the plan.
"We always kind of struggle with that, trying to get guys to stay on the field and play all three downs," Rodgers said. "We've had so many injuries over the years, it's made John Kuhn such an irreplaceable guy because he can be the guy who can run and get you a few yards and also be a third-down protection back. He's been amazing at it in two-minute drills. I mean, last year, he made the block of the year. But it would be nice if we could have drives where Eddie can go three plays in a row or
James [Starks]
could go three plays in a row or
DuJuan [Harris]
could go three plays in a row and not have to take them out, so we could not have to bring in any subs and you could stay pressuring the defense.
"There's a lot of substitution that goes on by both teams. The key substitution is usually for third down, because teams run so much on third down. After second down, if you're subbing four or five guys on and off, it's tough to run an offense where you're up-tempo, because everybody has to get the call, and it just takes a little longer. We'd like to play a little faster."
February, 10, 2014
Feb 10
8:00
AM ET
A roundup of what's happening on the Green Bay Packers' beat.
GREEN BAY, Wis. -- Packers coach Mike McCarthy completed his coaching staff last Friday, when he announced the hiring of four new coaches and gave different responsibilities to five others previously on his staff.
It brought the total number of assistant coaches working under McCarthy to 21 -- one more than the Packers had last season.
Only three NFL head coaches currently have more assistants than McCarthy does.
Philadelphia Eagles
coach Chip Kelly and
Seattle Seahawks
coach Pete Carroll each have 23 assistant coaches -- tops in the NFL. It's interesting that the two biggest staffs both were assembled by recent former college coaches.
Arizona Cardinals
coach Bruce Arians is next with 22 assistants. Three other teams -- the
Buffalo Bills
,
Baltimore Ravens
and
Kansas City Chiefs
-- match the Packers with 21.
In the NFC North, the Packers have two more assistants than the
Chicago Bears
, three more than the
Detroit Lions
and four more than the
Minnesota Vikings
.
The NFL average for assistant coaches is 19.1 per team. The AFC average is 18.9, while the NFC average is 19.3.
The numbers were based on coaching staff directories listed on each team's website.
While there could be a few additions to coaching staffs over the next few weeks, most of the coaching changes have been made, which makes it interesting to note that
Pittsburgh Steelers
coach Mike Tomlin currently has the smallest staff with just 14 assistants. The Steelers list only one strength and conditioning coach, while many teams have two or three, and only list one special teams coach while many teams have two or three. Other teams will small staffs include the
New England Patriots
and
Atlanta Falcons
, each with 16 assistants.
In case you missed it on ESPN.com
:
Best of the rest
:
In the Green Bay Press-Gazette, Mike Vandermause suggested that Seahawks general manager John Schneider, a former Packers scout, might be the best choice to replace Ted Thompson whenever he decides to retire from his GM job.
In the Milwaukee Journal Sentinel, Tom Silverstein wrote that the Thompson's draft-and-develop philosophy has put the Packers in good salary-cap shape.