Green Bay Packers:

Cordarrelle Patterson
January, 28, 2014
Jan 28
8:00
AM ET
A roundup of what's happening on the Green Bay Packers beat.
GREEN BAY, Wis. -- Packers running back
Eddie Lacy
may indeed win the NFL's offensive rookie of the year, an award that will be announced Saturday night in New York at the third annual NFL Honors.
Lacy
But you can't tell from the guest list at the awards program to held at Radio City Music Hall.
Sure, Lacy, fresh off his Pro Bowl appearance, was on the list released by the league on Monday.
But so was
San Diego Chargers
receiver
Keenan Allen
, who might be Lacy's top competition for the award. And so was
Minnesota Vikings
receiver/kick returner
Cordarrelle Patterson
, who also could be under consideration.
Among the others with ties to the Packers that are scheduled to appear are quarterback
Aaron Rodgers
, receiver
Randall Cobb
and former Packers players
Mark Brunell
,
Ahman Green
and
Sterling Sharpe
.
Former Packers quarterback
Brett Favre
, who
appeared on stage at last year's event
with Rodgers, was not on the list.
Rodgers will be in New York on Friday to accept
the 2014 Bart Starr Award
given to one NFL player for outstanding character and leadership on the field and in the community.
Rodgers and Cobb also are among the nominees for the NFL's Never Say Never Moment for their game-winning 48-yard touchdown in Week 17 against the
Chicago Bears
that clinched the NFC North title. That award also will be presented at the NFL Honors program.
In case you missed on ESPN.com
:
Best of the rest
:
In the Green Bay Press-Gazette, Scott Williams got a look at a Coca-Cola commercial that was filmed in and around Lambeau Field and will air during Super Bowl XLVIII.
In the Milwaukee Journal Sentinel, Bob McGinn wrote about Denver Broncos owner Pat Bowlen's ties to Wisconsin, where he played high school football in a small town in the southwest corner of the state.
December, 18, 2013
12/18/13
7:10
PM ET
GREEN BAY, Wis. --
Eddie Lacy
's case for the NFL's offensive rookie of the year award keeps getting stronger.
And wouldn't it be fitting if he helped solidify it on Sunday against the
Pittsburgh Steelers
?
[+] Enlarge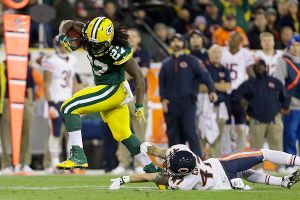 Mike McGinnis/Getty ImagesIt has been more than 40 years since Green Bay had a rookie running back top 1,000 yards rushing.
It was the Steelers who reportedly "
would not touch
" Lacy because of toe fusion surgery he had before his final year at Alabama. If Lacy needed any extra motivation,
which he said he did not
, Steelers coach Mike Tomlin said this week that picking running back
Le'Veon Bell
in the second round ahead of Lacy was "
an easy decision
."
"I mean, you can use it for motivation," Lacy said Wednesday. "But I'm not one to use external factors for motivation."
It was a rocky start for Lacy, who was the 61st overall pick in the draft.
He was criticized for being out of shape, something that wasn't helped by
an unflattering picture
that appeared to catch him in an awkward position during training camp. He fumbled in the season opener against the
San Francisco 49ers
and then was knocked out of the Week 2 game against the
Washington Redskins
because of a concussion that also sidelined him the next week against the
Cincinnati Bengals
(another team that picked a different running back ahead of Lacy).
Since then, Lacy's conditioning has not been an issue, he has not missed another game despite battling a sprained right ankle the past two weeks and he has been the most productive running back in the NFL since he returned in Week 5. In that stretch, he has an NFL-best 977 yards rushing. With 141 yards on 21 carries in Sunday's win over the
Dallas Cowboys
, Lacy was named the
NFC's offensive player of the week
and became the first Packers running back to rush for 1,000 yards as a rookie since John Brockington in 1971.
With 1,028 yards, Lacy ranks seventh in the NFL in rushing. The next-best rookie is
Zac Stacy
, a fifth-round pick of the
St. Louis Rams
, who ranks 10th with 854 yards. Bell, the second running back taken in the draft behind
Giovani Bernard
, ranks 24th in the league with 646 yards rushing.
"They picked the guy they wanted, and I landed here," Lacy said. "And I'm very happy here, and I'm doing good."
Bernard, who was taken 37th overall, is one spot ahead of Bell in the rankings with 653 rushing yards.
Montee Ball
, the only other back taken ahead of Lacy, ranks 42nd with 455 yards for the
Denver Broncos
.
More so than his statistics, Lacy has impressed with his running style. The 5-foot-11, 230-pounder has shown a penchant for breaking tackles and carrying the pile.
"He'll rush for a 10-yard gain and be mad at himself because he didn't make another guy miss," Packers right guard
T.J. Lang
said. "That's the attitude that you love to see, man. He's never satisfied. He's always looking for more."
Last week, ESPN Stats & Information provided some insight on a few of the
top candidates for the rookie of the year
award.
None of the rookies at any position ranks as high in their respective statistical categories as Lacy does in the rushing yardage. The top rookie receiver,
Keenan Allen
of the
San Diego Chargers
, ranks 36th in the NFL in receptions (63) and 21st in receiving yards (931).
Minnesota Vikings
rookie receiver
Cordarrelle Patterson
has made his biggest impact on special teams, with two kickoff returns for touchdowns. None of the rookie quarterbacks playing --
Mike Glennon
in Tampa Bay,
EJ Manuel
in Buffalo and
Geno Smith
with the Jets -- have done enough to warrant serious consideration.
November, 1, 2013
11/01/13
12:00
PM ET
On the day former
Chicago Bears
coach Lovie Smith got the job, he said that one of his priorities was to beat the
Green Bay Packers
.
First-year Bears coach Marc Trestman made no such promises about this rivalry, but it goes without saying that he's eager to end Chicago's six-game losing streak to the Packers.
The last time Chicago beat Green Bay was on Sept. 27, 2010, on "Monday Night Football." The teams meet again in prime time Monday night at Lambeau Field.
ESPN.com's Packers reporter Rob Demovsky and Bears reporter Michael C. Wright break down the matchup.
Rob Demovsky:
We all know how much Smith wanted to beat the Packers. He stated as much the day he got the head coaching job. What has Trestman's approach to this rivalry been like?
Wright
: Rob, my man, you know that rivalries have to cut both ways in terms of wins and losses for it to be truly considered a rivalry. Counting the postseason, the Bears have lost six in a row and nine of the last 11. So, if anything, this is more Green Bay dominance than a rivalry. But the interesting thing about Trestman is he's a guy who likes to compartmentalize everything. He looks at today rather than the past or the future. So while it sounds cliché, Trestman is looking at the Packers as just another opponent on the schedule. That's just the way Trestman likes to operate, and I think for him it sort of makes things easier.
I keep looking at Green Bay's sack numbers, and I'm a little surprised the club is still in the top 10 in sacks with
Clay Matthews
out the last three games and other key members of the defense missing time. What is Dom Capers doing over there schematically to keep up the production?
Demovsky:
I figured when Matthews broke his thumb, Capers would have to blitz like crazy. Now, he's picked his spots, but he hasn't gone blitz-happy like I thought he might. However, he has been sending different pass-rushers to keep offenses off guard. One game, against the
Baltimore Ravens
, linebacker
A.J. Hawk
came a bunch and sacked
Joe Flacco
three times. Also, they've finally found a defensive lineman with some rush ability in second-year pro
Mike Daniels
. Three of his team-leading four sacks have come in the past two games.
As long as we're on the topic of quarterbacks, in 2011, backup
Josh McCown
played a halfway decent game against the Packers on Christmas at Lambeau Field, but he threw a couple of interceptions. What do you expect from him this time around as he starts in place of the injured
Jay Cutler
?
[+] Enlarge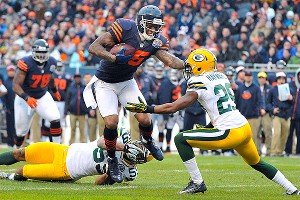 Rob Grabowski/USA TODAY SportsThe Packers have limited Brandon Marshall to 8 catches for 80 yards in their past two meetings.
Wright
: Believe it or not, I expect little to no drop-off from McCown in this game. The biggest difference between now and then is that in 2011, McCown joined the team in November, fresh from a stint as a high school football coach in North Carolina, and four weeks later became the starter. So he basically came in cold and still played relatively well. This time around, McCown has become immersed in the offense from the ground level, when Trestman first came on board, and even had some input as the team constructed the scheme. In fact, during the offseason, McCown was holding film sessions with all the club's new additions to teach everyone the new offense. So he's got complete mastery of the offense just like Cutler, which is why McCown came in against the Redskins and the offense didn't miss a beat. Obviously, McCown doesn't possess Cutler's arm strength. But he'll make up for that deficiency with anticipation. I'm quite sure the Bears won't scale down the offense to accommodate McCown at all, because they don't need to. So I expect McCown to play well. I'm just not sure Chicago's offense can keep up with Green Bay's in what I expect to be a high-scoring game.
Speaking of high scoring, the Packers put up 44 points on the
Minnesota Vikings
. How is Green Bay handling the preparation process for the Bears?
Demovsky
: Well, they certainly don't have as much time as the Bears do, considering the Bears are coming off their bye week. But the Packers have gotten themselves into a rhythm. They've won four in a row after their 1-2 start and look like a different team than they did the first three weeks of the season. Mike McCarthy probably doesn't get enough credit nationally, but show me another coach who has stared injuries in the face and hasn't blinked. What other team could lose playmakers like
Randall Cobb
,
James Jones
,
Jermichael Finley
and Matthews and still keep winning? That's a testament to the program he has established here. You can argue with some of his in-game coaching decisions, but you can do that with every coach. What you can't question, though, is the team's preparation.
The Bears, obviously, have had their share of injuries, too, losing Cutler and linebacker
Lance Briggs
. What's a bigger loss -- Cutler to the offense or Briggs to the defense?
Wright
: Well, Cutler's replacement is a veteran in McCown who has plenty of experience and a ton of weapons surrounding him on offense, while rookie
Khaseem Greene
will likely fill in for Briggs on a bad defense that will also feature rookie
Jon Bostic
in the middle. From my vantage point, losing Briggs is much more significant. The Bears have already proved to be horrible against the run (ranked 25th), and that issue certainly won't improve with two rookies at linebacker and a defensive line decimated by injury. It's also worth noting that Briggs made all the defensive calls and served as somewhat of a coach on the field for Bostic. Given that Green Bay seems to be running the ball so well, the current situation with Chicago's front seven could be devastating.
Now that the Packers are running the ball so well, how has that changed the way the offense is called? It seems Green Bay runs well regardless of which running back they line up in the backfield.
Demovsky
: It's remarkable -- and even a bit stunning -- to see
Aaron Rodgers
check out of a pass play and in to a run play at the line of scrimmage. That kind of thing hasn't happened around here in a long, long time -- probably not since
Ahman Green
was piling up 1,000-yard seasons nearly a decade ago. Teams no longer can sit back in a Cover-2 look and dare the Packers to run. Because guess what? The Packers can finally do it. It also has given the receivers more one-on-one opportunities, so it's helped the passing game, too. Right now, this offense almost looks unstoppable.
If the Packers keep playing like this, they might be tough to catch in the NFC North. What are the Bears' prospects for staying in the NFC North race until Cutler and Briggs return?
Wright:
To me, this game is the measuring stick for making that determination. But I'm not really confident about Chicago's chances, and that has more to do with the team's struggling defense than Cutler's absence. There have been conflicting statements made about Cutler's recovery time frame. Some teammates think he'll be ready to return by the time the Bears face Detroit on Nov. 4, while Trestman said the plan is to stick to the minimum four-week time frame prescribed by the doctors. Either way, if the Bears lose to the Lions you can kiss their prospects for the playoffs goodbye. The Bears might be able to afford a loss to the Packers because they'll face them again on Dec. 29. But a sweep by the Lions kills Chicago's chances to me because just from what we've seen so far, it appears one of the wild cards will come out of the NFC North with the other coming from the NFC West. Obviously it's too early to predict that, but that's the way things seem to be shaking out.
Without two of his top receivers and tight end Finley, Rogers still hit 83 percent of his passes against the Vikings. Is that success a product of the system, a bad Minnesota defense, or is Rodgers just that good at this point?
Demovsky
: The more I see other quarterbacks play, the more I'm convinced it's Rodgers. For example, seldom-used receiver
Jarrett Boykin
makes his first NFL start two weeks ago against the
Cleveland Browns
, and he ends up with eight catches for 103 yards and a touchdown. How many catches do you think he would have had if he were playing for the Browns that day? Their quarterback,
Brandon Weeden
, completed only 17-of-42 passes. That's not to minimize what Boykin did or what players like
Jordy Nelson
do week in and week out, but Rodgers is special, and special players elevate the play of those around them. Look at what
Greg Jennings
has done since he left for the Vikings. Now tell me the quarterback doesn't make the receiver, not vice versa.
Speaking of receivers, other than
Anquan Boldin
, who lit up the Packers in the opener at San Francisco, they've done a solid job shutting down other team's No. 1 receivers -- most recently Jennings and Cincinnati's
A.J. Green
. How do you think the Bears will try to get
Brandon Marshall
involved against what has been a pretty good Packers secondary?
Wright
: This question brings me back to the 2012 massacre at Lambeau Field on Sept. 13. The Packers bracketed Marshall with two-man coverage, and the Bears struggled tremendously. Shoot, cornerback
Tramon Williams
caught as many of Cutler's passes as Marshall, who finished the game with two grabs for 24 yards. Obviously, this offensive coaching staff is a lot different than last year's group. So the Bears will go into this game with a lot more answers for that coverage. I definitely see McCown leaning on Marshall and trying to get him involved as early as possible, but the only way he'll be able to do that is for the Bears to establish the rushing attack with
Matt Forte
so the quarterback can operate off play action. When the Bears go to Marshall early, expect to see a lot of short passes that will enable the receiver to gain some yardage after the catch.
Over the years, Green Bay has been pretty successful at limiting the impact of return man
Devin Hester
. So I was a little shocked to see the Packers give up a kickoff return for a touchdown to
Cordarrelle Patterson
. As you probably know, Hester is coming off a pretty strong return game against the Redskins. Do you think the Packers fix the problems they encountered last week, and minimize Hester's impact?
Demovsky
: Part of the Packers' problem on special teams has been that all the injuries have created a trickle-down effect. Here's what I mean: On the kickoff coverage until they gave up the 109-yard return to Patterson, they lined up six rookies, two of whom weren't even on the opening day roster. The Packers always have feared Hester, as they should, and in various games in recent years have shown they'd almost rather kick the ball out of bounds than give him any return opportunities. He's one of those special players who make rivalry games so entertaining.
October, 28, 2013
10/28/13
4:00
PM ET
A review of four hot issues from the
Green Bay Packers
' 44-31
win
against the
Minnesota Vikings
:
Rodgers' responsibility
: Every time quarterback
Aaron Rodgers
loses one of his key playmakers, his job gets harder. Consider that within a span of eight days, he lost two of his top three receivers (
Randall Cobb
and
James Jones
on Oct. 13 against the
Baltimore Ravens
) and his top tight end (
Jermichael Finley
on Oct. 20 against the
Cleveland Browns
). Yet in the past two games, Rodgers has played some of his finest football. In his past two games, Rodgers has attempted 65 passes and completed 49, or 75.4 percent. He has thrown five touchdowns without an interception in the past two games. That followed a stretch in which Rodgers -- with all of those weapons -- went three straight games without throwing more than one touchdown. "I think this is really shaping up to be one of Aaron's best years," coach Mike McCarthy said Sunday night. "Aaron's had a lot of challenges Monday through Saturday that don't show up on a stat sheet, just the change, just trying to get on the same page with younger players, trusting the game plan."
[+] Enlarge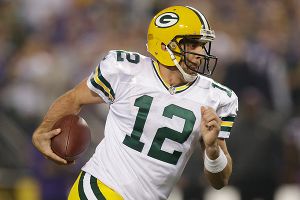 AP Photo/Jim MoneThough the talent around him has been depleted by injuries, quarterback Aaron Rodgers is thriving.
Special teams breakdown:
The rash of injuries that has hit the Packers this season has impacted them most on special teams. They had six rookies or first-year players -- including two (receiver
Chris Harper
and tight end
Jake Stoneburner
) who weren't on the Week 1 roster -- on their kickoff coverage team who allowed
Cordarrelle Patterson
's 109-yard kickoff return for a touchdown to open the game. The Packers had several chances to stop Patterson deep in Vikings territory.
Jerron McMillian
and
Sam Barrington
both had shots inside the 20-yard line, and
Micah Hyde
missed a diving attempt at the 23. Special teams coach Shawn Slocum also pulled punter
Tim Masthay
off of kickoffs after Patterson's return. Field goal kicker
Mason Crosby
handled kickoffs the rest of the game, making it a light night for Masthay, because the Packers never had to punt.
An opportunity for Sherrod
: As good as
Don Barclay
is in the running game, where he regularly finishes blocks with an aggressiveness about him, the second-year right tackle has had his struggles in pass protection. Barclay had his hands full with Vikings defensive end
Brian Robison
. Although Robison did not record a sack, he regularly beat Barclay and forced Rodgers to have to escape the pocket to avoid him. The Packers might have to consider giving
Derek Sherrod
a chance at right tackle -- if he's ready, that is. Sherrod, a first-round pick in 2011, returned to practice two weeks ago and can be activated off the physically unable to perform list. The Packers have to decide by the beginning of next week whether to put Sherrod on the 53-man roster. He appears to be fully healed from the broken leg he suffered on Dec. 18, 2011. He has not played in a game since he suffered the injury late in his rookie season.
No new injuries:
It's always possible an injury or two could pop up in the next couple of days, but perhaps the best thing to come out of Sunday's game was the fact that the Packers did not suffer any more injuries. For a team that has been hit hard by the injury bug, that's no small matter. All but one of the seven inactive players on Sunday was injury-related. What's more, linebackers
Nick Perry
(foot) and
Brad Jones
(hamstring), along with James Jones (knee), might be able to return for Monday night's game against the
Chicago Bears
. And linebacker
Clay Matthews
, who told ESPN.com on Sunday night that
he will have the pins removed
from his broken right thumb Nov. 4, could return as soon as the following week against the
Philadelphia Eagles
.
October, 28, 2013
10/28/13
1:23
AM ET
MINNEAPOLIS – Observed in the locker room following the
Green Bay Packers
'
44-31 win
over the
Minnesota Vikings
:
Lacy
Still in awe:
Packers running back
Eddie Lacy
outgained Vikings running back
Adrian Peterson
on the ground, 94 yards to 60, but the rookie was still in awe. "I respect A.P.; I look up to him," said Lacy, who carried a career-high 29 times and scored one touchdown. "He's a great running back, very talented, and I was just happy to be on the same field with him. A part of me is still a spectator, I guess you could say. So to watch him, that was cool, too. But we had a good game on the ground; me and
[James] Starks
were able to get a lot of yards tonight."
Pitching a shutout:
Rookie left tackle
David Bakhtiari
was changing just a few lockers over from guard
T.J. Lang
, who was asked about the job Bakhtiari did on Vikings defensive end
Jared Allen
, who did not record a single tackle, sack or quarterback hit. That didn't stop Lang from giving him a little rookie ribbing. "David's been struggling quite a bit," Lang said. "Nah, I'm just kidding. You didn't hear [Allen's] number at all today."
One man to beat:
Punt returner
Micah Hyde
had only one man to beat on his 93-yard punt return for a touchdown in the second quarter – his teammate
Sam Barrington
. Barrington nearly took out Hyde in the middle of the field. "We talked about it at halftime," Hyde said. "I was like, 'Sam, you almost tackled me, man.' He said, 'I was about to crush somebody, and the next thing I know we're running face to face.' He did a good job of avoiding me, though. Right off my cut, he just jumped out of the way, so kudos to him, too." Hyde, who was criticized for his lack of speed, said he didn't feel vindicated by outrunning everyone on the Vikings. Rather, he was happy to make up for
Cordarrelle Patterson
's 109-yard kickoff return for a touchdown to open the game. "That was tough," Hyde said. "Obviously, we gave that up. I was a part of it; I could've made the tackle. We just had to go out there as a punt-return team and make some plays."
Favre who?
In the wake of reports last week that the
St. Louis Rams
called Brett Favre to see if he was interested in coming out of retirement, coach Mike McCarthy was asked if the Packers would call Favre if
Aaron Rodgers
got hurt. With a look of disbelief, McCarthy said: "It was a helluva football game. I'm going to talk about the game."
October, 27, 2013
10/27/13
11:28
PM ET
MINNEAPOLIS – A few thoughts on the
Green Bay Packers
'
44-31 win
over the
Minnesota Vikings
:

What it means
: After all the awful things that have happened to the Packers over the years at the Metrodome, it almost seemed fitting that in their last regular-season game here they gave up a 109-yard kickoff return for a touchdown to Vikings rookie
Cordarrelle Patterson
to start the game. But it was no house of horrors this time.
Aaron Rodgers
turned in another masterful performance. Without two of his top three receivers and his top tight end, the Packers quarterback completed all but five of his passes, going 24-for-29, and threw a pair of touchdown passes. The win kept the Packers (5-2) in first place in the NFC North, one-half game ahead of Detroit (5-3).
Stock watch
: The Packers seemingly can run the ball no matter which running back they use.
James Starks
was active for the first time since his Week 3 knee injury. He spelled
Eddie Lacy
for a few series, and looked just as explosive as he did in Week 2, when Starks rushed for 132 yards against Washington. The Packers matched their season high with 182 yards rushing, and dominated the time of possession, holding the ball for 40 minutes and 54 seconds. Lacy, the NFL's leading rusher over the previous three weeks, rushed for 94 yards on 29 carries, while Starks carried seven times for 57 yards, including a 25-yard touchdown.
What you can do, I can do, too:
After Patterson returned the opening kickoff 109 yards for a touchdown, Packers rookie
Micah Hyde
returned a second-quarter punt 93 yards for a touchdown. Hyde nearly got taken out by one of his own men, linebacker
Sam Barrington
. But once he avoided Barrington, Hyde was gone.
Scrambling man:
Rodgers hurt the Vikings with his feet. Other than two kneel-downs, he ran four times for 34 yards, including a 14-yard scramble on a third-and-2 play on the opening drive of the third quarter. Three plays later, Rodgers scrambled on another third-and-2 play, and although he took a hard hit, he picked up 3 yards to set up Lacy's 1-yard touchdown. Those two plays by Rodgers kept alive a drive that chewed up the first 8:10 of the second half.
No trouble on third down:
The Packers converted their first seven third downs and finished 13-of-18 for the game. At 72.2 percent, that was the highest third-down conversion rate in the NFL this season, bettering Denver's 69 percent against Dallas in Week 5, according to ESPN Stats & Information. They also converted both of their fourth-down attempts.
What's next:
The Packers make their first – and only – appearance of the season on "Monday Night Football" when the
Chicago Bears
come to Lambeau Field on Nov. 4. The Bears (4-3) will be coming off their bye week.
October, 25, 2013
10/25/13
12:00
PM ET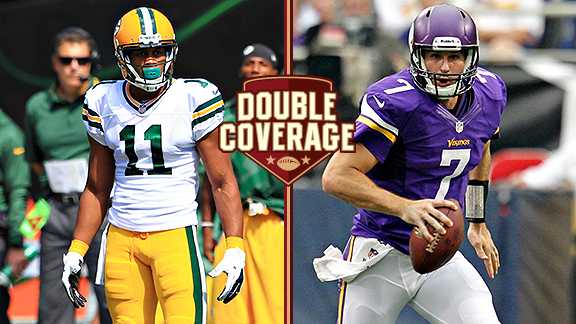 USA TODAY SportsPackers WR Jarrett Boykin came up big as an injury fill-in last Sunday; can Vikings QB Christian Ponder do the same against the Packers?
.
The
Minnesota Vikings
and
Green Bay Packers
will meet for the fourth time in 11 months on Sunday night at Mall of America Field, but things have changed quite a bit for both teams since they faced off in the wild-card round of the NFC playoffs last January.
Christian Ponder
will likely start at quarterback for the Vikings, but it might be a one-week engagement with
Josh Freeman
out because of a concussion.
Greg Jennings
became the latest Packer to switch sides in the rivalry. And
Aaron Rodgers
is relying as much on a nasty offensive line and a productive running game as he is on a receiving corps that's been hit hard by injuries.
As the Packers try to extend their lead in the NFC North and the Vikings try to get their season headed in the right direction following a 1-5 start, ESPN Vikings reporter Ben Goessling and ESPN Packers reporter Rob Demovsky got together to break down the matchup.
Ben Goessling:
Rob, one of these teams has the sixth-ranked rushing game and the third-ranked run defense in the league. And it's not Minnesota. Those two things have been fixtures for the Vikings for years, but they're struggling to open holes for
Adrian Peterson
, who has looked too anxious at times to turn everything into a big gain, and on a few occasions they've been whipped up front by opposing offensive lines. How strange has it been to watch the Packers play so physically, and what kind of an advantage will that create for them on Sunday?
Rob Demovsky:
It's like the Bizarro World around here. The Packers haven't run the ball this well in a decade, not since the days of Ahman Green. And they haven't had this kind of run defense since 2009, when they led the NFL in the category. But it's probably the way they have to win now, considering all the skill-position guys –
Randall Cobb
,
James Jones
,
Jermichael Finley
– they're missing on offense and all the pass-rushers –
Clay Matthews
,
Nick Perry
-- they're missing on defense.
I'm used to seeing the Vikings run the ball like crazy. Are the problems at quarterback the major reason the running game hasn't taken off, or are there other issues at work?
Goessling:
Ah, yes, the old U-71 package with Kevin Barry. And then they got gun-shy in the famous fourth-and-26 game against the Eagles. Sorry, I'm probably hitting some nerves for the Packers fans out there. Moving on …
It's hard to put a finger on exactly what hasn't worked for the Vikings this season, but I'd start with two guys they paid handsomely over the winter -- right tackle
Phil Loadholt
and fullback
Jerome Felton
. Peterson has done his best work running behind those two guys, but Loadholt hasn't been anywhere near the road grader he was last season, and Felton has had trouble as a lead blocker since returning from his three-game suspension at the beginning of the season. It also seems like Pro Bowl left tackle
Matt Kalil
and center
John Sullivan
(who was a Pro Bowl alternate) aren't playing at the same level they were last season. But yes, if the Vikings could throw the ball and make teams pay for putting nine men in the box, they'd have a little more margin for error. That's got to be on the quarterback situation; the Vikings spent plenty of money trying to upgrade their offense over the winter, but without a guy who can make it all go, it's not going to work.
Speaking of the guy who makes it all go for the Packers, am I right in assuming Rodgers is going to be hanging on tightly this week to what Greg Jennings said about him over the summer? Those two can play nice all they want with their comments, but Jennings' earlier remarks would seem like the type that would activate the famous chip on Rodgers' shoulder.
Demovsky:
It was funny, Rodgers talked at length this week about being focused on this game, this team -- and not about what anyone outside the organization (hint: Jennings) had to say. But when someone asked him how he could forget about that, he came back with a classic response. He said that he didn't say anything about forgetting, just focusing. Now, does this rival the intensity behind the 2009 games against the Brett Favre-led Vikings? Not even close. But knowing Rodgers, he'll have a little something extra for this one.
What's the feeling about Jennings' contributions so far? Do the Vikings feel like they're getting their $45 million worth?
Goessling:
Yikes. That does sound like a classic Rodgers response. And with the shape this Vikings secondary is in -- especially without safety
Harrison Smith
-- that might be bad news for defensive coordinator Alan Williams.
Coach Leslie Frazier has raved about what Jennings has meant to their receiving corps, the work he's done to mentor young receivers such as
Cordarrelle Patterson
and the time he's spent with Ponder. He's had moments, such as the short pass he turned into a 70-yard touchdown against the Steelers, when he's looked like the player he was in Green Bay. But it's hard to gauge exactly what he's done, because there's been so much uncertainty at quarterback. He's played with three starters in six games; he had the same number in seven seasons with the Packers. He's also so technical as a route-runner -- and so good in small spaces – that I think he's really at his best when he has a quarterback who understands the details in his game and can use those to exploit a defense.
Maybe Ponder can get closer to that on Sunday. He played one of his best games last December when the Vikings needed to beat the Packers for a playoff berth. Can he recreate that against what looks like a tougher defense, or will he struggle, especially now that it looks like
Casey Hayward
might be back?
Demovsky:
This is a much different defense than Ponder saw last season, even if Hayward doesn't return. The Packers are so much deeper in the secondary now with the emergence of
Davon House
, who had his first career interception Sunday against the Browns, and rookie
Micah Hyde
.
Sam Shields
has become their new shutdown corner, but that's not to say
Tramon Williams
still isn't a factor. He's actually playing some in the slot now, so it's a new role for him. As good as Hayward was last season, I'm not sure he's essential to their pass defense right now. The Packers have only three interceptions on the season, but I wouldn't be surprised if the floodgates open fairly soon.
One of the matchups I'm most interested in is
Jared Allen
against the Packers' new left tackle,
David Bakhtiari
. Bakhtiari has played well, especially for a rookie, but he hasn't yet had to pass-protect with the noise inside of a dome. And you know Allen will have some tricks for the rookie. How much do you think the Vikings will try to key on that matchup?
Goessling:
I'm sure they're hopeful it's a productive one for them. Allen hasn't looked like the same guy this season -- although he still is on pace for double-digit sacks -- and the Vikings have had enough trouble getting to the quarterback that they've had to blitz a little more, which typically isn't a smart strategy against Rodgers. But Allen always seems to do his best work against the Packers, particularly in the Metrodome, and if the Packers leave Bakhtiari alone against Allen, he could have his hands full.
See you on Sunday night, Rob. Soak up those Metrodome memories. With these two teams in this building, something interesting usually happens.
.