Green Bay Packers:

Darrelle Revis
January, 19, 2015
Jan 19
6:45
PM ET
GREEN BAY, Wis. --
Randall Cobb
and
Sam Shields
will play in their first Pro Bowl. The
Green Bay Packers
' duo was added to the game on Monday as alternates.
Cobb replaced
Dallas Cowboys
receiver
Dez Bryant
, who pulled out because of an injury. Shields got the spot because
New England Patriots
cornerback
Darrelle Revis
is in the Super Bowl.
The game is Sunday in Glendale, Arizona. The teams will be divided up on Wednesday night in a Pro Bowl draft to be televised on NFL Network.
Cobb set career highs in receptions (91), yards (1,287) and touchdowns (12).
Shields had two regular-season interceptions and another in the playoffs. He became the first Packers cornerback to be selected to the Pro Bowl since
Charles Woodson
in 2011.
Five Packers
were initially voted in
. They were: quarterback
Aaron Rodgers
, receiver
Jordy Nelson
, guard
Josh Sitton
, fullback
John Kuhn
and linebacker
Clay Matthews
.
It's unclear if Rodgers will go, considering he has been dealing with the strained left calf for nearly a month. Sitton said Monday that he was undecided. He has been listed on the injury report with a toe injury ever since the bye week in November.
December, 1, 2014
12/01/14
8:00
AM ET
GREEN BAY, Wis. -- How relieved was rookie receiver
Davante Adams
that the
Green Bay Packers
' defense
came up with one final stop
in Sunday's 26-21 win over the
New England Patriots
?
"That I didn't lose the game for us, is that what you're trying to say, in other words?" Adams said.
If Adams is going to put it that way, then, sure.
Adams
Adams put together the best game of his young career with six catches and 121 yards, but he was almost the goat for dropping what would have been a 10-yard touchdown pass on third-and-5 with 8:45 remaining. The extra point would have given the Packers a 30-21 lead. Instead, the ball bounced off his hands, and the Packers had to settle for a field goal and just a five-point lead.
"I feel like as a player in this league you can't let things like that get to you, especially this early on in your career," said Adams, the second-round pick from Fresno State. "You've got to make sure you do what you can to move past it, and we've got great teammates that keep me up. Things are going to happen -- hopefully it doesn't happen again -- but things do happen, so you've just got to come back and catch that next one."
Quarterback
Aaron Rodgers
said he didn't say anything to Adams after the drop.
Asked if he said anything to himself after the play, Rodgers said: "No, not that I want to share."
But Adams caught just about everything early on, when the Packers needed him.
The Patriots opened the game defensively with
Brandon Browner
on
Jordy Nelson
,
Darrelle Revis
on
Randall Cobb
and
Kyle Arrington
on Adams, who caught passes of 33 and 45 yards in the first quarter.
Shortly after that, they moved Browner on Adams and put Revis on Nelson, who then beat the All-Pro cornerback for a 45-yard touchdown on a catch-and-run play in the second quarter.
"They're a matchup defense so if they want to try to take away Jordy and Randall – it was basically Revis one-on-one with Randall and Browner with a little bit of help on Jordy -- so we tried to get Davante involved," Rodgers said. "And he made some big plays for us."
Rodgers and Packers coach Mike McCarthy seemingly had a counter for whatever Patriots coach Bill Belichick tried. McCarthy used Cobb out of the backfield at times and on one such play, Cobb caught a 33-yard pass on a wheel route in which he was matched up against linebacker
Rob Ninkovich
.
Although the Packers went 0-for-4 on touchdowns in the red zone, Rodgers still threw two touchdown passes -- the 45-yarder to Nelson and a 32-yarder to tight end
Richard Rodgers
-- and piled up 368 yards against what might be the game's best secondary. Rodgers completed passes to eight players. Cobb had seven catches for 85 yards, while Nelson was limited to just two for 53 yards.
Still, it was Adams who started things off, even if he couldn't finish it.
"It didn't surprise me," Nelson said. "They're going to make adjustments throughout the game. They just can't continue to let things happen, especially when you have a great coach like coach Belichick. He's going to work his magic to try to slow us down, and Davante and Aaron were on the [same] page and making big plays. It was huge for us."
November, 29, 2014
11/29/14
8:00
AM ET
Each week, readers are invited to submit questions about the
Green Bay Packers
via Twitter using the hashtag
#PackersMail
. As the Packers finish preparations for Sunday's game against the
New England Patriots
at Lambeau Field, here's our last chance to address some of this week's key topics:
@RobDemovsky Micah Hyde vs Gronk. Will the Packers use Hyde exclusively to shut out Gronk? Will that matchup be effective? #PackersMail

— Garrett DeVries (@Garrett_DeVries) November 28, 2014
Demovsky
: Exclusively? No. As good as
Micah Hyde
can be in coverage, it would be a surprise if he were asked to cover
Rob Gronkowski
play in and play out. In fact, it would be a surprise if defensive coordinator Dom Capers asked any single player to do that. For one, it's probably too taxing a chore to do that for 70 plays. Two, that's rarely, if ever, the way Capers operates. His defense is predicated on variety and using different players to blitz and cover. Hyde will get his share of chances to match Gronkowski, but so will a variety of other defensive backs and linebackers. You can
read more about that here
. What will be more interesting is whether Capers plays more man or zone coverage.
@RobDemovsky how do you think patriots match revis/browner up on nelson/cobb? #packersmail

— Alexander Depies (@alex_depies) November 28, 2014
Demovsky
: It depends on who Bill Belichick wants to double team. If it's
Jordy Nelson
he feels needs double coverage, which is probably the better bet, then expect
Brandon Browner
to get Nelson with some help. That would leave
Darrelle Revis
to cover
Randall Cobb
. That's the way they played the Lions last week, with Browner plus help on
Calvin Johnson
and Revis on
Golden Tate
.
Aaron Rodgers
said it this week, that the Patriots are a matchup defense. We'll find out right away how they game-planned, and how the Packers adjust to it.
@RobDemovsky #PackersMail (part 1)why so many think between the tackles running with #27 is best in this offense?

— Kyle Patrick (@KyleMarinac) November 27, 2014
@RobDemovsky #Packersmail (part 2) Watching 5-6 having to flow to the edge on stretch plays to stop Lacy clearly opens everything up in PA

— Kyle Patrick (@KyleMarinac) November 27, 2014
Demovsky
: Interesting question. With help from the ESPN Stats & Information database, here's what I discovered about
Eddie Lacy
's production this season: On runs between the tackles, he has 117 carries for 560 yards. That's an average of 4.79 yards per carry. On runs outside the tackles, he has 37 carries for 112 yards. That's an average of 3.03 yards per carry. There was an even bigger contrast last season, when Lacy averaged 4.57 yards per carry between the tackles and 2.96 yards per carry outside the tackles. For comparative purposes, the numbers would suggest that
James Starks
is the better outside runner than Lacy. This season, Starks has averaged 3.68 yards per carry between the tackles and 3.4 yards per carry outside the tackles. Last season, Starks' averages were 5.94 yards per carry between the tackles and 4.15 outside the tackles.
@RobDemovsky why are you predicting such a lopsided defeat?#PackersMail

— Tyler Anderson (@tylerfromtech) November 28, 2014
Demovsky
: You're referring to my
41-24 pick that was posted Friday
. Here's my thinking: When was the last time the Packers beat an elite-level quarterback? Look at the quarterbacks they've beaten this season:
Geno Smith
,
Jay Cutler
(twice),
Christian Ponder
,
Ryan Tannehill
,
Cam Newton
,
Mark Sanchez
and
Teddy Bridgewater
. Outside of maybe Newton, would you take any of those guys if you were starting a franchise? Few, if any, general managers would. Contrast that with the quarterbacks to beat the Packers this season:
Russell Wilson
,
Matthew Stafford
and
Drew Brees
. And all three of them beat the Packers by double digits. To which group does
Tom Brady
belong?
November, 27, 2014
11/27/14
12:38
PM ET
GREEN BAY, Wis. -- If the
Green Bay Packers
' plan was to feature
Davante Adams
on Sunday against the
New England Patriots
, they might have some alterations to make.
Adams did not take part in the portion of Thursday's practice that was open to the media. He was in attendance but spent the early part of the session talking with members of the team's training staff.
This could be problematic: WR Davante Adams was not practicing. Need him vs. NE if Revis and Browner lock down 18&87 pic.twitter.com/bub7ta3dgo

— Rob Demovsky (@RobDemovsky) November 27, 2014
.
He could be a critical piece on Sunday if the Patriots, with two top-flight cornerbacks in
Darrelle Revis
and
Brandon Browner
, can
effectively cover the Packers' top-two
receivers,
Jordy Nelson
and
Randall Cobb
.
A full injury update will be available after practice.
Adams practiced on Wednesday and also spoke with reporters in the locker room afterward. However, during Sunday's win against the
Minnesota Vikings
, he left the game for three plays during the first quarter after he appeared to fall awkwardly on his midsection after a 10-yard reception on the Packers' second series. He returned for the next series after missing only three plays.
Linebacker
Nick Perry
(shoulder) and cornerback
Jarrett Bush
(groin) were the only other players not practicing during the session that was moved to earlier in the day in order to allow everyone to get home for Thanksgiving.
Guard
T.J. Lang
(ankle) returned to practice after sitting out on Wednesday. Fellow starting guard
Josh Sitton
(toe) practiced for the second straight day.
November, 27, 2014
11/27/14
10:00
AM ET
GREEN BAY, Wis. -- The
Green Bay Packers
aren't sure whether the
New England Patriots
will assign
Darrelle Revis
or
Brandon Browner
to shadow
Jordy Nelson
on Sunday at Lambeau Field.
Whichever way the Patriots decide to play the Packers' top receiver, it most likely will remain that way for the entire game, leaving the other New England cornerback to stalk
Randall Cobb
wherever he goes.
"It's a matchup defense," quarterback
Aaron Rodgers
said. "They'll figure out who they want on Jordy, who they want on Randall, who they want on [tight end
Andrew Quarless
] and who they want on
Davante [Adams]
, and we'll run our offense and adjust if we have to."
But don't tell Adams, the rookie No. 3 receiver, that more opportunities will come his way because of it.
To him, that line of thinking is an insult to the work that Cobb and Nelson -- who have combined for 126 catches, 1,903 yards and 19 touchdowns -- have put in through the first 11 games of this season.
"I feel like if everybody's saying that the ball's just going to come to me, they're saying that Revis is going to lock [up] Jordy," Adams said. "Jordy is one of the best receivers in the game right now. Why not still throw to Jordy if he's open? We're all going to run our routes and do our best to get open. I don't really like the whole, 'it could come to you Davante because they're going to put Revis on Jordy and Browner on Randall,' because it kind of down plays our receivers."
Few teams have gone the way of matching one cornerback on Nelson or Cobb all game long. This season, only the
Miami Dolphins
did it with
Brent Grimes
on Nelson, who still caught nine passes for 107 yards and a touchdown in the Week 6 victory.
Few teams, if any other than the Patriots, have two cornerbacks capable of doing it.
In last Sunday's win over the
Detroit Lions
, Patriots coach Bill Belichick went with Revis on
Golden Tate
and the more physical Browner on
Calvin Johnson
. Safety
Devin McCourty
usually helped bracket Johnson.
If they follow that same plan, it could be Browner (with help) on Nelson and Revis on Cobb, who plays more in the slot.
"You look at both of them," said Nelson, who last Sunday went over 1,000 yards for the second straight season. "I'm pretty confident I'll get one or the other. But you look at past games, how they've treated other teams, so you kind of get a feel for it. But they can change it up. You go through it kind of like a normal game and guys aren't going to follow you, especially when you don't know who will. So you're watching both and how they play and try to get a feel for it and have a game plan for each of them."
Whatever the scenario, Adams will almost certainly face the Patriots' number three corner.
"Depending on whether they want to put Browner inside or out, so depending on that, but yeah, most likely," said Adams, who since his career-high seven catches for 75 yards against the Saints in Week 8 has caught only for passes the last three games combined.
But that does not mean Adams' number will be called more often this week.
"We'll see," he said. "You know just as much as I do where it's going."
September, 26, 2014
9/26/14
4:25
PM ET
GREEN BAY, Wis. --
Davon House
stood at his locker at Lambeau Field this week and looked around at the neighboring cornerbacks who occupy one wall in the
Green Bay Packers
' changing area.
One after another, he rattled off the players the Packers have at his position.
Sam Shields, Tramon Williams, Casey Hayward, Demetri Goodson, Jarrett Bush.
[+] Enlarge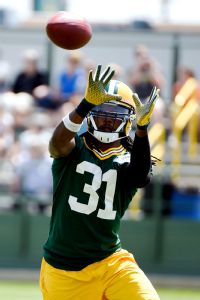 Benny Sieu/USA TODAY SportsDavon House could be the next Packer in line for a contract extension.
It's no wonder the Packers have not even approached House about a contract extension.
"If they decided not to go my way, they've still got all those guys," said House, who has emerged early this season as one of the team's top playmakers in the secondary.
When told the 31-year-old Williams is in the final year of his contract, House appeared surprised.
"Oh, OK," he said. "I think J.B. is in his last year, too."
Indeed, both Williams and the 30-year-old Bush are working under contracts that expire after this season, which is all the more reason to think House could be next in line for a contract extension. Yet, according to House, there has been nothing but crickets from the Packers' financial people.
"Not even discussed," he said.
If House keeps playing like he has the past two weeks, that will surely change. He is the final year of his rookie contract, the one he signed after the Packers drafted him in the fourth round out of New Mexico State in 2011.
While the consensus is receiver
Randall Cobb
is next in line for a new deal, the Packers have plenty of room under the salary cap -- $8,570,906 in unused space, according to the latest figures from ESPN Stats & Information -- to do more than one extension.
After not even getting on the field in Week 1 because cornerbacks coach Joe Whitt went with Hayward in the nickel package, House, who has played sparingly on defense his first three seasons in part because of injuries, moved into that role in Week 2 against the Jets. He threw himself into the spotlight with an interception last Sunday against the Lions on a
Matthew Stafford
deep ball that was intended for
Calvin Johnson
. The 6-foot, 195-pound House took his share of snaps against Johnson, who caught just one ball for 15 yards in three targets against him.
Lest you think House has come out of the blue the past two weeks, Whitt is quick to say otherwise. He mentioned House's offseason workouts with Bush, his study time with Williams and the
time he spent honing his skills
with veteran cornerback
Darrelle Revis
this past summer as signs of House's progression.
"Everything we've asked him to do, you're seeing the fruits of it," Whitt said. "He's playing in the pass game the way we want him to play. He has to tighten up his run-game support and the tackling. Once he does that, we'll have a complete football player that's going to play high-level football. I'm excited to see what he can be because he has a skill set that is different than everybody else in the room."
That skill set Whitt referred to is House's size and strength. He reminds Whitt of former Packers cornerback
Al Harris
, one of the strongest press-cover corners the team has ever had.
"I've coached three men that had hands like bricks -- Al Harris, him and another guy named Antoine Sharp, who you've never heard of but I coached him at Louisville," Whitt said. "But when they put their hands on you, it feels like bricks on you and they can redirect people. And they're fast enough."
If you're wondering how Whitt knows their hands are like bricks, well, he has the bruises to prove it.
"During the first couple of days of training camp, I am black and blue because I allow them to punch me because I want to feel their hand placement," Whitt said. "And the very first time he put his hands on me, oh my goodness. Him and Al, their hands feel like bricks."
August, 18, 2014
8/18/14
5:30
PM ET
GREEN BAY, Wis. --
Green Bay Packers
cornerback
Sam Shields
broke in to the top 100 on
ESPN's #NFLRank project
, but just barely.
It remains to be seen how many cornerbacks will check in higher than Shields as the rest of the list is unveiled over the next two weeks. The fifth-year cornerback was No. 95 on the
list of top defensive players
in the league as polled by 85 ESPN NFL contributors, including all 32 NFL Nation reporters.
But the four-year, $39 million contract he signed as a free agent in March suggests the Packers expect him to be even better than that.
Based on average per year, Shields' $9.75 million pay ranks tied for sixth among all NFL cornerbacks behind
Darrelle Revis
($16 million),
Richard Sherman
($14 million),
Patrick Peterson
($14.01 million),
Joe Haden
($13.5 million) and
Brandon Carr
($10.02 million).
According to ESPN Stats & Information, since Shields' rookie season of 2010, no player has more postseason interceptions than he does (four).
This is the second year of this ESPN project, and Shields did not make the top 100 last year. Over the next two weeks, the list of players will be revealed 10 at a time. The Packers did not have any players in the 91-100 category on the offensive side of the ball.
August, 1, 2014
8/01/14
8:00
AM ET
GREEN BAY, Wis. -- Will Sullivan calls the drill Blood in the Water, and it does not matter whether you're
Darrelle Revis
or
Davon House
, the assignment is the same.
It's you against the receiver, mano a mano. Just you, him and the ball.
"If you get beat in the drill, you stay in there until you figure out what you did wrong and you make it right," said Sullivan, the overseer at
Sullivan PROformance training center
in Phoenix. "I don't care who you are.
[+] Enlarge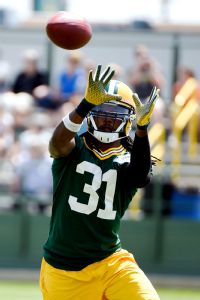 Benny Sieu/USA TODAY Sports"I'm a lot more confident," Davon House said, "playing with more swagger I guess you could say, so it makes things a lot easier."
"So House comes in -- no one knows who he is -- and we keep him in the drill until he gets it right."
For three-and-a-half weeks last month before House returned for the start of his fourth NFL training camp with the
Green Bay Packers
, he worked out with Revis and nearly a dozen other college and NFL players under the guidance of Sullivan, who has been Revis' personal cornerback coach the last eight offseasons.
After training with Revis & Co., House has gotten it right on the Packers' practice field more often than not.
Take the two-minute drill during the Packers' training camp practice Wednesday. It was second-and-goal at the 1-yard line, and quarterback
Aaron Rodgers
made one of his favorite throws, the back-shoulder fade, to wide receiver
Jordy Nelson
.
House was there to break up the pass, but he might not have made the play two or three years ago.
"Two or three years ago? No," House said. "But now I'm a lot more confident, playing with a lot more swagger, I guess you could say, so it makes things a lot easier."
Confidence can be found in any number of places, but House found it on Revis Island.
"For me, he was just so patient," House said when asked what he learned from working out with Revis. "Just how patient and how balanced he was and how controlled he was. His confidence level is top-notch. I guess you could say kind of like how you see [Rodgers play quarterback], so smooth, and he makes everything look so easy. That's how Revis was."
The time with Revis and Sullivan might end up being a defining moment in House's career.
"If he doesn't have his best year as a pro," Sullivan said in a phone interview, "I'd be surprised."
That does not mean House will become a Revis clone. In fact, Sullivan believes in teaching techniques designed to help a player excel in whatever scheme his respective team runs.
"It's not the 'Shutdown U' program where it's my way or the highway," Sullivan said. "It's my job to learn what is it that the Green Bay Packers are asking from House and what are the techniques that make him successful."
And House, according to Sullivan, soaked it up.
"I started calling him 'The Computer,'" Sullivan said. "I said, 'You're like a human computer because you process information very, very well.'"
This is not the first time House has started fast in training camp. A 2011 fourth-round draft pick, he was on his way to winning a starting job in his second season until he sustained a shoulder injury in the preseason opener at San Diego. He missed the rest of the preseason and the first six games of the regular season. By then,
Sam Shields
had taken hold of the job and has never relinquished it.
So far in camp, the 6-foot-1, 195-pound House has worked regularly as the No. 3 cornerback on the outside. Because he has not yet become versed in playing in the slot -- something he plans to work on with Sullivan in the future -- he's not an option as a nickelback or dime back. But his long, physical style lends itself well to covering the bigger outside receivers the Packers typically face in the NFC North, such as Detroit's
Calvin Johnson
and Chicago's duo of
Brandon Marshall
and
Alshon Jeffery
.
"Davon House is clearly having his best year here as a pro -- just what he's done in the offseason, some of the things he's focused on, things he knew he could improve on," Packers coach Mike McCarthy said. "You saw that since April. He's a big, long, strong corner. He does a lot of good things. I love that whole secondary, just our depth, competition. And I think Davon is off to an excellent start."
With House in the final year of his rookie contract, it's time for him to carry that to the regular season. If he does, he could be in line for a starting job next year if the Packers decide not to re-sign veteran
Tramon Williams
.
However, cornerback might be the deepest position on the roster with Williams, Shields, House,
Casey Hayward
,
Jarrett Bush
and rookie
Demetri Goodson
.
"So how do I get on the field?" House said. "Make plays. Catch picks. Should've done it last year."
Now, thanks in part to Sullivan and Revis, he believes he can.
March, 17, 2014
3/17/14
8:00
AM ET
On the eve of free agency last week, our four NFC North reporters -- Rob Demovsky (
Green Bay Packers
), Ben Goessling (
Minnesota Vikings
), Michael Rothstein (
Detroit Lions
) and Michael C. Wright (
Chicago Bears
) -- compiled a list of
the top-15 free agents
in the division.
A week has passed and nine of them already have come off the market, including six who re-signed with their old teams.
Perhaps the biggest-name free agent from the NFC North, former Bears defensive end
Julius Peppers
, did not make the original list because he was not a free agent until he was released last week. He
signed with the Packers
on Saturday.
You can follow all of the NFL free-agent moves in
Bill Polian's free-agent tracker
, but let's revisit the NFC North top 15 and see what has changed:
1.
Sam Shields, Packers CB
: Signed a four-year, $39 million contract just a few hours into the open negotiating period on March 8. His $9.75 million per year average made him the fourth-highest paid cornerback in the league behind
Darrelle Revis
($16 million),
Brandon Carr
($10 million) and
Aqib Talib
($9.8 million).
2. Brandon Pettigrew, Lions TE
: Re-signed with the Lions for four years and $16 million, including a $4 million signing bonus.
3. Jermichael Finley, Packers TE
: Remained unsigned after a visit to the
Seattle Seahawks
last week. It's not known what the Seahawks' medical staff thought of Finley's C-3/C-4 neck vertebra fusion surgery that he had last November following his season-ending neck injury.
4. Charles Tillman, Bears CB
: Signed a one-year contract to return to Chicago last Friday after missing half of last season because of a torn triceps. The deal is worth about $3.5 million.
5. B.J. Raji, Packers DT:
Less than a year after reportedly turning down a multi-year offer that averaged $8 million per season, he returned to the Packers for a one-year deal signed on Friday that was believed to be worth $4 million plus incentives.
6. Matt Cassel, Vikings QB
: Opted out of his 2014 contract after the Super Bowl but signed a new two-year, $10.5 million deal with the Vikings on March 7, just before teams could start contacting his agent and will likely head into training camp with the inside track on the starting job.
7. Willie Young, Lions DL
: Signed a three-year, $9 million contract with the Bears. Former seventh-round pick received his first extensive playing time with the Lions in 2013, becoming a full-time starter after
Jason Jones
was injured for the season in Week 3.
8. James Jones, Packers WR
: Remained unsigned after the first week of free agency and has not had any known visits even after he ranked second on the Packers last season in receptions (59) and yards (817), the latter of which was a career high despite missing nearly three full games because of a knee injury. Three years ago, coming off the NFL lockout, Jones did not draw strong interest on the free-agent market and re-signed with the Packers for three years and $9.6 million. Could the same thing happen again?
9. Jared Allen, Vikings DE
: Remained unsigned after the first week of free agency but reportedly visited the Seattle Seahawks over the weekend. After three All-Pro selections in six years, Allen's time in Minnesota is over.
10. Josh McCown, Bears QB
: Signed a two-year, $10 million contract to rejoin his old coach, Lovie Smith, with the
Tampa Bay Buccaneers
.
11. Henry Melton, Bears DL
: Coming off a torn ACL, Melton went unsigned during the first wave of free agency but has a visit scheduled with the
Dallas Cowboys
this week.
12. Devin Hester, Bears KR
: Remained unsigned more than a week after the Bears said they would not bring him back.
13. Rashean Mathis, Lions CB
: Remained unsigned after playing in 15 games and taking over as a starter early in the season last year.
14. Everson Griffen, Vikings DE
: Cashed in on March 9th by signing a five-year, $42.5 million deal that included $20 million guaranteed to return to Minnesota.
15. Louis Delmas, Lions S
: Signed a one-year, $2.25 million contract with the
Miami Dolphins
after the Lions released him with one year remaining on his contract in February, in part because of a cap number of $6.5 million in 2014.
March, 8, 2014
3/08/14
8:26
PM ET
GREEN BAY, Wis. -- The rehabilitation of the
Green Bay Packers
' defense is still in its early stages, but they no longer have to worry about their cornerbacks.
[+] Enlarge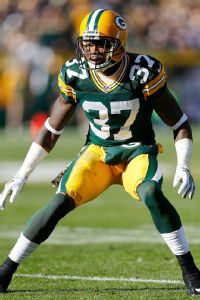 AP Photo/Joe RobbinsLocking up Sam Shields means the Packers are set at cornerback and can focus on other parts of the defense.
By re-signing
Sam Shields
on Saturday to
a four-year, $39 million contract
, Packers general manager Ted Thompson now can focus on restoring the other parts of the defense to what they were early in defensive coordinator Dom Capers' tenure.
All along, Shields was the Packers' top free-agent priority after finishing the best season of his career in 2013. At 26, the Packers believe he is an ascending player whose speed won't leave him any time soon.
Shields did not come cheap. Over the first three years of the contract, he is expected to make $30 million (including $15 million this season). Among cornerbacks currently under contract for 2014, Shields would be the second-highest paid at his position behind only
Darrelle Revis
($16 million) of the
Tampa Bay Buccaneers
.
It also means, barring any change in Tramon Williams' status, the Packers will shell out $22.5 million to their starting cornerbacks this season. Williams is scheduled to earn $7.5 million ($6.9 million base salary and $600,000 in bonuses) this season.
With the expected return of
Casey Hayward
from last season's hamstring problems, the Packers have to feel good about their cornerbacks.
And Thompson still has enough money and salary-cap space to use on what could be a significant overhaul to the defensive depth chart.
All three of the Packers' starting defensive linemen are scheduled to become free agents on Tuesday.
B.J. Raji
is mulling a one-year deal to return as a nose tackle, while Ryan Pickett's agent, Kennard McGuire, said Saturday that he plans to stay in contact with the Packers throughout free agency. The other defensive line starter,
Johnny Jolly
, is awaiting clearance from his doctors after undergoing neck fusion surgery. Pickett and Jolly likely could be had for low- to moderately-priced deals.
With Shields in the fold, perhaps the biggest issue facing Thompson is the safety position. There's been no indication that he plans to offer
M.D. Jennings
a restricted free agent tender, and the Packers know they need to upgrade that position.
For now, though, Capers and his staff have to feel better about their secondary knowing Shields will return. Several times last season, cornerbacks coach Joe Whitt acknowledged that while the defense, which finished last season ranked 25
th
in the league, did not play up to its standards as a whole, the same could not be said for Shields.
"You can't take that away from him," Whitt said late in the season.
"He's trying to make that next step to: can he be in the conversation with some of the those top corners that are out there?" Whitt added.
And now he will be paid like one of them.
December, 13, 2013
12/13/13
11:30
AM ET
GREEN BAY, Wis. --
Green Bay Packers
cornerback
Tramon Williams
did not want to hear the question.
Before it had even been completed, he interrupted.
"Don't do it," Williams said with a smile. "Don't do it."
Williams
The seventh-year veteran is savvy enough to know what was coming. He's at an age (30) and has a contract (due to pay him $7.5 million in salary and bonuses next season, the final year of his deal) that makes him an easy target. He's just the kind of player whom general manager Ted Thompson usually takes
a long, hard look at bringing back
.
"That's the reality of some things, like you said," Williams said this week. "But truthfully, I can't worry about that. I'm under contract for next year, so I plan on being here."
In the last month, Williams has stated his case -- not verbally, but with his play. He has two interceptions in the last four games and during that stretch, he has not allowed a touchdown and his tackling has been superb. According to ProFootballFocus.com, Williams has allowed just 8 total yards after the catch on six opponent receptions against him over the last three games. He allowed three completions in last Sunday's 22-21 win over the
Atlanta Falcons
, but none went for longer than 8 yards.
Williams has bounced between playing outside in the base defense and inside in the nickel and dime packages for much of the season. Against the Falcons, defensive coordinator Dom Capers returned Williams to his natural outside position for the entire game.
However, Capers no longer matches Williams exclusively on the opponent's best receiver like he used to. Fellow cornerback
Sam Shields
spent as much time (if not more) covering Atlanta's top receiver,
Roddy White
, as Williams did Sunday.
"You know we've been playing Tramon inside," Capers said. "I think he's a more natural outside player."
Shields is scheduled to be an unrestricted free agent after this season, and general manager Ted Thompson is trying to decide whether to pay Shields somewhere in the neighborhood of $7 million per season. That could be another factor that might impact Williams' future.
If his contract remains unchanged for next season, Williams would be tied for the fifth-highest paid cornerback in the NFL based on players currently under contract for next season. He would rank behind only Tampa Bay's
Darrelle Revis
($16 million), Denver's
Champ Bailey
($10 million), the Jets'
Antonio Cromartie
($9.5 million) and St. Louis'
Cortland Finnegan
($9 million).
ProFootballFocus.com, which grades every play of every game, has Williams ranked as the NFL's 16
th
-best cornerback this season among those who have played at least 75 percent of the snaps. In pass coverage only, PFF ranked Williams 11
th
but based on opposing quarterbacks' passer rating against him in coverage, Williams ranks 22
nd
.
Williams has watched the Packers go to a veteran like
A.J. Hawk
for a pay cut or contract restructuring twice in the last three years, so he knows it might be coming.
"It's part of the business," Williams said. "But like I said, I'm under contract so I expect to be here."