Green Bay Packers:

Darren Perry
June, 30, 2014
Jun 30
1:15
PM ET
GREEN BAY, Wis. – Coach Mike McCarthy and general manager Ted Thompson say it every offseason: It is not the rookies who will make the difference for the
Green Bay Packers
but rather the returning players.
With that in mind, over the next couple of weeks, we will take a look at some returning players who need to take their game to another level in 2014.

Burnett
First up is safety
Morgan Burnett
.
Why he needs to step up
: It's not just about living up to the four-year, $24.75 million contract extension he signed last July. Regardless of the financial commitment the Packers made, they need more plays from their strong safety. When the Packers picked Burnett in the third round of the 2010 draft, they thought they were getting a ball-hawking safety. He picked off six passes and forced four fumbles in his first 36 NFL games, but had no interceptions or forced fumbles in 14 games (including playoffs) last season.
What he has to do
: McCarthy and safeties coach
Darren Perry
have defended Burnett's play by saying he has been steady and assignment-sure, but they know they need more from him. That's why McCarthy said this offseason that Perry's task will be to turn Burnett into a big-play machine. Perhaps having a more qualified partner at free safety -- whether it's second-year pro
Micah Hyde
or rookie first-round pick
Ha Ha Clinton-Dix
-- will help Burnett.
Outlook
: Burnett looked like a prototypical free safety when the Packers drafted him out of Georgia Tech, but the Packers have played Burnett more in the box since the departure of
Charles Woodson
. Still, Burnett should be in position to make more plays on the ball. Burnett is only 25, so there's reason to think his best football is ahead of him.
Quotable
: "I still think Morgan is a heck of a football player," Perry said. "I know our critics may not agree, but again Morgan is going to be fine and he's still a young player, ascending, and we've just got to keep him going."
June, 12, 2014
Jun 12
2:00
PM ET
GREEN BAY, Wis. -- Whatever the reasons
Morgan Burnett
was shut out in the interception department last season, don't blame it on the $24.75 million contract extension he signed last July with the Green Bay Packers.
The fifth-year safety insists he did not put any pressure on himself to justify that contract, which contained an $8.25 million signing bonus.
"No, not at all," Burnett said this week during OTAs. "You're obligated to come in and do a job, and that's my job as a safety, to try to come in and be the best safety that I can possibly be."

Burnett
Then why did Burnett – and the rest of the Packers' safeties – fail to come up with a single interception last season?
The Packers were the only team in the NFL that did not get an interception from a safety in 2013.
"When you turn on the film, everyone did what they were supposed to do," Burnett said. "You do your job. With interceptions, you've got to understand that's going to come. And when they come, they come in bunches. So you just stick to doing your job, staying in position, don't go chasing plays because that's when you start looking bad. So there's no pressure with that. The only thing we do is line up, play the defense, and the interceptions will come."
For their part, the Packers' coaches have backed Burnett. Safeties coach Darren Perry called Burnett "still a young player, ascending." And earlier this offseason coach Mike McCarthy said believes Burnett will
make more impact plays this season
.
Perhaps the problem was that the Packers failed to find a capable safety to pair with Burnett. When they drafted him in the third round in 2010, they envisioned a long-lasting pairing with Pro Bowl safety Nick Collins, whose career ended because of a 2011 neck injury.
M.D. Jennings started the last 26 regular-season games next to Burnett and the Packers thought so little of his play that when he became a restricted free agent this offseason, they did not bother to offer him even the minimum contract tender. Jennings then signed a one-year, minimum deal with the Chicago Bears.
This offseason, the Packers have tried cornerback
Micah Hyde
at safety and used their first-round pick on Ha Ha Clinton-Dix. One of those two will be expected to start next to Burnett.
However, Burnett refuses to blame anyone or anything on his inability to make more big plays.
"There's no excuses," Burnett said. "Everybody has to come in and collectively get the job done."
May, 9, 2014
May 9
12:45
AM ET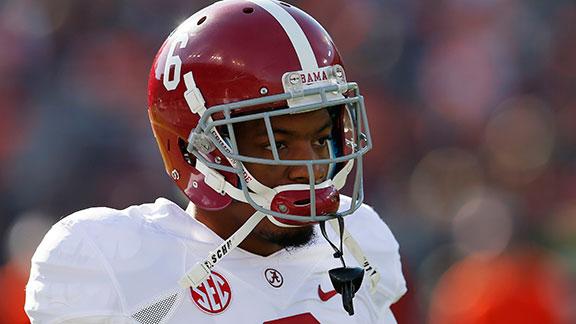 GREEN BAY, Wis. -- Ted Thompson ignored the safety position last year.
He did not make the same mistake again.
A year after the
Green Bay Packers
general manager
watched 22 safeties come off the board
in the draft without making a move at the position, Thompson let only one go by before he pounced on Alabama's
Ha Ha Clinton-Dix
at No. 21 in Thursday's first round.
In all, there were four safeties taken in the first round and Thompson had his choice of all but Louisville's
Calvin Pryor
, who went three picks earlier to the
New York Jets
.
In taking Clinton-Dix, the 6-foot-1 3/8 junior entrant, Thompson passed on Washington State's
Deone Bucannon
(who went 27th to the
Arizona Cardinals
) and Northern Illinois'
Jimmie Ward
(who went 30th to the
San Francisco 49ers
).
[+] Enlarge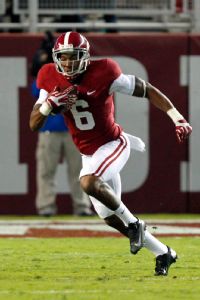 AP Photo/Butch DillThe addition of Ha Ha Clinton-Dix is sure to boost a Packers safety spot that didn't record an interception last season.
After watching three of their likely defensive targets -- Pryor and inside linebackers
Ryan Shazier
and
C.J. Mosley
-- get snatched up, nerves had to be high in the Packers' draft room. Had Clinton-Dix not been there, perhaps Thompson would have gone in a different direction -- another position or a trade down. Or maybe he would have taken one of the other safeties.
Instead, he did not have to change his strategy or make a reach pick.
He handed defensive coordinator Dom Capers and safeties coach
Darren Perry
the chance to make up for the ills of last season, when the Packers were the only NFL team that did not get a single interception from the safety position.
"We have to be better," Perry said shortly after the Packers made their pick. "We weren't good enough, and that starts right here with me. That starts with our coaching staff, and we recognize that. We don't shy away from that. It's going to be a great challenge, and we will be better, no question in my mind. I'm looking forward to it."
Clinton-Dix should make Perry's job easier. He combined to intercept seven passes in his final two seasons at Alabama, including five as a sophomore when he played more free safety. As a junior, he played a more versatile role that included some strong safety.
"I think he's a real all-purpose kind of safety," Thompson said. "He's shown an ability to cover down in the slot. He's good in [run] support, a physical player. Also can play well in the back end."
The Packers now can move
Morgan Burnett
, who played mostly strong safety last year, to free safety if they were so inclined. When the Packers drafted Burnett in the third round of the 2010 draft, they raved about his ball skills, having picked off 14 passes in three seasons at Georgia Tech. Burnett has six interceptions in four NFL seasons, but none of them came last year.
"Morgan, he was kind of forced into that role as a strong safety," Perry said. "But I think Morgan has the ability to play both, both of these guys [can], along with the other guys that we have back there. I think the competition is going to be great."
April, 17, 2014
Apr 17
10:00
AM ET
GREEN BAY, Wis. -- Pick after pick crawled across the bottom of television screens last April 25, 26 and 27 and those wondering when the
Green Bay Packers
would draft a safety got their answer when the 254
th
-- and final -- pick in the 2013 NFL draft was announced.
Three safeties went in the first round, but none to the Packers.
Two more came off the board in Round 2, but neither was a Packers pick.
[+] Enlarge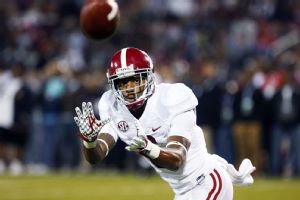 AP Photo/Rogelio SolisHa Ha Clinton-Dix may be available to the Packers when they draft in the first round.
Seventeen more were drafted on the third and final day, yet the Packers still had not filled one of their biggest needs.
That's not to say they went into last year's draft wholly convinced that they didn't need help at the position. But when it came time to exercise each of his selections, there wasn't a safety sitting there that intrigued general manager Ted Thompson enough to make that call.
Thompson liked a few of the safeties in the draft, but the ones he was sold on were either already off the board or would have been a reach at the time of his pick.
So here are the Packers, nearly a year later, and Thompson still has not put pen to paper on a contract for a new safety of any consequence. (And no, street free agent
Chris Banjo
does not count.)
That has to change next month, when Thompson will take nine selections into the May 8-10 NFL draft, doesn't it?
If Thompson fails to land one of the top, say, five or six safeties in this draft -- be it
Ha Ha Clinton-Dix
of Alabama or
Calvin Pryor
of Louisville, both of who are locks to go in the first round; or possible second- and third-round picks like
Jimmie Ward
of Northern Illinois,
Deone Bucannon
of Washington State or
Terrence Brooks
of Florida State -- then he will be handcuffing defensive coordinator Dom Capers in much the same fashion he did last season.
Last summer, Capers and coach Mike McCarthy opened the competition at free safety to a pair of second-year players,
Jerron McMillian
(a 2012 fourth-round round pick) and M.D. Jennings (an undrafted free agent the same year). It was a close competition, more so because neither one stood out, and when strong safety
Morgan Burnett
was unavailable for the season opener because of a hamstring injury, that duo started Week 1 at the two safety spots.
The Packers thought so little of their performances that they cut McMillian late last season and did not even bother this offseason to offer Jennings a restricted free agent tender, which would not have cost them any guaranteed money.
"Obviously we didn't get the production that we wanted from that [free safety] position," safeties coach Darren Perry said this offseason.
To be sure, the Packers need Burnett to show that Thompson wasn't misguided when he signed him to a four-year, $24.75 million contract last summer.
"I think he's fully capable of doing it," McCarthy said this offseason. "Morgan's going to do everything he can. He needs to be more assertive in play-making opportunities."
In order for Burnett to flourish, he can't be worried about the player lined up next to him. That player was supposed to be Nick Collins, the three-time Pro Bowl safety whose career was cut short in 2011 by a neck injury. At age 30, he still would have been in the prime of his career last season.
If the Packers don't find another Collins, they must at least come close.
Since the team's resurgence in the early 1990s, they have enjoyed a strong group of safeties -- from LeRoy Butler to Darren Sharper to Collins; all were Pro Bowl selections during their time in Green Bay.
The dynamic of the position has changed in recent years. Whereas Butler was a fierce hitter, today's safeties are judged just as much on speed and ball skills as anything else. What NFL teams need now are safeties than can cover chunks of yardage in milliseconds and knock passes away or, better yet, intercept them. The Packers were the only team in the NFL last season that didn't get a single interception from a safety.
"The intimidator isn't necessarily needed anymore," ESPN draft expert Mel Kiper Jr. said. "The big hitters, you don't need that."
Kiper doesn't believe Clinton-Dix will be around when the Packers come up at No. 21 in the first round, but Pryor very well could be available.
Even if Pryor is gone or Thompson passes on him, he will have other options, says Kiper.
"
Jimmy Ward
from Northern Illinois you could make an argument is the best cover safety in the draft," Kiper said. "He's coming off the [foot] injury but he had a very good career, has great ball skills, real good hands for the interception. And Ward is a decent tackler, but he doesn't have tremendous size [5-foot-11, 193 pounds].
"The days of that big, intimidating safety are just about over. Terrence Brooks from Florida State would fill that void at that point as a safety that could come in and help you right away."
No matter what Thompson does in the draft, Capers and McCarthy plan to work cornerback
Micah Hyde
at safety this offseason. Perhaps the fifth-round pick out of Iowa last year will be the full-time answer; he certainly showed enough as a rookie to warrant more than the 39.4 percent playing time he got last year. But if the Packers think Hyde can allow them to concentrate on other areas of need in the draft, they'd better be right.
February, 22, 2014
Feb 22
1:30
PM ET
INDIANAPOLIS -- The
Green Bay Packers
want more production from strong safety
Morgan Burnett
.
That's no secret.
But during an interview at his hotel during a break from the NFL scouting combine, Packers coach Mike McCarthy offered a defense – and an honest assessment – of Burnett's play in 2013 after he signed a four-year, $24.75 million contract last July.
[+] Enlarge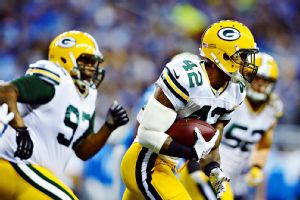 Andrew Weber/USA TODAY SportsThe Packers will be looking for more aggression from safety Morgan Burnett in 2014.
"You know, I don't think it's, 'Oh my God, he's a bust,'" McCarthy said. "It's nothing like that. I think the guy needs to – and I think he will – he'll be coached to make more impact plays. That'll be his emphasis next year, and he's the type of guy that will do it. The guy will go about it. He's a pro. I wish he'd be more assertive, but that's not really his personality, either. He's a soft-spoken young man."
Burnett's play was emblematic of the entire Packers' safety group, which for the first time in at least 50 years failed to intercept at least one pass in a season.
But McCarthy insisted that was the only aspect of Burnett's game that was lacking.
"Really, the quarterback part of it, the communication, I thought he had a very good year," McCarthy said. "Productivity and tackling, he had over 100 tackles. How many did he have?"
According to totals kept by the Packers' coaches, Burnett had 104.
"So that's a productive year," McCarthy said. "It's the play-making ability on the ball. Is he a product of what's been going on back there? [Playing] Cautious? Whether to run through the ball carrier, receiver, or make a break on the ball?"
Maybe it's confidence.
McCarthy cited a play in the wild-card playoff loss to the
San Francisco 49ers
in which Burnett was in position to break up the 28-yard touchdown pass to tight end
Vernon Davis
in the fourth quarter. Burnett broke on the ball but looked like he was trying to swat a fly rather than making an aggressive move toward the ball.
"I look at the San Francisco game, he's got to make that play," McCarthy said. "To me, it looked like he didn't know whether to go hit him or go for the ball.
"That's not a confident [action]," McCarthy added. "I mean, playmaking, you go get the football."
That's something McCarthy and safeties coach Darren Perry discussed at length during their postseason player evaluation meetings.
"I think he's fully capable of doing it," McCarthy said. "Morgan's going to do everything he can. He needs to be more assertive in play-making opportunities. He did not have a good year in that particular area. There was a lot of production otherwise, too, but … what safeties do they talk about? The ones that make the big hit or the ones that make interceptions. And until he starts doing that, they're not going to talk about him that way. They don't talk about 100-tackle safeties anymore."
It might help Burnett if the Packers had a more productive player next to Burnett.
M.D. Jennings
started every game at free safety, but defensive coordinator Dom Capers also worked in second-year pro
Sean Richardson
at that position late in the season.
"We need more production next to Morgan," McCarthy said, "which I think would definitely help him."
February, 10, 2014
Feb 10
6:45
PM ET
GREEN BAY, Wis. -- Assistant special teams coaches in the NFL are usually neophyte coaches or former players trying to break into the business.
Rarely are they 59-year-olds who have held head coaching jobs at two prominent top-level colleges and also NFL coordinator jobs.
It wasn't lost on Ron Zook that his new position as the
Green Bay Packers
assistant special teams coach was a bit unusual, when he met with reporters on Monday for the first time
since he was hired last week
.
[+] Enlarge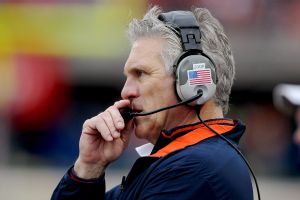 Jonathan Daniel/Getty ImagesThe Packers will turn to Ron Zook to help with special teams.
"Coaching's coaching; I wanted the opportunity to get back in the profession, I really did," said Zook, the former Florida and Illinois head coach who had been out of football since he was fired in 2011 after seven seasons with the Illini.
"The first year out, I probably needed it just to kind of collect your thoughts and so forth. This past year, I really began to miss it. I told some people, one of the most exciting things for me is getting back into coaching for the reasons I got into coaching: because I love the game, I love the camaraderie, I love being around the players and the coaches and trying to help get everybody on the same page trying to do the same thing."
Even Zook isn't quite sure exactly what his role will be, but coach Mike McCarthy knows he wants more attention paid to special teams, which struggled at times last season. McCarthy didn't feel that the problems warranted a complete change, which is why he retained special teams coordinator Shawn Slocum, but he appears set on dedicating more resources to it. He also has assigned Jason Simmons, a coaching administrator the last three seasons, to assist with special teams.
"I wanted to put more of an emphasis on that area," McCarthy said. "One of our challenges ever year with youth, some of the injuries we've had with younger players playing early, there's a lot of one-on-one time that goes into special teams coaching. Everybody in the league goes through it. We just want to maximize that structure as far as to make sure our players are getting the one-on-one time, and I thought Ron brought a whole different dimension to the room."
Zook was a natural fit for McCarthy. The two worked together with the
New Orleans Saints
for two seasons (2000 and 2001) when McCarthy was the offensive coordinator and Zook the defensive coordinator before Zook returned to the college ranks to coach the Gators.
In fact, Zook and McCarthy lived together during their early days with the Saints before Zook's family moved to New Orleans. Even after Zook's wife and kids joined him, they lived down the street from McCarthy.
Packers assistant head coach/linebackers coach Winston Moss also was with them in New Orleans, and Zook coached Packers safeties coach Darren Perry during their days with the
Pittsburgh Steelers
, where Zook was the special teams coach from 1996-98.
"So you've got guys that you know and everybody's looking for the same thing, and that's to win," Zook said. "That was what was important to me, being in a situation where you had a chance to win and being around good people."
McCarthy mentioned Zook's energy and enthusiasm, something that was apparent throughout his 20-minute session with reporters on Monday. Zook spoke openly about both his successes, most notably the 2007 Rose Bowl team at Illinois; and his failures, being fired by both Florida and Illinois.
Zook also explained how he has spent the past two years out of football, working part-time as an analyst for CBS and also at a bank in Florida.
But perhaps it was what he did in his free time that was instrumental in his return to the NFL. He would make regular trips across the state to Tampa, Fla., where he would spend time watching film with ESPN "Monday Night Football" analyst Jon Gruden.
"I've spent I can't tell you how many hours, spent an awful lot of time with Jon Gruden," Zook said. "I'd drive to Tampa, and we'd study football. We'd get ready for the draft, study programs that way, what's going on in both college and the NFL. So I was able to stay involved with the game in terms of the X's and O's part of it. But you miss the relationship side of it."
February, 7, 2014
Feb 7
4:45
PM ET
GREEN BAY, Wis. -- The
Green Bay Packers
have four new members of their coaching staff and five existing coaches with new or expanded roles.
In
addition to hiring
Ron Zook and
Sam Gash
, the Green Bay Packers hired two other new assistant coaches, Luke Getsy and former Packers linebacker
Chris Gizzi
.

Zook, the former Florida and Illinois head coach, will serve as the assistant special teams coach, while Gash will coach running backs.
Getsy will serve as offensive quality control coach, while Gizzi will be a strength and conditioning assistant.
Also, returning assistant coaches
Winston Moss
(assistant head coach/linebackers coach),
Alex Van Pelt
(quarterbacks coach), Scott McCurley (assistant linebackers coach),
Jason Simmons
(defensive/special teams assistant) and John Rushing (defensive quality control coach) all have new duties.
Including special teams coordinator Shawn Slocum, who is returning for his sixth season, the Packers will now have three coaches working directly with special teams. Previously they had two -- Slocum and
Chad Morton
, who was not retained.
"The offseason is progressing with the finalization of adjustments and additions to our coaching staff," Packers coach Mike McCarthy said in a statement announcing the changes. "Every day and every decision has the focus on bringing the Lombardi Trophy back to Green Bay. The evaluation process will continue with a vision to change, adjust or emphasize any aspect of our program to help us reach the attainable goal of another Super Bowl championship."
Here's a breakdown of their new coaches and the old ones with new duties:
Sam Gash, running backs coach
: Coached running backs with the
Detroit Lions
from 2008-12. Replaces Van Pelt, who was promoted to quarterbacks coach after two seasons. Played 12 years in the NFL as a fullback with the
New England Patriots
,
Buffalo Bills
and
Baltimore Ravens
.
Ron Zook, assistant special teams coach
: Returns to the NFL after spending the past two seasons out of coaching. Previously coached special teams for the
Pittsburgh Steelers
(1996-98). Also worked with McCarthy in New Orleans, where he was the Saints defensive coordinator (2000-01) and McCarthy was the offensive coordinator.
Luke Getsy, offensive quality control coach
: A former college quarterback at Akron (2005-06). Previously the receivers coach at Western Michigan.
Chris Gizzi, strength and conditioning assistant
: Played for the Packers in 2000 and 2001 and is perhaps best remembered for leading the Packers out of the tunnel carrying an American Flag in their first game following the 9/11 terrorist attacks. Spent last offseason as an intern with the Packers before working as a strength and conditioning assistant at the University of North Carolina last season.
Winston Moss, assistant head coach/linebackers
: Previously held the same title while coaching inside linebackers. Will add outside linebackers to his duties, inheriting that role from
Kevin Greene
after he resigned last month.
Scott McCurley, assistant linebackers coach
: Has been with the Packers since 2007, including the last five as a defensive quality control coach. Will assist Moss will all linebackers.
John Rushing, defensive quality control
: Served as an offensive and special teams assistant the past two seasons after spending two seasons as the offensive quality control coach.
Jason Simmons, defensive/special teams assistant
: Served as a coaching administrator for the past three seasons.
Alex Van Pelt, quarterbacks coach
: Replaced Ben McAdoo, who became the
New York Giants
offensive coordinator. Previously coached the Packers running backs for two seasons. Former NFL quarterback, served as a quarterbacks coach with the Bills (2008-09) and Buccaneers (2010-11).
Remaining in their current roles on the coaching staff are: Tom Clements (offensive coordinator), Dom Capers (defensive coordinator), Mark Lovat (strength and conditioning coordinator), Shawn Slocum (special teams coordinator),
Edgar Bennett
(receivers),
James Campen
(offensive line), Jerry Fotenot (tight ends),
Joel Hilgenberg
(assistant offensive line),
Darren Perry
(safeties), Mike Trgovac (defensive line), Joe Whitt Jr. (cornerbacks) and Thadeus Jackson (strength and conditioning assistant).
January, 10, 2014
Jan 10
8:00
AM ET
GREEN BAY, Wis. -- Lately, it seems like whenever a team goes looking for a general manager, their eyes turn toward the Packers.
In the last four years, three teams have plucked members of the Packers' personnel staff for GM hires. In 2010, the
Seattle Seahawks
hired John Schneider. In 2012, the
Oakland Raiders
hired Reggie McKenzie. And last year, the
Kansas City Chiefs
hired John Dorsey.
Could there be a fourth this year?
According to ESPN NFL Insider Adam Schefter, Packers senior personnel executive Alonzo Highsmith is
on the radar of two teams
, the
Miami Dolphins
and
Tampa Bay Buccaneers
, looking for new leadership in their scouting departments.
Highsmith is a Florida native and a University of Miami graduate. He has been with the Packers since 1999, when he was hired as an area scout. He was promoted to his current position in May 2012.
According to people around the league, it would not be surprising to see Highsmith or any of the other top-level scouts in the Packers' personnel department eventually get a chance at a general manager job. Director of college scouting Brian Gutekunst and director of pro personnel Eliot Wolf are also viewed as eventual GM candidates.
In case you missed it on ESPN.com
:
Best of the rest
:
In the Green Bay Press-Gazette, Weston Hodkiewicz looked at what the Packers might do with their center position going forward.
In the Milwaukee Journal Sentinel, Tyler Dunne wrote that it wasn't the fact that the Packers' safeties failed to intercept one pass this season that bothered position coach Darren Perry, but rather it was the overall quality of play from that position that wasn't good enough.
December, 6, 2013
12/06/13
6:45
PM ET
GREEN BAY, Wis. -- Dom Capers appreciated
the support from his players
, especially from a veteran like defensive tackle Ryan Pickett, but the Green Bay Packers' defensive coordinator knows that alone won't fix the problems that have befallen his unit over the past five weeks.
It will take much more than that for the veteran NFL coach to dig the Packers out of the bottom third of the NFL defensive rankings and help them salvage their season. But he has no plans on giving up on this season or any future seasons.
The 63-year-old, two-time former NFL head coach and the Packers' defensive coordinator since 2009 said Friday that he intends to keep coaching beyond this season, and that retirement is not in his foreseeable future despite increased criticism of the team's defensive performance.
[+] Enlarge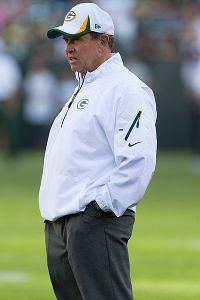 Jeff Hanisch/USA TODAY SportsDom Capers' defense enters Sunday's game ranked 24th in total defense, 26th against the run, and 22nd against the pass.
"If you've known me for my whole career, I don't get caught up in a lot of those things because I know you're going to go through periods like that," Capers said. "I'll just tell you, if I didn't think I could do it as well now as I did 20 years ago, I wouldn't do it. That's just me. I've got to feel as though I've got something to give, and I feel that way. I don't feel that's changed one bit."
But the performance of his defense has. Going into the Week 8 game against the Chicago Bears, the Packers were on the verge of cracking the top 10 in the defensive rankings. They were 11
th
in total yards allowed per game, and their run defense was fourth after spending the two previous weeks at No. 3.
Then quarterback Aaron Rodgers broke his collarbone on the first series against the Bears, and everything changed.
Except Capers doesn't see it that way, or at least he refused to use it as an excuse for the fact that his defense heads into Sunday's game against the Atlanta Falcons ranked 24
th
in total defense, 26
th
against the run and 22
nd
against the pass.
"I don't think that has anything to do with us," Capers said. "We've got to look at ourselves, and we've got to take care of our business on defense."
That starts with the run defense.
After allowing just 474 yards rushing in the first six games combined, the Packers gave up nearly that many in their past two games. The Minnesota Vikings and Detroit Lions combined to rush for 473 yards against Capers' defense in Weeks 13 and 14.
"It's the first area we've got to get squared away," Capers said.
Capers' staff includes two of his former players, outside linebackers coach Kevin Greene and safeties coach Darren Perry. Both have known Capers for decades. They believed in his system as players, and they still believe in it as coaches.
"Just a few weeks ago, I thought we had a top-10 defense, or at least close to it, and top five against the run," Greene said. "It's not like Coach Dom came in and changed the game plan and put a whole new system in, you know what I mean? We're doing the same things here. It's not like he's putting us in just a horrible position that we're going to fail. Our defense just needs to play together as a unit. When they have the opportunity, they just need to make that play. You need to fit together."
Despite an array of missed tackles, blown coverages and fundamental breakdowns, Capers said he has seen no signs that players have begun to point fingers. The fact that a veteran like Pickett was emphatic in his support for his coach meant something to Capers.
"As long as you stay strong from within, then you've got a chance to pull yourself through the thing, because every team in the league is going to go through tough stretches," Capers said. "But if you don't, if you come apart from inside, you really don't have any chance. So you've got to stay confident in what you're doing. You've got to make sure that you point out to guys where we have to get better. Everybody has to accept responsibility. My responsibility is to get this defense better, to get us where we want to be."
Said Perry: "Have we played up to our level expectations this year? No. We've had our moments where we've looked good, but we haven't been consistent enough, but that's not a reflection on coach Dom. I've got nothing but the utmost respect for him. You don't become a bad coach because of a not-so-good season, and when things don't go the way it's planned. We're always subject to criticism when things don't go well in this profession. That comes with it, and all of us know that and understand that. That's part of our profession."
November, 22, 2013
11/22/13
6:15
PM ET
GREEN BAY, Wis. -- It wasn't until Nick Collins' fourth NFL season that he became a major playmaker for the
Green Bay Packers
.
The team's former safety intercepted just four passes in his first three NFL seasons.
In Year 4, the 2008 season, Collins picked off seven passes to begin a three-year run of Pro Bowl appearances. In those three seasons, he combined for 17 regular-season interceptions before his career was cut short by a neck injury in Week 2 of the 2011 season.
[+] Enlarge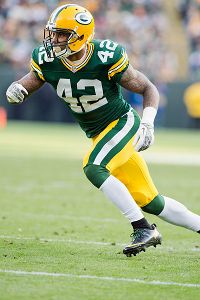 AP Photo/David StlukaPackers defensive back Morgan Burnett is still without an interception this season.
The Packers were hoping for the same kind of progression by safety
Morgan Burnett
, whose interception totals in his first three seasons (six) actually surpassed Collins' first three seasons. They were banking on it when they gave Burnett a four-year, $24.75 million contract that included an $8.5 million signing bonus in July.
But late in Burnett's fourth season, it hasn't happened yet.
While the coaches have vigorously defended Burnett's play, he's been noticeably absent in the big-play department. He doesn't have an interception, forced fumble or fumble recovery in seven games this season since returning from a hamstring injury that sidelined him in Weeks 1-3.
"He's a good football player, and we have no doubts about him," Packers safeties coach Darren Perry said. "We just have got to keep him going and making sure as a unit that we're playing together and we're not giving up the big play, because that's where you want to make sure that you're not slipping, because that just demoralizes a defense."
Burnett has been at least partially responsible for giving up big plays in each of the past two games. Against the
Philadelphia Eagles
, he misplayed the coverage and then collided with cornerback
Tramon Williams
on DeSean Jackson's 55-yard touchdown pass. He and Williams also got crossed up in last Sunday's game against the Giants, when they allowed a 35-yard completion to
Hakeem Nicks
.
"My main goal is just to go out and do my job and be accountable," Burnett said. "That's all I can do, just go out and do my job and be accountable, because you've got 10 other guys that's relying on you to do your job. That's my main focus. I don't pay attention to anything else."
Big plays have been hard to come by for the entire defense. The Packers are tied for a league-low four interceptions this season. In Dom Capers' previous four seasons as defensive coordinator, the Packers led the league in interceptions with 103.
When asked if he needs more big plays from Burnett, Capers said: "I think everybody on defense when you haven't made them. I think our pressure has been consistent, but the thing that's been missing that's kind of been our staple is taking the ball away. Up till this year, our opponent quarterback ratings were in the top five, we're in the top five taking the ball away. We have to get back to that. We know we're capable of doing it. We just haven't done it."
October, 5, 2013
10/05/13
8:00
AM ET
GREEN BAY, Wis. -- Here are some odds and ends to wrap up the week before the
Green Bay Packers
play the
Detroit Lions
on Sunday at Lambeau Field:
Kick returner by committee:
The Packers didn't identify a replacement for kick returner
Jeremy Ross
, who was released last week after he fumbled a kickoff in Week 3 against the
Cincinnati Bengals
.
Cobb
That's probably because they don't plan to use just one player for the job.
The Packers likely will use some combination of receiver
Randall Cobb
, who was the Packers' primary returner for both kickoffs and punts in 2011 and 2012, running back
Johnathan Franklin
(on kickoffs) and cornerback
Micah Hyde
(on punt returns).
"It will be situational," Packers coach Mike McCarthy said Friday. "We won't put anybody back there that we weren't comfortable handling the ball."
Cobb, who has three career returns for touchdowns, probably would see more action on punt returns than kickoff returns, but the Packers might not want to expose one of their top receivers to extra injury risk.
"I can understand that view, but I would think you'd understand my view on it," special teams coach Shawn Slocum said this week. "Philosophically, you have to make a decision what direction you want to go. Going back to when we first got here as a staff,
Charles Woodson
was our punt returner. The punt return play, I think, has a little less risk for the big hit for a returner than the kickoff return play."
Burnett's back:
Safety
Morgan Burnett
's return could stabilize things in the secondary for a defense that ranked 28
th
out of 32 teams in passing yards allowed through Week 4.
Burnett, a fourth-year pro, is the most experienced safety on the Packers' roster. Before missing the first three games of this season because of a hamstring injury, Burnett had played in 35 straight games (including playoffs) the last two seasons.
In July, he signed a four-year, $24.75 million contract extension.
"It gives you a sense of comfort and a sense of excitement because I know he wants to be out there," Packers safeties coach
Darren Perry
said. "That's going to be a big lift for our defense. The kid's worked his butt off, and nobody wants to sit on the side and watch. It's a great time to come back -- a division opponent, a huge game at home, coming off a loss, we're trying to get back on track. It's good to have one of your best football players back out there playing."
Burnett, who was injured in the preseason, said he does not expect to have any limitations Sunday.
"No, I'm good; I'm ready to go," Burnett said. "I've been participating with everybody throughout practice with our whole schedule. Now, I'm just ready to get it started on Sunday."
The Lions' best:
In addition to the Packers' streak of 22 straight home victories over the Lions, McCarthy has a 13-1 record against the Lions, with the only loss coming at Ford Field in the 2010 game that quarterback
Aaron Rodgers
couldn't finish because of a concussion.
But this Lions team, which comes in with a 3-1 record and already owns NFC North wins over Minnesota and Chicago, looks much different.
"I think this is probably their best team as far as the way they're playing coming into the game, as I recall," McCarthy said. "I can't sit here and tell you off the top of my head how I felt about each and every game. But I will say this is clearly a very talented football team.
"They're very systematic in their approach. Their coaching staff has been together for quite some time, and the way they play on offense and defense is pretty much the same philosophically. I think this is probably the best that I've seen them play coming into a contest."
August, 28, 2013
8/28/13
5:45
PM ET
GREEN BAY, Wis. --
Green Bay Packers
general manager Ted Thompson doesn't do everything the way his mentor, Ron Wolf, did things when he ran the Packers from 1991 to 2001.
But when it comes to certain things, like height requirements for defensive backs, Thompson rarely wavers from Wolf's approach. Ever since Wolf used a first-round draft pick on 5-foot-9 cornerback
Terrell Buckley
, who turned out to be a bust, Wolf vowed never to take another short defensive back.
So what in the world is
Chris Banjo
, a safety who measured 5-foot-9.6 for scouts at his pro day, doing with the Packers?
[+] Enlarge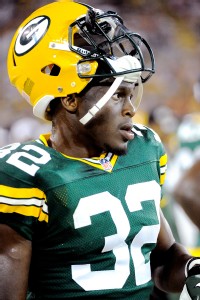 Benny Sieu/USA TODAY SportsChris Banjo has the Packers re-thinking their team height requirement for defensive backs.
For one thing, Banjo was a low-risk acquisition. The Packers signed him to a minimum contract four days into training camp after he was cut by the
Jacksonville Jaguars
. But now that Banjo has played his way into consideration for a roster spot, the Packers will have to decide whether to allow his height to become a deciding factor.
"There's a pretty good guy in Pittsburgh that's had a Hall of Fame career, and he wouldn't have met our height requirements probably at the safety spot," Packers safeties coach
Darren Perry
said this week.
Of course, Perry, a former Steelers safety and assistant coach, was referring to
Troy Polamalu
.
"He's only about 5-10, if that," said Perry, who coached Polamalu for four seasons. "He's barely 5-10."
When Polamalu came out of USC in 2003, he was measured at 5-10.1.
Not that Perry was comparing Banjo's game to Polamalu's, but his point was that sometimes it's worth pushing the limits.
"I guess he doesn't quite meet the Mendoza line for some of the requirements that they've had here in terms of defensive backs," Perry said. "But I think sometimes you've got to look beyond that and look at the player's ability and what he can do on the football field. That's something that you have to be careful of not getting too caught up in."
Banjo, a 23-year-old who shares the same alma mater (SMU) as Thompson, is the leading candidate for the fourth -- and final -- safety position on the roster. He is expected to get extended playing time in Thursday's preseason finale at Kansas City because starting safety
Morgan Burnett
(hamstring) won't play.
Although Banjo has been with the Packers for only a month, his determination became apparent early on. The son of immigrants from Nigeria who settled in Houston, Banjo couldn't crack into the NFL after graduating from SMU in 2012. He had tryouts with the
Oakland Raiders
and
Pittsburgh Steelers
but never landed a contract. It wasn't until the spring of 2013 that he got an offer from the Jaguars, but he never made it to training camp. They cut him on the eve of the first practice last month.
"It's something that I've been told 'No,' that I wouldn't be able to do," Banjo said of making it in the NFL. "Now, I have an opportunity to excel and prove a lot of people wrong, something my family believed that I can do from Day 1."
In practice this past week, quarterback
Aaron Rodgers
completed a pass that was thrown over Banjo's head while he was in coverage. The play again brought into question Banjo's height. But Perry was quick to note that Banjo was actually playing the nickel cornerback spot -- not his natural safety position -- for the first time when that pass was completed on him.
"I think some of it had to do with the quarterback that was throwing the ball," Perry said. "We watched that play, and he can't do anything about his height."
And that takes us back to Wolf's point about small defensive backs. They will always have certain limitations. However, Perry believes there are some advantages for a small safety.
"We're always talking about pad level and so forth," Perry said. "When you're 5-9 like he is, you naturally have that, and he's been able to make some plays.
"You might get some situations where you get against bigger tight ends and they may put the ball in the back-shoulder area where he may be at a little bit of a disadvantage, but for the numbers of times that happens, I don't think you can really worry about the height being a factor."