Green Bay Packers:

Daryn Colledge
August, 27, 2014
Aug 27
2:30
PM ET
While the first month of the season has the
Green Bay Packers
on the road for three out of four games, including a pair of NFC North games back-to-back against the Lions and Bears to close out September, it's the middle of the
schedule
that might determine whether they are a legitimate Super Bowl contender. Sandwiched around the Week 9 bye are games at the Saints and home against the Bears and Eagles. The Saints are the favorites in the NFC South and the Eagles in the NFC East, while the Bears are probably the biggest threat to the Packers in the NFC North.
Complete Packers season preview
.
May, 5, 2014
May 5
8:00
AM ET
GREEN BAY, Wis. -- Since he took over as general manager of the
Green Bay Packers
in 2005, Ted Thompson has drafted 87 players.
Leading up to this year's draft, in which Thompson currently has nine picks, we will look at his best and worst selections in each round.
We'll start at the bottom and work our way up. So far, we've looked at the seventh, sixth, fifth, fourth and third rounds.
Next up is Round 2.
Total players drafted
: 13.
By position
: Receivers 4, running backs 2, cornerbacks 2, defensive ends 2, guards 1, quarterbacks 1, safeties 1.
Best pick
:
Nick Collins
, S.
By age 27, Collins (No. 51 overall, 2005) was already a three-time Pro Bowl selection. But his career was cut down in its prime when he sustained a neck injury against the
Carolina Panthers
in Week 2 of the 2011 season. He has not played since despite his desire to return. The Packers released him the next offseason and have struggled to replace his playmaking ability from the safety position.
Honorable mention:
Greg Jennings
, WR (No. 52, 2006),
Jordy Nelson
, WR (No. 36, 2008),
Randall Cobb
, WR (No. 64, 2011),
Eddie Lacy
, RB (No. 61, 2013).
Worst pick
:
Brian Brohm
, QB.
The third quarterback taken in the draft -- behind
Matt Ryan
and
Joe Flacco
-- Brohm (No. 56, 2008) struggled from the outset and lost the backup quarterback job to another rookie, seventh-round pick
Matt Flynn
. After spending the season as the third-stringer, he failed to even make the team in his second year. The Bills signed him in 2009, and he appeared in three games over two seasons in Buffalo.
Dishonorable mention:
Pat Lee
, CB (No. 60, 2008),
Brandon Jackson
, RB (No. 63, 2007),
Jerel Worthy
, DE (No. 62, 2012),
Terrence Murphy
, WR (No. 58, 2005).
Notes
: Thompson has selected almost as many Pro Bowlers in the second round (three -- Collins, Jennings and Lacy) as he has in the first round (four --
Aaron Rodgers
,
Clay Matthews
,
A.J. Hawk
and
B.J. Raji
). ... Nearly half of his second-round picks (Lacy, Worthy, Cobb, Nelson,
Casey Hayward
and
Mike Neal
) remain on the roster. Two others (Jennings and
Daryn Colledge
) played for other teams last season. ... Murphy's career ended after just three games because of a neck injury.
February, 6, 2014
Feb 6
6:30
PM ET
GREEN BAY, Wis. -- Exactly three years ago -- on Feb. 6, 2011 -- the
Green Bay Packers
won Super Bowl XLV.
Since then, much has happened to the 53 players who were on the roster for that 31-25 victory against the
Pittsburgh Steelers
in Arlington, Texas.
Free agency, injuries, retirement and declining performance cause roster turnover.
Still, it's eye-opening that from the group that suited up for the Packers' last championship, only 12 players (just 22.6 percent) remain under contract with the team for 2014. Another 11 are still officially members of the Packers, but have contracts that expire next month. There are 13 players with other NFL teams, and 17 are out of football -- perhaps for good.
Here's a look at the status of every player who was on the active roster three years ago today at Super Bowl XLV:
Under contract for 2014
[+] Enlarge

Wesley Hitt/Getty ImagesThree years after being named MVP of Super Bowl XLV, Aaron Rodgers is still leading the Packers.

QB Aaron Rodgers: Threw for 304 yards and three touchdowns on the way to winning the Super Bowl XLV MVP, then won the NFL MVP award the next season. Signed a five-year, $110 million contract extension last April.

G Josh Sitton: Started Super Bowl XLV at right guard, but moved to left guard in 2013 and was a second-team, All-Pro selection. Signed a five-year contract extension on Sept. 2, 2011 that averages $6.75 million per season.

T Bryan Bulaga: Started at right tackle, but moved to left tackle last offseason. A training camp knee injury ended his 2013 season, and he now enters the final year of his rookie contract.

G: T.J. Lang: Served as a backup, but became the starting left guard the next season. Signed a four-year contract extension on Aug. 14, 2012 that averages $5.2 million per season. Moved to right guard last season.

WR Jordy Nelson: Caught nine passes for 140 yards and a touchdown in the Super Bowl, and went on to post 1,000-yard receiving seasons in two of the next three years. Entering the final year of his contract in 2014.

OLB Clay Matthews: Forced a fumble in the fourth quarter of the Super Bowl that the Packers recovered and turned into a touchdown to pad the lead. Four-time Pro Bowler signed a five-year, $66 million contract extension last April.

LB A.J. Hawk: Started and made seven tackles in the Super Bowl. Was released two months later, only to re-sign a more salary-cap friendly deal. Is under contract through 2015.

CB Tramon Williams: Broke up three passes in the Super Bowl, including the one that sealed the game on fourth-and-5 from the Steelers' 33-yard line in the final minute. Entering the final year of his contract. Scheduled to make $7.5 million in 2014, and could be a candidate to be released or restructured despite a strong finish to last season.

K Mason Crosby: Made a 23-yard field goal in the game and signed a five-year, $14.75 million contract on July 29, 2011. Struggled in 2012, but bounced back last year to post his best season.

P Tim Masthay: Capped his first season with the Packers by averaging 40.5 yards and allowing the Steelers just 5 yards on punt returns in the game. Signed a four-year, $5.465 million contract extension on July 26, 2012.

LS Brett Goode: Has been the long snapper since 2008 and signed a three-year, $2.715 million contract extension on Oct. 13, 2012.

CB Jarrett Bush: Special teams player who was pressed into defensive duty in the game after injuries to Sam Shields and Charles Woodson, and intercepted a Ben Roethlisberger pass in the second quarter. Signed a three-year, $5.25 million contract on March 26, 2012.
Headed for free agency next month
With other teams
[+] Enlarge

Matthew Emmons/USA TODAY SportsCoach Mike McCarthy and the Packers have seen a lot of roster turnover since winning Super Bowl XLV.

WR Greg Jennings: Started and became just the third player in team history to catch multiple touchdowns in a Super Bowl by recording touchdowns of 21 and 8 yards. Signed a five-year, $45 million contract with the Vikings last March.

G Daryn Colledge: Started at left guard, but left in free agency a few months later to sign a five-year, $27.5 million contract with the Cardinals. Has started every game for the Cardinals since.

C Scott Wells: Started at center and remained with the Packers through the 2011 season before signing a four-year, $24 million contract with the Rams. Has missed 13 games over the past two seasons because of injuries.

LB Desmond Bishop: Became a starter earlier in 2010 after Nick Barnett's wrist injury and made nine tackles in the Super Bowl. Also recovered the fumble that Matthews forced. Signed a four-year, $19 million contract in 2011, but was released after missing the entire 2012 season because of a hamstring injury. Signed with the Vikings last offseason, but appeared in only four games.

OLB Frank Zombo: Started the game and had the Packers' only sack of Roethlisberger but battled injuries the next two years and was released. Signed with the Chiefs last year and appeared in all 16 games.

CB Charles Woodson: Started at cornerback, but broke his collarbone late in the second quarter and missed the remainder of the game. Played two more seasons with the Packers, who released him last year. Returned to his old team, the Raiders, and played in all 16 games last season.

DE Cullen Jenkins: Played 36 snaps and had a pair of quarterback pressures. Left in free agency the following year and signed a five-year, $25 million contract with the Eagles, who released him after two years. Signed a three-year, $8 million contract with the Giants last season.

TE Tom Crabtree: Played on both offense and special teams in the Super Bowl, catching one pass. Left last year to sign with the Buccaneers as an unrestricted free agent, but was limited to seven games because of injuries.

CB Josh Gordy: Was inactive for the game, and the next season was signed off the practice squad the by the Rams. Spent the past two seasons with the Colts.

G Nick McDonald: Was inactive for the game, like he was for every game that season. Was released in training camp the next year, and spent parts of the next two seasons with the Patriots. Did not play in 2013, but was recently signed by the Chargers.

OLB Erik Walden: Was inactive after suffering an ankle injury in the NFC Championship Game. Played the next two seasons before signing a four-year, $16 million contract with the Colts last year.

DE: Jarius Wynn: Was active but did not play. Played in Green Bay through 2011, and with the Titans and Chargers before landing with the Cowboys last season.

FB Quinn Johnson: Inactive for the game. Was traded to the Titans in 2011. Has played in 24 games for the Titans over the past three years.
Out of football
October, 25, 2013
10/25/13
11:15
AM ET
GREEN BAY, Wis. -- If
Green Bay Packers
rookie
David Bakhtiari
needs a lesson in what can happen when a left tackle allows
Minnesota Vikings
defensive end
Jared Allen
to get going, he might want to watch the tape of the 2009 game at the Metrodome.
Or maybe that might scare him even more.
The Vikings sacked Packers quarterback
Aaron Rodgers
eight times in that 2009 game at Minnesota, and Allen was responsible for 4½ of them.
[+] Enlarge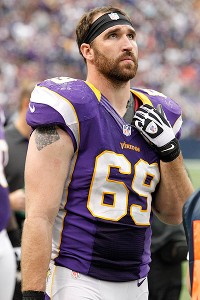 AP Photo/Genevieve RossKeeping Jared Allen away from QB Aaron Rodgers will be a tough task for the Packers' David Bakhtiari.
In the noise at the dome, things can snowball in a hurry for an offensive lineman.
"If you allow it to," Packers offensive line coach James Campen said this week. "That's the thing, you want to make sure you're off on the snap and you get into a rhythm from Play 1 and keep going. Once you're in your rhythm, then you're fine. But it is tough."
Rodgers has never been sacked more times than he was in that 2009 game, a 30-23 loss to the Vikings. The Packers used a fill-in left tackle,
Daryn Colledge
, that day because regular starter Chad Clifton was injured. Then Colledge went down and was replaced by
T.J. Lang
. Neither Colledge nor Lang were tackles by trade. Both play primarily guard.
While Bakhtiari is a natural tackle, this will be his first game against Allen and his first in a dome, where it often gets so loud when the visiting team has the ball that the tackles can't hear anything the quarterback or the center says.
"Everyone has said it's going to be loud," Bakhtiari said. "Loud games are loud games. I think at every away game it gets to the point where you really can't hear anything, and then from there it gets louder, but you still already can't hear anything."
The Packers simulate crowd noise in practice by blasting it over the speakers inside the Don Hutson Center, but even that might not reach the same decibel level compared to the dome.
"It's different," Campen said. "But as much as you can simulate that noise, that helps, too, because the communication is really off in practice. You just simulate it, and getting off on the snap count is a priority, but we've been doing our snap counts for a long time. The best way to prepare for it is to get out there, and once you get that first series done and you come back, you're good then."
So far, Bakhtiari has handled most challenges. After allowing two sacks to San Francisco 49ers' Pro Bowl defensive end
Aldon Smith
in Week 1, the fourth-round pick from Colorado has allowed just two more sacks in the next five games combined, according to ProFootballFocus.
Life as an NFL left tackle means facing elite pass-rushers almost every week. Although Allen is 31 years old and perhaps in decline, and the Vikings have struggled to get to the quarterback -- their 12 sacks ranks 28
th
in the league -- Allen has still managed 4½ sacks in six games.
In five home games against the Packers, Allen has combined for 9½ sacks. He has registered at least one sack in every home game against the Packers.
"He's had some success against us in the past," Rodgers said. "He's a great competitor. I enjoy playing against him. He gives you a lot of different challenges, especially for a young guy like David, with the many things he can do with his pass rush ability."