Green Bay Packers:

Dave Robinson
July, 11, 2014
Jul 11
10:00
AM ET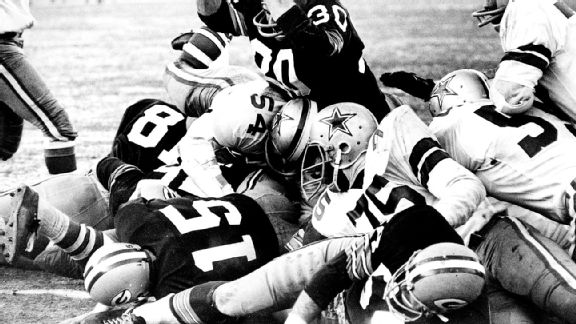 John Biever/Icon SMI
We have a winner. The voters picked Bart Starr's quarterback sneak for a touchdown to win the Ice Bowl as the Packers' most memorable play, and I applaud their selection.
Score:
Packers 21, Cowboys 17
Date:
Dec. 31, 1967
Site:
Lambeau Field
From the moment we began soliciting nominations for the
Green Bay Packers
' three most memorable plays, Bart Starr's quarterback sneak for a touchdown to win the Ice Bowl was mentioned more often than any other play.
So it should come as no surprise that it was the runaway winner in the voting.
Few NFL franchises have one defining play like that, but Starr's sneak ranks up there with
the Immaculate Reception
and
The Catch
.

When the voting closed on Thursday, Starr's play finished as a landslide winner over Brett Favre's 54-yard touchdown pass to Andre Rison in Super Bowl XXXI and
Aaron Rodgers
' third-and-10 completion to
Greg Jennings
to help clinch Super Bowl XLV.
What was most interesting in researching this project was that there was no consensus on the most memorable plays from Super Bowls XXXI and XLV. There was just as much support for Desmond Howard's 99-yard kickoff return for a touchdown that helped him win the Super Bowl XXXI MVP. Likewise in Super Bowl XLV, strong cases could be made for Nick Collins' interception return for a touchdown in the first quarter and
Clay Matthews
' forced fumble that thwarted a potential go-ahead drive by the Steelers in the fourth quarter.
Unlike Starr's sneak, no one play won Super Bowls XXXI or XVL.
And that is why Starr's play was so special.
As we wrap up this project, it's also worth noting some of the other plays that were considered, thanks in part to input from readers and other longtime observers of the team.
Among the others:
Don Hutson's first touchdown, an 83-yarder in 1935.

Dave Robinson drilling Don Meredith, leading to Tom Brown's interception to beat the Cowboys in the 1966 NFL Championship.

Herb Adderley's interception against the Lions in a 1962 regular-season game to set up the game-winning field goal in a 9-7 victory.

Chester Marcol's blocked field goal that he ran in for a touchdown to beat the Bears in 1980.

Don Majkowski to Sterling Sharpe for a 14-yard touchdown pass in 1989 against the Bears in what is known as the Instant Replay Game.

Favre to Sharpe in Detroit for a 40-yard touchdown with 55 seconds remaining in a 1994 playoff game.

Antonio Freeman's "Monday Night Miracle" catch to beat the Vikings in 2000.

B.J. Raji's interception return for a touchdown against the Bears in the NFC Championship Game in 2011.

The "Fail Mary" play against the Seahawks in 2012.
The problem with some of those plays is they were either flukes or meaningless plays in meaningless games. Oh, and there was one other play that a longtime Packers observer was convinced would be the most important play in team history if there more details about it were available. It was a punt, said to be nearly 90 yards by Verne Lewellen in a 1929 game against the
New York Giants
. That punt pinned the Giants deep in their own territory and helped secure a victory that was the difference between the teams in the standings (there were no playoffs at that time). The Packers, with a 12-0-1 record, won the championship over the Giants, whose only loss was to the Packers. It gave the Packers their first championship and, because it happened in New York, helped the Packers capture the attention of the powerful New York media. However, reports from that game do not clearly describe Lewellen's punt.
In the end, Starr's sneak is the play that has been, and likely will continue to be, the most memorable.
December, 8, 2013
12/08/13
8:00
AM ET
GREEN BAY, Wis. -- Emptying out the notebook from the week that was with the
Green Bay Packers
:
Cold-weather impact
: The
Atlanta Falcons
have played nine games indoors this season. Their three outdoor games have been in Miami, Charlotte, N.C. and Tampa, Fla.
Temperatures are expected to be in the teens and snow is in the forecast for Sunday's game against the Packers at Lambeau Field. In theory, that should be an advantage for the Packers, who have spent all week in those conditions, including half of a practice Friday that was spent outdoors in single-digit temperatures.
Pickett
"I told our football team, that's a loser's mentality," Packers coach Mike McCarthy said. "We're not counting on the weather. We're preparing to play the game in the weather we live in. We're really focused on ourselves. I think if you sit here and try to play that mind game with your opponent, it's a waste of time."
Said Packers defensive tackle
Ryan Pickett
: "I don't know about the weather favoring us. I don't buy into the weather and this and that. Everybody from [the] Atlanta [Falcons] is not from Atlanta. There's a lot of them up north who have dealt with the cold before. I don't think that's going to play any part in it."
Armed and dangerous
: Whenever quarterback
Aaron Rodgers
returns from his broken collarbone, the Packers won't have any concerns about his arm strength.
During the portion of practices that were open to reporters this week, Rodgers appeared to have no trouble putting zip on the ball on short and intermediate passes. He didn't throw any deep balls when the media was around.
Those who watched the full practices this past week said Rodgers' velocity returned quickly.
"He can throw it still," quarterbacks coach Ben McAdoo said. "He can still throw the ball. He looked good."
And then there were two:
When McCarthy became the Packers coach in 2006, he was one of 10 hired that offseason. After the
Houston Texans
fired Gary Kubiak on Friday, only McCarthy and
New Orleans Saints
coach Sean Payton remained for that group of hires.
Together, McCarthy and Payton have a record of 160-87-1 including the postseason, and each won a Super Bowl.
The other eight -– Kubiak, Dick Jauron (Buffalo), Herm Edwards (Kansas City), Eric Mangini (
New York Jets
), Art Shell (Oakland), Rod Marinelli (Detroit), Brad Childress (Minnesota) and Scott Linehan (St. Louis) -- have all been fired.
Hall worthy?
: Packers outside linebackers coach
Kevin Greene
was recently named a semifinalist for the Pro Football Hall of Fame for the eighth time.
Perhaps the reason the all-time sacks leader among linebackers, who ranks third on the all-time sacks list with 160, hasn't made it in is that some voters view him as a one-dimensional player.
"I can tell you first of all that I truly have a peace about what I was able to accomplish," Greene said. "I know, really, inside, how I played and the time that I put in, the film that I studied. The countless hours on the field, in the workout room -- all those things. I've got a peace about that. It's not something I regret. Should I have done more? Could I have done more? No. I did everything I possibly could to try to be the best at the position in all three phases of the game. Not just one phase.
"You know this position, there's three phases. To be successful at this position, you've got to be able to do all three. You can't just do one and really suck at playing the run and suck at covering people. It just doesn't jive at this position. If you have success at one of the areas of this position, chances are you're doing a pretty good job in the other two as well. So it is what it is."
Ring ceremony
: Former Packers linebacker Dave Robinson, who was inducted into the Pro Football Hall of Fame in August, will receive his Hall of Fame ring in a ceremony at halftime of the game against the Falcons.
A picture of his ring can be seen on the
Pro Football Hall of Fame's website
.