Green Bay Packers:

Demarcus Ware
March, 12, 2014
3/12/14
7:30
AM ET
A roundup of what's happening on the Green Bay Packers beat.
GREEN BAY, Wis. -- To the surprise of no one, the Packers sat idle on the first day of free agency.
And Day 2 could be more of the same.
As of the end of the day on Tuesday, the first day of the new NFL year, the Packers did not have any visits set up with any of the available players.
If the Packers do anything in free agency -- and they often don't -- it's almost never in the opening days. As good a signing as
Charles Woodson
was for the Packers in 2006, it's worth remembering that almost no one else wanted him. He did not settle for the Packers' offer until three days before the draft that season.
The Packers view defensive end
Julius Peppers
, who was released by the
Chicago Bears
, as the best defensive front player still available. But at age 34, he probably isn't a player Packers general manager Ted Thompson would be willing to pay.
Perhaps the next best option as a pass-rusher is
DeMarcus Ware
, who was released by the
Dallas Cowboys
for the same reason as Peppers. Ware is younger (he turns 32 in July) and would be a good fit for the Packers' 3-4 defense. The Packers spent part of Tuesday discussing Ware but have not set up a visit. That would likely only happen if Ware goes unsigned after the initial wave of interest.
Here's a recap of the rest of the Packers-related happenings from day one of free agency, with a little perspective added in:
January, 3, 2014
1/03/14
4:20
PM ET
GREEN BAY, Wis. -- The
Eddie Lacy
that the
San Francisco 49ers
saw in Week 1 at Candlestick Park isn't the Eddie Lacy they should be studying this week.
The
Green Bay Packers
running back was tentative, indecisive and a fumbler.
[+] Enlarge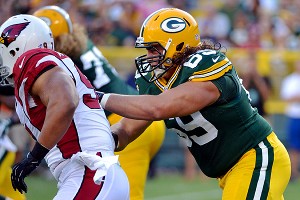 Benny Sieu/USA TODAY SportsPackers rookie LT David Bakhtiari started 16 games this season and gained valuable experience.
He has been none of those things since then.
The
David Bakhtiari
that the 49ers saw in the season opener isn't the David Bakhtiari they should be preparing for this week.
The Packers left tackle allowed outside linebacker
Aldon Smith
to sack quarterback
Aaron Rodgers
twice and had his hands full with the pass-rusher most of the game.
He has allowed multiple sacks in a game only once since then.
Almost an entire season has passed since the 49ers last saw the Packers, and perhaps the biggest difference in Green Bay is in their two rookie starters on offense. Lacy became the 1,000-yard power back that general manager Ted Thompson hoped he would be when he picked in the second round last April, and Bakhtiari held together an offensive line that could have fallen apart when veteran
Bryan Bulaga
blew out his knee less than two weeks into training camp.
Chalk it up to first-game jitters (in Lacy's case) or just plain old inexperience (in Bahktiari's case), but neither got off to the kind of start they wanted in the
34-28 loss
in their NFL debuts at Candlestick Park.
"I can't even start to describe how I felt that game," Lacy said. "That was the first time for me, but it's in the past, so I'm not too much worried about it."
For Lacy, his 41-yard rushing game (on 14 carries) was his third-lowest total of the season in a game he finished. The fumble, who landed him on the bench for part of the game, was his only one of the season.
"He admittedly was very nervous for the game," Packers coach Mike McCarthy said. "So, yeah, Eddie's playing much better, just like any rookie in this league, you know he's got 16 games under his belt now. He knows what to expect, and he's comfortable in the offense, he's comfortable being asked what to do, so yeah Eddie is in a different place today."
Even his sprained right ankle, which has bothered him the past three weeks, appears to be feeling better heading into Sunday's NFC wild-card game against the 49ers at Lambeau Field.
Lacy finished with a Packers' rookie record of 1,178 yards rushing -- the eighth-best total in the league -- and scored 11 touchdowns despite missing nearly two full games because of a concussion.
So what will the 49ers see when they watch film of what Lacy has done since they saw him last?
"I think they're going to see a confident, hard-running Eddie Lacy," Packers fullback
John Kuhn
said. "He's going to be determined, assertive. There's things that he's learned throughout the course of the year, he's a great running back and I think they're going to have their hands full."
[+] Enlarge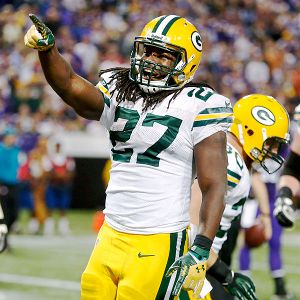 Bruce Kluckhohn/USA TODAY SportsPackers coach Mike McCarthy says running back Eddie Lacy has learned from his rookie mistakes.
Since Week 5, when Lacy returned from the concussion that kept him out of nearly two full games, he has rushed for 1,127 yards -- the second-best total in the league behind only
Philadelphia Eagles
running back
LeSean McCoy
(1,139).
"He's a totally different back," Packers receiver
James Jones
said. "It's night and day. He's a totally different back -- way more comfortable, way more confident. They'll have to account for him. I know by them watching film and seeing what he's done during the season they know he's not the same player he was Week 1. It's good for us to have him in the position he is now."
Bakhtiari, who grew up not far from Candlestick Park, is too California cool to show any signs of nerves like Lacy had in the opener. The most he would admit to was this: "I generally have been pretty calm throughout the whole process. Given my level, it was a little higher than usual, but I wouldn't say I was completely freaking out."
The fourth-round pick settled into the job relatively easily. After giving up four sacks in the first four games, he went seven straight games and 10 of out of the next 12 without being changed with a sack, according to ProFootballFocus.com. He allowed only four more sacks after the first month of the season.
Among the opponents he faced in his sackless streak were Baltimore's
Terrell Suggs
, Minnesota's
Jared Allen
(twice) and Chicago's
Julius Peppers
. Later in the season, he blanked Dallas'
DeMarcus Ware
. His lone disastrous performance came in the Thanksgiving loss at Detroit, where he allowed three sacks (including two by rookie defensive end
Ziggy Ansah
).
"Against different body types and very good pass-rushers, he's done a very good job of handling that," Packers offensive line coach
James Campen
said. "And he's done a very good job of handling success but at the same time he's had some rough games like Detroit, which was his worst game, and he came back and played his [expletive] off. He's done a very good job for a young guy to not let success creep into it in a negative way and handling it the right way, but he's also bounced back every time something's happened."
December, 12, 2013
12/12/13
10:00
AM ET
IRVING, Texas -- The
Green Bay Packers
and
Dallas Cowboys
are two of the most storied franchises in NFL history, but with three games to play in the 2013 season both are on the outside of the playoff chase and in need of a win.
The Packers have fallen on hard times without
Aaron Rodgers
but won last week against the
Atlanta Falcons
. The Cowboys are coming off a humiliating loss to the
Chicago Bears
and have a short week to get ready.
ESPN.com Packers reporter Rob Demovsky and Cowboys reporter Todd Archer debate the matchup in this week's Double Coverage.
Archer:
I'll skip the "What's Aaron Rodgers status?" and ask about Ted Thompson's approach to the backup quarterback. The Cowboys pay
Kyle Orton
a lot of money to hopefully never throw a pass. Is there any regret form the Packers that they did not have a better backup quarterback situation behind Rodgers, considering their struggles without him?
[Editor's note: Rodgers was officially ruled out for Sunday's game on Friday.]
Demovsky:
Thompson admitted at the end of training camp that he probably should have signed
Vince Young
much earlier than he did, although after watching Young for about a month, I'm not sure he would have been any better had the Packers signed back in the spring. Where they probably erred was in not drafting a quarterback. They overestimated what they had in
Graham Harrell
and B.J. Coleman, and neither one developed enough. When Ron Wolf was the GM, he made it a regular practice to draft a quarterback in the middle-to -late rounds. Not all of them worked out, but guys like
Ty Detmer
,
Mark Brunell
,
Matt Hasselbeck
and
Aaron Brooks
all came up through the Packers' system.
Packers defensive coordinator Dom Capers said
Tony Romo
is "playing probably as good as he has in his career." Do you agree with that assessment?
Archer:
I'd agree with that, sure. It's hard to argue against his numbers. He has 3,244 yards passing with 27 touchdowns and seven interceptions. He's taking care of the ball. He had one really careless throw and it cost the Cowboys big-time in their loss to the
Denver Broncos
. Romo gets most of the blame for the December/January woes this team has had, but in his last 16 games he has 34 touchdowns and seven picks. It's hard to play better than that. But you know what? He has to. This defense is so bad that Romo has to be nearly perfect. There can be no poor drives. If they don't get points they at least need to chew up time because there's not an offense the Cowboys can slow down right now.
When the Packers won Super Bowl XLV at AT&T Stadium they were able to overcome so many injuries, especially on defense as we talked about. The difference this year is Rodgers missing time, but is there anything more to it than that?
Demovsky:
They did end up with 15 players in injured reserve in their Super Bowl season, and then during that game itself they lost
Charles Woodson
to a broken collarbone. But you know what? This defense played fine early this season and even during the stretch
Clay Matthews
missed because of his broken thumb. Capers said last week that losing Rodgers had nothing to do with the Packers' defensive slide, but I'm not buying it. The Packers' defense got four turnovers in the Thanksgiving game at Detroit and still got walloped 40-10 because the offense couldn't do a darn thing with them. To be sure, there are issues on defense. Their failure to address needs at safety has hurt them up the middle, where their inside linebackers also haven't played well enough.
It sounds like Monte Kiffin is already taking heat, but how much of it is personnel? When I saw Packers castoff
Jarius Wynn
playing Monday night against the Bears, to me that was a red flag that there are talent issues, perhaps some of them caused by injuries.
Archer:
There are talent issues and there are depth issues. Blame the owner and GM who constructed this team. Blame the coaches -- Kiffin and Rod Marinelli -- for saying the line was a position of strength. The Cowboys thought they had pieces to fit Kiffin's scheme at the start of the year.
DeMarcus Ware
has not been DeMarcus Ware in part because of injuries, but he acknowledged he has to play better.
Bruce Carter
was supposed to be the ideal weak-side linebacker and he just has not made any plays. The corners are more man corners and Kiffin has tried to play more man but all of them --
Brandon Carr
,
Morris Claiborne
and
Orlando Scandrick
-- have had issues.
Sean Lee
has been hurt and could miss Sunday's game with a neck injury. He's been good but the defense has been lit up with him on the field, too. It's just a mess. Until Jerry Jones realizes he needs better players, not necessarily better schemes, it will be a mess.
Let's stick with the defensive coordinators. From the outside looking in, it appears Capers is catching a lot of grief too. Are the Packers committed to the 3-4 regardless or could they pull a Dallas and move to a 4-3 in the future?
Demovsky:
When the cornerstone of the defense is Matthews, an outside linebacker, I would think they'd have to stick with the 3-4 even if they part ways with Capers, which I'm not sure will happen anyway. Mike McCarthy has continually praised Capers and the defensive staff. It's probably more about personnel. They need a few more playmakers to help out Matthews. They haven't gotten enough production from their defensive front. I'd look for an overhaul in personnel more than a coaching change.
Knowing the temperature in the Cowboys locker room like you do, how do you think they will react to getting steamrolled Monday night? Is this a group that will fight? Or will they pack it in?
Archer:
This is where I have to give Jason Garrett credit. This team has fought. Maybe they didn't fight all that much in the losses to New Orleans and Chicago, but they have not packed it in. You saw the last time the Cowboys packed it in in 2010 at Lambeau Field when Wade Phillips was the coach. The Cowboys lost 45-7 and were completely disinterested. Phillips was fired the next day and Garrett took over. There is some gumption to this team. They do work hard. They do the right things. I'll say it again: Most of it is a talent issue. I'd expect the Cowboys to come out with the effort Sunday because they're still very much in the playoff chase. But do they believe they can really make a run? I don't know about that.