Green Bay Packers:

Dez Bryant
June, 20, 2014
Jun 20
8:00
AM ET
GREEN BAY, Wis. -- How much the Green Bay Packers value receivers
Randall Cobb
and
Jordy Nelson
won't be known until -- or if -- the team signs them to long-term contracts before they hit free agency next March.
But thanks to ESPN.com's Mike Sando, we have a better idea of how others in the NFL view the Packers' top-two receivers.
In
an ESPN Insider piece
,

Sando looked at what he called a loaded 2015 free-agent receiver class and, with the help of two NFL general managers plus an offensive and defensive coach, ranked the class in order of the likelihood of cashing in on big contracts whether with their current teams or on the free-agent market.
Both Cobb and Nelson ranked high on the list.
The 29-year-old Nelson came in at No. 4 behind
Dez Bryant
of the Cowboys,
Demaryius Thomas
of the Broncos and
Michael Crabtree
of the 49ers. Cobb, 23, was fifth.
The rest of the list was
Torrey Smith
of the Ravens,
Wes Welker
of the Broncos,
Cecil Shorts
of the Jaguars,
Roddy White
of the Falcons and
Hakeem Nicks
of the Colts.
The Packers and Broncos were the only teams with two free-agent-to-be receivers on the list.
Nelson is in the final year of a three-year, $12.6 million extension that turned out to be a bargain for the Packers, while Cobb is in the final year of the rookie contract he signed as a second-round pick in 2011.
Here's what Sando wrote based on evaluations by those he consulted:
On Nelson
: Nelson and Crabtree virtually tied for the third spot. Nelson has benefited from consistently outstanding quarterback play. Over the past three years, Nelson trails only Welker and Thomas among players on this list in yards receiving per game. He is second to Smith in yards per reception and second to Bryant in touchdowns.
Nelson has competition from his teammate, Cobb, on this list. Nelson is primarily an outside receiver, while Cobb plays from the slot. Nelson polled higher than Cobb on three of four ballots. The defensive coordinator had Nelson sixth, one spot below Cobb. "I would put Jordy after Crabtree, but before Cobb," one of the GMs said.
The other GM joined the offensive assistant in placing Nelson among his top three. "You have to value that outside guy," the second GM said. "But that inside slot receiver can do a lot of damage."
A third GM I spoke with put it this way: "Nelson fits a big role for them. I would have a hard time saying he would be a hugely paid guy, though. He'll generate interest, but not at the $10-$11 million level. I do think he will come in over
Eric Decker
, though."
On Cobb
: At 23, Cobb is easily the youngest player on this list. He missed 10 games last season and one in each of his previous two. That leaves him tied with Crabtree for the most games missed over the past three seasons when isolating the 10 players on this list. Cobb caught four passes for 106 yards and two touchdowns after returning for the Packers' final two games, counting a wild-card playoff defeat to the 49ers.
"Cobb and Crabtree are interchangeable on my list," the offensive assistant said. "Cobb is the model person and will always show up on time. Crabtree comes off whinier, and the guy from Seattle (
Richard Sherman
) got in his head. Cobb is coming from the right program with Mike McCarthy, one with structure and discipline and doing the right things. Crabtree does play outside more, but I'd rather coach Cobb."
June, 3, 2014
Jun 3
6:15
PM ET
GREEN BAY, Wis. --
Jordy Nelson
gambled and lost -- if you can call cashing in $12.6 million a loss -- three years ago when he signed a contract extension with the
Green Bay Packers
.
Except he does not see it that way.
At the time, he was a 26-year-old receiver whose best season was 45 catches for 582 yards and two touchdowns.
What happened over the next three years turned the deal into a bargain for the Packers. Nelson went over 1,000 yards in both 2011 and 2013 and would have done so in 2012 had injuries not kept him out of four games.
In the last three seasons, only three other NFL receivers -- Dallas'
Dez Bryant
, Detroit's
Calvin Johnson
and Denver's
Eric Decker
-- have more touchdown catches than Nelson (30). He's 12th in yards (3,322) and sixth in yards per catch (16.45) among all receivers during that same stretch.
[+] Enlarge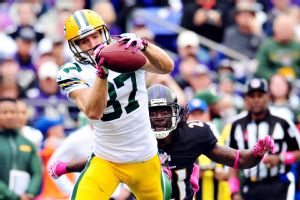 Evan Habeeb/USA TODAY SportsBefore signing his current deal, Jordy Nelson's best season was 582 receiving yards and two TDs. He has topped 1,000 yards receiving twice since, and in 2011 had 15 receiving TDs.
Under his current contract, which averages $4.2 million per season, Nelson ranks 34th in pay among all NFL receivers, which makes it look like he left money on the table the last time around.
"When I signed it, I don't think I did," Nelson said Tuesday. "I think everyone when I signed thought it was a good deal. No one would have known I'd have 1,200 yards and 15 touchdowns [in 2011]. Obviously, hindsight is 20/20 but, again, I'm not worried about that at all. I've been comfortable with my decision.
"I've talked to other guys who've given me a hard time about it and they've been in the same situation of getting re-done with a year left and like, what to do. You've just got to live with your decision, one way or the other. You sign it, you've got to be happy. If you outplay it, you've got to deal with it. If you don't sign it and you get hurt, you've got to deal with that."
Financials aside, Nelson's last contract put him in a difficult spot age-wise for his next deal. Last week, he turned 29 -- an age at which Packers general manager Ted Thompson has been known to let receivers walk away.
James Jones
turned 30 just weeks after the Packers let him leave in free agency this offseason, and
Greg Jennings
was 29 when he left the Packers for the
Minnesota Vikings
the previous offseason.
Nelson, however, argues his last contract put him in prime position for another big deal.
"I heard the other day, a doctor told me that 28 to 32 is the prime age for a male athlete," Nelson said. "I was actually surprised by that."
"On my end, if you do outplay it right away, you'll be right back up there in two, two-and-a-half, three years," Nelson added. "Even on the organization's side, it allows them to sign someone. ... Maybe they don't quite have a full grasp of what they're going to be like so we'll give him three years and maybe we can figure out more about him. Yeah, I think it was great on both sides, and I look forward to talking to them again."
Nelson said Tuesday he
believes those talks will heat up soon
.
However, the Packers might be more inclined to do a deal with fellow receiver
Randall Cobb
first. Cobb, who is entering the final year of his rookie contract, is just 23 years old.
For his part, Nelson is doing everything he can to stay young. He says he weighed in Tuesday at 210 pounds -- seven pounds below his listed playing weight. But he insisted that has nothing to do with him being in a contract year.
"They know everything about me," Nelson said. "They know we don't want to leave, so I'm not worried about saying it. You just want to make sure you get it done."
December, 15, 2013
12/15/13
11:30
PM ET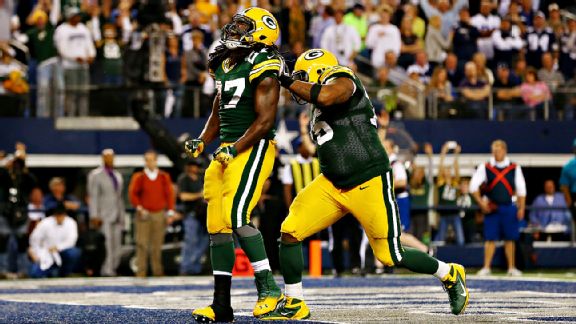 Tom Pennington/Getty ImagesEddie Lacy's fourth-quarter touchdown capped Green Bay's 23-point comeback.
ARLINGTON, Texas -- At one point on Sunday, referee Walt Coleman forgot to turn off his microphone. As he walked to the sideline to look at a replay of a key play in the fourth quarter, he asked two other officials: "So what happened?"
All 91,054 fans at AT&T Stadium could hear it.
You better believe many of them asked themselves the same question as they walked into the North Texas night about an hour later. Depending on their rooting interests, they were either amazed or bewildered.
In the visitors locker room, however, there was just belief.
The
Green Bay Packers
said they believed they could come back from a 26-3 halftime deficit. They believed their struggling defense would eventually start making big plays. They believed their backup quarterback,
Matt Flynn
, would rally them for a second straight week.
But did any of them really think their
37-36 victory
over the
Dallas Cowboys
would happen like this?
"No, not like this," said defensive tackle
Ryan Pickett
, a 13-year NFL veteran who has been around the league longer than any other player on the Packers' roster. "That was big. That was fun."
It matched the 1982 season opener against the Los Angeles Rams -- who led 23-0 at halftime before the Packers won 35-23 -- as the largest comeback in team history.
It kept the Packers' NFC North title hopes alive, perhaps even in time for starting quarterback
Aaron Rodgers
to return from his fractured collarbone for the penultimate game of the regular season next Sunday against the
Pittsburgh Steelers
.
In many ways, the madness that was this game began with the play that left Coleman unsure of what had just taken place. With 12 minutes and four seconds remaining, Packers cornerback
Tramon Williams
appeared to intercept a
Tony Romo
pass that went off the hands of tight end
Jason Witten
and return it to the Cowboys' 8-yard line. Williams thought -- and still thinks -- he cradled the ball to his chest to prevent it from hitting the ground.
But after Coleman watched the replay -- which the referee must do on all turnover plays -- he ruled that the ball hit the ground. The comeback, which at that point had pulled the Packers within five points, had seemingly been thwarted.
With the ball back in his hands, Romo marched the Cowboys down the field and completed that resurrected drive with a 5-yard touchdown pass to
Dez Bryant
that put the Packers in a 36-24 hole with 7:55 remaining.
"I was a little down in the dumps after that," Packers left guard
Josh Sitton
said. "But Flynn came up to me and said, 'Just believe, man. Just believe.'"
Sitton, after pausing for effect, said he told Flynn: "Hell yeah, let's do it."
And so they did.
With plenty of thanks to the Cowboys' wretched defense, which came in ranked last in the NFL, the Packers scored touchdowns on five straight possessions to start the second half. Four of them came on touchdown passes by Flynn, each to a different receiver.
Running back
Eddie Lacy
, whose 141 rushing yards made him the Packers' first rookie to rush for 1,000 yards since John Brockington in 1971, scored the other. It was the game winner, a 1-yard plunge with 1:31 to play with help from defensive tackles
Mike Daniels
and
B.J. Raji
, who came in as extra blockers.
Williams finally got his interception -- this one thanks to a replay review after it was originally ruled incomplete -- and it clinched the game. Packers coach Mike McCarthy wisely asked for a timeout and although it wasn't needed because the replay official eventually buzzed Coleman to take another look, it may have slowed down the Cowboys from quickly running another play.
"The one that I didn't get credited with, I thought I caught it," Williams said. "The one I did get credited with, I never felt more sure about a catch in my life. I showed my emotion on the field about it, didn't give the ref the ball back because I wanted them to take a look at it."
Fellow cornerback
Sam Shields
got one on the Cowboys' previous possession, when seemingly all they had to do was run out the clock. But they stopped running, something
DeMarco Murray
(134 yards) had done so well against the Packers' porous defense. Romo audibled on a second-down play, according to coach Jason Garrett.
Clay Matthews
nearly came up with a sack but when he didn't, Romo fired a pass in the direction of
Miles Austin
that Shields picked off with just 2:50 to go, setting up Lacy's touchdown.
Throw it all together, and it made for a victory that could serve multiple purposes for the Packers. It could show them the errs of their first-half miscues and, if all goes well and Rodgers comes back, it could mean something in the postseason.
"I haven't felt this way in a long time," Matthews said. "I feel like we won the Super Bowl."
McCarthy opened his postgame news conference with the word "Wow" and then went on to explain how it all happened -- even if not everyone could quite comprehend it.
"We were just sitting there in the locker room and kind of looking around like, 'What just happened?'" Flynn said. "I guess we're not really processing it. I know that we did have a really big comeback. We all realize that."