Green Bay Packers:

Eli Manning
June, 9, 2014
Jun 9
12:00
PM ET
GREEN BAY, Wis. -- It is not uncommon for NFL contracts to become outdated in a hurry.
Someone is always signing a new deal or an extension to become the highest-paid this or the highest-paid that.
Rodgers
So when
Colin Kaepernick
signed his contract extension with the
San Francisco 49ers
last week, the initial reports suggested his deal contained more guaranteed money than
Green Bay Packers
quarterback
Aaron Rodgers
, the NFL's highest-paid player.
On paper, Kaepernick signed a six-year, $114 million extension that contained $61 million in guaranteed money. But in this case, the definition of guarantee is a loose one.
As ESPN's John Clayton pointed out
in his weekend Mailbag column
, Kaepernick's deal is much more of a pay-as-you-play contract than the five-year, $110 million extension Rodgers signed on April 26, 2013. Rodgers' deal was loaded with real guarantees.
Rodgers' signing bonus of $35 million followed by a guaranteed roster bonus of $9.5 million that was paid this March and another one worth $9.5 million due next March brought his guaranteed money to $54 million in real dollars.
For those who were outraged that Kaepernick received more guaranteed money, a closer examination of the deal revealed that those were "soft" guarantees. Kaepernick's yearly guarantees don't become such until April 1 before each season, meaning the 49ers can get out from under the deal at any point without paying those so-called guarantees.
So for the time being, even though Kaepernick has the potential to collect more than Rodgers, it's not accurate to call him the higher paid at this point.
Perhaps the best measure when comparing contracts is a three-year window. Looking at it that way, here's a breakdown of the top quarterback contracts by average per year, according to ESPN Stats & Information salary data:
Matt Ryan, Atlanta: $22.9 million
Aaron Rodgers, Green Bay: $22.7 million
Joe Flacco, Baltimore: $20.7 million
Drew Brees, New Orleans: $20.3 million
Peyton Manning, Denver: $19.3 million
Tony Romo, Dallas: $18.0 million
Jay Cutler, Chicago: $18.0 million
Matthew Stafford, Detroit: $17.7 million
Ben Roethlisberger, Pittsburgh: $17.6 million
Eli Manning, New York Giants: $17.0 million
Philip Rivers, San Diego: $16.8 million
Colin Kaepernick, San Francisco: $14.7 million
Three of the quarterbacks on the list -- Ryan, Cutler and Kaepernick -- signed their deals after Rodgers did his 14 months ago. In that time, Rodgers' contract has held up. He remains the highest-paid quarterback with a $22 million-per-year average over the life his deal.
Maybe
Russell Wilson
, the next quarterback likely to cash in, will surpass him. But Kaepernick's deal did not.
November, 22, 2013
11/22/13
4:15
PM ET
GREEN BAY, Wis. -- In many ways,
Tramon Williams
fits the profile of the kind of player the
Green Bay Packers
might part ways with after the season.
The one-time Pro Bowl cornerback will turn 31 on March 16 and is scheduled to make $7.5 million next season in salary ($6.9 million) and bonuses ($600,000), making him the highest-paid player currently under contract for next season on the Packers' defense.
Williams
That's an age and a pay range that make him vulnerable in general manager Ted Thompson's way of doing business.
Then Williams went out and played the kind of game he did last Sunday against the
New York Giants
.
Without the injured
Sam Shields
, who this season overtook Williams as the team's designated shut-down cornerback, Williams played what one high-level NFL personnel man said was "the best game of his career."
Williams, in his seventh NFL season, made eight tackles (all solo stops, including two for losses) and intercepted his first pass of the season in last Sunday's 27-13 loss to the Giants. It was a performance reminiscent of late in the 2010 season, when Williams was one of the key components on the Super Bowl XLV team.
Yet Williams' future in Green Bay might still be in doubt. Shields will be a free agent after this season, and while no progress has been made on a long-term deal, the Packers likely have him high on their list of priorities to re-sign. If Williams isn't open to a pay cut, he could be released.
Unless he continues to play like he did against the Giants.
"If he plays the next six games and going into playoff like he played this last game," Packers cornerbacks coach Joe Whitt said, "we're going to say, 'Wow.' It would be better answered after the season."
It was a long road back for Williams, who had not been the same since he suffered a shoulder injury in the 2011 season opener against the
New Orleans Saints
that caused nerve damage. Though Williams missed only one game over the past two seasons combined, the injury clearly impacted his performance, especially in 2011.
"Tramon played his best game this season last week," defensive coordinator Dom Capers said. "I thought he tackled very well. He was involved in the run. He made the nice interception down in the red zone. I felt it was his best performance of the year."
But it wasn't enough to prevent a third straight loss.
He had one miscue in which he and safety
Morgan Burnett
had a miscommunication on a switch route that went for a 35-yard completion to
Hakeem Nicks
.
"I take responsibility for that, because when they make a mental mistake, that is on me," Whitt said. "We can't make mental mistakes, and that means I haven't done my job properly."
From the get-go last Sunday, Williams looked like a different player. On the game's opening series, Giants quarterback
Eli Manning
threw a short hitch to
Victor Cruz
, and Williams came from his off coverage position and stuck Cruz after just a 3-yard gain.
"With this stretch that we're on, we're on a losing stretch anyways, so it really don't matter at this point," Williams said. "You feel that something has to be changed, or someone has to step up or do something a little different, and I feel that I'm one of the guys who needs to step up, whether it's by example or whether it's by being a vocal leader. Different guys do it different ways. We just have to make sure we're getting effort out of everybody. I'm not saying we're not, but when it comes to times like this, you want to make sure you're maxing out on everything."
November, 16, 2013
11/16/13
9:00
AM ET
With
Aaron Rodgers
sidelined, the Packers are at a crucial stage of their season. They need to keep their head above water in the NFC's playoff picture until their star quarterback returns. Having lost last week, Green Bay needs to get a win Sunday in New York. Below are three key bullet points to help them get past the Giants and improve their record to 6-4.


Make the Giants one dimensional:
New York has been among the worst running teams in the NFL in 2013 but have at least 30 rushing attempts in each game during their three-game winning streak. With little running game to speak of for most of the season,
Eli Manning
has been under siege by opposing pass rushers and has tried to do far too much in forcing the football. The results have not been pretty, with far too many Giants turnovers. New York's offensive line has thoroughly struggled in the run and pass game and is among the league's worst. Even though
Andre Brown
returned last week and was quite impressive rushing for 115 yards against the Raiders, New York's offensive line had a difficult time getting
Pat Sims
blocked and Brown did average just 3.8 yards per carry after toting the rock a whopping 30 times. Sims is a big-bodied defensive tackle who is quite similar to
B.J. Raji
and
Ryan Pickett
in terms of girth and playing style. If the Giants are unable to move the interior of Green Bay's defensive line -- and I think that will be the case -- New York's running game, even with Brown back in the fold, could be ineffective.
Stay balanced on offense:
This will be
Scott Tolzien
's first start. He did some good things last week against the Eagles. He isn't bashful about making throws or taking chances. Tolzien also has a strong group of receiving options, including
Brandon Boykin
, whom Tolzien favored last week.
Prince Amukamara
is playing well for the Giants and this secondary has done a good job disallowing big plays of late, but the rest of New York's back seven on defense is quite beatable -- and Amukamara is far from a shut-down defender. But the Giants' defensive line is deep and has been quite strong against the run of late. Still, New York will be looking to take away
Eddie Lacy
and the Packers' exceptional running game first and foremost. This should allow Tolzien to find matchups to his liking in the passing game. If Tolzien doesn't make too many mistakes -- which is an area of concern -- and continues to make throws, Lacy should find more and more running room and could take this game over in the fourth quarter.
Play better on the back end:
The Packers' secondary was abused thoroughly by the Eagles last week and their best cover man,
Casey Hayward
(Hamstring), will not be playing against the Giants.
Hakeem Nicks
isn't as dangerous as he once was, but he certainly cannot be ignored either. Reuben Randle is highly talented, but also quite inconsistent at his young stage of his career.
Victor Cruz
has not been productive of late by his standards, but he can break a game open at any time or can pick apart a secondary with shear volume. These three combined for just 137 receiving yards, but should give the Packers' secondary all it can handle. And while Manning is in the midst of a terrible season, he hasn't all of a sudden forgotten how to play this game. Getting to Manning will be of the utmost importance to aid the struggling secondary.
Clay Matthews
, playing with a heavily wrapped hand, was less than effective in his first game back from injury last week. Should we expect more in his second game back? Perhaps, but that is difficult to predict. But what we do know is that, when right, Matthews is truly a special player. While
Nick Perry
(foot) remains doubtful for this game, the name to know here is
Mike Daniels
, who quietly has been a wrecking machine as an interior pass rusher. Daniels could give the Giants' offensive line fits.
November, 15, 2013
11/15/13
10:00
AM ET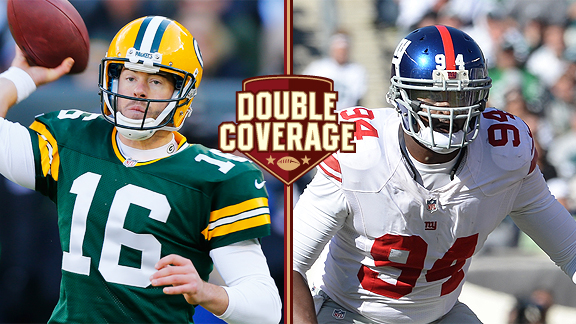 Gregory Shamus/Getty ImagesNew Packers quarterback Scott Tolzien will face Mathias Kiwanuka and an improved Giants pass rush.
.
The
New York Giants
will be looking for their fourth win in a row following an 0-6 start. The
Green Bay Packers
will be trying to snap their first two-game losing streak since 2010. The two teams square off Sunday at MetLife Stadium in East Rutherford, N.J. ESPN.com Giants reporter Dan Graziano and ESPN NFL Insider Matt Williamson (filling in for Packers reporter Rob Demovsky) break down the matchup for you.
Dan Graziano:
Hey, Matt. Thanks for filling in while Rob's on the inactive list this week. The big question the Giants have this week is: Who is
Scott Tolzien
and what can we expect to see from him? So let's start with that one.
Matt Williamson:
Well, Dan, that's a good question! I don't think we really know the answer, but he did move the team well and was generally a smart distributor of the football. And we know Green Bay has weapons to get the ball to. We obviously don't have a lot of tape to evaluate, but I think the Packers are better off with Tolzien over
Seneca Wallace
.
While we are talking quarterbacks, what on Earth is going on with
Eli Manning
? Despite this winning streak, he really has not played well at all.
Graziano:
Matt, my theory on Eli is that the protection issues at the beginning of the season were so egregious that he just fell into this zone of discomfort from which he's been unable to extricate himself. He just doesn't look right back there, and while the protection issues have improved some, they're still present. They've had no blocking help from the tight-end position at all. They're very vulnerable in the middle of the line, and I'm not sold on either tackle, to be honest. They haven't had reliable blitz pickup help from the running backs. Downfield,
Hakeem Nicks
isn't playing wide receiver the way he used to play it. A lot has gone on around Manning to make him far less comfortable with his surroundings, and I'm not sure what it's going to take before he starts playing with that old Eli confidence again. Great quarterbacks make the best of bad situations, and Manning has not done that this year. As the Giants' situation improves, they will need him to play much better if they're really going to make this miracle run they still believe they can make.
Now, they get another break this week with
Aaron Rodgers
out and Tolzien in, but they are already talking about that improved Packers running game. What do you see from
Eddie Lacy
& Co. and how do you think they'll attack the Giants, who have generally been pretty good against opposing running backs this season?
Williamson:
This Packers' running game is terrific and should continue to excel even with less of a passing threat with Rodgers sidelined. The left side of the Packers' offensive line is playing great, but -- as with the rest of the team -- isn't healthy on the right side and has had to do a lot of shuffling of personnel there. Still, Green Bay's rushing attack isn't easy to prepare for as they can run a wide variety of plays out of a wide variety of personnel groupings and formations. Lacy is quick to get downhill and is a punishing runner who can wear a defense down, and he also excels at reading his blocks and showing patience with the ball in his hands -- rare traits for a rookie running back. The Packers' ability to run the ball will probably be the most crucial component of this football game.
Along those lines, I feel like the Giants might actually have a respectable rushing attack of their own now with
Andre Brown
carrying the rock. Do you agree?
Graziano:
Yeah, the 30 carries and 115 yards for Brown on Sunday in his first game back off a twice-broken leg were eye-opening. I think the workload they gave him showed that the Giants knew just how much they were missing this season at running back.
David Wilson
never got going and then got hurt, and they patched it together with
Brandon Jacobs
and
Peyton Hillis
. But watching Brown run with vision and power and gain yards after contact Sunday, it was obvious that he's the Giants' best option going forward and the best they've had all season. The injury risk has to be considered, given Brown's history, but at this point the Giants need to win pretty much every game, and they're going to have to lean hard on Brown to do it. Even if he can't be as productive every week as he was against the Raiders, the legitimate threat he poses on film should open up the play-action passing game as a way for Manning to combat those protection issues.
So the Giants feel they can offer a balanced offensive attack against a Packers defense that couldn't get the ball back from the Eagles in the final 9:32 of Sunday's game. Was that a
LeSean McCoy
issue, or are the Packers really struggling on defense right now?
Williamson:
The Packers are struggling on defense and allowing too many big plays. I expected last week's return from injury by
Clay Matthews
to pay off much more than it did. However, we know that Matthews is a truly great player, and maybe he just needed a week to get back into the swing of things. I still expect Matthews to torment the Giants' tackles this week. On the inside of their defensive line, the Packers have a lot of sheer mass and power with guys like
B.J. Raji
,
Johnny Jolly
and
Ryan Pickett
. I also expect the Giants' interior offensive line to have a difficult time moving this group in the running game. This could be a bounce-back week for Green Bay on this side of the ball.
The Packers' run defense had a very difficult time when the Eagles stacked both of their offensive tackles on the same side of the formation. While I expect the Giants could use some personnel groupings with six offensive linemen, I don't see them duplicating what Philadelphia did to make room for McCoy.
Watching the Giants game from last week, I noticed they had a difficult time getting the Raiders'
Pat Sims
blocked. Sims is a big-bodied and powerful defensive tackle in much the same mold as the Packers' group. I think that bodes well for Green Bay this week.
And expect the Giants to have a difficult time blocking little-known
Mike Daniels
in the passing game. Daniels has taken over the
Cullen Jenkins
role in this defense -- a spot Green Bay drafted
Datone Jones
for in the first round -- as an interior pass-rusher, and he has excelled in that role.
The Giants' defense is based entirely on great defensive line play. This is a deep group with a ton of important resources tied up in it, but it hasn't been an elite group. It is improving, however. Where do you see this unit right now and this week against the Packers?
Graziano:
Well, the sack numbers have come up. The Giants had only six sacks in their first seven games, but then got eight in their past two games. So they've moved from last in the league in sacks, where they spent most of the season, to a tie for 30th in that category. Odd thing is, of the eight sacks in their past two games, only four have come from defensive linemen. Safety
Antrel Rolle
has as many sacks (two) in the Giants' past two games as defensive end
Jason Pierre-Paul
has in their past 16. Pierre-Paul did get one against the Raiders, and he says he's on the verge of a breakout. And the line has been very good, as I mentioned, against the run this year. But over the first seven games of the season, opposing quarterbacks did a good job of unloading the ball before the Giants' pass-rushers could stop them from doing so. Not sure they get the full test this week against Tolzien, but at some point we're going to find out whether the front four really has improved, or whether it's just been feasting on lesser competition.
Thanks again, Matt. Catch you online in one of our game chats soon, I'm sure.
.