Green Bay Packers:

Eliot Wolf
January, 31, 2015
Jan 31
9:05
PM ET
GREEN BAY, Wis. -- To this day, Bob Harlan insists he's not sure what would have happened to the
Green Bay Packers
if they didn't start winning in the 1990s.
Maybe they would have survived. But maybe pro football in the NFL's smallest city would have eventually gone away.
[+] Enlarge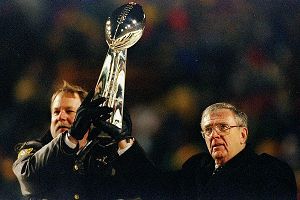 Getty Images/Matthew StockmanFormer Packers GM Ron Wolf, right, helped bring a Super Bowl and staying power to the organization.
Thanks in large part to Harlan's decision to hire Ron Wolf as general manager in 1991, they never had to worry.
"I know what Ron will say: 'Without Brett, without Mike, without Reggie [the turnaround wouldn't have happened],' but that's what's great about Ron Wolf," former Packers quarterback Brett Favre said Friday in a telephone interview. "He's humble, modest, and he's a quiet guy. He's just not going to ever say that he was instrumental in that, nor should he. But the bottom line is it's the truth. Someone had to turn things around. And he did it."
Because of it,
Wolf was selected to the Pro Football Hall of Fame
on Saturday.
Harlan hired Wolf on Nov. 27, 1991. At that point, the Packers had exactly one playoff win -- in a wild-card game in the strike-shortened 1982 season -- since their latest championship under Vince Lombardi in Super Bowl II on Jan. 14, 1967.
Wolf acted swiftly when he arrived in Green Bay. Four days after he was introduced, he and Harlan sat in the press box in Atlanta, where the Packers played the Falcons. Wolf told Harlan he planned to trade for Favre, a backup with the Falcons. Back in Green Bay the next day, after a 35-31 loss to the Falcons, Wolf went to see his first Packers practice.
"He comes into my office," Harlan said, "and he says, 'You've got a problem on your practice field. This team is 4-10, and they're walking around like they're 10-4. We're going to make a change.' He had basically decided in two days on the job that Brett Favre was going to be our quarterback, and Lindy Infante was finished [as coach]."
With Wolf as general manager, Mike Holmgren as head coach and Favre as quarterback, the Packers went 75-37 in the regular season, 9-5 in the postseason and to two Super Bowls. They won No. XXXI. Holmgren left after the 1998 season, and Wolf stayed on for two more years, which gave him a total record (including playoffs) of 101-57 in nine seasons. Unlike when Lombardi left, there would be no falloff in Green Bay after Wolf retired.
"The thing that pleased me is that after 24 years of bad football, thanks to Ron and Mike Holmgren and now Ted Thompson and Mike McCarthy, we've had 23 years of very good football," Harlan said. "It's been a huge turnaround, but I don't know where we'd be [without Wolf]."
Even though Wolf retired in 2001, his fingerprints remain all over the Packers. He hired Thompson, the current GM, as a scout in 1992, and his son, Eliot, is the Packers' director of player personnel. Four other Wolf disciples -- John Dorsey (Kansas City), Reggie McKenzie (Oakland), Scot McCloughan (Washington) and John Schneider (Seattle) -- currently hold GM posts.
"I think it was a combination of the leadership team in place with Bob Harlan, Ron Wolf and Mike Holmgren," said Dorsey, who played for the Packers from 1984-88 and then worked under Wolf as a scout. "He's a stickler for doing it the right way. He was a big part, instrumentally, in terms of changing that culture and that environment. I would say that it was a huge step in laying the foundation for where that organization is today."
January, 26, 2015
Jan 26
8:00
AM ET
A roundup of what's happening on the Green Bay Packers beat.
The Packers aren't expected to grant the Washington Redskins permission to interview one of their top personnel executives, Alonzo Highsmith.
Over the weekend,
the Washington Post reported
that new Redskins general manager Scot McCloughan sought permission from the Packers to talk to Highsmith about a position in his scouting department.
Because it's not a general manager position, Packers general manager Ted Thompson can decline the request. He's expected to do so in this case.
Thompson was in Pittsburgh most of the day Sunday attending services for coach Mike McCarthy's brother, Joe, who died last week. Thompson returned to Green Bay on Sunday evening, but it was not known if he had formally declined the Redskins' request yet.
McCloughan worked in the Packers' scouting department from 1994 to 1999.
Highsmith has been with the Packers for 16 seasons and was promoted to senior personnel executive in 2012. That makes him one of Thompson's top advisers along with Eliot Wolf and Brian Gutekunst. Wolf was
promoted to director of player personnel earlier this month
. Gutekunst is the team's director of college scouting.
In 2009, those three spots belonged to John Schneider, Reggie McKenzie and John Dorsey. Since them, all three have become general managers in the NFL – Schneider with the Seattle Seahawks, McKenzie with the Oakland Raiders and Dorsey with the Kansas City Chiefs.
In case you missed it from ESPN.com
:
Best of the rest
:
January, 4, 2015
Jan 4
8:00
AM ET
Each week, readers are invited to submit questions about the
Green Bay Packers
via Twitter using the hashtag #PackersMail. With the Packers enjoying their playoff bye week, let's address some of the hot topics facing the team:
@RobDemovsky #PackersMail just me or does McCarthy receive almost no love for coach of the year, every year? What does he have to do?

— K Brandner (@smidgetron) January 3, 2015
Demovsky: If Mike McCarthy didn't win it after going 15-1 in 2011 coming off the Super Bowl season, he probably never will. Jim Harbaugh won it that year. If you look at the list of recent winners, like Ron Rivera in 2013 and Bruce Arians in 2012, it's often given to coaches who turn unheralded teams into contenders. Should McCarthy get downgraded for winning with a team that's expected to win? Probably not, but that seems to be the way many voters think of the award. It seems unlikely that will change this season. But McCarthy knows how the Packers feel about him. They gave him a contract extension this year that runs through the 2018 season.
@RobDemovsky Has Peppers done enough to return for his 2nd of 3 contracted seasons (even with his salary)? #PackersMail

— Derek Cruikshank (@ddcruikshank) January 3, 2015
Demovsky: What to do with Julius Peppers is going to be perhaps the most difficult call general manager Ted Thompson has this offseason. Surely, he already has a good idea which way he's leaning, but it can't be an easy decision. Peppers has not been dominant, but he hasn't been a nonfactor, either. If Thompson thinks he can get the same kind of production -- seven sacks, 17 quarterback hits, a handful of forced fumbles and a couple of interceptions -- while getting another 800 snaps out of him, then it's probably worth the $9.5 million Peppers is owed next season. If he doesn't, then he probably should cut ties and eat the $5 million salary-cap hit.
@RobDemovsky is Wolf being groomed for possible TT replacement? Who else with GB would get looks as GMs? #PackersMail

— Dane Oelmann (@daneoelmann) January 3, 2015
Demovsky: Eliot Wolf's recent promotion to director of player personnel makes him the undoubted No. 1 assistant to Thompson in the scouting department, if he wasn't already. But that is Thompson's call. The next general manager hire will be made by Mark Murphy (or whoever is the team president at the time), and Murphy doesn't have to stay within the Packers' current personnel structure. Maybe he will, but it's still an unknown. Or maybe he would take a more unconventional route and promote Russ Ball, who handles the business side of the football operations, to general manager. Or perhaps Murphy would prefer someone with GM experience and could find a way to lure back John Schneider from Seattle or John Dorsey from Kansas City. Don't be surprised to hear Packers senior personnel executive Alonzo Highsmith's name mentioned for jobs, too. Maybe not GM jobs right away, but if the right jobs open elsewhere, you could see Highsmith end up getting a chance at a director of player personnel job elsewhere, that is if Thompson lets him interview.
@RobDemovsky Does the Guion news mean the end of the road with the packers for Raji? #PackersMail

— Dusty (@djschuett) January 1, 2015
Demovsky: Not necessarily. Just because it looks like the Packers will re-sign defensive tackle Letroy Guion does not mean they are done with B.J. Raji. The market for Raji was soft last season, so there is no reason to think it will be any different this time around with him missing the entire season because of a biceps injury. The Packers surely could get him for a much lower price than the $4 million-deal he signed last March. Raji has been around the team all season, unlike some players on injured reserve who disappear. That has to be a sign that he wants to return..
January, 2, 2015
Jan 2
4:35
PM ET
GREEN BAY, Wis. -- Who knows how much longer the
Green Bay Packers
will be able to keep Eliot Wolf around, but his promotion to director of player personnel on Friday should help them do so for a while.
The 32-year-old son of former Packers general manager Ron Wolf is widely considered to be a future NFL general manager.
The younger Wolf joined the Packers' personnel department in 2004 as a pro personnel assistant and was promoted to assistant director of pro personnel in 2008 and director of pro personnel in 2011.
The Packers signed general manager Ted Thompson to a contract extension last summer that runs through the 2019 NFL draft so if Eliot Wolf is next in line, he will have to wait out Thompson. Wolf is one of Thompson's top assistants along with senior personnel executive Alonzo Highsmith and director of college scouting Brian Gutekunst.
Those three could be the next generation of GM candidates to come from the Packers' personnel department, which has turned out
Seattle Seahawks
general manager John Schneider,
Oakland Raiders
general manager Reggie McKenzie and
Kansas City Chiefs
general manager John Dorsey in the last six years.
December, 27, 2014
12/27/14
8:00
AM ET
Each week, readers are invited to submit questions about the
Green Bay Packers
via Twitter using the hashtag #PackersMail. In the final regular-season edition, let's address some of the hot topics heading into Sunday's finale against the
Detroit Lions
at Lambeau Field:
@RobDemovsky Does Lacy look fresher and more confident @ this pt in time compared 2 last yr? On pace 4 40-50 less runs. #Packersmail

— tony parker (@tonyp0314) December 26, 2014
Demovsky
: No question about it. If you think back to
Eddie Lacy
at this time last year, he had that sprained ankle that dogged him off and on for the entire month of December. He even missed the entire second half of the Week 16 game against the Steelers and then failed to reach 100 yards in either the finale against the Bears or the playoff loss to the 49ers. He was clearly worn down. He'll end up playing about the same number of snaps (or possibly even a few more) this season, but he should be in better shape for the playoffs than he was last season, barring a setback on Sunday against the Lions.
@RobDemovsky One could argue Pack Oline vs Lions front 7 is the key to the game. What do Pack need to do to win that matchup? #PackersMail

— Drew Priggs (@Boomer_MD) December 26, 2014
Demovsky
: That would be a solid argument. Go back and watch the tape of the Week 3 game in Detroit, and you'll see how the Lions' front dominated. They have to do a better job of controlling
Ndamukong Suh
on the inside and the Lions' ends on the outside, and
they know it based on some of their comments
this week. That's not just on the offensive line but the tight ends as well.
Richard Rodgers
' blocking was atrocious in that game. The Packers believe he's much better now. If the Packers can run the ball against that front, it will open up all kinds of possibilities for
Aaron Rodgers
.
@RobDemovsky #PackersMail With the playoffs coming soon, have the Packers done enough to shore up their Special Teams flaws? #Blocks&Returns

— Brian Harstad (@HardyInSconny) December 27, 2014
Demovsky
: This might be the time for the Packers to use more starters on special teams. In fact, last week, we finally saw guard
T.J. Lang
back on the field goal protection unit. He had not played there since he sprained his ankle while blocking on an extra point in Week 8. As far as the return game goes, perhaps there was some foreshadowing when receiver
Randall Cobb
was named a special teams captain last week. Cobb has been a part-time punt returner, but this might be the time we see him on kickoff returns, too.
DuJuan Harris
hasn't offered anything special on kickoffs, and coach Mike McCarthy said this week, "I think we have a chance to improve here down the stretch. And when you play in the winter months up here, this is when the return game has to factor." Former Packers coach Mike Holmgren used to use players like Antonio Freeman and Robert Brooks as kick returners in the playoffs even though they rarely did it during the regular season.
@RobDemovsky Not seen GB assistants or front office staff mentioned among possible HC/GM replacements. GB reputation dwindling? #PackersMail

— Brian Snyder (@brinelsny) December 26, 2014
Demovsky
: On the general manager side of things, that's not a surprise given the attrition in Ted Thompson's office after losing John Schneider to Seattle, Reggie McKenzie to Oakland and John Dorsey to Kansas City over the last five years. But there's another crop of up-and-comers in the Packers' personnel office that will get their shot at GM jobs soon. Don't be surprised to hear Eliot Wolf, Alonzo Highsmith and Brian Gutekunst mentioned for GM jobs. On the coaching side of things, there may not be any head coaches in waiting but plenty who could get coordinator jobs -- that is if their contracts allow them to leave. McCarthy can block any of them from being interviewed if they aren't in the final year of their contract.
May, 30, 2014
5/30/14
10:00
AM ET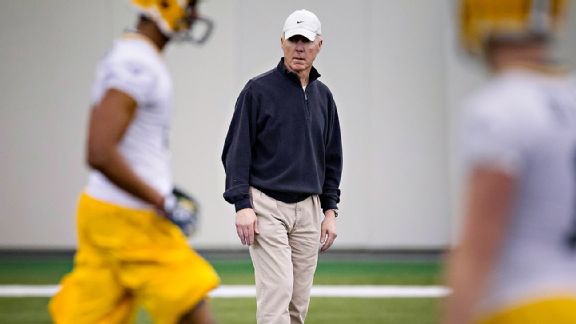 AP Photo/Mike RoemerUnder the direction of general manager Ted Thompson, the Green Bay Packers have maintained stability in the front office.
GREEN BAY, Wis. -- A month ago, Ted Thompson looked –- and sounded –- worn out.
In his annual pre-draft session with reporters, his speech was slower and more deliberate than usual, prompting whispers about his health and questions about how much longer he might continue as the
Green Bay Packers
' general manager.
Even Bob Harlan, the former Packers president and the man who hired Thompson in 2005, noticed a difference.
"I did see him on TV a couple of times where he seemed down, and I don't know if it was just exhaustion from the preparation for [the draft] and all the travel that he goes through because he just grinds all the time," Harlan said. "He's either in that room looking at video, or he's on the road."
At age 61, could Thompson have been showing signs that he was nearing the end of a successful run as general manager that has included one Super Bowl title?
Those close to him did not think so at the time, even when Thompson was forced to miss the NFL annual meetings in March because of an undisclosed personal matter. And they do not think so now, especially after he appeared energized following the draft.
So when Thompson joked a week after the draft
that he's "just getting started
," the Packers should hope there is more than just a shred of truth to his typically dry humor.
In many ways, Thompson is the key to keeping the Packers' successful leadership team intact.
Consider what happened when Thompson's mentor, Ron Wolf, retired in 2001: The Packers had a coach in Mike Sherman they wanted to keep. Harlan feared that if he went outside for a general manager, he might lose Sherman, so he added the GM role to Sherman's responsibilities. Four years later, it had become apparent it was too much for him, prompting Harlan to bring back Thompson, who had followed Mike Holmgren to Seattle and was the Seahawks' director of player personnel. Thompson and Sherman worked together for one season before Thompson fired him and hired coach Mike McCarthy.
All the while, some of quarterback Brett Favre's prime years passed without even reaching another NFC Championship Game during Sherman's tenure (2000-05).
It's not unreasonable to think the same problems could befall McCarthy and quarterback
Aaron Rodgers
if Thompson were to walk away anytime soon.
"That poses a problem; there's no doubt about it," Harlan said. "I guess because I saw it happen twice –- when Ron came in and Lindy [Infante] was here [as the coach] and with Ted, who tried very hard to make it work with Mike Sherman –- I know it can go downhill in a hurry. It is very difficult if the general manager cannot select his own coach."
No doubt, that's why current Packers president Mark Murphy indicated earlier this month that before any contract extension will be done for McCarthy, Thompson's situation will be taken care of first.
Like McCarthy, Thompson has two more years left on a contract he signed after the Packers won Super Bowl XLV. Thompson would not say how much longer he intends to work but added that he "wouldn't anticipate doing anything different."
When Harlan hired Thompson, he received no assurances of how long Thompson would stay on in the role, but Harlan considered Thompson -- who has never been married and does not have children – to be all football, all the time.
"I had watched him for all of those years when he was working for Ron in Green Bay, and his life was just football then as I'm sure it was in Seattle, too," Harlan said. "Ron was 53 when I hired him [in 1991], and I was shocked when he wanted to leave so early, but I understood. Frankly, what I was trying to do was make the move on Ted before it was time for me to go so that I could be sure football was good hands."
And Harlan's last major act as president did just that. Of the 53 players on the Packers' roster for Super Bowl XLV, 49 of them were acquired by Thompson, whose draft-and-develop philosophy has kept the Packers competitive on an annual basis.
If Murphy has a succession plan in mind for the GM job, he has not shared it. Perhaps he could try to lure former Packers scouts-turned-general managers John Schneider or John Dorsey back to town, but it might be tough to get Schneider out of Seattle or Dorsey out of Kansas City, where both have strong support from their owners.
It's possible he could maintain continuity by promoting vice president of player finance Russ Ball or one of Thompson's chief scouts –- Brian Gutekunst, Alonzo Highsmith or Eliot Wolf.
Some believe Murphy might hire a search firm -– as he has done with several other key front-office positions -– to identify candidates.
Or maybe, if the Packers are fortunate, Thompson will keep going strong.
One person close to him said recently that he does not see Thompson leaving anytime soon, unless the Packers win another Super Bowl, and that all the recent talk about him retiring "got him going."
When told of that, Harlan said, "I would think he'd at least go to 65, and then I think probably what he's going to do is become an area scout. He told me a long time ago that someday he might just go back to Texas and just be an area scout.
"Maybe he'd do it for the Packers. I would be surprised if he didn't work until at least 65. His health is good, and this is everything for him."
January, 10, 2014
1/10/14
8:00
AM ET
GREEN BAY, Wis. -- Lately, it seems like whenever a team goes looking for a general manager, their eyes turn toward the Packers.
In the last four years, three teams have plucked members of the Packers' personnel staff for GM hires. In 2010, the
Seattle Seahawks
hired John Schneider. In 2012, the
Oakland Raiders
hired Reggie McKenzie. And last year, the
Kansas City Chiefs
hired John Dorsey.
Could there be a fourth this year?
According to ESPN NFL Insider Adam Schefter, Packers senior personnel executive Alonzo Highsmith is
on the radar of two teams
, the
Miami Dolphins
and
Tampa Bay Buccaneers
, looking for new leadership in their scouting departments.
Highsmith is a Florida native and a University of Miami graduate. He has been with the Packers since 1999, when he was hired as an area scout. He was promoted to his current position in May 2012.
According to people around the league, it would not be surprising to see Highsmith or any of the other top-level scouts in the Packers' personnel department eventually get a chance at a general manager job. Director of college scouting Brian Gutekunst and director of pro personnel Eliot Wolf are also viewed as eventual GM candidates.
In case you missed it on ESPN.com
:
Best of the rest
:
In the Green Bay Press-Gazette, Weston Hodkiewicz looked at what the Packers might do with their center position going forward.
In the Milwaukee Journal Sentinel, Tyler Dunne wrote that it wasn't the fact that the Packers' safeties failed to intercept one pass this season that bothered position coach Darren Perry, but rather it was the overall quality of play from that position that wasn't good enough.