Green Bay Packers:

Inside Slant
November, 10, 2013
11/10/13
8:25
PM ET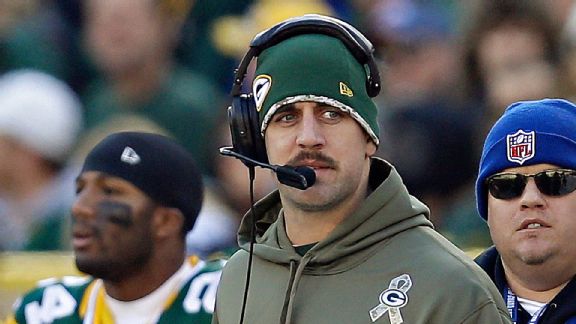 AP Photo/Mike RoemerAaron Rodgers was forced to watch Sunday's loss from the sideline because of a broken collarbone.
GREEN BAY, Wis. -- Sunday provided our first full look at the
Green Bay Packers
in the raw. The results were predictable. Unvarnished and now unprotected by their cocoon, the Packers appear headed where most NFL teams would land in their situation: an early exit from playoff contention.
The Packers didn't simply lose their starting quarterback when
Aaron Rodgers
fractured his collarbone on Monday. They lost their crutch and, in a secular sense, their savior in games exactly such as Sunday's
27-13 loss
to the
Philadelphia Eagles
.
Don't act like we haven't seen a few of these over the years. This isn't the first time that a Packers defensive back has tipped the ball into the hands of an opposing receiver for a touchdown, as
Tramon Williams
did for
DeSean Jackson
to open the scoring. And, please, we've seen plenty of opponents score against a busted Packers coverage, as
Riley Cooper
did on a 32-yard play in the third quarter. Oh, and we've seen
Mason Crosby
miss two field goals in a game before, as he did Sunday.
In most cases, players stood in the postgame locker room and, in one way or the other, acknowledged that Rodgers had bailed them out. I wish I had a dime for every time I've heard a Packers player say something like, "It helps to have 12 back there," over the past six years.
A few times, veteran
Charles Woodson
suggested the Packers couldn't win consistently with such imbalanced production. They did, but more often than not, it was because Rodgers compensated in ways that catapulted him to the top of the NFL's quarterback rankings.
"You're not going to sit there and pout because someone got hurt," offensive lineman
T.J. Lang
said. "You can bitch and complain, but you've got to go out there and play. ... Injuries suck. They are part of the game. But we have enough guys on this team that we can still win football games. You have to step up and fill the spot and play."
Lang is one of the Packers' straightest shooters, but I think we're finding that the Packers -- like most NFL teams -- are an average team at best without their starting quarterback. They'll need a midseason change in identity to be better than average.
Sunday's situation was absurd even by Packers standards, of course. Starter
Seneca Wallace
injured his groin on their opening possession, thrusting former practice squad player
Scott Tolzien
onto the field for his first NFL action. Center
Evan Dietrich-Smith
and right tackle
Don Barclay
were both sidelined by knee injuries, forcing Lang to make his NFL debut at center and throwing rookie
Lane Taylor
onto the field at guard.
[+] Enlarge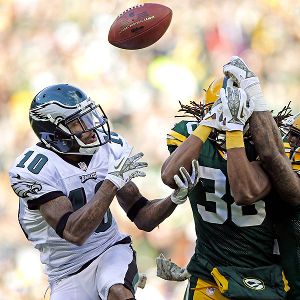 AP Photo/Tom LynnDeSean Jackson catches a touchdown off a deflection from Green Bay's Tramon Williams.
But I can't blame Wallace's injury, nor any of the other personnel issues, for Sunday's loss. Tolzien played at least as well as, if not better than, anyone could have expected Wallace to perform. Tolzien made one ghastly throw, behind
Jordy Nelson
that resulted in an end zone interception, but otherwise was accurate and by all accounts fluent in the Packers' complex offense. McCarthy immediately named him the starter for next Sunday's game against the
New York Giants
, an obvious decision that could help the Packers steal a game in Rodgers' absence but isn't likely to be a long-term success.
The real issue, frankly, is the Packers aren't equipped -- or they're not mentally ready -- for another part of their team to step forward. Nowhere is that more evident than in the way their defense has collapsed in each fourth quarter since Rodgers' injury. The Eagles ran out the final nine minutes, 32 seconds of Sunday's game in a two-score game. Combine that with the
Chicago Bears
' game-clinching drive last week, and the Packers' defense has allowed 177 yards on 40 plays, with a combined time of possession of 21:27, in their past two fourth quarters.
"I've never been a part of something like this," defensive lineman
B.J. Raji
said, "where we can't stop a team in the last two weeks. Need the ball back for your offense, and whatever they ran worked. I've never been a part of something like this. Live and learn and just move on."
Added linebacker
A.J. Hawk
: "We haven't really helped [the offense] out like we should. They've been helping us out forever, it seems like, and we just haven't -- the last couple weeks especially, but this whole season."
McCarthy referred to a "recurring issue" that he refused to elaborate on, but I think we're safe in assuming it relates to fourth-quarter defense.
"We'll get on that tomorrow," he said. "I'm not going to get into that right now."
It would be nice if McCarthy and defensive coordinator Dom Capers could snap their fingers and tighten up their defense. But is that even fair to expect at this moment? Over the years, the Packers have won despite as many things as they have won because of. That's just how it is, and how it figures to be, for a while.
November, 5, 2013
11/05/13
2:30
AM ET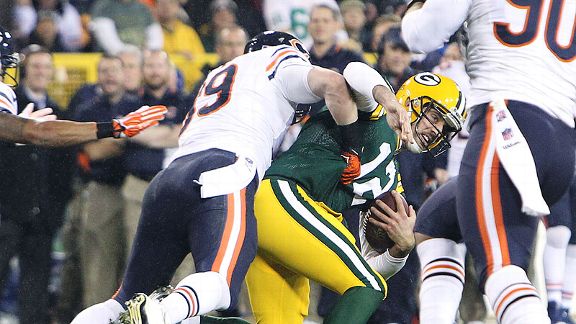 Mike McGinnis/Getty ImagesAaron Rodgers left Monday's game after being sacked on the opening drive. He did not return.
GREEN BAY, Wis. -- The charmed existence of Titletown, circa 2009-13, might well have shattered Monday night.
The
Green Bay Packers
, after all, have built four postseason appearances, two consecutive NFC North titles and one Super Bowl victory around the most elite quarterback play imaginable. The Packers without
Aaron Rodgers
?
Oh no. Oh no. Oh no. Oh no, no no no no no no no.
They've already lost one game without him, a
27-20 defeat
to the
Chicago Bears
on Monday, and quite frankly, the Packers face a difficult road to the playoffs if his injured left shoulder sidelines him for a significant time.
Rodgers suffered the injury on the final play of the game's opening possession, and backup
Seneca Wallace
produced the Packers' worst passing performance since 2008. Now 5-3, the Packers are tied with the Bears and
Detroit Lions
atop the NFC North, with games remaining at the home stadiums of both division rivals. An optimist might cling to the Packers' schematic infrastructure and offensive track record, but that's nothing more than blind faith. Rodgers is the centerpiece of both.
"He's the best quarterback in the league," defensive tackle
B.J. Raji
said. "Take what you want from that."
As of late Monday night, there was nothing official about Rodgers' status. However, league sources told ESPN NFL Insider Adam Schefter that Rodgers
could miss three weeks
after initial tests showed a small fracture in the quarterback's collarbone.
Coach Mike McCarthy refused to speculate on the nature or severity of the injury, insisting that more tests were necessary. I suppose it's possible the Packers will give an all-clear Tuesday. Again, however, that seems more like blind faith. McCarthy's pursed postgame lips and snappy responses suggested genuine concern.
At the very least, a short turnaround to Week 10 makes Wallace the likely starter in Sunday's game against the
Philadelphia Eagles
.
Wallace, of course, is the backup merely because he was available when the Packers decided in early September that neither
Graham Harrell
nor
Vince Young
were up to the job. He was out of football last season, has lost seven of eight starts since the start of 2009 and on Monday night provided a wholly underwhelming relief performance for a veteran backup who should be comfortable in emergency relief.
"Seneca, he needs to perform better, and he'll definitely do that with a week of practice," McCarthy said, seemingly tipping his hand for Sunday.
Indeed, Wallace managed 114 passing yards, and the Packers' net of 113 passing yards was their lowest in a game since Week 10 of 2008, according to ESPN Stats & Information. They converted only 1 of 9 third-down opportunities, and the score wouldn't have been close were it not for their 199 rushing yards.
"I've been in this situation before," Wallace said. "It definitely will get better."
Perhaps, but let's not belabor Wallace's aptitude for the job. For all I know, the Packers are already making plans to claim former backup
Matt Flynn
on waivers. It doesn't matter. Yes, the Packers might finally rue their afterthought approach to the No. 2 quarterback job, but in truth there are few if any backups in the league who could save them.
Like
Peyton Manning
, Rodgers is a pseudo-offensive coordinator on the field. The loss of a player with that much responsibility leaves nothing but a shell on the field. Injury-plagued throughout this five-year run, the Packers plowed through because Rodgers carried them. An extended absence almost certainly will confirm that assessment.
Just a week ago, Packers players and coaches were crediting Rodgers' audibles and checks for the sudden success of their running game. And as we saw in his masterful performance against the
Minnesota Vikings
, Rodgers routinely makes throws that most quarterbacks don't try. Ask Vikings cornerback
Josh Robinson
, who had perfect position against receiver
Jordy Nelson
in the end zone. Rodgers whipped a pass by his ear hole and into Nelson's hands anyway.
Rodgers doesn't just run the Packers' scheme at an elite level. He
is
the Packers' scheme. They can't run it without him. Since 2008, he has a QBR of 74.0 and also has scored 18 rushing touchdowns, both second among all NFL quarterbacks.
I mean no offense to McCarthy, whom I like and think highly of. But players make the scheme, not the other way around, and if McCarthy and offensive coordinator Tom Clements can gear down and find a winning formula without Rodgers, we should consider it the coaching job of the decade.
Monday night, we got a glimpse of what could be the Packers' future: designed runs on 28 of 55 plays, a rare 50-50 ratio. Running backs
Eddie Lacy
and
James Starks
combined for 190 yards on 28 carries, but, as can happen in run-based schemes, it led to only 20 points. How many teams left on their schedule will the Packers beat with a low-scoring offense and a still-shaky defense? Three? Four? Neither is likely to clinch a playoff berth.
Nothing lasts forever, but the Packers departed Lambeau Field early Tuesday morning hoping that somehow, someway, they can extend their magic a little longer. I don't blame them. The alternative might be too frightening to face.