Green Bay Packers:

Jason Simmons
August, 27, 2014
Aug 27
2:30
PM ET
While the first month of the season has the
Green Bay Packers
on the road for three out of four games, including a pair of NFC North games back-to-back against the Lions and Bears to close out September, it's the middle of the
schedule
that might determine whether they are a legitimate Super Bowl contender. Sandwiched around the Week 9 bye are games at the Saints and home against the Bears and Eagles. The Saints are the favorites in the NFC South and the Eagles in the NFC East, while the Bears are probably the biggest threat to the Packers in the NFC North.
Complete Packers season preview
.
August, 7, 2014
Aug 7
12:15
PM ET
GREEN BAY, Wis. – The last time Tom Clements was on the sideline for an NFL game, the temperature at kickoff was 5 degrees with a wind-chill of minus-10.
No wonder the
Green Bay Packers
' offensive coordinator has decided to move from the sideline to the coaches' box for games this season.
"I didn't want to get cold in the winter," the 61-year-old Clements said Thursday, referring to the Packers' playoff game against the
San Francisco 49ers
last January at Lambeau Field.
The change, which will make its debut in Saturday's preseason opener at the
Tennessee Titans
, comes on the heels of some shuffling of duties on coach Mike McCarthy's staff. New quarterbacks coach Alex Van Pelt will coach from the sideline on game days even though his predecessor, Ben McAdoo, the
New York Giants
' new offensive coordinator, coached last year from upstairs.
Clements last worked from the box in 2006, the first of his six seasons as Packers' quarterbacks coach. He moved down to the field the next season and remained there even when was promoted to offensive coordinator in 2012 after Joe Philbin left to become the
Miami Dolphins
coach. Philbin, incidentally, worked from the press box when he was the offensive coordinator.
"I just thought I'd have a better viewpoint up there and be more helpful," Clements said.
Rodgers
It will be the first time since quarterback
Aaron Rodgers
became a starter in 2008 that he won't have Clements at his side on game day.
"Tom has been a great supporter, a great ally, a great teacher for so many years," Rodgers said. "It will be a different role. But I'm sure that Alex and I and the quarterbacks would kind of look at the pictures together, talk about them and kind of make the adjustments."
It means Clements will not be able to go over the still-frame pictures that quarterbacks view between series.
"It's a change for Aaron, so we'll take the preseason to evaluate it, but Tom has great eyes," said Van Pelt, who also worked from the field last year when he was running backs coach. "Obviously, [Clements has] great knowledge of the system. He'll be a great source up in the box, you know seeing it from up top. You know I've always been on the sideline with the players, quarterbacks, running backs, so obviously it's nothing that will be different for me."
The Packers will have seven coaches in the box on game days: Clements, defensive coordinator Dom Capers, offensive assistant Luke Getsy, assistant offensive line coach Steve Marshall, defensive assistant John Rushing, defensive/special teams assistant Jason Simmons and cornerbacks coach Joe Whitt.
There will be something new for the coaches on the sideline this season. They will be able to use electronic tablets during games to view still-shots of plays in addition to traditional paper photos. Although they will not be able to play video through the tablets, they can use them to zoom in on certain players.
"The Hall of Fame game, I saw them using those," Van Pelt said. "Just reading some blurbs, I thought [Bills] Coach [Doug] Marrone [said] his didn't work at first or something, but then he really liked it once it started working. So I'm looking forward to seeing how that plays. Rain games, how is that going to affect it, sunny days, is that going to affect the screen? So there's some bugs in the preseason."
August, 5, 2014
Aug 5
9:00
AM ET
GREEN BAY, Wis. -- With the preseason opener looming on Saturday at Tennessee, the
Green Bay Packers
released their first depth chart of the season.
It was labeled "unofficial."
And there were few, if any, surprises.
At almost every position where there is even a hint of competition, the more experienced player was listed first.
Keep in mind that a year ago, the first depth chart of the season listed
Eddie Lacy
as the No. 4 running back behind
DuJuan Harris
,
Alex Green
and
James Starks
. Harris never played a down because of a knee injury, Green got cut at the end of camp and Lacy became the NFL's offensive rookie of the year. The same chart listed
Marshall Newhouse
as the starting right tackle and
Bryan Bulaga
as the left tackle. By then, Bulaga had already blown out his knee, and Newhouse did not start a game until Week 11.
Nevertheless, here's what stood out on the first edition of this year's depth chart:
Without Jermichael Finley, the order at tight end was Andrew Quarless, Brandon Bostick, Ryan Taylor, rookie Richard Rodgers and Jake Stoneburner.
Although coach Mike McCarthy said he has not decided how the backup quarterback reps will be divided up against the Titans, Matt Flynn was listed as No. 2 and Scott Tolzien No. 3 behind Aaron Rodgers.
At running back, James Starks was listed as the No. 2 behind Lacy. DuJuan Harris was third followed by Michael Hill, Rajion Neal and LaDarius Perkins.
JC Tretter was the top center ahead of rookie Corey Linsley.
The No. 2 outside linebacker combination behind starters Clay Matthews and Julius Peppers was Mike Neal and Nick Perry. Neal was the backup to Matthews on the right side, while Perry was behind Peppers on the left even though Perry has been more productive on the other side.
Morgan Burnett and Micah Hyde were listed as the starting safety duo with Sean Richardson behind Burnett and first-round pick Ha Ha Clinton-Dix behind Hyde.
At right cornerback, former practice-squader Jumal Rolle was No. 3 (behind Sam Shields and Casey Hayward) ahead of rookie sixth-round pick Demetri Goodson, who has struggled so far.
At kickoff returner, it was Hyde followed by Harris, Cobb and rookie Jeff Janis. The punt returners were Hyde and Cobb.
The depth chart also included the assistant coaches' locations on game days, and there was one major change. Offensive coordinator Tom Clements is going to the coaches box after previously working from the sideline. He will be joined in the box by defensive coordinator Dom Capers, offensive quality control assistant Luke Getsy, assistant offensive line coach Steve Marshall, defensive/special teams assistant Jason Simmons and cornerbacks coach Joe Whitt.
February, 10, 2014
Feb 10
6:45
PM ET
GREEN BAY, Wis. -- Assistant special teams coaches in the NFL are usually neophyte coaches or former players trying to break into the business.
Rarely are they 59-year-olds who have held head coaching jobs at two prominent top-level colleges and also NFL coordinator jobs.
It wasn't lost on Ron Zook that his new position as the
Green Bay Packers
assistant special teams coach was a bit unusual, when he met with reporters on Monday for the first time
since he was hired last week
.
[+] Enlarge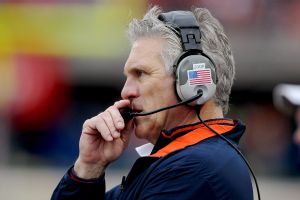 Jonathan Daniel/Getty ImagesThe Packers will turn to Ron Zook to help with special teams.
"Coaching's coaching; I wanted the opportunity to get back in the profession, I really did," said Zook, the former Florida and Illinois head coach who had been out of football since he was fired in 2011 after seven seasons with the Illini.
"The first year out, I probably needed it just to kind of collect your thoughts and so forth. This past year, I really began to miss it. I told some people, one of the most exciting things for me is getting back into coaching for the reasons I got into coaching: because I love the game, I love the camaraderie, I love being around the players and the coaches and trying to help get everybody on the same page trying to do the same thing."
Even Zook isn't quite sure exactly what his role will be, but coach Mike McCarthy knows he wants more attention paid to special teams, which struggled at times last season. McCarthy didn't feel that the problems warranted a complete change, which is why he retained special teams coordinator Shawn Slocum, but he appears set on dedicating more resources to it. He also has assigned Jason Simmons, a coaching administrator the last three seasons, to assist with special teams.
"I wanted to put more of an emphasis on that area," McCarthy said. "One of our challenges ever year with youth, some of the injuries we've had with younger players playing early, there's a lot of one-on-one time that goes into special teams coaching. Everybody in the league goes through it. We just want to maximize that structure as far as to make sure our players are getting the one-on-one time, and I thought Ron brought a whole different dimension to the room."
Zook was a natural fit for McCarthy. The two worked together with the
New Orleans Saints
for two seasons (2000 and 2001) when McCarthy was the offensive coordinator and Zook the defensive coordinator before Zook returned to the college ranks to coach the Gators.
In fact, Zook and McCarthy lived together during their early days with the Saints before Zook's family moved to New Orleans. Even after Zook's wife and kids joined him, they lived down the street from McCarthy.
Packers assistant head coach/linebackers coach Winston Moss also was with them in New Orleans, and Zook coached Packers safeties coach Darren Perry during their days with the
Pittsburgh Steelers
, where Zook was the special teams coach from 1996-98.
"So you've got guys that you know and everybody's looking for the same thing, and that's to win," Zook said. "That was what was important to me, being in a situation where you had a chance to win and being around good people."
McCarthy mentioned Zook's energy and enthusiasm, something that was apparent throughout his 20-minute session with reporters on Monday. Zook spoke openly about both his successes, most notably the 2007 Rose Bowl team at Illinois; and his failures, being fired by both Florida and Illinois.
Zook also explained how he has spent the past two years out of football, working part-time as an analyst for CBS and also at a bank in Florida.
But perhaps it was what he did in his free time that was instrumental in his return to the NFL. He would make regular trips across the state to Tampa, Fla., where he would spend time watching film with ESPN "Monday Night Football" analyst Jon Gruden.
"I've spent I can't tell you how many hours, spent an awful lot of time with Jon Gruden," Zook said. "I'd drive to Tampa, and we'd study football. We'd get ready for the draft, study programs that way, what's going on in both college and the NFL. So I was able to stay involved with the game in terms of the X's and O's part of it. But you miss the relationship side of it."
February, 7, 2014
Feb 7
4:45
PM ET
GREEN BAY, Wis. -- The
Green Bay Packers
have four new members of their coaching staff and five existing coaches with new or expanded roles.
In
addition to hiring
Ron Zook and
Sam Gash
, the Green Bay Packers hired two other new assistant coaches, Luke Getsy and former Packers linebacker
Chris Gizzi
.

Zook, the former Florida and Illinois head coach, will serve as the assistant special teams coach, while Gash will coach running backs.
Getsy will serve as offensive quality control coach, while Gizzi will be a strength and conditioning assistant.
Also, returning assistant coaches
Winston Moss
(assistant head coach/linebackers coach),
Alex Van Pelt
(quarterbacks coach), Scott McCurley (assistant linebackers coach),
Jason Simmons
(defensive/special teams assistant) and John Rushing (defensive quality control coach) all have new duties.
Including special teams coordinator Shawn Slocum, who is returning for his sixth season, the Packers will now have three coaches working directly with special teams. Previously they had two -- Slocum and
Chad Morton
, who was not retained.
"The offseason is progressing with the finalization of adjustments and additions to our coaching staff," Packers coach Mike McCarthy said in a statement announcing the changes. "Every day and every decision has the focus on bringing the Lombardi Trophy back to Green Bay. The evaluation process will continue with a vision to change, adjust or emphasize any aspect of our program to help us reach the attainable goal of another Super Bowl championship."
Here's a breakdown of their new coaches and the old ones with new duties:
Sam Gash, running backs coach
: Coached running backs with the
Detroit Lions
from 2008-12. Replaces Van Pelt, who was promoted to quarterbacks coach after two seasons. Played 12 years in the NFL as a fullback with the
New England Patriots
,
Buffalo Bills
and
Baltimore Ravens
.
Ron Zook, assistant special teams coach
: Returns to the NFL after spending the past two seasons out of coaching. Previously coached special teams for the
Pittsburgh Steelers
(1996-98). Also worked with McCarthy in New Orleans, where he was the Saints defensive coordinator (2000-01) and McCarthy was the offensive coordinator.
Luke Getsy, offensive quality control coach
: A former college quarterback at Akron (2005-06). Previously the receivers coach at Western Michigan.
Chris Gizzi, strength and conditioning assistant
: Played for the Packers in 2000 and 2001 and is perhaps best remembered for leading the Packers out of the tunnel carrying an American Flag in their first game following the 9/11 terrorist attacks. Spent last offseason as an intern with the Packers before working as a strength and conditioning assistant at the University of North Carolina last season.
Winston Moss, assistant head coach/linebackers
: Previously held the same title while coaching inside linebackers. Will add outside linebackers to his duties, inheriting that role from
Kevin Greene
after he resigned last month.
Scott McCurley, assistant linebackers coach
: Has been with the Packers since 2007, including the last five as a defensive quality control coach. Will assist Moss will all linebackers.
John Rushing, defensive quality control
: Served as an offensive and special teams assistant the past two seasons after spending two seasons as the offensive quality control coach.
Jason Simmons, defensive/special teams assistant
: Served as a coaching administrator for the past three seasons.
Alex Van Pelt, quarterbacks coach
: Replaced Ben McAdoo, who became the
New York Giants
offensive coordinator. Previously coached the Packers running backs for two seasons. Former NFL quarterback, served as a quarterbacks coach with the Bills (2008-09) and Buccaneers (2010-11).
Remaining in their current roles on the coaching staff are: Tom Clements (offensive coordinator), Dom Capers (defensive coordinator), Mark Lovat (strength and conditioning coordinator), Shawn Slocum (special teams coordinator),
Edgar Bennett
(receivers),
James Campen
(offensive line), Jerry Fotenot (tight ends),
Joel Hilgenberg
(assistant offensive line),
Darren Perry
(safeties), Mike Trgovac (defensive line), Joe Whitt Jr. (cornerbacks) and Thadeus Jackson (strength and conditioning assistant).