Green Bay Packers:

Jim Harbaugh
January, 5, 2014
Jan 5
8:00
AM ET
GREEN BAY, Wis. -- Emptying out the notebook from the week that was with the
Green Bay Packers
heading into Sunday's NFC wild-card playoff game against the
San Francisco 49ers
at Lambeau Field:
Cold-weather QB
: Sunday's game may challenge the Ice Bowl for
the coldest game ever played in Green Bay
, but history suggests the weather won't bother Packers quarterback
Aaron Rodgers
. Since he took over as a starter in 2008, he is 12-4 in freezing temperatures (32 degrees or below) and has the highest total QBR (73.7) out of any player who has made at least three starts in such conditions over the that time period.
Run by design
: The Packers shut down the 49ers rushing attack in their Week 1 meeting at Candlestick Park, but don't expect coach
Jim Harbaugh
to shy away from the run just because his team managed only 90 yards on 34 attempts in the opener. According to ESPN Stats & Information, the 49ers ran designed runs on 46.8 percent of their plays this season, the highest total in the NFL. What's more, the 49ers use a wide variety of running plays and formations, including the read-option. "Against this team, you have to let your instincts take over because they give you a lot of different stuff," Packers defensive line coach Mike Trgovac said. "They're a power team, they're an option team, they run misdirections." At times, the 49ers bring in one or two extra offensive linemen.
No line dancing
: The Packers go into the playoffs with the same five starting offensive linemen they opened the season with in San Francisco. Of the five, only right tackle
Don Barclay
missed any starts this season. He missed the Weeks 11-12 games against the
New York Giants
and
Philadelphia Eagles
because of a knee injury. "Any time you have five guys playing together, you don't have to call out every call and you just know what the other guy's doing and you build that cohesiveness with each other, it certainly helps to do that," offensive line coach
James Campen
said.
Punt return possibilities
: As productive as rookie
Micah Hyde
has been as a punt returner (he finished the regular season 5
th
in the NFL with a 12.3-yard average), it's worth wondering if the Packers will go back to
Randall Cobb
in that role now that he has returned from his Oct. 13 fractured tibia. Cobb has two career punt returns for touchdowns. Last year's playoff loss to the 49ers turned on a muffed punt return by
Jeremy Ross
. Hyde's ball security had been perfect until he muffed a punt that the Packers recovered last Sunday against the
Chicago Bears
.
Final numbers:
Despite not having Rodgers at quarterback for seven-plus games because of his collarbone injury, the Packers finished third in the NFL in total yards per game (400.3), seventh in rushing yards (133.5) and sixth in passing yards (266.8). Last season, the Packers were 13
th
, 20
th
and ninth in those respective categories. On defense, they finished 25
th
in yards allowed per game (372.3), 25
th
in rushing yards allowed (125.0) and 24
th
in passing yards allowed (247.3). Last season, they were 11
th
, 17
th
and 11
th
, respectively.
Wild, wild-card games
: The matchup of the Packers (8-7-1) and the 49ers (12-4) is the fifth time in wild-card history that one team has had at least four fewer regular-season wins than its opponent. It may come as a surprise that in the previous four games, the team with the fewer regular-season wins has won every time. It last happened in 2011, when the
Denver Broncos
(8-8) beat the
Pittsburgh Steelers
(12-4).
Home-field history
: The Packers were once unbeatable in home playoff games. From 1939-2001, they were 13-0, the longest postseason home winning streak in NFL history. Since then, they have gone 3-4 in home playoff games (including 2-2 under current coach Mike McCarthy).
September, 13, 2013
9/13/13
4:10
PM ET
GREEN BAY, Wis. --
Green Bay Packers
linebacker
Clay Matthews
deserved to be fined for his late hit out of bounds on
San Francisco 49ers
quarterback
Colin Kaepernick
.
The amount -- $15,000 as was
announced by the NFL on Friday
-- is debatable.
[+] Enlarge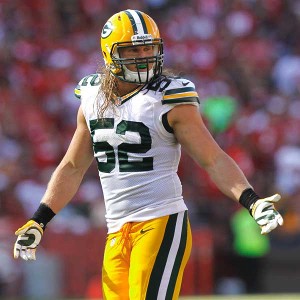 Cary Edmondson/USA TODAY SportsGreen Bay Packers linebacker Clay Matthews denies the accusations that he's a dirty player.
What should not be questioned is Matthews' integrity as a player.
In no way should he be lumped in with players like
Detroit Lions
defensive tackle
Ndamukong Suh
, who last season was voted the NFL's dirtiest player in a poll of players
conducted by The Sporting News
.
There's nothing in Matthews' history to suggest his play resembles that of Suh or the rest of the players on that list.
A check of Matthews' past shows this is hardly a pattern.
Since entering the league in 2009, Matthews has never been penalized more than once in a season for a personal foul. As a rookie, he was called for one roughing the passer penalty (against Baltimore on Dec. 7). In 2010, his lone personal foul was a facemask (against Chicago on Sept. 27). In 2011, he had one roughing the passer infraction (against Minnesota on Oct. 23). And last season, he also had a roughing the passer (also against San Francisco on Sept. 9).
Before this week, the only one of those penalties that drew a fine was the facemask of Bears quarterback
Jay Cutler
in 2010. Matthews was docked $5,000 for that. At least one of those penalties, the 2011 hit on Vikings quarterback
Christian Ponder
, could safely be considered a bad call.
The rest of Matthews' career penalties all have been minor infractions.
There's no doubt Matthews plays hard and plays to the whistle. All great players do, and Matthews certainly qualifies as such. In some ways, he resembles his position coach,
Kevin Greene
, an aggressive player who holds the NFL's career record for sacks by a linebacker.
"I just know that I'm going to coach them one way and, generally speaking, you get what you emphasize as a coach," Greene said on Friday. "I'm coaching, 'Hey, you play with your heart and all of your drive and desire and determination and fire -- and that's play after play after play after play, and never let up. You want to hunt and hunt and keep hunting. That's what I'm hoping to get from all of my kids."
Matthews has taken that to heart. Since he entered the NFL in 2009, only four players have more sacks than Matthews' 43.5. He also is an underrated run defender.
"Clay, he's got a motor and he's a talented guy that has a motor,"
Washington Redskins
quarterback
Robert Griffin III
said on Wednesday. "Anybody with that immense amount of ability that plays every snap like it's his last is a dangerous guy. We'll be aware of him. You've always got to respect your opponent, and I respect Clay Matthews as a player, and that's all you can say. My team respects him as a player, and that's the way we have to go about it. You've got to prepare, there's going to be great players in this league that you have to play against, and he's one of them."
And anyone who plays with the kind of intensity that Matthews brings is bound to go overboard every once in a while. But that doesn't make him dirty. Before 49ers coach
Jim Harbaugh
insinuated this week
that Matthews was a dirty player, there had never been even a whisper of that during his first four NFL seasons.
As Matthews said earlier this week, "I think my résumé is pretty good right now. I think we're doing all right."
September, 9, 2013
9/09/13
6:40
PM ET
GREEN BAY, Wis. -- So this is how a rivalry builds.
Play three times in a 12-month stretch, including twice on opening day and once in the playoffs in between. Make comments about hitting the opposing team's quarterback. Then hit the opposing team's quarterback. And then listen to that quarterback's head coach suggest that defensive player is dirty.
That's where things stood on Monday between the
San Francisco 49ers
and the
Green Bay Packers
. The only problem, from the Packers' perspective, is that they failed to win any of those games, including Sunday's 34-28 loss in the opener at Candlestick Park.
[+] Enlarge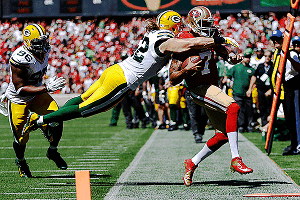 AP Photo/Ben MargotThis late hit on 49ers QB Colin Kaepernick led Jim Harbaugh to suggest that Packers LB Clay Matthews might be a dirty player, to which Matthews took umbrage: "I think my résumé is pretty good right now. I think we're doing all right."
By now, you know three main parties involved. There's Packers outside linebacker
Clay Matthews
, who was penalized for hitting 49ers quarterback
Colin Kaepernick
late after he ran out of bounds on a second-quarter scramble -- a play Matthews
admitted was not smart
.
And then there's 49ers coach Jim Harbaugh, who
on Monday criticized Matthews
for his hit and then mocked him for the way he scuffled with 49ers tackle
Joe Staley
after the play, saying Matthews threw a punch and a slap.
"I think that young man works very hard on being a tough guy," Harbaugh said Monday of Matthews. "He'll have some repairing to do to his image after the slap."
Those comments did not sit well with the Packers.
Coach Mike McCarthy called the hit on Kaepernick a "bad decision by Clay" but defended Matthews by saying he is "not a dirty player, by no means." McCarthy also said he addressed Harbaugh's comments during Monday's team meeting and added, "as always, we'll stay above it."
Matthews' penalty overshadowed what was a strong individual performance that included eight tackles and one sack.
"It was unfortunate, the sideline play," Packers defensive coordinator Dom Capers said Monday. "But I think he just misjudged where he was, really. We have to make sure that doesn't happen. But I like the aggressiveness Clay plays with. He plays with his heart and a lot of emotion. I've been with Clay now, this is five years. I certainly don't believe that [he is a dirty player]."
When asked whether Matthews' hit on Kaepernick was a dirty play, Packers cornerback
Jarrett Bush
said: "Yes and no."
"I thought it was the heat of the moment," Bush said. "Clay went for the hit. You never know if the quarterback is going to continue running down the sideline, and he made sure that he didn't come back in bounds. I'm pretty sure he wouldn't take it back. He finished the play. That's what we call finish, you know, fight, finish and focus. I'm pretty sure a lot of their players, they've done some of the same things. It's a heated rivalry, and he kind of got after it a little bit too much."
As for that rivalry, Bush admitted it has become one-sided.
"We've fallen short, but we'll get there," Bush said. "I feel like we've just got to put the pieces together, and I believe we will. Like I said, a lot of the coaches, even the players are like, 'We'll see them again in the playoffs.' We've just got to make it count."
September, 6, 2013
9/06/13
12:00
PM ET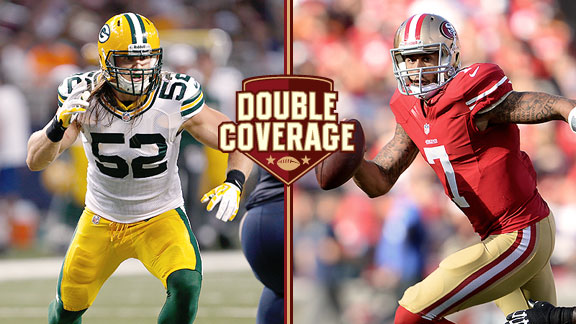 AP PhotoClay Matthews and Green Bay had all offseason to digest what Colin Kaepernick did to them in January.
The final season at venerable Candlestick Park begins in style as the
San Francisco 49ers
host the
Green Bay Packers
on Sunday.
It is a rematch of an NFC divisional playoff game in the same building. The 49ers completely outclassed the Packers on Jan. 12, as first-year starting quarterback
Colin Kaepernick
and crew had their way with a defense that looked slow and lost in a 45-31 San Francisco victory.
Packers team reporter Rob Demovsky and 49ers team reporter Bill Williamson have plenty to discuss. To the questions:
Williamson:
Rob, I think we have to start this off with this simple query: Can the Packers stop the read-option of a Kaepernick-led offense?
Demovsky:
Bill, that's what everyone has wanted to know since Kaepernick rushed for 181 yards against them in the playoff game. The number 579 -- the total yards of offense the 49ers piled up that day -- has been burned into the brains of the Packers' defensive players. Almost every day in practice during training camp, the defense went off to one end of the field by itself and worked against the read-option. But the Packers haven't seen any of it in live action since that playoff game, so at this point, there's no way to know whether they're any better equipped to handle it now.
Williamson:
That's the thing. Green Bay will be coming into this game nervous. The read-option has been on the minds of this coaching staff and its players all offseason, yet the Packers don't know for sure if they can handle it any better than they did the last time they saw Kaepernick. Kaepernick and his coach, the always-confident Jim Harbaugh, believe in their system and their personnel. They are going to challenge the Packers right away. I fully expect Kaepernick to come out gunning to make a statement -- a full-tilt San Francisco offense. If Kaepernick has early success, it could open the offensive floodgates. Now, if the Green Bay defense holds Kaepernick early, the Packers will get a confidence boost and should hang around all day.
Rob, just how confident do you think the Packers will be if they get a ton of read-option right away?
Demovsky:
Clay Matthews
said this week that the Packers know they have to take their shots at the quarterback when he tries to get outside the pocket, and if they do, perhaps they can get Kaepernick to sit in the pocket more, which ultimately is their goal. They want to make him a pocket passer if at all possible. That's their best chance for success.
There are other issues to this game, of course. Bill, considering the fact that the Packers will start a rookie,
David Bakhtiari
, at left tackle and a former undrafted free agent,
Don Barclay
, at right tackle, how big of an advantage does a pass-rusher like
Aldon Smith
have against Green Bay?
Williamson:
Other than Kaepernick and
Aaron Rodgers
, Smith might be the most important player on the field Sunday. He can change the game by himself, as his 33.5 sacks in two NFL seasons attests. Bakhtiari and Barclay have an incredible challenge ahead of them. It is also bad news for Green Bay that 49ers defensive tackle
Justin Smith
is healed from a triceps surgery. Aldon Smith had all 19.5 of his sacks in the regular season with Justin Smith playing with him, and none in 2012 without him. Having the Smith & Smith show together could mean a long day for Rodgers.
Demovsky:
But won't the 49ers have to respect the Packers' running game a little bit more with the addition of rookie
Eddie Lacy
? He looks like their first legitimate running back since Ryan Grant in 2009. If the Packers can establish Lacy on first down, they might be able to keep themselves out of obvious passing situations, and then Aldon Smith wouldn't be able to tee off and jet-rush up the field on every second and third down.
Williamson:
That is certainly the Packers' hope. It is clear that getting their ground game back on track was a focal point of the offseason. This is a passer's league, but getting yardage on the ground and keeping Kaepernick off the field will surely help Green Bay's cause as much the relief that it would give Rodgers. But here's the rub -- San Francisco is a monster against the run. The 49ers allowed just 3.7 yards per rush last season, third-best in the NFL. The Packers will be hard-pressed to break their streak of 43 regular-season games without a 100-yard rusher.
Demovsky:
Bill, we've spent a lot of time talking about how the Packers are going to defend Kaepernick & Co., but don't forget that January's playoff game was tied 24-24 midway through the third quarter, and the Packers' offense was having a decent day -- Rodgers throwing for 257 yards, two touchdowns and an interception. Can the 49ers secondary hold up against Rodgers and the likes of
Randall Cobb
,
James Jones
and
Jordy Nelson
?
Williamson:
A fine point. Look, the Packers are legitimate. They will not be embarrassed in this game. Rodgers is the best player on the planet. He and his receivers must be accounted for. If the 49ers are vulnerable on defense, it might be in the secondary, where they have the oldest defensive backs in the league. Can older players like
Carlos Rogers
and
Nnamdi Asomugha
(who may be slowed by a collarbone injury) keep the Green Bay passing game honest? If Green Bay is going to win this game, it's going to be because Rodgers is unstoppable. That's possible.
Rob, as we have discussed the major talking points of this anticipated matchup, an intriguing side story has developed. The Packers have brought in a pair of former 49ers backup quarterbacks in
Seneca Wallace
and
Scott Tolzien
. Do you think they can help Green Bay pull out a victory from the meeting room?
Demovsky:
I doubt Wallace can. He wasn't even with the 49ers for a full week. But you'd better believe they've grilled Tolzien about the 49ers. In fact, I wouldn't be surprised if that's the biggest reason they brought him in, and if they end up cutting him from the practice squad in a week or two. Now, Tolzien probably won't know much about the 49ers' game plan for this week, but considering he was with them for both meetings against the Packers last season, he likely has a good working knowledge of how Harbaugh wants to go after Green Bay.
Williamson:
I'm with you. These moves add some strategy elements, but this is going to be a big-boy game pitting two of the NFL's finest teams against one another. Once the game starts, this thing is going to all about
Patrick Willis
,
Vernon Davis
, Kaepernick, Rodgers and Matthews.
September, 6, 2013
9/06/13
8:30
AM ET
A daily roundup of what's happening on the Green Bay Packers beat.
Each week during the season, the NFL sends media members a weekly instructional video about rules and officiating.
When Thursday's edition contained a section about the rules and protections for read-option quarterbacks, which I
wrote about in this piece
, I couldn't help but wonder whether it was done as some sort of response to the Clay Matthews-Jim Harbaugh back and forth
of the last several days
.
So I asked league spokesman Michael Signora, who is in charge of distributing the video, if that was the case. Signora said the video, which is narrated by NFL vice president of officiating Dean Blandino, had been in the works already.
"Protections for quarterbacks has been something Dean Blandino has been talking about in various media interviews throughout the summer," Signora wrote in an email. "The inclusion of that information in the video is not in reaction to any recent comments, simply clarifying what the rules are in that situation."
Elsewhere:
September, 5, 2013
9/05/13
6:39
PM ET
One of the more juicy subplots of Week 1 has been answered.
San Francisco coach Jim Harbaugh apparently has his clarification.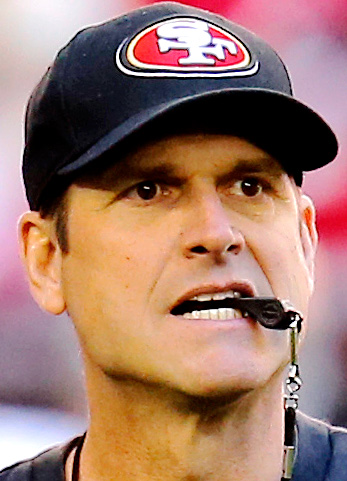 Harbaugh
In a video released by the NFL,
narrated by vice president of officiating Dean Blandino, it is explained that quarterbacks are treated as running backs while running the read-option offense.
"The quarterback and the running back, they're both treated as runners. We don't know who has the football, we don't know who's going to take it, so both players are treated as runners," Blandino said. "The basic concept is, the quarterback position is not defenseless throughout the down. It's the posture he presents that will dictate his protections."
Still, it is not totally open season on the read-option quarterback: "If the quarterback is out of the pocket, he's clearly out of the play, he cannot be unnecessarily contacted," Blandino said.
Wednesday, Harbaugh helped make the subject big news when he said he has had some talks with the NFL about what should and should not be legal when it comes to hitting the quarterback in the age of the read-option. Harbaugh said he will talk to officials about it prior to the game, but said he didn't expect clarity until later in the season.
"Before he's declared to being a runner, he should be afforded the protection that all quarterbacks are afforded until he declares and gets out of the pocket and starts running with the ball or running an option or carrying out a bootleg and attempting to run or pass when he's outside of the pocket," Harbaugh said. "But while he's in the pocket, I believe he's a quarterback until he declares that he's a runner."
This all started when Green Bay linebacker
Clay Matthews
said this week the Packers need to get to 49ers QB
Colin Kaepernick
. In the playoffs last season, Kaepernick ran for a record 181 yards using the read-option offense against Green Bay.
While this may seem like an advantage for Green Bay, I don't think this video will do much to worry Harbaugh. He is a smart, smart guy. He knows what's going on. He was just making his point. None of the 49ers' players, Kaepernick included, didn't seem too concerned.
Now that the league has given him public clarity, I think Harbaugh's plan will not change.
Still, officials will monitor the action in San Francisco closely. If Kaepernick is the subject of cheap shots, the Packers will be called on it. Harbaugh will see to it.
September, 5, 2013
9/05/13
8:30
AM ET
A daily roundup of what's happening on the Green Bay Packers beat.
A game like this -- Packers at 49ers -- deserves a little intrigue and perhaps even some controversy.
Thanks to Clay Matthews and Jim Harbaugh, we now have some of both. A day after the Packers linebacker suggested that hits to the quarterback might be the best way to stop the read-option offense that 49ers quarterback Colin Kaepernick used to blow out the Packers last year in the playoffs, the 49ers coach took issue with it.
To review, we covered some of the back-and-forth between the two
in this post
on Wednesday evening.
It's interesting that Harbaugh said he planned to talk to the officials before the game about how hits on his quarterback will be called. Clearly, Harbaugh, like every NFL head coach, has a full understanding of the rules, but this is one area where there might be some room for interpretation.
But Harbaugh went a step further when he suggested, without mentioning the word bounty, the Packers sound like a team that is "targeting a specific player."
Tom Silverstein of the Milwaukee Journal Sentinel was at 49ers headquarters
and had this from Harbaugh
: "You're hearing a lot of tough talk right now, intimidating type of talk, the kind of things, the same thing we were hearing a couple of years ago. It sounds like targeting a specific player. You definitely start to wonder."
Elsewhere:
September, 4, 2013
9/04/13
9:11
PM ET
Clay Matthews
and Jim Harbaugh apparently have different interpretations of what exactly defenders can do to a read-option quarterback.
On Tuesday, the
Green Bay Packers
outside linebacker told ESPN Radio's "Mike & Mike" that
perhaps the best way to slow down
read-option quarterbacks such as
San Francisco
's
Colin Kaepernick
is to hit him.
[+] Enlarge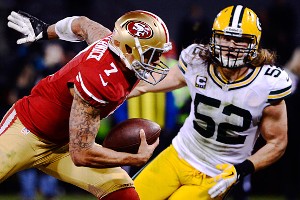 Robert Hanashiro/USA TODAY SportClay Matthews said the Packers' plan Sunday is to make quarterback Colin Kaepernick "uncomfortable" early and force the 49ers into more of a traditional pocket-style offense.
"One of the things that the referees have told us is that when these quarterbacks carry out the fakes, they lose their right as a quarterback, a pocket-passing quarterback, the protection of a quarterback," Matthews said on "Mike & Mike." "So with that, you do have to take your shots on the quarterback, and obviously they're too important to their offense. If that means they pull them out of that type of offense and make them run a traditional, drop-back, pocket-style offense, I think that's exactly what we're going for. So you want to put hits as early and often on the quarterback and make them uncomfortable."
Apparently not liking the sound of that, Harbaugh, the 49ers' coach, on Wednesday made the case for additional protection for his quarterback.
ESPN.com colleague Bill Williamson, who covers the 49ers, sent along the following quote from Harbaugh's session with reporters:
"Before he's declared to being a runner, he should be afforded the protection that all quarterbacks are afforded, until he declares and gets out of the pocket and starts running with the ball or running an option or carrying out a bootleg and attempting to run or pass when he's outside of the pocket," Harbaugh said. "But while he's in the pocket, I believe he's a quarterback until he declares that he's a runner."
Harbaugh said he planned to discuss the matter with the officials before Sunday's game at Candlestick Park.
Matthews and the rest of the Packers' defenders spent considerable time this offseason working on a plan for the read-option after Kaepernick lit them up for 579 yards of total offense in the 49ers' playoff win in January. According to ESPN Stats & Information, the 49ers gained 176 yards on 16 read-option plays in their 45-31 NFC divisional game victory. Before that, the Packers had seen only eight option rushes all season.
The NFL made no rule changes pertaining to read-option quarterbacks this offseason. That means when a quarterback acts as a ball carrier, he becomes just like a running back or receiver and can be hit as long as the hit is delivered in a legal fashion.
However, the rules prohibit a defender from hitting the quarterback after he no longer possesses the ball as long as he is at a standstill or moving away from the play. But in the read-option, it's not always clear to a defensive player when the quarterback gets rid of the football on an option run.
Dean Blandino, the NFL's vice president of officiating, recently offered some clarity in a story
published last month in the Los Angeles Times
, but it's far from a cut-and-dried situation.
"The key is the posture of the quarterback," Blandino said. "You can't take a free shot at him. But what we're seeing in some instances is the quarterback hands off and then carries out the fake like he has the ball, and he's presenting a running posture.
"In that instance, he's trying to deceive the defense, trying to draw the defense to him, and he doesn't have special protection in that situation. He can be hit until enough time has passed where he's clearly out of the play."
For his part, Kaepernick didn't seem interested in discussing how many hits he might take.
"I wear a helmet and shoulder pads like everyone else," Kaepernick said during a conference call with reporters at Lambeau Field. "It's for a reason."