Green Bay Packers:

Jim Schwartz
November, 26, 2013
11/26/13
7:40
PM ET
GREEN BAY, Wis. – Things have been relatively quiet between the
Detroit Lions
and
Green Bay Packers
since the brouhaha over
Ndamukong Suh
's stomp on
Evan Dietrich-Smith
two years ago died down.
Not anymore.
Sitton
Packers left guard
Josh Sitton
stirred things up on Tuesday – two days before the two teams play on Thanksgiving at Ford Field.
Appearing on WSSP radio in Milwaukee, Sitton was asked whether the Lions might try to knock out Packers quarterback
Aaron Rodgers
with a hit if Rodgers were to play on Thursday. Rodgers is not expected to return this week from his broken collarbone.
Nevertheless, Sitton's answer likely won't go over well in Detroit or with Lions coach Jim Schwartz and his defensive assistants.
"Absolutely. I don't think there's any question about that," Sitton said. "They go after quarterbacks. Their entire defense takes cheap shots all the time. That's what they do. That's who they are. They're a bunch of a dirtbags or scumbags. That's how they play, and that's how they're coached. It starts with their frickin' coach. It starts with the head coach, Schwartz. He's a d---, too. I wouldn't want to play for him. It starts with him, and their D-coordinator and their D-line coach. They're all just scumbags and so are the D-line."
When asked how the Packers can prevent the Lions from going after their quarterback, Sitton said: "It's all about attitude, man, you take it to them before they can take it to you. We have to set the tone of the game as the offensive line. We've got to establish the line of scrimmage and establish that tempo and the attitude early in the game. We have to be the ones that are in charge and not let them take charge."
The
entire interview

can be heard on WSSP's website.
October, 4, 2013
10/04/13
10:00
AM ET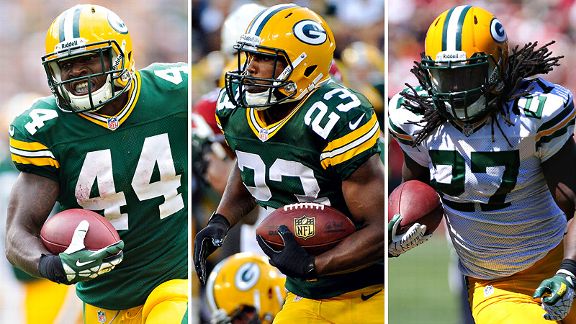 USA TODAY SportsThe Green Bay Packers are averaging 5.3 yards a carry -- good for second best in the NFL.
GREEN BAY, Wis. -- If the
Green Bay Packers
keep running the ball like they have in their first three games this season, opposing defenses may have to start to respect that aspect of coach Mike McCarthy's offense.
But that has not happened yet.
Maybe it never will as long as teams have to pay more attention to stopping quarterback
Aaron Rodgers
and the Packers' prolific passing game.
So far this season, when Rodgers breaks the huddle, he rarely has seen defenders lining up in the box to take away the run.
"Not in a while," Packers running backs coach Alex Van Pelt said this week. "It's been a while."
According to ESPN Stats & Information, the Packers have faced six or fewer defenders in the box on 161 of their 201 snaps this season.
On those 161 snaps, they have run the ball on 56 of them, and have been productive, averaging 6.1 yards per carry on those plays. They have faced seven or more in the box on just 40 plays, fewest in the NFL, according to ESPN Stats & Information. They also have the fewest rushing attempts (14) against seven or more in the box and have averaged just 3.1 yards on those runs.
Even though it's a small sample size, it appears McCarthy's offseason insistence that his team would run the ball better in 2013 has come to fruition.
Through three games, the Packers rank second in the NFL in yards per carry (5.3), which is nearly a yard and a half better than their 3.9-yard average last season; and they rank ninth overall in rushing yards per game (128), which is nearly 22 yards more than they averaged in 2012.
The Packers have not ranked better than the 20
th
in the NFL in rushing since the 2009 season, when they were 14
th
– the highest ranking since McCarthy became the head coach in 2006.
In their last two games, they've had two different 100-yard running backs --
James Starks
(132 yards in Week 2 against the
Washington Redskins
) and rookie
Johnathan Franklin
(103 yards in Week 3 against the
Cincinnati Bengals
). Before that, they went 44 straight regular-season games without a 100-yard back. Perhaps their most complete back, rookie second-round pick
Eddie Lacy
had a productive stretch from the second half of the season opener against the
San Francisco 49ers
until he got knocked out against the Redskins because of a concussion.
Whether it's the result of better run blocking or more talented running backs, how long the running game will last and whether teams will begin to respect it all are topics open to debate. Let's examine those aspects:
Is it the blocking or the backs?
That depends on who you ask.
McCarthy this week recalled a story from his early coaching days in Kansas City, when he worked with fellow assistant coach Jimmy Raye. They were discussing running back
Marcus Allen
, a future Hall of Famer, and Raye got up and wrote something this on the board: "Production of the run game is directly related to the runner."
"Good runners make a run-blocking unit better," McCarthy said. "That's a fact, and I think our running back position is off to a good start, and we've been more productive in the run game because of it."
Still, the fact that all three of the Packers' running backs have been productive to varying degrees suggests that the blocking up front also has improved.
"You obviously have to have guys cover up up front," Van Pelt said. "But good runners will find their way to the hole and get the yards. This season, it's been both, which is great."
Can it last?
With Starks out indefinitely because of the knee injury he sustained against the Bengals, it will be up to Lacy and Franklin to carry the load.
Lacy has been the least productive of the Packers' backs so far. His 3.4-yard average per carry is well below Franklin (7.9) and Starks (5.5), but Lacy has only 15 carries after getting knocked out in the first half in Week 2.
The Packers have not faced a team currently ranked in the top 10 in the league in rushing defense, and they won't on Sunday against the
Detroit Lions
(who are 20
th
in rushing yards allowed).
"You take it week by week; if we go out this week and lay an egg, nobody's really going to remember the last two games," Packers right guard T.J Lang said. "We understand we have to keeping building on it and making sure we're consistent with it before you can really say we're dominant running the ball."
Will teams ever stack the box?
Teams have largely played the Packers one way over the last three seasons, leaving both safeties back deep in an effort to limit Rodgers' downfield throws.
"They've been a little bit one-dimensional over the years," Lions coach Jim Schwartz said this week. "I think being able to go get a running back, drafting Lacy, getting Starks back from injury, drafting Franklin, adding that to the playmakers like [receivers]
Jordy Nelson
and
[James] Jones
and
[Randall] Cobb
."
Perhaps the only way to know whether opposing defenses truly fear the Packers' running game is if they start to consistently bring extra defenders near the line of scrimmage.
"You keep being productive in the run game," Van Pelt said, "that will happen."
October, 2, 2013
10/02/13
7:10
PM ET
GREEN BAY, Wis. -- The
Detroit Lions
don't need to be reminded of their losing streak -- 22 straight games -- against the
Green Bay Packers
in the state of Wisconsin.
It is brought up on an annual basis, and the Lions know there's only one way to stop it: Beat the Packers on Sunday at Lambeau Field.
"I don't know that it means anything more to the team other than just winning a game, particularly a division game like this," Lions coach Jim Schwartz told reporters at Lambeau Field during a conference call Wednesday. "But it does free up guys from having to take those questions."
Here's something that might come as a bit of a surprise: The Packers aren't particularly fond of talking about it, either.
"I don't acknowledge the streak," Packers coach Mike McCarthy said Wednesday. "Really, I understand how long it's been, but it ain't going to help us Sunday."
All week, my ESPN colleague Michael Rothstein, who covers the Lions, has been examining some of the close calls during Detroit's 22-game losing streak on the road against the Packers.
His latest installment
looked at the 2005 overtime game.
The streak includes one playoff game. The Packers' 21-game regular-season home winning streak against the Lions is the longest against the same opponent in NFL history, three better than the Washington's 18-game streak against the Lions from 1939-2007.
Yet there wasn't a mention of it in any of the team meetings held in Lambeau Field this week. McCarthy said that it didn't even make the list of potential media topics presented to the players each week.
"No, we don't talk about that," said Packers quarterback
Aaron Rodgers
, who on Tuesday said during his ESPN Milwaukee radio show that he doesn't want the streak to end on his watch. "I've heard about it. I just hope we can keep it going."
One player in the Packers locker room has seen the streak from both sides. Guard
T.J. Lang
grew up in the Detroit area and played college football at nearby Eastern Michigan.
"I know from being over there the media talks a lot about it," Lang said. "As a player, I doubt they really care. Every year, it's a new year. You've got a new team, so I don't think that streak is really important. We haven't talked about it; I doubt they've talked about it."
Still, until something changes, both teams are going to hear about it.
The last time the Lions won in Wisconsin was on Dec. 15, 1991, when current Lions quarterback
Matthew Stafford
was how old?
"I was 3 years old," Stafford said on a conference call.
"It is kind of for you guys to write about and talk about," Stafford added. "If we sat there and tried to focus on that we wouldn't be doing ourselves justice in trying to prepare for a team that's talented. We've got to go out there and spend all of our time preparing to play the 2013 Green Bay Packers and not the ones from '94, '95. That has nothing to do with what we're trying to do this weekend. We're preparing to play this team and doing that to the best of our ability."