Green Bay Packers:

Jimmy Graham
May, 14, 2014
May 14
12:00
PM ET
GREEN BAY, Wis. –
Eddie Lacy
is many things -- the
Green Bay Packers
' standout running back, the reigning NFL offensive rookie of the year and one of the most popular young players in the league.
Could he be the next face of the EA Sports Madden video game?
The 2013 second-round draft pick who last season set a Packers rookie rushing record with 1,178 yards is one of 16 players vying for the honor to be on the cover of the upcoming Madden '15 game.
The winner will be determined by fan voting based on head-to-head matchups. Lacy must outgain
New Orleans Saints
tight end
Jimmy Graham
in order to move on to the next round. First-round voting, which can be done
by clicking this link
, ends Thursday.
Perhaps if Lacy moves on, he will take his Madden cover campaign to video in the form of these highly entertaining spots with other finalists
Andrew Luck
and
Alfred Morris
. Check out
Luck's video here
and
Morris' video here
.
April, 7, 2014
Apr 7
2:00
PM ET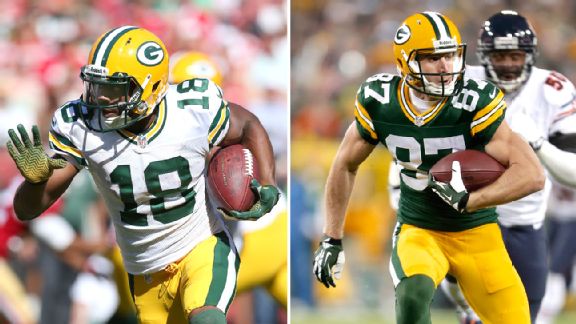 Getty ImagesGreen Bay Packers receivers Randall Cobb (18) and Jordy Nelson are both in line for raises as they enter the final season of their current contracts.
GREEN BAY, Wis. -- At some point in the next 11 months -- likely sooner rather than later -- the
Green Bay Packers
will extend the contracts of receivers
Randall Cobb
and
Jordy Nelson
.
Between now and when they scribble their names on their new deals there will be much discussion about each player's value.
Myriad factors come in to play during contract negotiations, but the most important ones are production, injury history (which is usually tied to production) and age (which can be tied to injury history).
Another factor you might hear thrown around when it comes to Cobb and Nelson is the unscientific term "No. 1 receiver" -- as in should either one or both be paid like one?
In an ESPN Insider piece, former NFL scout Matt Williamson helped
define exactly what that term means

.
He came up with four characteristics:
They need to have the ability to separate from man coverage, understand how to find the soft spots in zones and have very strong athletic traits.

They need to be strong, fast and play big, which often -- but not always -- can eliminate shorter wide receivers from this equation.

They must be productive, even when opposing defenses are scheming to take them out of the equation; No. 1 receivers can be uncoverable and never come off the field.

They must display the above traits with consistency.
What was perhaps most interesting about Williamson's list is that he came up with only 14 players in the NFL who fit his criteria.
"The term 'No. 1 receiver' is often thrown around loosely, but to me, there certainly are not 32 No. 1 receivers in the league just because every team has a favorite target," Williamson wrote.
Also, Williamson had two tight ends -- New England's
Rob Gronkowski
and New Orleans'
Jimmy Graham
-- among his 14.
Among his 12 receivers, only four were among the NFL's top-10 highest-paid receivers (see the accompanying chart). They were: Detroit's
Calvin Johnson
(No. 1), Arizona's
Larry Fitzgerald
(No. 2), Chicago's
Brandon Marshall
(No. 6) and Houston's
Andre Johnson
(No. 8).
However, six of the 12 are still playing under their rookie contracts and will be in line for significant raises on their next deal.
Back to the cases for whether Cobb and Nelson belong in that same category as they enter the final season of their current contracts.
According to Williamson, one of them should be considered a No. 1 receiver and the other is close. Also, it's possible for one team to have two No. 1 receivers, Williamson wrote, as is the case with the Bears (Marshall and
Alshon Jeffery
).
The 6-foot-3, 217-pound Nelson cracked the list at No. 13 under the heading "Just ask their quarterbacks if they are No. 1 receivers." Williamson also put San Francisco's
Michael Crabtree
in that same category.
"With great size for the position, he is often mistaken for a possession weapon, however only three receivers converted more receptions of 20 or more yards last year, Williamson wrote of Nelson. "His deep speed and big-play ability is vastly underrated, but Nelson also is
Aaron Rodgers
' go-to target when Rodgers needs a first down and has always proven to be reliable.
"Nelson had his best season in 2013, accumulating over 1,300 receiving yards, and bear in mind that he was playing without Rodgers for much of that time. He isn't a product of the system or his surroundings and would be great in any environment."
Nelson's next contract will be his third. Midway through the 2011 season, he signed a three-year extension that averaged $4.2 million per season. That average ranks 32nd among all NFL receivers in 2014.
Williamson ranked Cobb among 11 players who he termed as "close but not quite" No. 1 receivers.
Cobb, who like Nelson was a second-round pick, is entering the final season of his rookie contract. Two factors likely kept Cobb out of Williamson's top 14: his size (5-10, 192) and that he missed 10 games last season because of a fractured tibia.
But in 2012, Cobb caught 80 passes despite missing one game, and there is room for growth. He is entering his fourth season but won't turn 24 years old until late in training camp this summer, making him more than 5 years younger than Nelson, who turns 29 in May.
February, 21, 2014
Feb 21
8:00
AM ET
INDIANAPOLIS -- One by one, the top tight ends in this year's NFL draft rolled through Lucas Oil Stadium as part of Thursday's interview session at the scouting combine.
There was
Eric Ebron
of North Carolina,
Jace Amaro
of Texas Tech,
Austin Seferian-Jenkins
of Washington,
Troy Niklas
of Notre Dame,
C.J. Fiedorowicz
of Iowa and on and on.
Most, if not all, were asked which NFL tight end they admired, emulated or resembled.
For some, like Ebron, it was
San Francisco 49ers
tight end
Vernon Davis
.
[+] Enlarge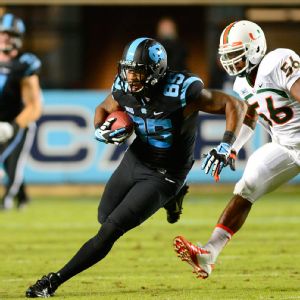 Bob Donnan/USA TODAY SportsCarolina likely would have to trade up in the first round of the NFL draft to have a shot at selecting Eric Ebron.
For others, like Amaro and Fiedorowicz, it was the New England Patriots'
Rob Gronkowski
.
For Seferian-Jenkins, it was the New Orleans Saints'
Jimmy Graham
and the Denver Broncos'
Julius Thomas
, who like him had a background in basketball.
Not one of them, however, mentioned
Jermichael Finley
.
Yet if the
Green Bay Packers
don't bring back their starting tight end, which is a likely course of action given his neck injury and his expiring contract, one of those players could become the next Finley.
Most of the top tight end prospects said Thursday that they had either visited with the Packers or planned to talk with team representatives this week at the combine.
So too will Blake Baratz, the agent who represents Finley, but the Packers may have already decided that Finley's neck fusion surgery was too much of a risk to bring him back. If that's their plan, then there are plenty of viable options in this draft, which features playmaking tight ends of all sizes.
It starts with the 6-foot-4, 250-pound Ebron, who likely will be the first tight end taken in the draft and could be gone before the Packers pick at No. 21.
"I'm very fast; I'm very different," said Ebron, who along with the other tight ends will do their on-field testing this weekend. "I play the tight end role like no one else."
In some ways, he plays it like Finley, whose physical presence is similar to Ebron's.
Amaro (6-5, 255) is as much receiver as he is tight end. Most of last season, when he caught 106 passes for 1,352 yards (the NCAA record for a tight end), he played standing up away from the line of scrimmage.
"That's why I'm so unique," Amaro said. "It's kind of a revolution into the game and how the tight ends are coming in across the board. I like to see myself as both a tight end and a receiver."
But can he block?
That's not an issue with Fiedorowicz (6-5½, 265), who was more of a blocking tight end in Iowa's run-heavy offense.
"A lot of tight ends in the NFL are either blocking tight ends or receiving tight ends," Fiedorowicz said. "I like watching Rob Gronkowski. He can dominate both the line of scrimmage and down the field."
Seferian-Jenkins (6-5, 262) said he was asked to do both last season at Washington, where he played basketball as a freshman.
"At the tight end position, you've got a lot of great players [in this draft]," he said. "But what I think I do is if you watched me play, I split out and played receiver. I've done fullback. I've played in line. I think I've showed I'm very capable of being a playmaker down the seam and run regular routes as a receiver, and I've shown the capability of being a blocker."
Niklas (6-6½ , 270) might be the biggest bruiser of this bunch. He began his college career as an outside linebacker.
"I can block, and I enjoy blocking," Niklas said. "I think it's something I can use to my advantage."
Further down the tight end pecking order is Jacob Pedersen of Wisconsin. He grew up just north of Green Bay in Michigan's Upper Peninsula. He's a late-round prospect who would love the chance to be the Packers' next tight end.
"Growing up 45 minutes away from Green Bay, obviously it'd be a childhood dream to play for your home team," said Pedersen, one of six Badgers invited to the combine. "But I'm just hoping to get drafted by a team. Whoever takes me, they're going to get my best effort."