Green Bay Packers:

Joe Flacco
July, 31, 2014
7/31/14
3:50
PM ET
GREEN BAY, Wis. --
Nick Perry
knew full well why the horde of reporters surrounded his locker on Thursday, and he seemed prepared for it.
When you're a former first-round pick whose career, by almost any measure, has been a disappointment, how else is there to react?
On the day Perry
made his 2014 practice debut
after missing the entire offseason program because of lingering foot and knee injuries, the
Green Bay Packers
outside linebacker was nothing if not consistent when asked about his career thus far and where it might be headed.
[+] Enlarge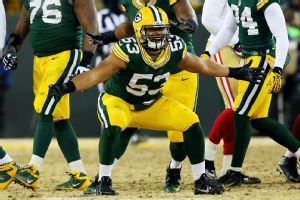 Ronald Martinez/Getty ImagesInjuries have plagued linebacker Nick Perry in his first two seasons.
"I still think I have a bright future," Perry said.
Injuries ruined each of Perry's first two pro seasons. As a rookie, he played in only six games before a wrist injury ended his year. Last season, he played in 11 games but clearly was hobbled even after returning from the foot injury he sustained on Oct. 13 against the
Baltimore Ravens
.
"We've all got to deal with something throughout our careers," Perry said. "Hopefully, we're flipping the page on that, and we're looking forward to a better year this year."
Can you sense the pattern?
Perry would rather look ahead than look back.
Perhaps that's because there is not much to see in Perry's rear-view mirror.
It could have been different if not for the injuries. Perry, a defensive end in college at USC, was finally starting to look like an outside linebacker last season when he got hurt again. On the final defensive snap of the first half against the Ravens, Perry completed perhaps his finest half in the NFL when he sacked
Joe Flacco
and forced a fumble that
Datone Jones
recovered and the Packers turned into a field goal on the final play before halftime. In one half, he was credited with six tackles (five of them solo), a sack and a forced fumble.
But it was on the strip-sack play in which another player fell on his leg and took him out for the next three weeks and five of the next six.
The Packers have not stood still to wait for Perry to produce. They moved
Mike Neal
to outside linebacker last season and signed veteran pass rusher
Julius Peppers
this offseason. Peppers has been lining up at right outside linebacker, the spot Perry prefers, with
Clay Matthews
on the other side.
"There's always that notion that goes back that I think, if I could have been healthy things would have been better for me," Perry said. "I haven't had the seasons that I've wanted due to that, but the main goal for me every year is staying healthy and playing to the best of my ability and helping my teammates any way I can. I'm glad to be here, and it's an honor to be here and I'm just ready to roll this year."
June, 9, 2014
6/09/14
12:00
PM ET
GREEN BAY, Wis. -- It is not uncommon for NFL contracts to become outdated in a hurry.
Someone is always signing a new deal or an extension to become the highest-paid this or the highest-paid that.
Rodgers
So when
Colin Kaepernick
signed his contract extension with the
San Francisco 49ers
last week, the initial reports suggested his deal contained more guaranteed money than
Green Bay Packers
quarterback
Aaron Rodgers
, the NFL's highest-paid player.
On paper, Kaepernick signed a six-year, $114 million extension that contained $61 million in guaranteed money. But in this case, the definition of guarantee is a loose one.
As ESPN's John Clayton pointed out
in his weekend Mailbag column
, Kaepernick's deal is much more of a pay-as-you-play contract than the five-year, $110 million extension Rodgers signed on April 26, 2013. Rodgers' deal was loaded with real guarantees.
Rodgers' signing bonus of $35 million followed by a guaranteed roster bonus of $9.5 million that was paid this March and another one worth $9.5 million due next March brought his guaranteed money to $54 million in real dollars.
For those who were outraged that Kaepernick received more guaranteed money, a closer examination of the deal revealed that those were "soft" guarantees. Kaepernick's yearly guarantees don't become such until April 1 before each season, meaning the 49ers can get out from under the deal at any point without paying those so-called guarantees.
So for the time being, even though Kaepernick has the potential to collect more than Rodgers, it's not accurate to call him the higher paid at this point.
Perhaps the best measure when comparing contracts is a three-year window. Looking at it that way, here's a breakdown of the top quarterback contracts by average per year, according to ESPN Stats & Information salary data:
Matt Ryan, Atlanta: $22.9 million
Aaron Rodgers, Green Bay: $22.7 million
Joe Flacco, Baltimore: $20.7 million
Drew Brees, New Orleans: $20.3 million
Peyton Manning, Denver: $19.3 million
Tony Romo, Dallas: $18.0 million
Jay Cutler, Chicago: $18.0 million
Matthew Stafford, Detroit: $17.7 million
Ben Roethlisberger, Pittsburgh: $17.6 million
Eli Manning, New York Giants: $17.0 million
Philip Rivers, San Diego: $16.8 million
Colin Kaepernick, San Francisco: $14.7 million
Three of the quarterbacks on the list -- Ryan, Cutler and Kaepernick -- signed their deals after Rodgers did his 14 months ago. In that time, Rodgers' contract has held up. He remains the highest-paid quarterback with a $22 million-per-year average over the life his deal.
Maybe
Russell Wilson
, the next quarterback likely to cash in, will surpass him. But Kaepernick's deal did not.
May, 5, 2014
5/05/14
8:00
AM ET
GREEN BAY, Wis. -- Since he took over as general manager of the
Green Bay Packers
in 2005, Ted Thompson has drafted 87 players.
Leading up to this year's draft, in which Thompson currently has nine picks, we will look at his best and worst selections in each round.
We'll start at the bottom and work our way up. So far, we've looked at the seventh, sixth, fifth, fourth and third rounds.
Next up is Round 2.
Total players drafted
: 13.
By position
: Receivers 4, running backs 2, cornerbacks 2, defensive ends 2, guards 1, quarterbacks 1, safeties 1.
Best pick
:
Nick Collins
, S.
By age 27, Collins (No. 51 overall, 2005) was already a three-time Pro Bowl selection. But his career was cut down in its prime when he sustained a neck injury against the
Carolina Panthers
in Week 2 of the 2011 season. He has not played since despite his desire to return. The Packers released him the next offseason and have struggled to replace his playmaking ability from the safety position.
Honorable mention:
Greg Jennings
, WR (No. 52, 2006),
Jordy Nelson
, WR (No. 36, 2008),
Randall Cobb
, WR (No. 64, 2011),
Eddie Lacy
, RB (No. 61, 2013).
Worst pick
:
Brian Brohm
, QB.
The third quarterback taken in the draft -- behind
Matt Ryan
and
Joe Flacco
-- Brohm (No. 56, 2008) struggled from the outset and lost the backup quarterback job to another rookie, seventh-round pick
Matt Flynn
. After spending the season as the third-stringer, he failed to even make the team in his second year. The Bills signed him in 2009, and he appeared in three games over two seasons in Buffalo.
Dishonorable mention:
Pat Lee
, CB (No. 60, 2008),
Brandon Jackson
, RB (No. 63, 2007),
Jerel Worthy
, DE (No. 62, 2012),
Terrence Murphy
, WR (No. 58, 2005).
Notes
: Thompson has selected almost as many Pro Bowlers in the second round (three -- Collins, Jennings and Lacy) as he has in the first round (four --
Aaron Rodgers
,
Clay Matthews
,
A.J. Hawk
and
B.J. Raji
). ... Nearly half of his second-round picks (Lacy, Worthy, Cobb, Nelson,
Casey Hayward
and
Mike Neal
) remain on the roster. Two others (Jennings and
Daryn Colledge
) played for other teams last season. ... Murphy's career ended after just three games because of a neck injury.
November, 1, 2013
11/01/13
12:00
PM ET
On the day former
Chicago Bears
coach Lovie Smith got the job, he said that one of his priorities was to beat the
Green Bay Packers
.
First-year Bears coach Marc Trestman made no such promises about this rivalry, but it goes without saying that he's eager to end Chicago's six-game losing streak to the Packers.
The last time Chicago beat Green Bay was on Sept. 27, 2010, on "Monday Night Football." The teams meet again in prime time Monday night at Lambeau Field.
ESPN.com's Packers reporter Rob Demovsky and Bears reporter Michael C. Wright break down the matchup.
Rob Demovsky:
We all know how much Smith wanted to beat the Packers. He stated as much the day he got the head coaching job. What has Trestman's approach to this rivalry been like?
Wright
: Rob, my man, you know that rivalries have to cut both ways in terms of wins and losses for it to be truly considered a rivalry. Counting the postseason, the Bears have lost six in a row and nine of the last 11. So, if anything, this is more Green Bay dominance than a rivalry. But the interesting thing about Trestman is he's a guy who likes to compartmentalize everything. He looks at today rather than the past or the future. So while it sounds cliché, Trestman is looking at the Packers as just another opponent on the schedule. That's just the way Trestman likes to operate, and I think for him it sort of makes things easier.
I keep looking at Green Bay's sack numbers, and I'm a little surprised the club is still in the top 10 in sacks with
Clay Matthews
out the last three games and other key members of the defense missing time. What is Dom Capers doing over there schematically to keep up the production?
Demovsky:
I figured when Matthews broke his thumb, Capers would have to blitz like crazy. Now, he's picked his spots, but he hasn't gone blitz-happy like I thought he might. However, he has been sending different pass-rushers to keep offenses off guard. One game, against the
Baltimore Ravens
, linebacker
A.J. Hawk
came a bunch and sacked
Joe Flacco
three times. Also, they've finally found a defensive lineman with some rush ability in second-year pro
Mike Daniels
. Three of his team-leading four sacks have come in the past two games.
As long as we're on the topic of quarterbacks, in 2011, backup
Josh McCown
played a halfway decent game against the Packers on Christmas at Lambeau Field, but he threw a couple of interceptions. What do you expect from him this time around as he starts in place of the injured
Jay Cutler
?
[+] Enlarge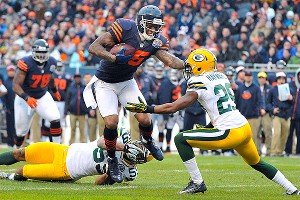 Rob Grabowski/USA TODAY SportsThe Packers have limited Brandon Marshall to 8 catches for 80 yards in their past two meetings.
Wright
: Believe it or not, I expect little to no drop-off from McCown in this game. The biggest difference between now and then is that in 2011, McCown joined the team in November, fresh from a stint as a high school football coach in North Carolina, and four weeks later became the starter. So he basically came in cold and still played relatively well. This time around, McCown has become immersed in the offense from the ground level, when Trestman first came on board, and even had some input as the team constructed the scheme. In fact, during the offseason, McCown was holding film sessions with all the club's new additions to teach everyone the new offense. So he's got complete mastery of the offense just like Cutler, which is why McCown came in against the Redskins and the offense didn't miss a beat. Obviously, McCown doesn't possess Cutler's arm strength. But he'll make up for that deficiency with anticipation. I'm quite sure the Bears won't scale down the offense to accommodate McCown at all, because they don't need to. So I expect McCown to play well. I'm just not sure Chicago's offense can keep up with Green Bay's in what I expect to be a high-scoring game.
Speaking of high scoring, the Packers put up 44 points on the
Minnesota Vikings
. How is Green Bay handling the preparation process for the Bears?
Demovsky
: Well, they certainly don't have as much time as the Bears do, considering the Bears are coming off their bye week. But the Packers have gotten themselves into a rhythm. They've won four in a row after their 1-2 start and look like a different team than they did the first three weeks of the season. Mike McCarthy probably doesn't get enough credit nationally, but show me another coach who has stared injuries in the face and hasn't blinked. What other team could lose playmakers like
Randall Cobb
,
James Jones
,
Jermichael Finley
and Matthews and still keep winning? That's a testament to the program he has established here. You can argue with some of his in-game coaching decisions, but you can do that with every coach. What you can't question, though, is the team's preparation.
The Bears, obviously, have had their share of injuries, too, losing Cutler and linebacker
Lance Briggs
. What's a bigger loss -- Cutler to the offense or Briggs to the defense?
Wright
: Well, Cutler's replacement is a veteran in McCown who has plenty of experience and a ton of weapons surrounding him on offense, while rookie
Khaseem Greene
will likely fill in for Briggs on a bad defense that will also feature rookie
Jon Bostic
in the middle. From my vantage point, losing Briggs is much more significant. The Bears have already proved to be horrible against the run (ranked 25th), and that issue certainly won't improve with two rookies at linebacker and a defensive line decimated by injury. It's also worth noting that Briggs made all the defensive calls and served as somewhat of a coach on the field for Bostic. Given that Green Bay seems to be running the ball so well, the current situation with Chicago's front seven could be devastating.
Now that the Packers are running the ball so well, how has that changed the way the offense is called? It seems Green Bay runs well regardless of which running back they line up in the backfield.
Demovsky
: It's remarkable -- and even a bit stunning -- to see
Aaron Rodgers
check out of a pass play and in to a run play at the line of scrimmage. That kind of thing hasn't happened around here in a long, long time -- probably not since
Ahman Green
was piling up 1,000-yard seasons nearly a decade ago. Teams no longer can sit back in a Cover-2 look and dare the Packers to run. Because guess what? The Packers can finally do it. It also has given the receivers more one-on-one opportunities, so it's helped the passing game, too. Right now, this offense almost looks unstoppable.
If the Packers keep playing like this, they might be tough to catch in the NFC North. What are the Bears' prospects for staying in the NFC North race until Cutler and Briggs return?
Wright:
To me, this game is the measuring stick for making that determination. But I'm not really confident about Chicago's chances, and that has more to do with the team's struggling defense than Cutler's absence. There have been conflicting statements made about Cutler's recovery time frame. Some teammates think he'll be ready to return by the time the Bears face Detroit on Nov. 4, while Trestman said the plan is to stick to the minimum four-week time frame prescribed by the doctors. Either way, if the Bears lose to the Lions you can kiss their prospects for the playoffs goodbye. The Bears might be able to afford a loss to the Packers because they'll face them again on Dec. 29. But a sweep by the Lions kills Chicago's chances to me because just from what we've seen so far, it appears one of the wild cards will come out of the NFC North with the other coming from the NFC West. Obviously it's too early to predict that, but that's the way things seem to be shaking out.
Without two of his top receivers and tight end Finley, Rogers still hit 83 percent of his passes against the Vikings. Is that success a product of the system, a bad Minnesota defense, or is Rodgers just that good at this point?
Demovsky
: The more I see other quarterbacks play, the more I'm convinced it's Rodgers. For example, seldom-used receiver
Jarrett Boykin
makes his first NFL start two weeks ago against the
Cleveland Browns
, and he ends up with eight catches for 103 yards and a touchdown. How many catches do you think he would have had if he were playing for the Browns that day? Their quarterback,
Brandon Weeden
, completed only 17-of-42 passes. That's not to minimize what Boykin did or what players like
Jordy Nelson
do week in and week out, but Rodgers is special, and special players elevate the play of those around them. Look at what
Greg Jennings
has done since he left for the Vikings. Now tell me the quarterback doesn't make the receiver, not vice versa.
Speaking of receivers, other than
Anquan Boldin
, who lit up the Packers in the opener at San Francisco, they've done a solid job shutting down other team's No. 1 receivers -- most recently Jennings and Cincinnati's
A.J. Green
. How do you think the Bears will try to get
Brandon Marshall
involved against what has been a pretty good Packers secondary?
Wright
: This question brings me back to the 2012 massacre at Lambeau Field on Sept. 13. The Packers bracketed Marshall with two-man coverage, and the Bears struggled tremendously. Shoot, cornerback
Tramon Williams
caught as many of Cutler's passes as Marshall, who finished the game with two grabs for 24 yards. Obviously, this offensive coaching staff is a lot different than last year's group. So the Bears will go into this game with a lot more answers for that coverage. I definitely see McCown leaning on Marshall and trying to get him involved as early as possible, but the only way he'll be able to do that is for the Bears to establish the rushing attack with
Matt Forte
so the quarterback can operate off play action. When the Bears go to Marshall early, expect to see a lot of short passes that will enable the receiver to gain some yardage after the catch.
Over the years, Green Bay has been pretty successful at limiting the impact of return man
Devin Hester
. So I was a little shocked to see the Packers give up a kickoff return for a touchdown to
Cordarrelle Patterson
. As you probably know, Hester is coming off a pretty strong return game against the Redskins. Do you think the Packers fix the problems they encountered last week, and minimize Hester's impact?
Demovsky
: Part of the Packers' problem on special teams has been that all the injuries have created a trickle-down effect. Here's what I mean: On the kickoff coverage until they gave up the 109-yard return to Patterson, they lined up six rookies, two of whom weren't even on the opening day roster. The Packers always have feared Hester, as they should, and in various games in recent years have shown they'd almost rather kick the ball out of bounds than give him any return opportunities. He's one of those special players who make rivalry games so entertaining.
October, 25, 2013
10/25/13
4:10
PM ET
GREEN BAY, Wis. -- Admit it, you thought the
Green Bay Packers
' pass rush would disappear without linebacker
Clay Matthews
.
And you thought defensive coordinator Dom Capers would need to resort to mass blitzing in order for his unit to muster any pressure whatsoever on opposing quarterbacks.
In the two games since the four-time Pro Bowl outside linebacker broke his right thumb, neither has been the case.
[+] Enlarge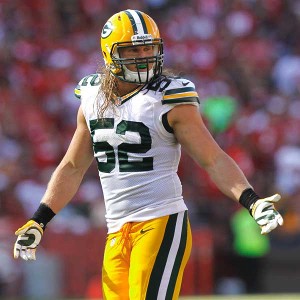 Cary Edmondson/USA TODAY SportsInjuries to Clay Matthews and other pass-rushers have forced the Packers to get creative when applying pressure. So far, so good.
In fact, even without their best pass-rusher, the Packers have put more heat on quarterbacks and have done so by blitzing less often. In two full games without Matthews, the Packers have recorded eight sacks and, according to ProFootballFocus, they have combined for five other quarterback hits and 31 hurries.
"I think, all in all, our pass rush has been good," Packers outside linebackers coach Kevin Greene said. "Yeah, our goal is three [sacks] a game, and we got five and three, so that's on target."
The sack and pressure numbers from the past two games have almost already matched what the Packers did in four games last season when Matthews was out with a hamstring injury. In that stretch, they combined for only seven sacks, six hits and 38 hurries, according to PFF.
In the past two games, wins against the
Baltimore Ravens
and
Cleveland Browns
, Capers has sent more than the standard four pass-rushers on 32.2 percent of the opponent's dropbacks, according to ESPN Stats & Information. In the first four games, he did so on 39.5 percent of the opponent's dropbacks.
Against the Ravens, he sent five pass-rushers on 25 percent of
Joe Flacco
's dropbacks, six rushers on just one snap and never sent seven. Last week against the Browns, he sent five rushers on 25.5 percent of
Brandon Weeden
's dropbacks, six rushers on 6.4 percent and seven rushers on two snaps. In fact, Capers rushed only four on the Browns' last 17 pass plays of the game.
Halfway through the game against the Ravens, the Packers lost another outside linebacker,
Nick Perry
, to a foot injury. Combined with a bruised shoulder that limited outside linebacker
Mike Neal
against the Browns, the Packers started with a pair of rookies,
Andy Mulumba
and
Nate Palmer
, at outside linebacker against Cleveland.
"Part of that is based on the fact that you have to be careful not to get too exotic with these new guys," Capers said. "Their head will be swimming, and you aren't going to get much done. You say, 'Let's have them be able to play their base fundamentals and technique, then we'll take our shots in terms of when we do come with pressure.'"
That's not to say Capers hasn't blitzed. He has sent inside linebackers, safeties and cornerbacks. It's just that sometimes he does so without rushing more than four.
In Matthews' absence, six different players have recorded sacks. Four have come from the inside linebacker spot (
A.J. Hawk
with three,
Jamari Lattimore
with one), two from cornerbacks (
Micah Hyde
and
Tramon Williams
), one from the defensive line (
Mike Daniels
) and one from the outside linebackers (Perry).
"That's just a testament to the guys we've got," said Daniels, who has two sacks this season. "Guys are ready to go. We had a great camp. I always go back to that camp because I think it set a crucial tone. You can see all the work coming out right now."
The Packers rank eighth in the NFL with 20 sacks despite not having a player rank in the top 46 individually.
"So much of our pass rush is based on if we can play the run well," Capers said. "Get the game to be one-dimensional, and then we feel like all those things the players like to do, we can do that. We've been able to do that because people haven't been able to run the ball against us. We've had five, five and three sacks, so we've had 13 sacks in the last three games, but there's been a number of quarterback hits, too."
October, 13, 2013
10/13/13
8:45
PM ET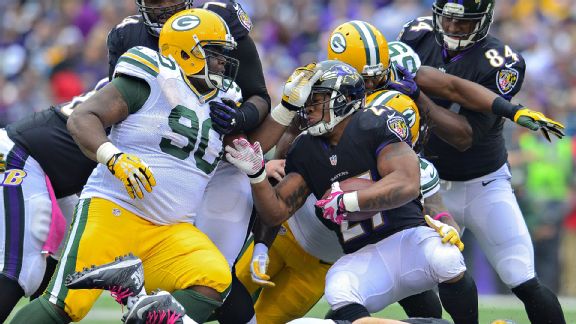 Doug Kapustin/Getty ImagesThe Packers' defense clamped down on Ray Rice and the Ravens' running game on Sunday.
BALTIMORE -- With 12 seconds left in the first half of Sunday's game against the
Baltimore Ravens
,
Green Bay Packers
outside linebacker
Nick Perry
sacked quarterback
Joe Flacco
and knocked the ball loose.
Rookie defensive end
Datone Jones
scooped up the fumble and returned it 20 yards to the Ravens' 13-yard line to set up
Mason Crosby
's 31-yard field goal on the final play of the first half.
It was exactly the kind of play that, according to Packers linebacker
A.J. Hawk
, great defenses make.
"We're definitely not a great defense yet," Hawk said after the
Packers' 19-17 victory
over the defending Super Bowl champs. "But we're trying to get there."
The Packers defense might have to get there -- and fast.
If the Packers (3-2) are going to be without receivers
Randall Cobb
and
James Jones
, both of whom left Sunday's game with injuries in the first half, then they're going to need their defense to pick up where it left off on Sunday at M&T Bank Stadium.
Among its noteworthy accomplishments in helping secure Green Bay's first road win of the season, the defense came through with:
A stop on fourth-and-goal from the 1-yard line in the second quarter after a special teams gaffe by John Kuhn, who touched a blocked punt that the Ravens recovered to keep a drive alive.

A stop on third-and-goal from the 5 in the third quarter that forced the Ravens to settle for a field goal.

Five sacks, including three by Hawk (who had that many all of last season).

A near complete shutdown of the Ravens' once-prolific running game.
"Today was good, I think, with those goal-line stands," Hawk said. "But you can't call yourself great until you're holding teams consistently under 13, 14 points, I think. We played pretty well, but it's a long season, that's for sure. We're only 3-2."
Perhaps most encouraging for the Packers was that they did it all without their best defensive player, outside linebacker
Clay Matthews
, who six days earlier underwent surgery to repair his broken right thumb, and without their defensive signal-caller, inside linebacker
Brad Jones
, who sustained a hamstring injury a week earlier against the
Detroit Lions
.
It all began with the goal-line stand.
On fourth-down from the Packers' 1-yard line, the Ravens called running back
Bernard Pierce
's number. Defensive tackle
Mike Daniels
and cornerback
Micah Hyde
were credited for stopping Pierce, but in reality it was a group effort that included Hawk and defensive tackles
B.J. Raji
and Mike Daniels.
"We pride ourselves on not giving up any rushing touchdowns," Raji said. "We stood up that play, and hopefully we can continue to do that."
[+] Enlarge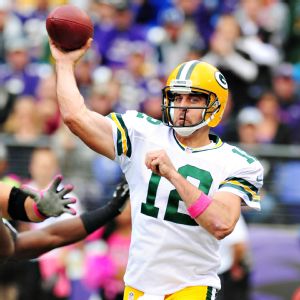 Evan Habeeb/USA TODAY SportsAaron Rodgers threw for 315 yards, but he also lost two receivers to injuries.
Just as important was the stop on third-and-goal from the 5 in the third quarter, when the Packers forced an incompletion by Flacco to receiver
Marlon Brown
. Linebacker
Jamari Lattimore
, the replacement for Jones, had tight coverage on the play. The Ravens settled for a field goal, cutting the Packers' lead to 9-3 with 4:34 left in the third quarter, and then on the next possession quarterback
Aaron Rodgers
finally hit on a big play -- a deep shot to receiver
Jordy Nelson
for a 64-yard touchdown.
"Like I tell Dom after a game like this on Monday, if you give up 17 points, we're going to win most of those games," said Rodgers, who was pressured often but still managed to throw for 315 yards on 17-of-32 passing with one touchdown and one interception.
To be sure, the Packers weren't facing an offensive juggernaut. The Ravens came into the game ranked 21st in total offense, and they haven't been able to protect Flacco. Even their usually reliable ground game with running back
Ray Rice
was just 27th in the league in yards per game coming in.
The Packers shut down Rice, who rushed 14 times for 34 yards, 11 of which came on one carry. They will almost certainly climb from their No. 5 ranking last week in rushing defense.
"The defense, I felt, carried us pretty much most of the game," Packers coach Mike McCarthy said.
That's not to say the Packers were perfect on that side of the ball. They had a major breakdown when the Ravens went for it on fourth-and-21 from their own 19-yard line with 2:40 left in the game. Safety
Jerron McMillian
fell down in coverage, which allowed Flacco to hit receiver
Tandon Doss
for a 63-yard completion. That set up an 18-yard touchdown pass to tight end
Dallas Clark
over McMillian on the next play, when McMillian said he did not hear the defensive call.
With the Ravens within two, the Packers needed their offense to burn off the final 2 minutes, 4 seconds. The combination of
Eddie Lacy
(who rushed for a career-high 120 yards on 23 carries) and a key third-down conversion to tight end
Jermichael Finley
(who should have stayed in bounds to keep the clock running after his 52-yard catch and run) did just that.
But with Cobb on crutches after the game and Jones having trouble walking, the fate of the Packers might rest on the defense.
"We're going to need them big," Finley said of the defense. "But at the same time, if Randall and James are out, it's called the next man up."
.
October, 11, 2013
10/11/13
8:00
AM ET
A roundup of what's happening on the Green Bay Packers beat.
Don't write off tackle
Derek Sherrod
, who has not played or practiced in nearly two years, just yet.
The former first-round draft pick, who broke both of the bones in his lower right leg on Dec. 18, 2011, may be close to a return.
In fact, Packers coach Mike McCarthy believes Sherrod will come off the physically unable to perform list and play at some point this season.
McCarthy said he became convinced of that while watching Sherrod work out late this summer.
"I really felt at the end of training camp, his workouts went to a different level," McCarthy said. "He's in excellent shape. He's obviously a lot stronger than he was this time last year. As I've stated, and it's obvious, that was a very, very serious injury. He needed the extra time. He looks good; he's champing at the bit."
Players on PUP are eligible to begin practicing next week. They can begin doing so at any time during the following five weeks.
"Let's be honest, the biggest hurdle he'll have to get over next is pads," McCarthy said. "He needs to get in pads and he needs to get in there. Once he gets over that hurdle I think he'll be ready to go."
Jason Wilde of ESPNWisconsin.com
wrote more about some of the Packers' PUP players
, including Sherrod, defensive end
Jerel Worthy
and safety
Sean Richardson
.
Elsewhere:
October, 9, 2013
10/09/13
8:00
PM ET
GREEN BAY, Wis. -- The
Green Bay Packers
rank 13th in the NFL in sack percentage, and they are ranked that high in large part because of outside linebacker
Clay Matthews
, who has one-quarter of all their sacks.
The Packers rank fifth in the league against the run, and an argument could be made that Matthews has played a significant part in that, too.
According to ESPN Stats and Information, Matthews has three tackles for loss on rushing plays in four games this season. That leads the Packers and is tied for 22
nd
in the NFL. Over the last three seasons, Matthews leads the Packers with 15 tackles for loss on rushing plays, which ranks 20
th
among all NFL linebackers.
"He can do it all," Packers defensive tackle
Johnny Jolly
said. "He's very good against the run and the pass."
While many view Matthews' loss to a broken thumb -- which is expected to
sideline him for "multiple weeks,"
according to coach Mike McCarthy -- as a blow to the team's pass rush,
Baltimore Ravens
quarterback
Joe Flacco
also recognized the importance of Matthews to the Packers' run defense.
"Clay was a good pass-pusher on the outside in terms of just being athletic and getting some speed and getting around the edge, disrupting the run game a little bit and shooting some gaps and things like that," Flacco said during a conference call on Wednesday with reporters at Lambeau Field. "The guy they're going to stick in there is going to be a good player, but (Matthews) obviously creates some things and some problems in there that a lot of other players don't."
Matthews is a sure tackler. He has missed only one tackle this season, according to ProFootballFocus.
When
Mike Neal
made the conversion from defensive end to outside linebacker this offseason, he studied all aspects of Matthews' game, and his play against the run stood out.
"You have to watch Clay play; he's relentless," said Neal, who along with
Nick Perry
will be counted on more heavily during Matthews' absence. "He's so quick that he's able to get into blockers and shed them and make plays. You can blink your eyes, and he's making the tackle. Learning that part of the game from him, he knows where he fits and that allows him to be successful. If you have to mimic anything, it's being able to mimic the way that he knows the game."
Neal has learned well. In limited playing time, Neal already has two tackles for loss this season, both of which came in Sunday's win over the
Detroit Lions
. Neal also recorded his first sack of the season in that game, which he called the best of his career.
The Packers have made a concerted effort to get back to the kind of run defense they played in 2009, when they led the league in fewest rushing yards allowed per game. Matthews ranked fifth in the NFL that season, his rookie year, in tackles for loss on rushing plays (with 11, according to ESPN Stats and Information).
"We're going to miss him a lot," Jolly said. "But the thing is we've got guys who will fill in and play. That's what we prepared for all training camp."