Green Bay Packers:

Joe Staley
September, 9, 2013
9/09/13
6:40
PM ET
GREEN BAY, Wis. -- So this is how a rivalry builds.
Play three times in a 12-month stretch, including twice on opening day and once in the playoffs in between. Make comments about hitting the opposing team's quarterback. Then hit the opposing team's quarterback. And then listen to that quarterback's head coach suggest that defensive player is dirty.
That's where things stood on Monday between the
San Francisco 49ers
and the
Green Bay Packers
. The only problem, from the Packers' perspective, is that they failed to win any of those games, including Sunday's 34-28 loss in the opener at Candlestick Park.
[+] Enlarge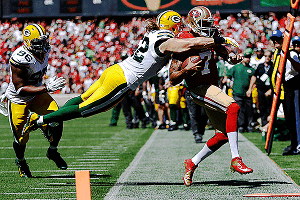 AP Photo/Ben MargotThis late hit on 49ers QB Colin Kaepernick led Jim Harbaugh to suggest that Packers LB Clay Matthews might be a dirty player, to which Matthews took umbrage: "I think my résumé is pretty good right now. I think we're doing all right."
By now, you know three main parties involved. There's Packers outside linebacker
Clay Matthews
, who was penalized for hitting 49ers quarterback
Colin Kaepernick
late after he ran out of bounds on a second-quarter scramble -- a play Matthews
admitted was not smart
.
And then there's 49ers coach Jim Harbaugh, who
on Monday criticized Matthews
for his hit and then mocked him for the way he scuffled with 49ers tackle
Joe Staley
after the play, saying Matthews threw a punch and a slap.
"I think that young man works very hard on being a tough guy," Harbaugh said Monday of Matthews. "He'll have some repairing to do to his image after the slap."
Those comments did not sit well with the Packers.
Coach Mike McCarthy called the hit on Kaepernick a "bad decision by Clay" but defended Matthews by saying he is "not a dirty player, by no means." McCarthy also said he addressed Harbaugh's comments during Monday's team meeting and added, "as always, we'll stay above it."
Matthews' penalty overshadowed what was a strong individual performance that included eight tackles and one sack.
"It was unfortunate, the sideline play," Packers defensive coordinator Dom Capers said Monday. "But I think he just misjudged where he was, really. We have to make sure that doesn't happen. But I like the aggressiveness Clay plays with. He plays with his heart and a lot of emotion. I've been with Clay now, this is five years. I certainly don't believe that [he is a dirty player]."
When asked whether Matthews' hit on Kaepernick was a dirty play, Packers cornerback
Jarrett Bush
said: "Yes and no."
"I thought it was the heat of the moment," Bush said. "Clay went for the hit. You never know if the quarterback is going to continue running down the sideline, and he made sure that he didn't come back in bounds. I'm pretty sure he wouldn't take it back. He finished the play. That's what we call finish, you know, fight, finish and focus. I'm pretty sure a lot of their players, they've done some of the same things. It's a heated rivalry, and he kind of got after it a little bit too much."
As for that rivalry, Bush admitted it has become one-sided.
"We've fallen short, but we'll get there," Bush said. "I feel like we've just got to put the pieces together, and I believe we will. Like I said, a lot of the coaches, even the players are like, 'We'll see them again in the playoffs.' We've just got to make it count."
September, 8, 2013
9/08/13
11:46
PM ET
SAN FRANCISCO -- When
Clay Matthews
said last week that part of the
Green Bay Packers
' plan for defending the read-option offense
was to hit the quarterback
, this admittedly wasn't what he had in mind.
In the second quarter of Sunday's
34-28 loss
to the
San Francisco 49ers
, Matthews tackled
Colin Kaepernick
after the quarterback ran out of bounds at the end of a 4-yard scramble on third-and-6 from the Packers' 10-yard line. Matthews was penalized for a late hit, which started a fracas on the sideline.
Without Matthews' penalty, the 49ers would have faced a fourth-and-2 at the 6-yard line.
"First off, it wasn't a very smart play," Matthews said. "I had already committed to hitting the quarterback. I mean, I guess I should have figured he was going to step out of bounds, but it's nothing personal. I went up to him later and was joking around with him, but [it was] not a very smart play. That's kind of the end of that."
Except it wasn't the end of that play. 49ers tackle
Joe Staley
jumped into the fracas and also was penalized. And when referee Bill Leavy
incorrectly enforced the penalties
, it gave the 49ers an extra down, and they scored a touchdown.
Matthews likely will get fined for the hit.
"I'm not worried about it," he said.
Said Kaepernick, when asked about the chippy nature of the game: "If intimidation is your game plan, I hope you have a better one."
September, 8, 2013
9/08/13
5:55
PM ET
SAN FRANCISCO --
Clay Matthews
got his chance to take a shot at
Colin Kaepernick
.
Matthews
Kaepernick
But in this case, he shouldn't have.
Midway through the second quarter, the
Green Bay Packers
outside linebacker, who said this past week that the best way to stop the read-option was to hit the quarterback, tackled Kaepernick out of bounds at the end of a scramble.
Matthews was flagged for a late hit, and it started a scuffle near the Packers bench that resulted in an unsportsmanlike conduct penalty on 49ers tackle
Joe Staley
.
Even though the penalties offset, it was a costly mistake by Matthews because Kaepernick had run out of bounds and gained only 4 yards on the third-and-6 play. The offsetting penalties call for the down to be replayed, and on the next play Kaepernick threw a 10-yard touchdown pass to
Anquan Boldin
that gave the 49ers a 14-7 lead.
Lost in the attention paid to the fracas was the fact that on the play before the Matthews penalty, the 49ers were called for an illegal formation on a third-and-1 play in which
Frank Gore
was stopped for no gain. Packers coach Mike McCarthy accepted the penalty, giving the 49ers another crack at third down. Had the Packers declined it, it would have been fourth-and-1 at the 5.